Nighthawk Custom is one of the most established "boutique manufacturers" of extremely high quality 1911 pistols. They were the first, in my experience, to manufacture 9mm 1911s that ran as reliably as the .45 ACP chambering for which John Moses Browning designed the platform, thanks to the brilliance of master gunsmiths Bob Marvel and, when he was with Nighthawk, Shawn Armstrong. A while back Nighthawk came out with their Dominator 9mm, designed it seemed for Single Stack competition.
Now comes* a double stack 1911 in 9mm with 17-round magazine, so new that Nighthawk hasn't given it its own name at this writing. For now, in-house, they're calling it the Enhanced Dominator.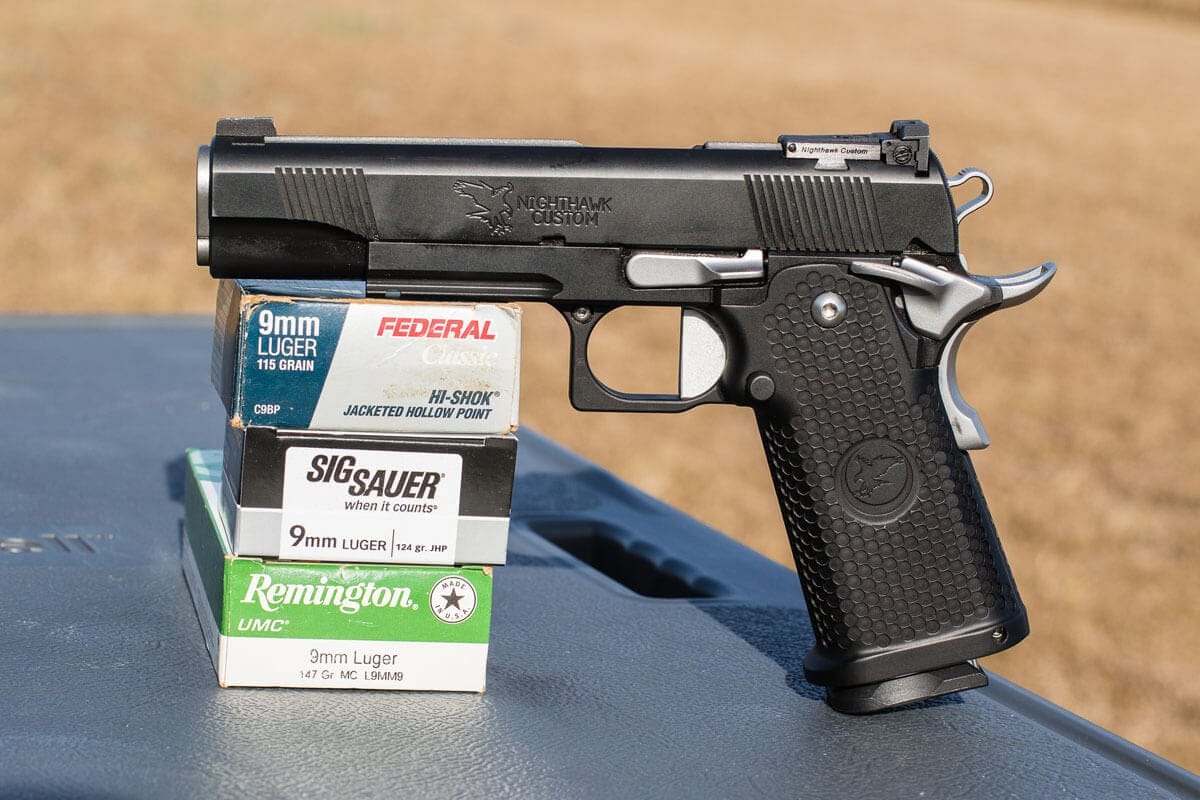 *This article was originally published in April of 2018.
Double stack 1911
Nighthawk Custom Dominator Overview
Our test pistol, serial number NHDS0128, came out of the box weighing 36.05 ounces without a magazine. It represents an amalgam of much of what the gun world has learned about the 1911 design in the past 107 years. The five-inch match-grade barrel has a well-executed 11-degree crown. The time-proven JMB bushing uses the legendary designer's original short recoil spring guide, making takedown and reassembly easy. A beavertail grip safety with speed bump guides the drawing hand into position, distributes recoil, prevents hammer and tang bite to the web of the hand, and works as intended no matter how the shooter chooses to place his or her thumb. The dust cover of the steel frame has a light/laser accessory rail.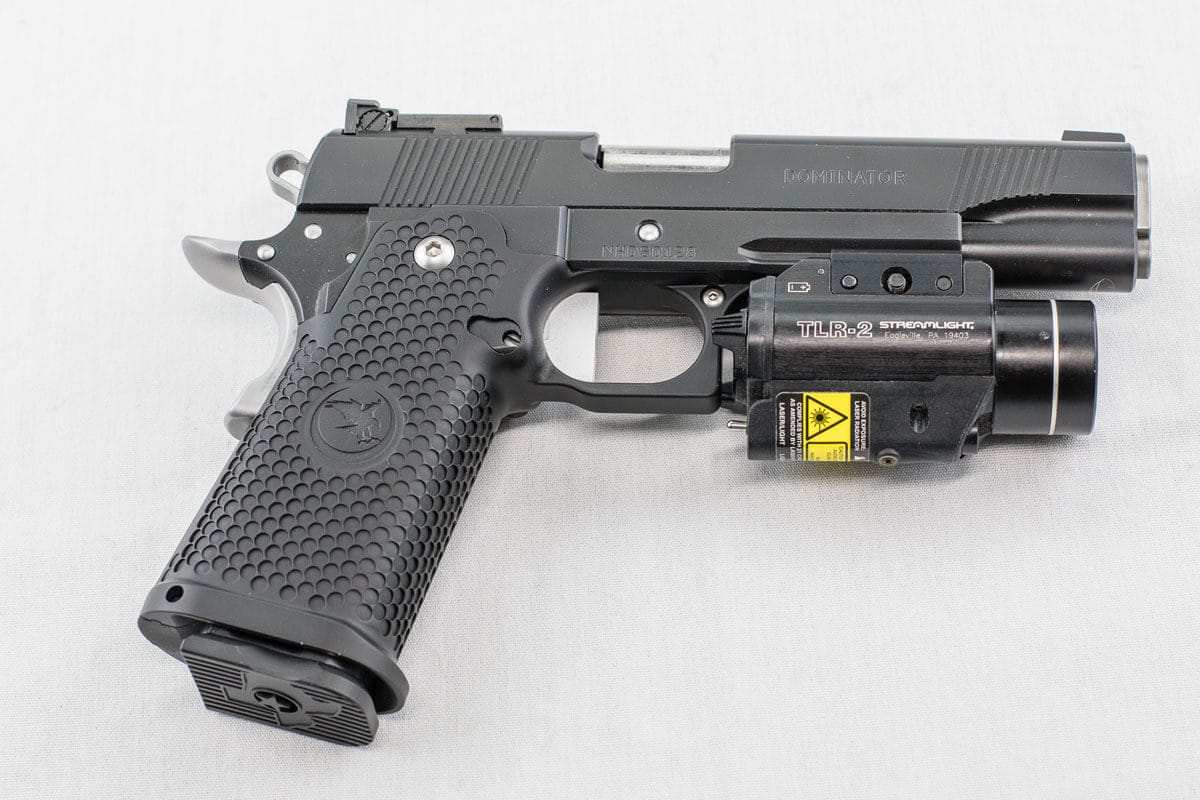 Adjustable Trijicon night sights are "buried" in the slide for a low profile. The choice of these sights and the accommodation for white light, coupled with the seventeen-round STI magazine improved by STI in 2017, tells me that home defense was in Nighthawk's corporate mind when they put this particular double stack 1911 pistol together.
Controls
Our Nighthawk test gun came with right-hand-only thumb safety, which like the slide stop lever, hammer, and grip safety were silver in color. I can understand the appeal of contrasty silver-on-black color schemes, but (pet peeve here) I don't like to call attention to the location of the safety lever. Over the years I've seen many good guys saved when bad guys got hold of the good guy's gun, tried to shoot the legitimate owner with it, and failed because they couldn't find the safety and "turn the gun on." A legitimate 1911 owner knows where the safety is, and I don't see any need for a color flag to guide an unauthorized user's thumb to it.
That said, adjustment of the safety was perfect: easy on, easy off, but not too easy in either respect. The slide stop is big enough for the shooter's left thumb to easily reach, but not so protuberant that a right-handed shooter with a straight thumbs hold would over-ride it and prevent the slide from locking back on an empty magazine as designed. The stop is slightly recessed into the frame on the left side, and flush with the frame on the right – another good thing, because the protuberant stud on a standard 1911 can be pushed inward enough on by a straight trigger "in register" on the frame to move the part just enough to cause a 1911 to lock up at the worst possible time.
The trigger is flat-faced, a very popular trend today. Subjectively, this writer doesn't care for it, but some of our testers loved it and it didn't seem to hurt accuracy or speed at all for any of us who shot it. The wide-body grip frame reduces trigger reach somewhat, and even those of us with average size male hands who preferred to contact their trigger at the distal joint were forced to center the pad of the trigger finger (i.e., where you find the whorl of the fingerprint) to fire the Dominator comfortably. Even so, a petite (five-foot-nuthin) female tester, black belt ex-Marine Sonja McCarthy, found the Dominator easy to shoot.
The pull itself began with a light take-up, quickly reached "the wall," and thereafter broke cleanly and crisply with no perceptible backlash. A Lyman digital trigger pull gauge revealed pull weight to average 3.28 pounds. This is about three-quarters of a pound lighter than NRA allows in the Distinguished or President's Hundred events at the national championships, or Colt at their armorer's school recommend for a "duty gun." Great for target shooting, though.
Accuracy
Best 1911 9mm? It's a contender.
Accuracy was tested with my long-standing protocol of five-shot groups hand-held from a Caldwell Matrix rest on a concrete table at 25 yards. Each group is measured twice, once for all five hits including the hand-cycled first round, and once for the best three hits in the group. Decades have taught me that this "best three" measurement will generally equal what the same gun and ammo would do with all five shots from a Ransom machine rest. The groups are measured center to center between the farthest-flung hits in question, to the nearest 0.05". I like to use ammo encompassing the three most popular bullet weights in the caliber. In 9mm Luger, of course, those are 115, 124, and 147 grains.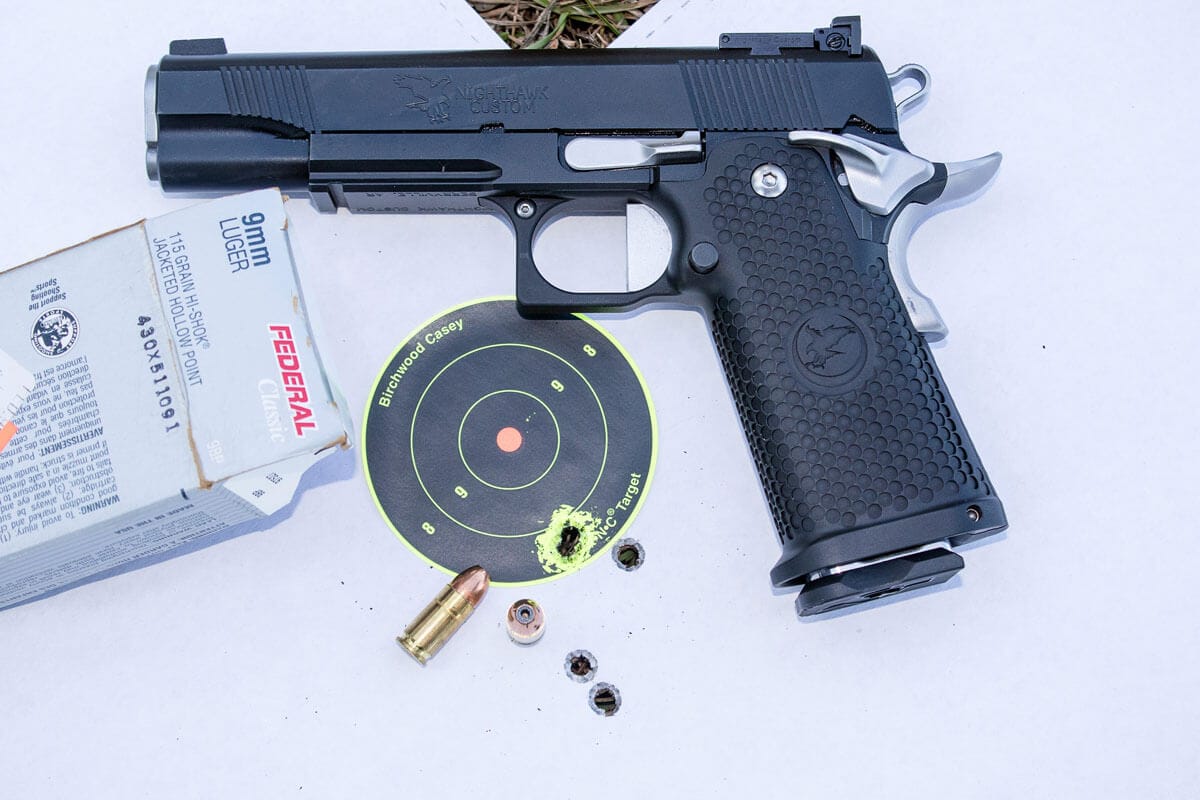 The 115 grain exemplar was Federal Classic jacketed hollow point, product code 9BP. It was probably the most "street effective" standard pressure 9mm 115 grain load "back in the day," and was widely considered top tier in terms of pure accuracy. With this Nighthawk, it put five shots into 1.65", with the tightest trio in a mere six-tenths of one inch.
For a 124 grain I used SIG V-Crown jacketed hollow point, a standard pressure load from which I haven't received any street feedback as yet but which I and others have found to be very accurate. The SIG load delivered its quintet of bullets into a 1.55" group, with the best three in 0.85".
The popular 147 grain subsonic was represented here by a training load, the inexpensive Remington-UMC with jacketed truncated cone bullet. The five shot group measured 2.45", and the best three cluster, 0.95".
The five-shot groups tell us what an experienced shooter can do with a braced handgun and not under influence of stress; those averaged 1.88" with the double-stack Nighthawk 9mm. The "best three" groups are predictors of pure, inherent mechanical accuracy, and they averaged exactly eight-tenths of one inch. That, brothers and sisters, is a fulfillment of the "Match Accuracy" promise Nighthawk makes for this pistol.
It came out of the box shooting a bit low left for the first three shooters on the test team, but that's what its adjustable sights are for, and soon we had it centered. The 147 grain subsonic, as often happens, tended to hit a little higher than the 115 and 124 grain loads.
The Dominator at Speed
Schedule didn't allow taking the pistol to a match, so to test its handling under pressure I ran it through a quadruple speed MAG qualification. Each phase of the MAG qual draws from one or another long-standing law enforcement qualification course. For example, the NRA Police Service Pistol course has six shots dominant hand only, from the leather, at three yards in eight seconds. We do it from one-third farther back, the four yard line, and once strong hand only (SHO) from the holster and again weak hand only (WHO) from low ready. That eight second time frame at quad speed comes down to a mere two seconds – about as fast as most average human beings can get the gun on target and run the trigger. The old FBI drill – draw, fire six, reload, fire six more, at seven yards – at quad speed becomes only six and a quarter second to react, get the gun out and up, and trigger a dozen shots including a mandatory reload.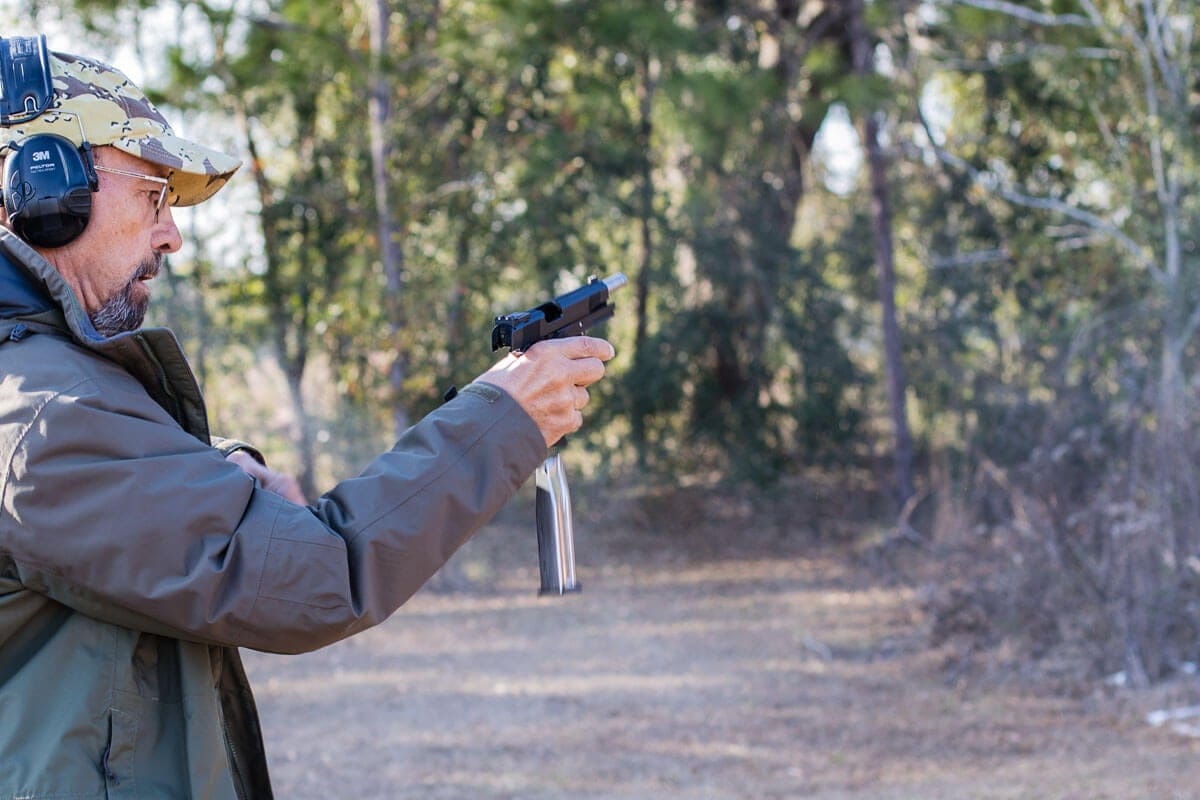 At four yards, to make the time, I shot looking over the top of the gun and racing the trigger. Southpaw, one shot escaped into the four-point zone of the IPSC (International Practical Shooting Configuration) silhouette. The same happened running a tad faster (to allow for the draw) shooting with my dominant right hand. On both of those first two stages, the mild recoil of the Dominator and the short pull-and-return of the forgiving 1911 trigger stroke were helpful indeed.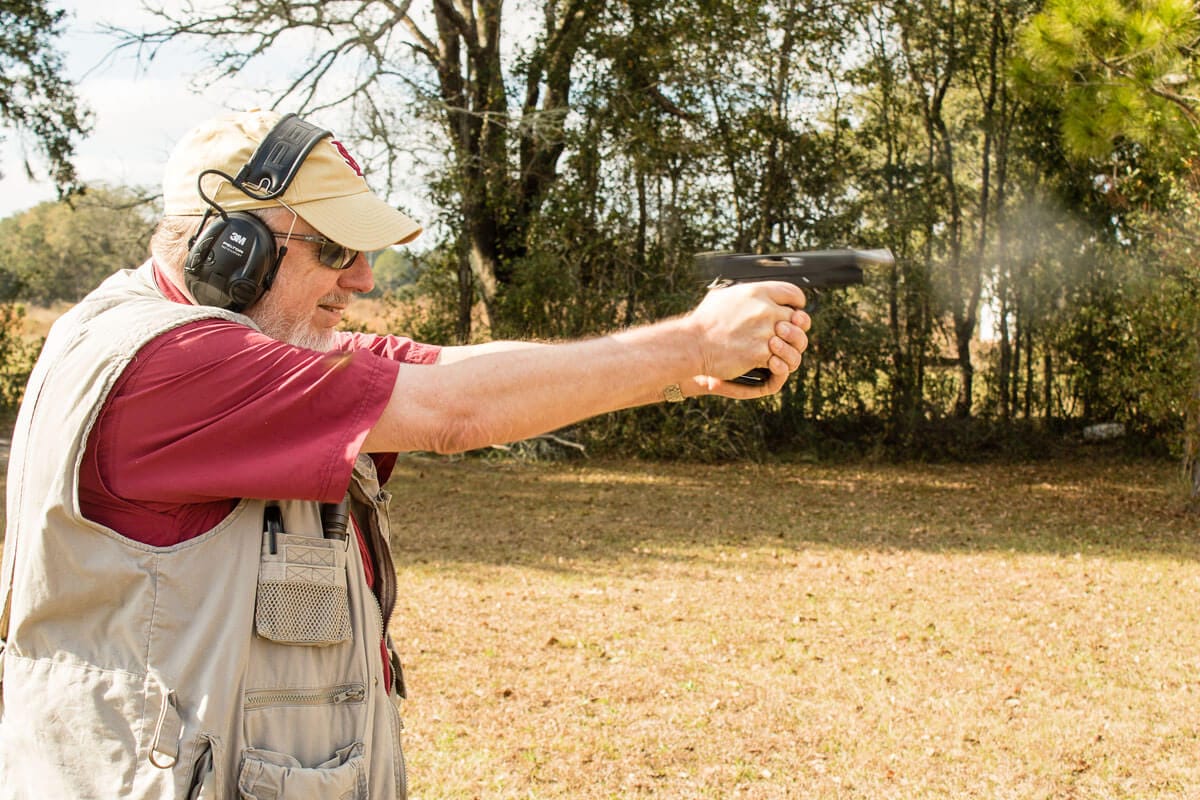 On the seven yard line, that mandatory reload in 6.25 seconds meant that reloading speed was "make or break" critical. I was shooting at about a .25, .26 break speed, but that was a whole lot easier with both hands on the gun now. I was aware as I fired that the drumstick of my left thumb was pressing solidly and securely into the stippling on the left side of the grip. We test for slide-lock reloads, using six rounds in each magazine, and as the slide locked back I was grateful that my old, arthritic thumb could reach the smooth, slightly extended mag release button. I was even more grateful that the widely-flared mag well was forgiving of old, cold, fumbling hands and received the tapered top of the double-stack mag. The left thumb hit the slide stop as I resumed grasp while pressing back out to the target, and I was able to complete the string with only three points down.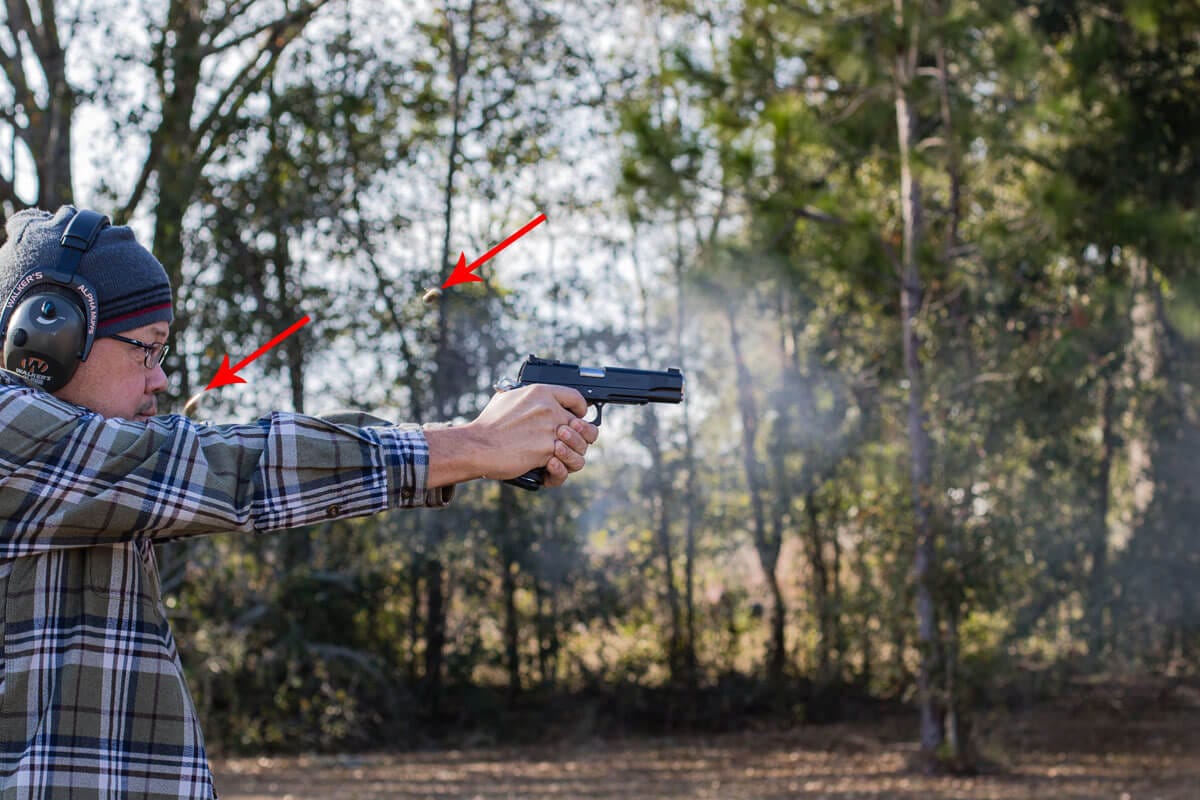 At ten yards in the "shooting from cover position" stages, a quad speed run requires eighteen shots to be fired in eighteen and three-quarter seconds, complicated by the fact that the stage encompasses moving between three different positions and includes two more mandatory reloads. That allows time for a conventional sight picture, though you still have to be shooting fast. The Trijicon sights didn't "pop" as much as the fiber optic sights so many of us now use in speed shooting events in daylight, but they were ample for staying in the A-zone with that sweet Nighthawk trigger, and I finished with no points down. The final stage at fifteen yards encompassed three more six-round magazines, including reaction time, draw, and a couple of mandatory reloads, all in 22.5 seconds. Due to unseasonably cold weather, I drew from concealment. The Dominator made it easy, as did the Leather Arsenal "Four-Way" holster from which I drew. No points were dropped at fifteen yards.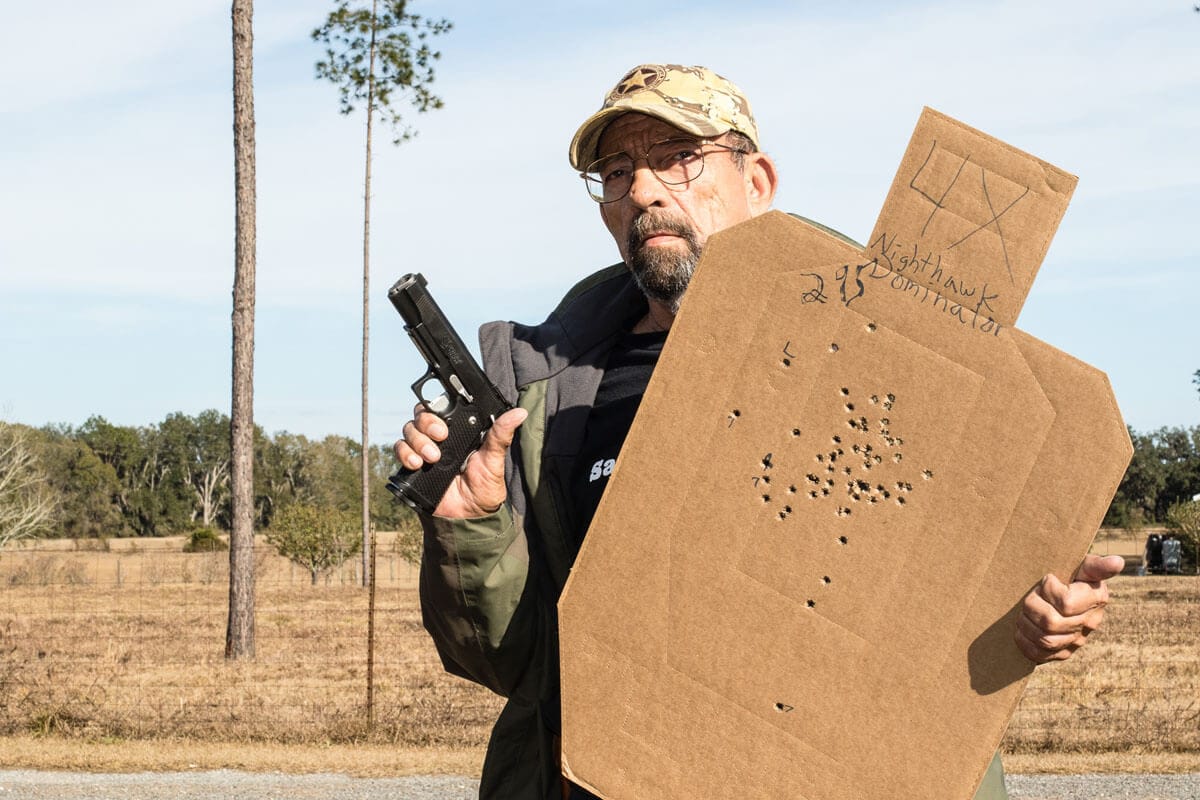 That left me with a 295 out of 300 points, only one point below my personal best at quad speed, done several years ago with an Ernest Langdon-tuned Beretta 92G. Given my relative age and decrepitude in between, I have to attribute the good score to the Dominator pistol. For perspective, the record on this particular course at four times speed is a 299, held by Midwest Regional Champion and ace instructor David Maglio. I've been told that when World Champion Robert Vogel tried this course at quad speed, he also shot a 299.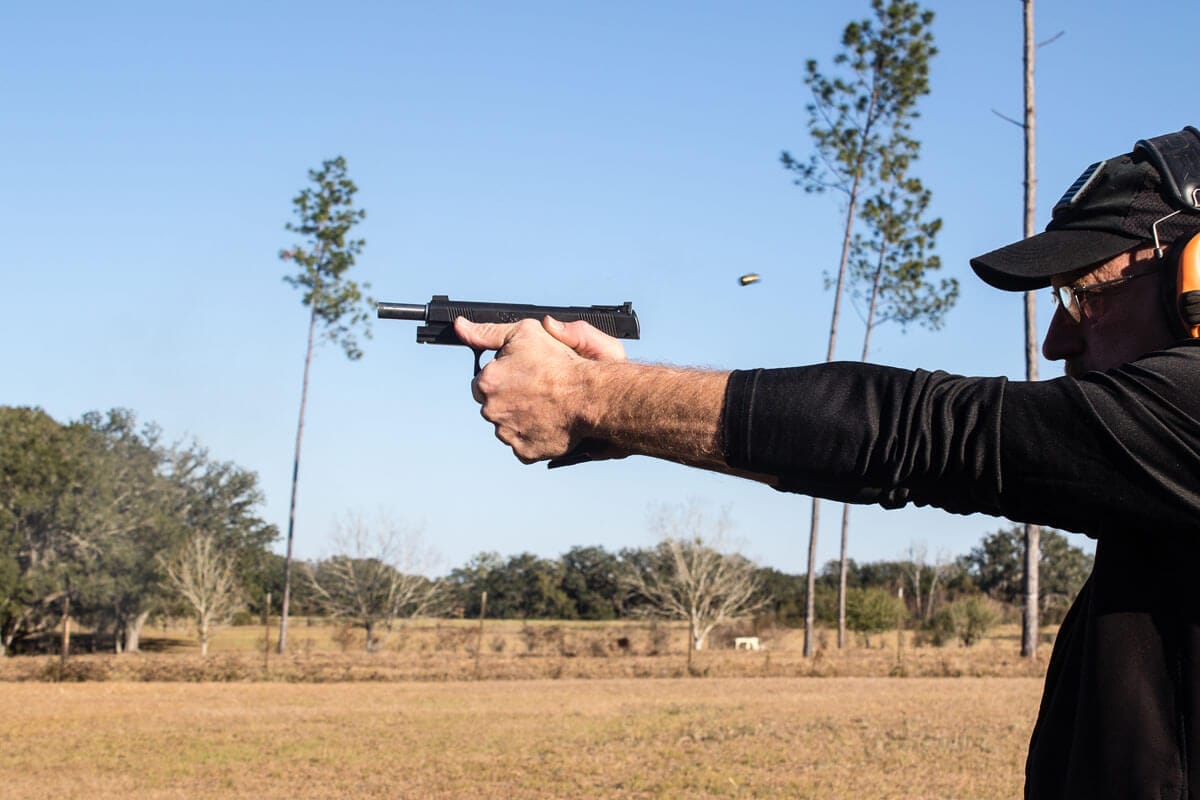 When a gun lets a shivery old geezer perform as well as this one did for me, it gives some insight into why a Nighthawk Dominator costs what it does. Several hundred rounds went through this pistol in the hands of shooters big and small, with no cleaning or lubrication in between, and there were no malfunctions of any kind: a baseline criterion well met by the Nighthawk.
Perspective
Nighthawk Custom says the Dominator double stack 1911 may be officially on the company website in 2018; for now, it can be ordered from their upgrade page at http://www.nighthawkcustom.com/pistols/doublestack. Explains Nighthawk's Nelson Davis, "Some of our customers are using this gun for competition purposes. It would not be classified as a true 'race-gun' but it certainly is being used in some competition. While some may balk at the idea, some customers have said that they plan to carry this gun daily. Finally, because of how soft the gun shoots and the increased magazine capacity, probably the largest portion of customers use this gun for general target shooting/sport shooting/range time."
He added, "MSRP on the Double Stack Dominator you had is $4295, as configured. However, our Double Stack pistols start out at $3745. As mentioned, the Double Stack Upgrade can be added to any of our government 9mm pistols – the upgrade charge is $650. We are currently in production of Double Stack pistols, but new orders can be placed and have a roughly three to four month lead time."
Yes, this gun costs a lot of money. We live in a world where a Rolex keeps pretty much the same time as a $29 Timex, but costs a helluva lot more…and there is a healthy market for Rolex watches which start in the $2,000 range. In the same vein, $450 or so can buy you a reliable pistol that fires 17+1 rounds of 9mm, but there is a reason why there is a market for a Nighthawk that does the same thing with more style and class and a little bit more accuracy, though it costs nearly ten times as much.
When you make out your last will and testament, you probably won't bother to mention who gets your Timex, but you'll probably be careful to list who you want to inherit your Rolex.
It will be the same way with your Nighthawk Custom.