The Banshee is a creature from Irish folklore who heralds the death of a family member by screaming and wailing into the night. They were often described as short and small creatures fairy-like and standing no more than a few feet tall. Admittedly, I have no idea what a beast that wails and mourns has to do with a gun like the CMMG Banshee. The only thing they seem to have in common is that the Banshee is also small, and it's loud. Regardless, it's a damn cool name to describe this short and light AR-15 based PCC. The Banshee line is quite extensive and complete with various calibers and magazine patterns. We got our grubby mitts on the latest model, the Banshee Mk17.
The Mk17 variant of CMMG's Banshee has embraced the SIG P320 9mm magazines. The P320's adoption by the United States military and its continued success on the police and civilian market ensures that it's sticking around. It makes sense that PCCs would start adopting it as a magazine platform. The P320 magazines come in various factory capacities, including the 21 round X series model.
Radial Delayed Goodness
The Banshee Mk17 uses CMMG's patented radial delayed blowback action. Most PCCs go with a standard blowback action that's functional, but kinda messy. Traditional blowback guns are primitive and require heavy bolts, or heavy springs and often generate more recoil than any 9mm ever should. The radial delayed system uses an AR-15 style bolt with specially design bolt lugs that lock into the chamber.
When the weapon fires, the bolt is forced to rotate and unlock before cycling. Pressure has time to drop in the gun and this eliminates the need for heavy bolts, buffers, or buffer springs. The result is an enjoyable shooter.
The Banshee Mk17 – Ergonomics
CMMG is a smart company that makes some fascinating weapons, and they are known for pushing the AR platform forwards. The Banshee is no different. CMMG has built the gun to be as ergonomic as possible. The Mk17 includes one of the best AR-9 style magazine releases on the market. The magazine release is specifically designed for the challenges that the P320 magazine presented to CMMG.
They installed a magazine release that engages the P320 magazine and pushes the release far enough rearward to allow the shooter to drop the magazine with their trigger finger. The magazine release requires very little pressure and makes swapping magazines quite efficient.
The Banshee Mk17 also features an ambidextrous safety made by CMMG. They also installed their overtly massive and ambidextrous CMMG charging handle. It's wide enough that you can blade the charging handle with either hand, and the lightweight buffer, bolt, and spring give you very little resistance.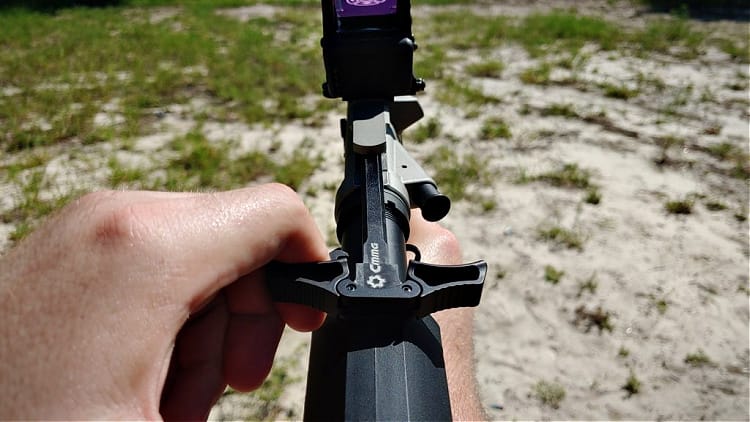 The Banshee is also equipped with a Magpul pistol grip, an ambidextrous sling point, and the CMMG RipBrace. The RipBrace is an exciting design that enables a shooter to instantly deploy the brace from its shortest position to the preset position you've chosen. Installing a small screw allows you to select one of five positions for instant deployment. All you need to do is grip the brace and give it a yank, and its deployed.
Wailing with the Banshee Mk17
Range time with this gun can be quite addictive. The radial delayed system does an excellent job of reducing recoil and makes the Banshee a superbly comfortable gun to operate. Compared to a standard blowback gun, the Banshee Mk17 is a real soft shooter. I shot the Banshee Mk17 side by side with a CZ Scorpion pistol, and the difference is immediately apparent.
The Banshee Mk17 weighs a mere 4 pounds and 10 ounces. It's super light and trims pounds off compared to standard blowback guns. This lightweight design makes the Mk17 easy to handle when swapping shoulders, changing positions, or firing one-handed. The lightweight design combined with the A+ ergonomics makes operating the weapon a breeze. I never realized how the weight of a gun could affect how fast I could do things like reloading.
A lighter gun doesn't dip when I release my support hand to retrieve a new magazine, and I appreciate that. When it comes to shooting the lighter and shorter the gun is, the easier it is to transition targets. Moving from big man-sized targets to teeny-tiny steel gongs is intuitive, and you won't find yourself overshooting the smaller targets.
Drills
Instead of just wasting ammo when I review a gun, I do like to run drills. I can get some training out of it and learn something, plus it gives me a better idea of how the gun handles. I ran a Mozambique, or failure drill, with the Mk17 against a timer at 15 yards and got my fastest time ever with a rifle. My time was a 1.23 failure drill from the low ready. I'm typically in the 1.5s with a well-aimed headshot.
I also ran Sage Dynamic's Eleanor drill, which is a challenging drill created by Sage Dynamics. It uses a free printable target and mixes speed and accuracy with a relatively short par time. It took a few tries, but I did pass it with the first magazine.
I found the Banshee to be super accurate, but also easy to control. Control over the gun often leads to better times and smoother transitions. Both of these drills require precise shots against a clock and target transitions. Control plays a significant role in succeeding with these drills.
Shoot Straight
The Banshee Mk17 shoots straight, and within 50 yards, you can rule an area. When combined with the gun's low recoil, it's effortless to place multiple shots on small targets at various ranges. On man-sized targets, you can dominate with nothing more than a red dot. Two-inch groups at 50 yards aren't hard with a hasty prone position.
Reliability is also not an issue. Ammo selection is not what it typically is, so I can't dial in a lot of the crappy, cruddy steel cased stuff I love to test reliability with. I didn't clean or lube the gun within the 600 rounds I've put downrange so far, and the gun doesn't seem to mind. I also used various JHPs to great success.
Magazine Compatibility
The Banshee Mk17 comes with a single X series 21 round P320 magazine. The desire to go bigger is always present with gun guys, and I wanted to see if the new ETS 30 round P320 magazines would work. Unfortunately, they don't seem to fit into the lower receiver, and the magazine will not lock in place. It seems like you need to stick to the P320 stock magazines, but the good news is you find some at GunMag Warehouse.
Series and Specs
The Banshee guns come in a few different lines that CMMG calls Series. This example is the premium grade 300 series with the titanium cerakote. The 100 and 200 series have less robust features with lower price tags. Keep that in mind when shopping for a Banshee.
Banshee Mk17 Specs
Overall Length – 18.9 inches
Barrel Length – 5 inches
Weight – 4 lbs 10 oz
Caliber – 9mm
Capacity – 21
MSRP – 1549.95
The Banshee and Me
This is an awesome gun. It's light, handy, low recoiling, and is perfect for home defense. This short gun with its threaded barrel is just begging for a suppressor. The Mk17 is reliable, ergonomic, and feature-filled. CMMG produced an impressive AR pistol, and the delayed radial design is genius. Check out the Banshee Mk17 at CMMG and when you need a few extra magazines, check them out at GunMag Warehouse.