Recently, had an opportunity to give a Bravo-C Stock from B5 Systems a test run. This stock allows you to accomplish your mission of putting steel on target quickly, faster than a standard carbine stock, especially if you are using optics. Let's take a look at how this AR-15 stock performed on my AR carbine.
Mounting the Bravo-C
B5 touts this stock as being "A-1 Length." To be fair, it is adjustable. A set screw is inserted where the adjustment normally would be located on a standard carbine stock. Instead of squeezing the lever to adjust the stock, turn the screw in until the stock is fixed in place. I snugged the screw down slightly so that I could find the holes in the receiver extension (also referred to as a "buffer tube"), and once I found a hole that held the stock at an appropriate length, I tightened the screw in. And that's how the stock gets mounted on your carbine.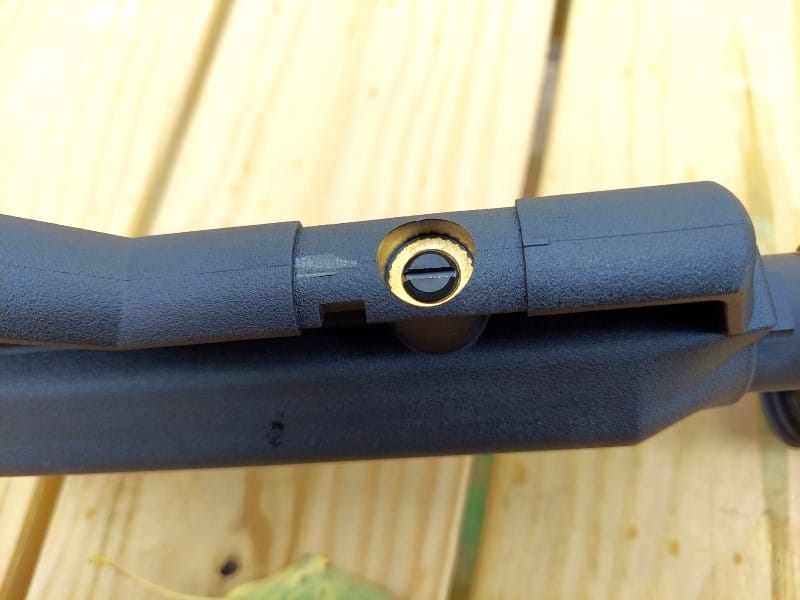 So in essence, the stock is adjustable, in that you can select it to the length of pull that the holes in the receiver extension will allow. Sort of like a regular carbine stock. The only catch is, with this one, you cannot readily adjust the length of pull unless you loosen the screw with a screwdriver and then find a new receiver extension hole to screw into. The length of pull is adjustable, but a little limited.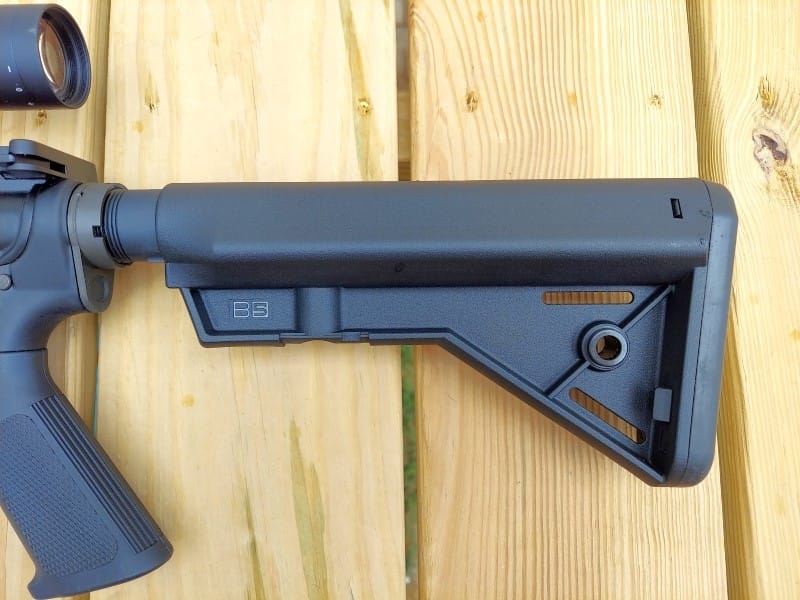 The stock took only a minute or two to mount. The stock does not come with directions, so the user will have to figure out how to accomplish mounting. I think it might be useful if B5 Systems included a simple sheet of instructions.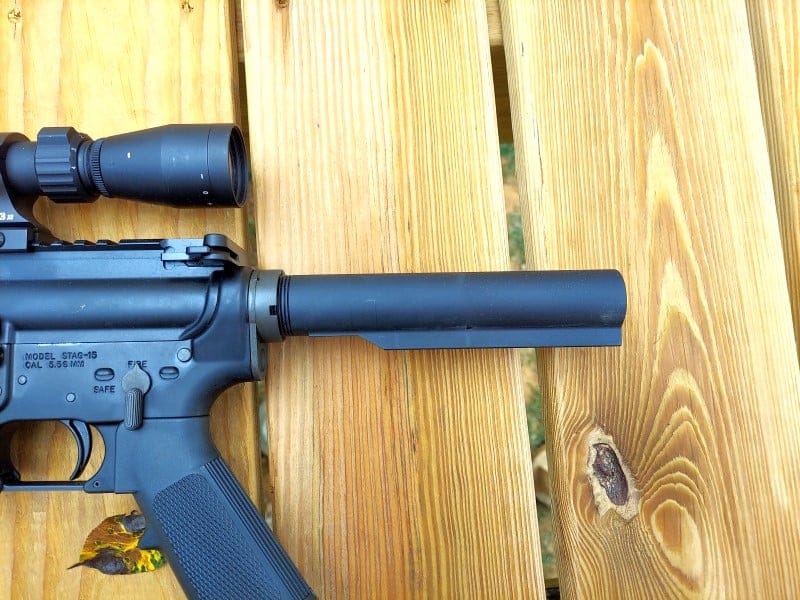 Is there anything I'd like done differently in the B5 Systems Bravo-C Stock?
If I had my druthers, the stock would be adjustable in the same manner as a standard carbine stock. At least that mechanism allows the instant length of pull adjustment as opposed to this stock, which demands time and a screwdriver. Personally for me, this is a strike against this piece of kit.
One positive aspect of this, however, is that the system is very tight once installed. You won't get that wobble as you do with standard carbine stocks that tend to loosen up. This one should stay in place and be very stable, which is what I assume B5 was going for when they invented this system. So there's that little bit of silver lining.
Cheek Piece
The cheek piece seems to be just right for use with optics. It fits my Leupold 1.5-4x20mm scope rather well, giving me just the right height to get a great sight picture using the scope. For that, the stock gets high marks. There's nothing to adjust or mess with, it just works in its original form. From a simplicity standpoint, it scores high. Throw the carbine to the shoulder, and you have an excellent sight picture. Done.
Tech Specs
Weight: 10.25 ounces.
Length: 8.73 inches.
Width: 2.00 inches.
Height: 4.90 inches.
Other Features
The Bravo-C Stock has anti-rotation quick detach sling mounts on either side of the stock, so you can mount a sling on whichever side you please. There are also grooves in the rear of the stock so that you can attach a sling without the mounting hardware if that's your preference. The materials are made to Mil-Spec. The butt pad is made from a hard, rubber-like material that won't slip when it's against your shoulder and it should add a little comfort to the stock as well. Not that we need much padding, as the 5.56mm is not a high-recoil round.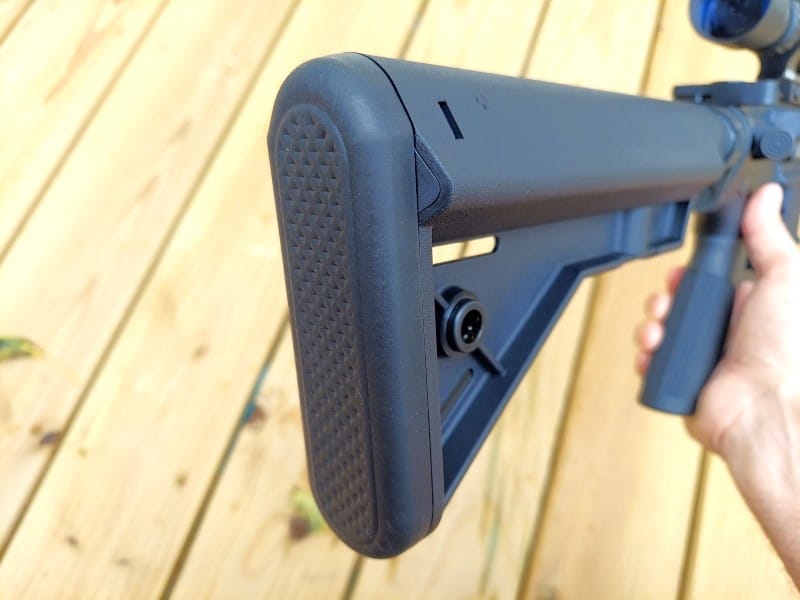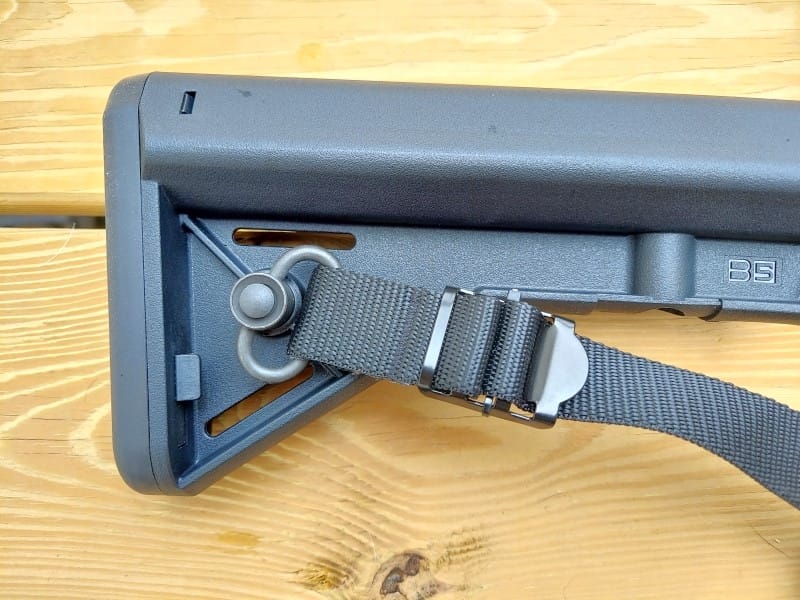 One nice aspect is the color selection that is available: OD Green, Coyote Brown, Flat Dark Earth, Black, and Wolf Grey. There's something for everyone as far as the colors go.
Performance
With the length of pull dialed in, the stock works well, allowing me to acquire a fast, accurate sight picture with my scope. I went on the shorter side with the length of pull so that I can use my plate carrier or heavy clothing and still be reasonably comfortable when mounting the carbine to my shoulder.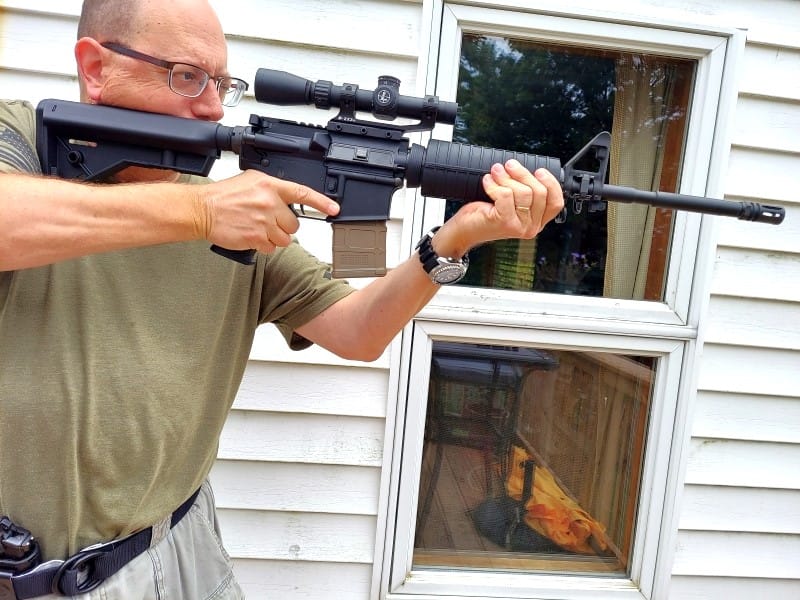 This is where having an adjustment lever, like a standard carbine stock, would really shine. Shooting a carbine in a t-shirt will leave you wanting a certain length of pull, while mounting with a plate carrier will add length. Of course, the change of season, such as going into winter, will see the shooter wearing heavy coats, which might necessitate yet another adjustment. Having to unscrew the adjustment bolt and move it to another hole in the receiver extension might prove to be a bit of a chore, especially if the carbine is grabbed in an emergency.
As mentioned, I'm a little perplexed as to why B5 Systems went this route, aside from stability. Perhaps I am missing something in the mix (I can be a little dense at times).
Kudos
What I did like is that it's a simple piece of gear. Once installed, there is not much to do in the way of adjusting doo-dads, gadgets, etc. Put it in place and use it.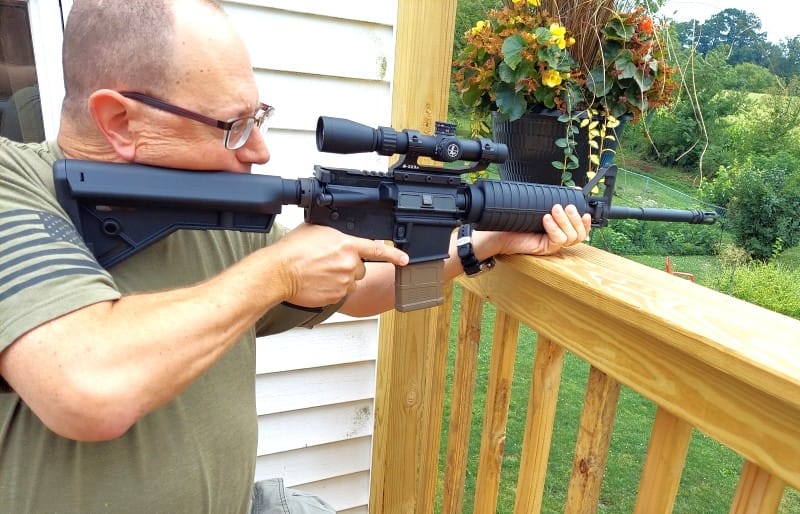 The cheekpiece is a reasonable height, allowing a fast sight picture. And it is also very comfortable and well executed.
As well, the unit is fairly light and does not seem to add weight or change the handling characteristics of the carbine when compared to the standard carbine stock.
Overall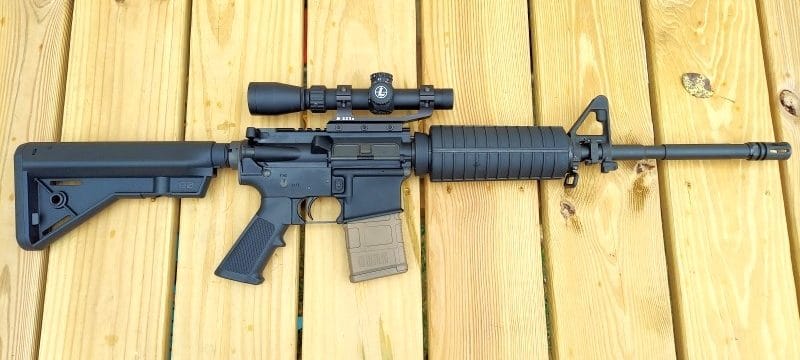 One of the nice points about it is that it doesn't break the bank while doing it—the stock retails for $54.00, which is a pretty good buy.