Taurus just announced the release of their Taurus GX4 TORO (Taurus Optics Ready Option).
You may remember that when the GX4 was released back in May, David Workman reviewed the new micro-compact pistol. One of his biggest concerns was the lack of an optics plate. He said, "While the rest of the compact concealed carry market is either including an optic plate (some even throw in the optic) on new models or going back and adding them to new versions of an existing gun, Taurus inexplicably left off this ever-increasingly popular and important feature.
"Even though it should have been on the original, perhaps we will see it as at least an option on any upgraded versions of the GX4 in the future."
So, it was only a matter of time. Now, the GX4 micro-compact 9 mm is available with an optic mounting platform milled directly into the slide that accommodates multiple popular micro red dots.
About the GX4.
The all-new, optics-ready Taurus GX4 is a palm-sized micro-compact 9mm that's big on personal protection.

With our exclusive TORO (Taurus Optic Ready Option) platform seamlessly integrated into the slide, the Taurus GX4 is capable of accommodating the latest micro-sized red dot sight technology. Right out of the box.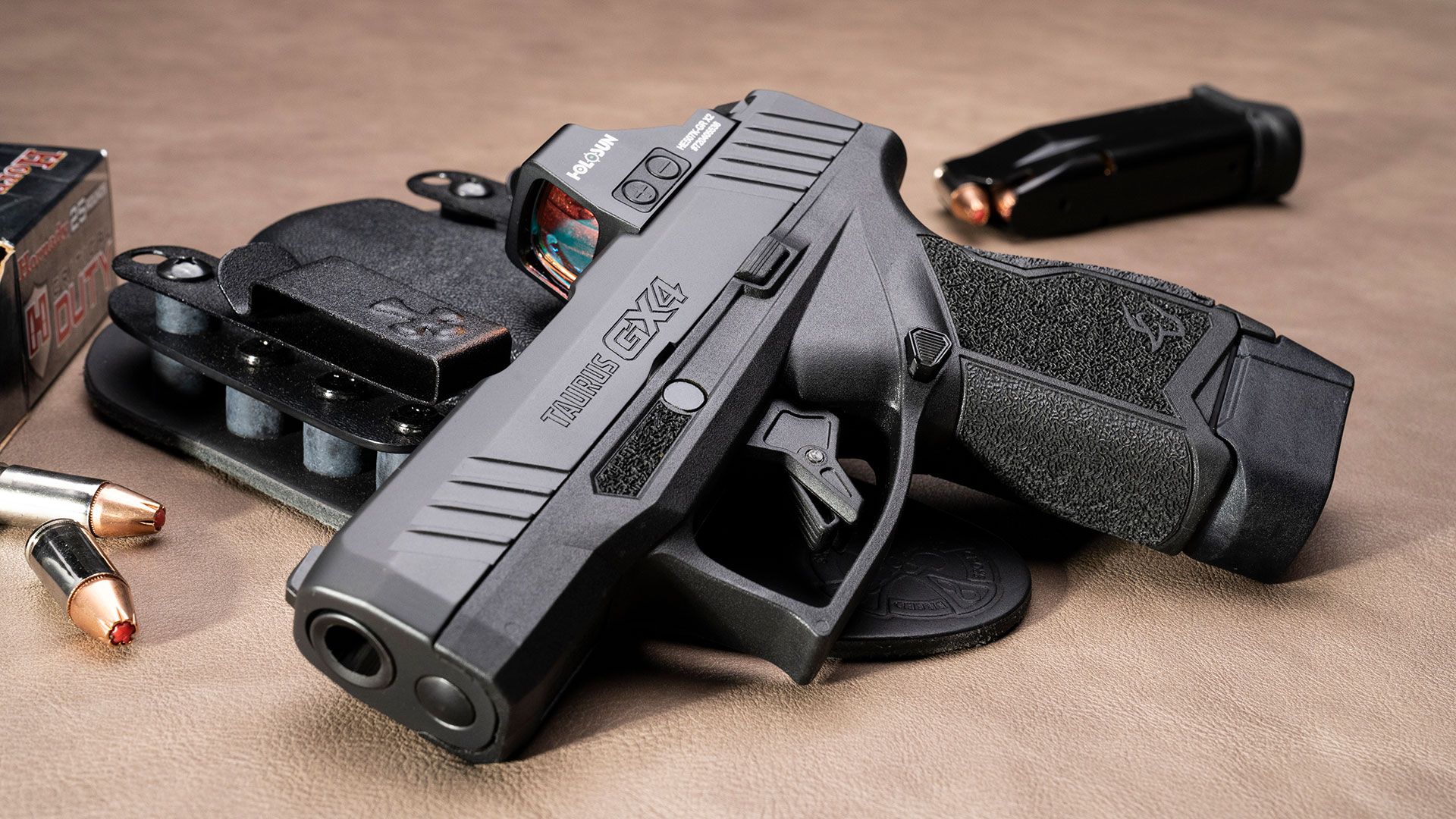 Ensuring this exceptional everyday carry firearm is not only easy to conceal, but effortless to update. For added peace of mind, the Taurus GX4 is backed by our Limited Lifetime Warranty and industry defining customer service.The mounting pattern covers the following optic models:

Shield RMSc
Holosun HS507K and HS407K
Sightmark Mini Shat A-Spec M3
Hex Wasp GE5077-MIC-RET
Riton 3 Tactix MPRD2
Trijicon RMR cc Red Dot with the optional adapter plate sold separately

The GX4. [Photo courtesy of Taurus]


The new GX4 T.O.R.O. adopts the Taurus Optic Ready Option mounting system, which facilitates mounting of several popular micro-red dot sights. The T.O.R.O. system is designed around a factory optic-cut slide for those who desire the advantages of a low-print EDC handgun and the confident sight picture of a red dot.
Specifications
Caliber – 9 mm Luger
Capacity – 11 Rounds, 13 Rounds Extended Magazine, 10 rounds
Magazines – One 11 round magazine plus one 13 round mag or two 10 round mags
Firing System – Striker
Frame – Micro-compact
Grip – Polymer
Slide – Alloy Steel
Barrel Finish – Satin Black DLC Coating
Slide Finish – Gas Nitride Coating
Barrel Length – 3.06 in.
Overall Length – 5.8 in with Backstrap Small, 6.05 in. with Backstrap Large
Overall Width – 1.08 in.
Overall Height – 4.4 in.
Weight – 18.07 oz.
Action Type – Single Action only
Front Sights – Fixed Steel White Dot
Rear Sights – Serrated Drift Adjustable
Safety – Striker Block, Trigger Safety, Visual Loaded Chamber Indicator
Magazine Release – Reversible