It's hard to get excited about the AR realm, it's all basically been done before. However, at Range Day for SHOT 2020, the Springfield Edge PDW really caught my eye. An AR in a PDW format has been done before without a doubt and they've been done well. What the Edge PDW does a little different is be a production gun with an amazing set of features. I can't seem to find MSRP information, but the SAINT series have always been heavy on features for their price tag.
The SAINT Victor is probably the best AR under a grand right now, and the Edge is easily one of the best under $1,500. If the Edge PDW follows that route it's going to be an outstanding value. Besides the promise of a reasonably priced, feature-filled gun the Edge PDW had a few features that caught my eye.
The Saint Edge PDW Features
The first was the use of the Maxim brace. The Maxim PDW brace has long been hailed as one of the best on the market. It's stable, glides like it's on ball bearings, and gives you a very solid stock, err, I mean brace. It's very comfortable, let's just say that.
The gun has a 5.5-inch barrel, making it incredibly short and very compact for a 5.56 caliber weapon. Now the 5.56 is made to be fired from a 20-inch barrel. We all know that 20 inch ARs are basically a thing of the past. When you start cutting off barrel you start getting more blast, more concussion, and more muzzle flash. It's typically not comfortable.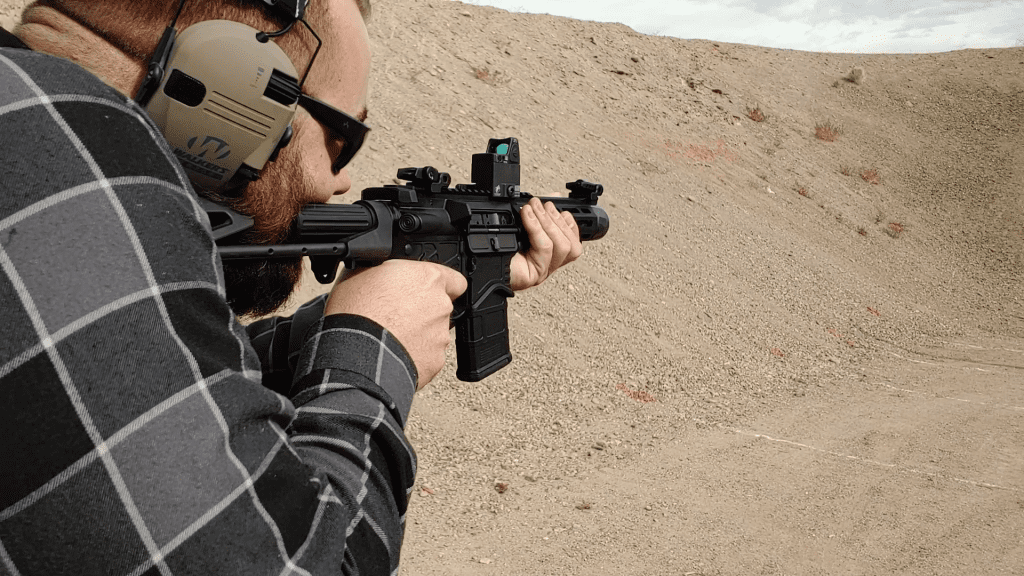 The Edge PDW has what appears to be a linear compensator that makes the rifle so much more pleasant to shoot. A linear comp directs muzzle blast and concussion forward and away from the shooter. This makes guns like the Edge PDW much more comfortable to shoot. In fact, thats what I was most taken back by.
To me, a tiny AR chambered in 5.56 isn't superbly pleasant to shoot. It's jarring, except the Edge PDW wasn't. It was plenty pleasant and just as comfortable as your standard M4 style rifle. Don't be an idiot like me and reach forward and grab the flash can a bit though. That stung.
Like all rifles in the Saint series, you are getting flip-up iron sights. The pistol grip is ultra-small and from a company from. The CQG grip has a distinct downward angle that makes this ultra-short rifle a bit more ergonomic. The rifle uses a billeted receiver set and sports a short M-LOK rail system to round everything out.
With the gun industry being obsessed with smaller and smaller weapons guns like the Edge PDW seem to be the future. While it's not for everyone I think it will be a really fun range gun and even a solid inside the home gun. It's just begging for a suppressor and some 77 grain Black Hills ammo.