Smith & Wesson's M&P is a long-time favorite among gun owners. These guns are used for everything from target practice to home defense to concealed carry. The company's M&P M2.0 line is especially popular thanks to a bevy of fantastic features and options. There are 3 new guns in the M&P M2.0 line: Full-sized guns, 2 of which have threaded barrels, all of which are optics-ready. Whatever your handgun goals are, there's probably an M&PO M2.0 for you.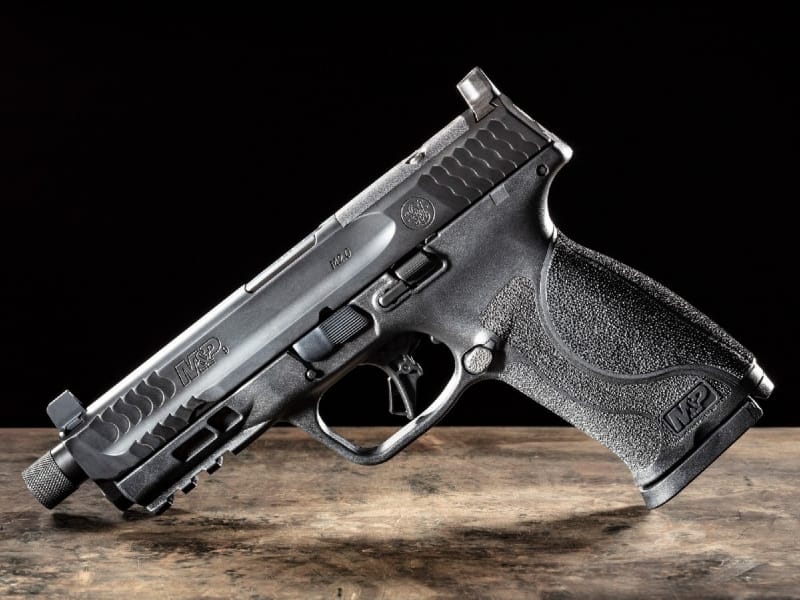 A trio of full-sized guns designed for versatility, reliability, and accuracy can be found in the Smith & Wesson M&P M2.0 lineup. The guns have 5-inch barrels, forward and rearward slide serrations, and the manufacturer's trademark aggressively textured grips. Calibers include 9mm and 45 ACP, which cover 2 of the most popular chamberings used among self-defense-focused gun owners. 2 guns have threaded barrels, and all 3 have optics-ready slides. These guns are made to perform, and well.
Features of the M&P M2.0 in 45 ACP include:
5.0-inch barrel, which can improve accuracy and velocity.
Full-sized frame for easier handling for most hand sizes.
Threaded barrel for the addition of a suppressor to preserve your hearing.
M2.0 flat face trigger designed to facilitate consistent finger placement for reliable accuracy.
Low barrel bore axis for comfortable shooting and to reduce muzzle rise for rapid target acquisition.
Optimal 18-degree grip angle for natural point of aim and ease of use, making the gun inherently pointable.
4 interchangeable palmswell grip inserts in S, M, ML, and L, allowing the user to customize the fit to their specific hand size.
Enhanced, aggressive grip texture the shooter to better manage recoil, even with wet or sweaty hands.
M&P M2.0 trigger with crisp, clean break and light pull weight to improve accuracy and control.
Tactile, audible trigger reset, making running the trigger simpler.
1 in 10 twist M&P M2.0 barrel for enhanced accuracy.
Rigid embedded stainless steel chassis designed to reduce flex and torque during live fire which, in turn, makes the gun more accurate and durable.
Patented take-down lever and sear deactivation system so the gun can be disassembled with no need to pull the trigger first.
Armornite finish to increase resistance to corrosion and reduce wear and tear.
The 9mm M&P M2.0 shares features with the 45 ACP model and is available in flat black or flat dark earth. From its forward accessory rail to its slide serrations and textured grip, this is a gun made for dedicated use. Smith & Wesson created these guns to be used, and the features of each gun make them both versatile and performance-driven.
MSRP varies by caliber and barrel type.