Somehow, Smith & Wesson managed to pack 12 rounds into the CSX magazine. We're not sure how, but it's a marvel of engineering! Let's take a closer look.
A Splash
If you're like me, it's difficult to keep up with all the new models of pistols being introduced; it's gone from a brisk pace in years gone past to a blistering pace currently. When I was a youngster back in the 1980s (no, not the 1880s as has been suggested), a new pistol would come out every couple weeks to a couple of months. When a major maker introduced a new design or firearm, it was notable news and it caught peoples' attention.
These days, it's not uncommon for me to miss a new firearm release altogether. I'll finally see it and think to myself, "Wow, when did they come out with that one?" There are more manufacturers now, making it tougher to keep up.
In January 2022, Smith & Wesson made a bit of a splash when they introduced their new CSX (Chief's Special X) pistol. It wasn't simply another micro-compact 9mm pistol to hit the market. This 1 was different than most of the others on the market. In fact, it's totally different than any current releases that I can think of.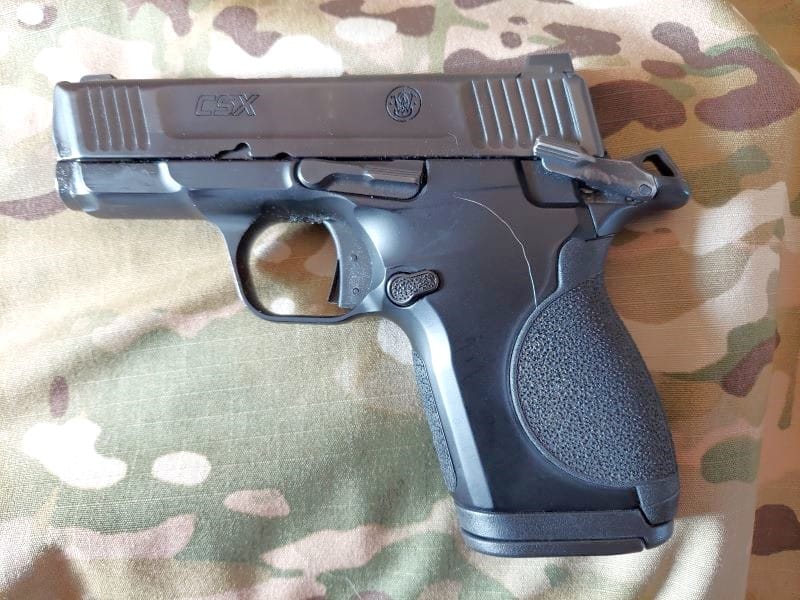 How? Well, first off, it's a Single Action (SA) design. That, in itself, is huge. Next, the frame is aluminum. In an age of polymer pistols, that is significant. They went with a metal-framed, single-action-only pistol. I'm not sure about anyone else, but that threw me off, as I did not expect them to go that route.
Quite a few of us found this to be refreshing. It is that "something different" that people sometimes crave. It's a very small, 1911-ish pistol that's uber-concealable in a major round (9mm). In a very rare move (for me), I went out and snagged this new pistol after seeing it at the gun store a few times. No, S&W did not send me one to evaluate. I bought my own.
CSX Specs
I'm not going to launch into a full review here; I've done that elsewhere. However, I'd be remiss if I didn't give readers a quick run down on this little beauty.
It weighs 19.5 ounces. Considering that the frame is aluminum and not a polymer, that's not bad!
The length is 6.1 inches, the height is 4.6 inches, and the width is 1.12 inches. All in all, a pretty compact, little pistol.
It sports a thumb safety very similar to that of most 1911s, which is widely considered to be the best type of safety of any pistol. It's simple and quick to manipulate.
The finish is matte black with what I'd say is a small amount of gloss, just enough to make it attractive, at least to me. The finish is called Armornite.
The grip is amazingly comfortable and comes with interchangeable back straps so users can customize it a bit to fit them.
Barrel length is 3.1 inches.
Magazine capacity is 10+1 and 12+1 rounds. More on that shortly.
Micro-Compact
All of this adds up to a successful Micro-Compact 9mm pistol. It's a real joy to carry, and it is absolutely marketed to the concealed carry crowd.
Firing the little compact is not unpleasant. There is some muzzle flip, make no mistake about that. However, it's not as bad as most people would expect. This little pistol is certainly effective for defense and can accurately put out some lead quickly.
I normally carry my CSX in an IWB holster from DeSantis (their Summer Heat model holster). As far as being a compact carry auto, this 1 is my favorite for ease of carry.
Capacity
Now, about that capacity that I mentioned a bit ago. I told you I'd get to it, but I can see you out there, squirming in your seat like a 2nd grader who has to go potty and can't hold it much longer. Okay, simmer down.
It will hold 12+1 rounds. You didn't misread that. Yes, there are other pistols out there that will hold more rounds. However, they're bigger than the CSX.
Somehow, the engineers at S&W managed to pack 12 rounds into this tiny magazine, and I'm left scratching my head as to how they did it. But they did, because they're smarter than me and they make the big bucks.
Back when the Sig P228 came out, it was wildly popular, being considered a "compact" pistol in its day. If only we could have seen the future! Back then, its 13+1 capacity was considered to be decent. What amazes me is that the tiny CSX manages to hold nearly as many bullets as the old P228 used to. What makes it so amazing is the size and weight difference between the 2 pistols.
The CSX also ships with a spare 10-round magazine. When compared, the 10 and 12-round magazines are very similar in size. As far as compactness is concerned, there is almost no advantage to using the 10-round magazine in the pistol. The only advantage I can see with the 10-round mags is for states that mandate 10-round limits for their magazines. Aside from that, give me the 12-rounders all day long!
Magazines
The CSX magazines are made from metal and are very sturdy. They are of stainless steel construction with a Nitride finish. The appearance is matte black, similar to the pistol itself.
The 12-round magazine has a sleeve (Polymer type) that fills the gap where it extends out of the magazine well slightly. With the magazine in the well, this sleeve is great and makes the grip ever so slightly longer and definitely more comfortable. With the 10-rounder in place, the grip is just barely long enough for my medium hands to get a 4-finger grip on.
I carry a spare 12-round magazine with me (for a total of 25 rounds on my person). For that spare magazine, which is carried in my rear pocket, I remove the sleeve. That is because it freely slides up the body of the magazine. While in my pocket, it will often work its way up and even off of the magazine. I figure, if I ever need the magazine in a hurry, I'm not going to miss the little detail of that magazine sleeve because it will likely mean that lead is flying through the air. Either way, in my opinion, it's not a huge deal.
The magazine's follower is injection molded and appears to be either polymer or plastic of some sort. This definitely helps the rounds to feed smoothly and requires a minimum of lubrication; plastic on steel just seems to work well, no matter what.
Another nice detail is the witness holes are marked with the number of remaining rounds (at the 6 and 12-round positions) on the side of the magazines, making it easy to see how many rounds are left in the mags. Their logo is engraved on the front of the magazine and on the base plate.
I've had the CSX to the range quite a few times now, and the pistol and magazines have proven to be 100% reliable.
A Comparison: CSX and Glock 43X
As I discussed writing this article with my wife, she suggested making a comparison between another pistol's magazines and the CSX's. I thought about it and realized it was a good idea! I'll compare the CSX to the Glock 43X. Some people might say that's an apples-to-oranges comparison, but I don't think so. They're both compact (although the CSX is a bit more compact). Both are light. Both are meant for concealment and protection.
Rather than launch into comparison specs, I'll show the findings with some photos.
Glock's magazines, as you probably are aware, are covered with polymer and lined with metal. S&W mags are simply metal.
The Glock 43X magazines only hold 10 rounds and are not quite single stack; they're slightly staggered. This does give the advantage of having a slightly slimmer grip with the 43X, though the grip is definitely longer than the CSX. The CSX's grip is shorter but chunkier.
Some might say, 6 of one, half-dozen of the other. The 43X is slightly more difficult to conceal. I do, however, like the slimmer grip because it allows me to get a great purchase on that pistol's grip.
As I said, the CSX magazine is a marvel with how they got all those rounds into such a small envelope. In that respect, it beats the Glock 43X.
Which pistol is better?
I think the Glock is better for an actual firefight, God forbid we ever find ourselves in such an event. The longer, slimmer grip lends itself so well to accurate shooting when at the range.
I like carrying the CSX better though, because of its smaller signature. And I can't deny that being able to have 13 rounds onboard the CSX is a comfort. I've shot the CSX out to 75 yards and I can make hits on man-sized targets, so it's no slouch.
That said, they're both great pistols!
I highly recommend picking up a spare magazine or 2 for your CSX. GunMag Warehouse, as this is written, has them for $42.00. It's an excellent product, and they're S&W factory magazines.