Red dots on pistols are much more prevalent than they ever have been before. I will admit that I was late in the game and didn't get one until 2020. Since then, I have had a few from different manufacturers on several different makes of pistols. I have attended a few red dot pistol courses on my own time with Raven Wing LLC, as well as my department's required Red Dot course that is mandatory to be able to carry a duty weapon equipped with an RDS.
Ever since I implemented them in my pistols, I really enjoy shooting with them. They do improve my shot placement, especially when you increase the engagement distance to 15 to 25 yards and on. There are plenty of advantages to having an RDS on your pistol. To quickly name a few: sight picture, sight acquisition, and being able to see movement between shots. All of these advantages of a red dot make shooting a pistol much easier over iron sights. There is a learning curve, of course, and a lot of practice involved. But when you are comfortable, you will be a better shooter — if not a bit more accurate — than you would be with iron sights.
I have been carrying one on my duty weapon for over two years on the job, and I have a few on my full-sized and compact pistols at home. However, I waited a bit longer before I carried one on my EDC or Everyday Carry pistol. There were several reasons for that. It took a while for the Micro Red Dot Sights or MRDS to catch up and become durable and reliable. The same was true with slides that were cut to accommodate to become more available.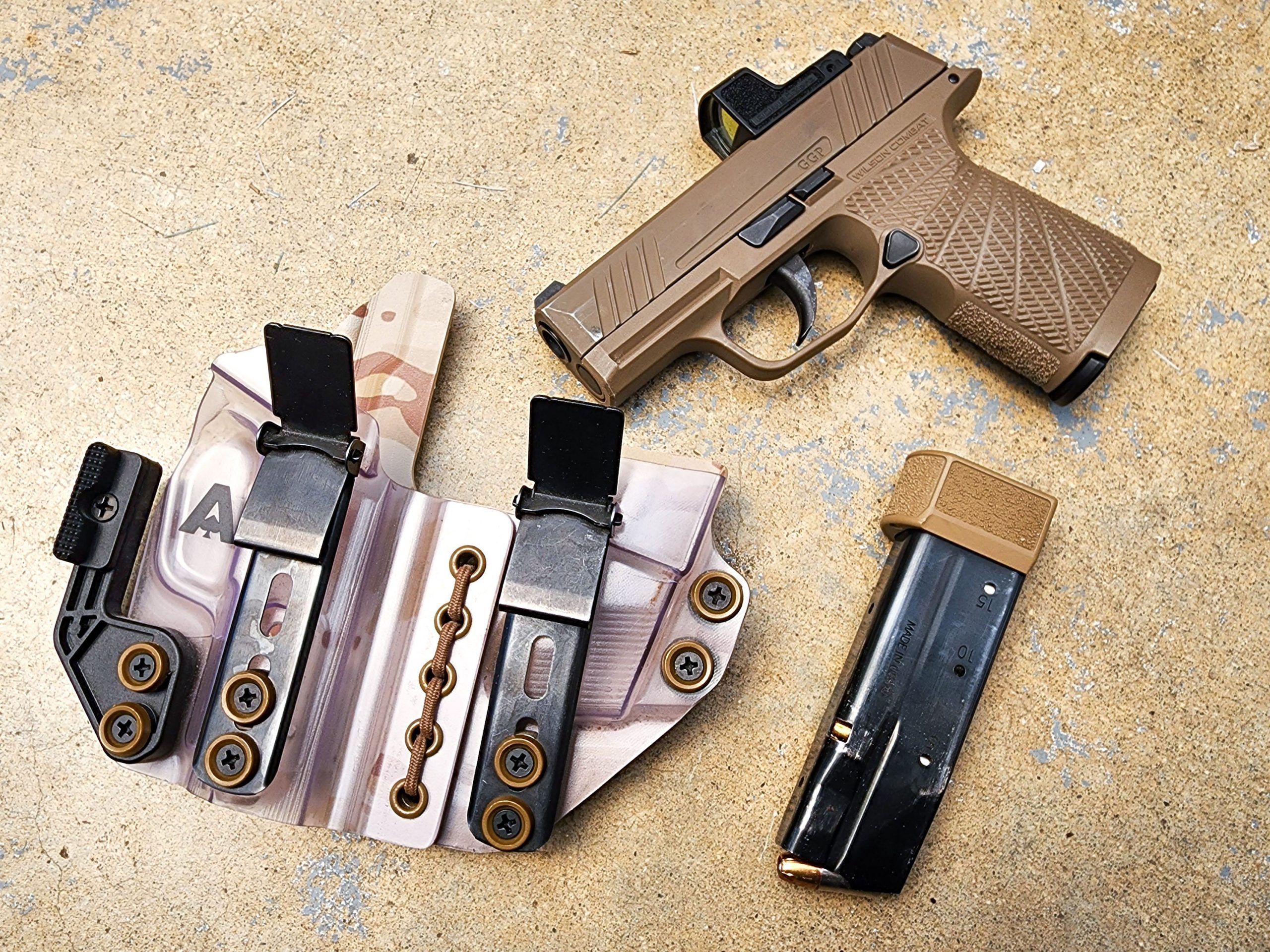 I have been carrying the
Sig Sauer P365
as my EDC ever since it came out. I got lucky, and my version, which was the second generation of P365s, has had no issues as of yet. It is a Micro Compact Pistol that holds
10 rounds in a flush magazine
and optional extended magazines that hold 12 or 15 rounds. That is hard to beat for such a small pistol. It shoots very well and is extremely easy to modify with the Fire Control Group. I also upgraded my grip module with the Wilson Combat WCP365 XL. This gives me a full grip that takes the
extended 12-round magazine
as a flush magazine. Even with my small hands, it gives me more area to grip the pistol. I was running the 12-round magazines already so it wasn't any longer than usual and the WCP365 XL has better ergonomics for me and more aggressive stippling/texture in the front and back straps. My P365 is essentially a P365X and has become my favorite pistol to carry.
Being accurate with your shot placement is extremely important on an everyday carry gun for a multitude of reasons. The number of rounds that you have are much less than that of a duty loadout if you are a Law Enforcement Officer. Even with the excellent round capacity of the P365 and many other Micro Compact Pistols, you will most likely be carrying one spare mag with you, leaving you with only what you have on your person. So, you will have to make every round count and make those hits on target. Your life, and that of others you may be trying to protect from a threat, depend on you stopping that threat as quickly as possible.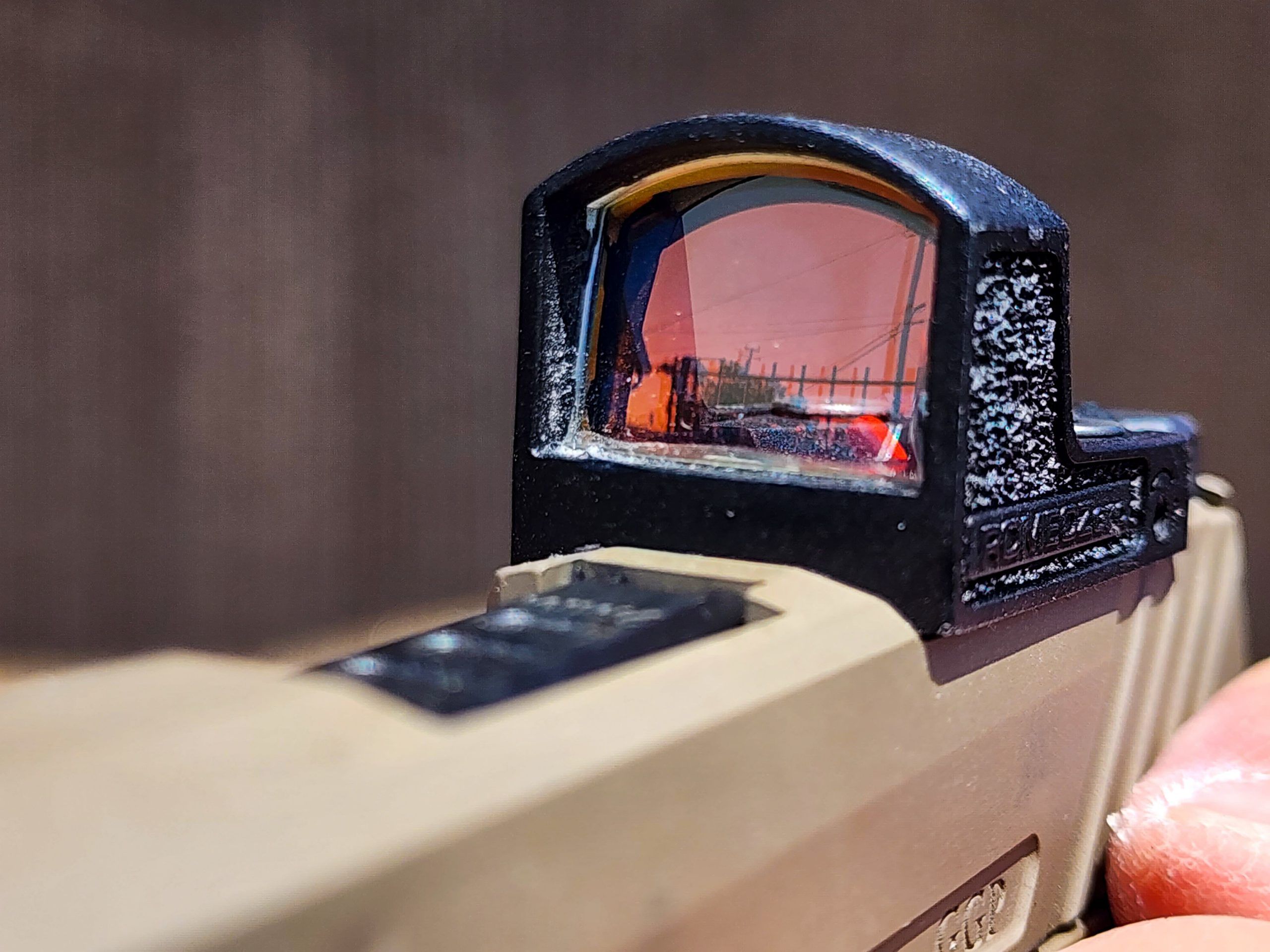 A red dot will allow you to be target focused as opposed to front-sight-focused on an iron sight. All you need to do is impose and align your dot on your target/threat and squeeze the trigger the appropriate amount of times until the threat is no longer a threat. If you miss, you own every bullet fired from your pistol, and hitting a bystander would just make things turn for the worst. This is why I am a huge proponent of RDS on pistols, they are an excellent tool when implemented correctly.
The Romeo Zero Red Dot
I was sent a slide from Grey Ghost Precision for my P365, the GGP365 V1, in FDE, of course. It is already cut for multiple MRDS patterns. Then, I was ready to add an MRDS to my EDC pistol. I received the
Sig Sauer Romeo Zero 1x18mm 3 MOA Micro Reflex Sight
to run and do this review.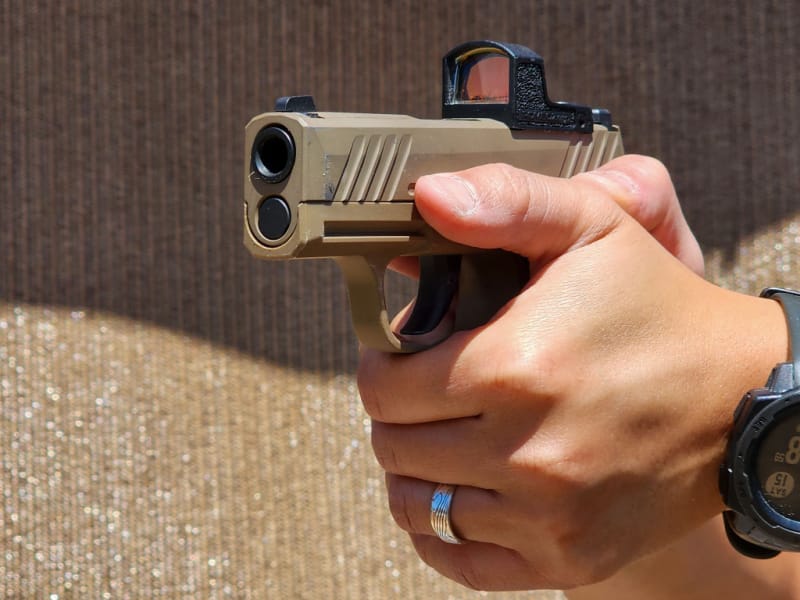 Romeo Zero Specs
The SKU is SOR01300
Material: Aluminum
UPC: 798681618958
Reticle: Dot
Reticle Dot Size: 3 MOA
Color: Black
Reticle Color: Red
Battery: CR1632
Adjustment: MOA
Adjustment Increments: 1 MOA
Magnification Range: 1x
Features
Optimized for concealed carry
Lightweight WeaponsGrade polymer body
SpectraCoat HD polymer lens system
10x stronger than traditional glass systems
Eight daylight brightness settings
Up to 20,000 hours of battery life
MOTAC technology
10-year battery life
Installation and Operation
Installation was very easy and effortless. With the Grey Ghost Precision GGP365 slide, I could barely co-witness the iron sights with the rear cut-out notch on the end of the Romeo Zero. It is enough to use as a backup sight if it were to go down. I did a hasty zero by lining up the dot with the iron sights. Then, I took it to the range to confirm the zero, and it is right on. I will say that there aren't any audible or tactile clicks when you turn the adjustment dials with the included Allen wrench. I prefer to have the clicks. However, this wasn't too much of an issue once you were zeroed. It has continued to hold zero after carrying it for the past few months.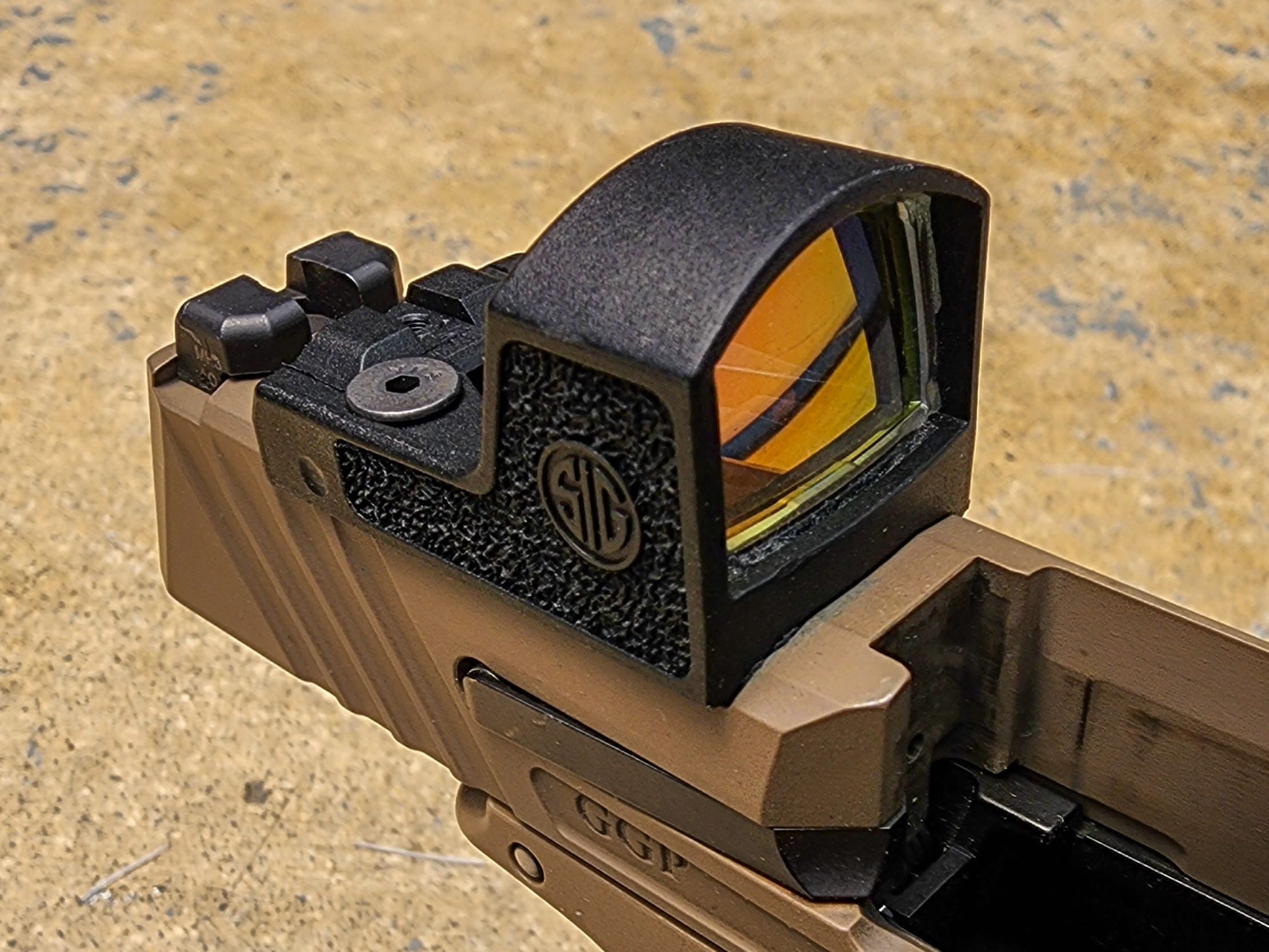 The CR1632 battery is loaded at the bottom, meaning that the Romeo Zero must be removed from the slide to replace and therefore will need to be re-zeroed. Thankfully the battery life is good, and when paired with the MOTAC technology, it should last a few years on a single battery. I will still be replacing it every year. I prefer side-loaded batteries, but I think with this low-profile design, it may not have been easy to accomplish.
The sight picture through the SpectraCoat HD Polymer lens has a noticeable blue tint to it. It might bother some people out there, but blue tint has never bothered me with any of my red dots. The mode button is placed just behind the objective lens, which makes it easy to inadvertently touch. The lens could have been placed elsewhere, but the good thing is that I rarely need to use it. The 3 MOA dot size works well for me, it is big enough to acquire quickly and not too big to cover too much of my target.
The Romeo Zero at the range makes shooting with my P365 at the range much more enjoyable. I can see my accuracy improve the more I shoot with it. This has been the case with every pistol that I have added a red dot to and is no different this time around.
I have been carrying the Romeo Zero every single day since it was installed. It is very lightweight and I hardly even notice it adding any weight at all to my setup. I carry it with my P365 in an Allegiant Holsters APNDX2 holster. It has been comfortable and easily concealed. With the Romeo Zero on board, I can get a better sight picture in all light settings, even in conjunction with my Cloud Defensive MCH handheld light. The Romeo Zero has been durable enough so far. Granted, I haven't dropped it or plan to drop it anytime soon, but it gets banged around when I put it in my safe and retrieve it sometimes.
Other than the few cons I mentioned earlier, another one would be how dirty the lens gets from just carrying it. I check my EDC and Duty gun every day and the Romeo Zero, along with my P365 is a dust magnet. The Lens Pen is my best friend and I use it almost every day or every other day to clear the dust off. Even with a good layer of dust on, I don't believe that it would be much of a hindrance if I had to shoot with it while dirty. It's just something that I noticed while carrying it every day.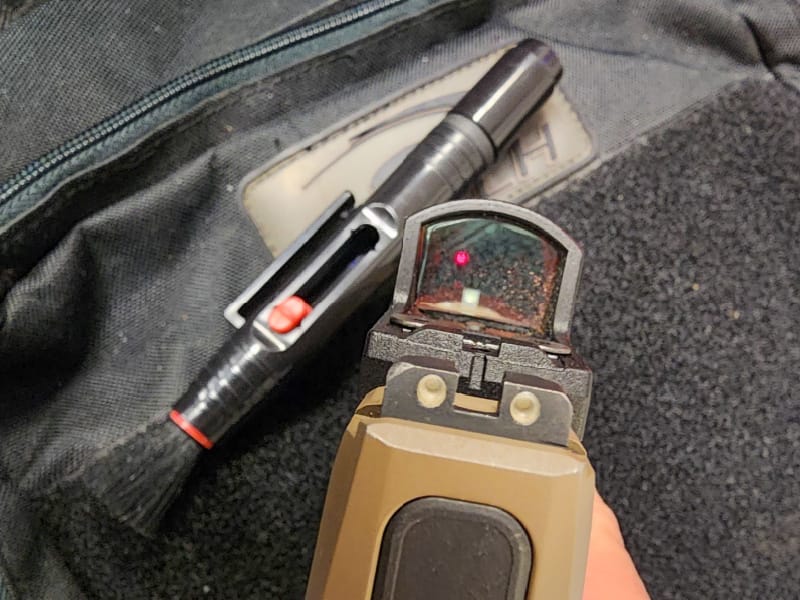 The Romeo Zero does a decent job as an MRDS for a Mico Compact Pistol. It definitely is not the best sight I've used, but at its price point, it is worth looking at.