If you like tubular optics, the Sig Romeo7 catches the eye. The full-size 2MOA is a larger optic that looks just a little bit like the Aimpoint CompM2. Aimpoint was the first producer of tubular red optics. They are known for their quality and durability. With the quality of an Aimpoint though, you get a premium price tag. Like, sell your boat and left arm price tag. This causes me to look for other options because, well, I only have one left hand and I'm out of boats.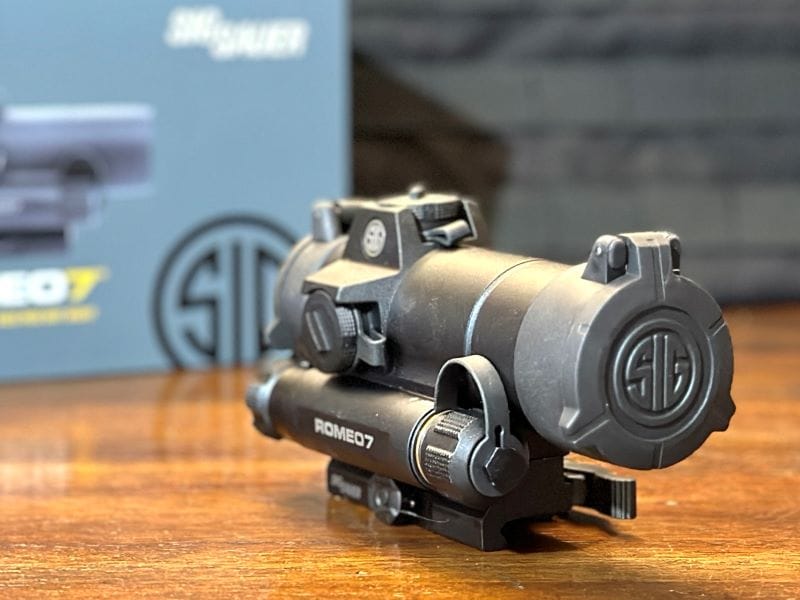 The size and shape of the ROMEO7 are what appealed to me because I like that look. I have heard people complain that it is just another Aimpoint clone, but so what? Glock made the first polymer frame handgun and every gun company on the planet is copying them. What does matter to me is this: does it have the quality and durability to withstand a doomsday marathon? And don't ask me what that is, because I'm not sure yet.
About the ROMEO7 Red Dot
With the initial unboxing of the ROMEO7, I was not disappointed. You only get to open a new item once and I like it when you are delighted with what you see. The optic has a heavy, solid feel to it. I know some will complain if it has any amount of weight, but I like things built solid and tough. One complaint I had heard when this optic first came out was that the base plate could not be switched out. If that was true, it has been corrected. Mine came with a standard low-profile hex bolt mount and a QD (quick detach) mount.
Sig kept this one simple, just like Aimpoint did. There is an illumination control on the side with two NV settings and nine daytime settings. While the optic is simple, Sig added some new technology to it. The on-and-off nob is easy to access even while holding the rifle. The optic has Sig's MOTAC (motion-activated control) built into it. Instead of turning it on or off, it runs in the background all the time. The control nob can be turned off, but if it is left on, the optic will still go to sleep after 120 seconds. When it senses motion, it turns back on. I tested this feature, and the optic turns back on with very little motion.
Durability Tests
When testing an optic, I don't always go as far as driving over them, smacking them with hammers, or throwing them off the tops of buildings. But I do like to put them through some type of extreme conditions that could be realistic depending on where you live. I have dropped an optic before, so I want to include those in my tests. I live in a place that can be well below 0° F in the winter and over 100° F in the summer. If a gun is left in a car, it can get very, very hot.
For a $200 optic, I don't expect the ROMEO7 to be a tank like the Aimpoint, but it must be ready for everyday abuse. For this, I like to do four tests: freeze, bake, submerge, and drop. I mount the optic back on the rifle and check it for accuracy in between each test. If it holds up, I place it on a rife and use it or keep it as a backup. If it doesn't, then it goes in the trash. Let's go over these tests with the ROMEO7 red dot.
Freezing the ROMEO7
This test is easy, and any quality optic should be able to pass. I don't use a bag or any type of protection when placing it in the freezer. I just open the door and throw it in. My freezer is set at -8° F. I left the optic in there for 48 hours and then took it out to see if would still perform. It turned on like it should and kept its zero on the rifle.
Some optics can have issues with fogging up or the battery power being reduced. Optics that use smaller watch-style batteries can be more susceptible to the cold. But the AA battery had plenty of power and the Sig didn't have any issues with fogging up when it transitioned from the freezer to the 70° F room.
Drowning the ROMEO7
The ROMEO7 has an IPX-7 rating which means it can be submerged in water (1 meter) for up to 30 minutes. I have never dropped an optic in water (fingers crossed) but if I did, I would be jumping in after it. As long as it can be submerged without any damage, I'm happy with it. I didn't go a full meter, but I made sure the optic was completely underwater. I left it in a bowl for a little longer than 30 minutes before I dried it off. There was no moisture in the battery compartment or water behind the glass, so I was happy with the water test.
Baking the ROMEO7
The third test I performed on the Sig is the heat test. Heat can cause optics to get off zero and, in some cases, they get off so much they can't be used. Some optics can be damaged permanently in extreme heats. The instructions didn't list a maximum heat range, but I wanted to make sure it work for any type of heat we get around here, so I turned the oven up to 150. I tried to get it back on the rifle while it was still hot to see if it would stay on target. It was off about two inches to the right at 75 yards but did go back when it cooled off. Nothing appeared to be damaged form the heat.
Drop testing the ROMEO7
Again, I want to make sure it can hold up to the normal abuse it would have from me dropping it or banging it around. I didn't throw it off a cliff, but I did hold it up to eye level and let it fall. I did this several times on a wooden floor and once outside in the gravel. The only issue I had was the lens cover came open and the kill flash got a small ding from a rock. Other than that, it functioned fine and stayed on target.
Summary
After using the ROMEO7 for a while, I can say it is now one of my favorite optics. The function dial has a firm click with each turn and the QD base has a locking lever that keeps it from coming off. Even though it's on the larger side, Sig managed to keep the red dot slim.
While the ROMEO7 may not be on the same level as an Aimpoint red dot, I think it could rival many optics twice the price. It was easy to zero in and stayed that way which made it easy to keep groups out to 100 yards. I will be using this one on a 300 blackout. If you are shopping for a good-quality optic that doesn't cost a fortune, give the Sig ROEMO7 a try.