Are all 1911 magazines interchangeable? Are 1911 magazines universal? Are all 1911 magazines the same? How do I determine 1911 magazine compatibility? What are the best 1911 magazines for me? These are questions our customer service crew frequently hears. Let's break it down for ya.
Are all 1911 magazines interchangeable?
The answer is NO.
Although they are typically interchangeable within frame sizes, and often between some frame sizes 1911 magazines are not universal across the board.
The 1911 pistol is one of the most famous handguns in the world. It's so popular that most manufacturers offer their own version. Since the iconic original model was introduced over a century ago, frame size and caliber options have greatly expanded.
Although it's great to have so many choices, searching for the right magazine for your own 1911 can be extremely confusing.
We're gonna fix that.
The best 1911 magazines are the ones that fit.
Six things to ask to avoid confusion.
There are many things to consider when shopping for 1911 magazines.
The purpose of this guide is to assist you in the process so you can confidently make your purchase.
If you find yourself overwhelmed looking through all of the 1911 magazines available out there, just remember, these are the questions you need to ask:
Before we continue, take note! Lots more info below: Scroll down and take a look at
→Searson's 1911 History Lesson,
→Troubleshooting with Wilson Combat
→Collection of Historic Colt M1911 Magazines from LooseRounds
1911 Magazine Compatibility Guide
1. What size is the frame?
1911s come in all shapes and sizes, so it's important to make sure the magazine you buy is compatible with your weapon. Obviously, it's important to know which size you have. You'd probably be unhappy if you tried sliding a Officer-size mag into your Government size magwell.
For the sake of picking the right magazine, we can roughly group 1911 frames into three main sizes (-ish).
What model do you have?
We also have to consider..
There are additional complications: the Commander, though often referred as a "compact", is still generally considered to be a full-sized gun. And there are now "micro-compact" models that are smaller than the Officer, too…but we'll get you sorted on that too.
Specialty model? Is it a micro-compact or "modified" frame style?
There is also the 2011 to consider…eventually.
For now, keep 'em divided into 3 general categories now and we'll dial it in later!
Full-Size 1911 = Government Model
The full-sized pistol has the Government frame. Overall, the pistol is most often 8.25 inches long and 5.5 inches in height with a 5-inch barrel. The slide measures about an inch wide and the grip is slightly wider at about 1.2 inches.
**When you're looking for magazines that are appropriate for 1911s with Full-Size, Government, and Commander frames, any magazine that doesn't explicitly state a specific model can usually be assumed to be full-sized.**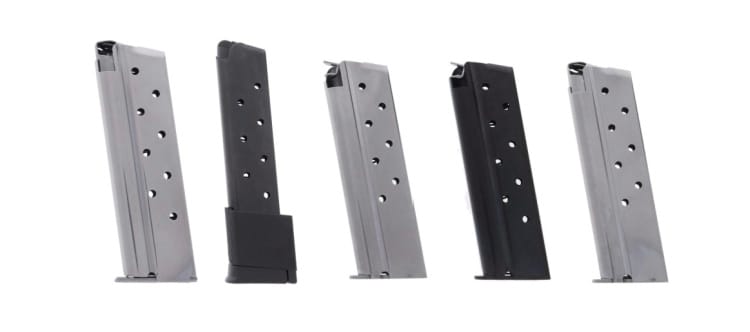 Compact 1911 = Commander's Model
The Commander frame is sometimes referred to as a "compact" model, but it is still considered a full-sized pistol. Basically, it's the same as the Government, with 3/4 inch shaved off the barrel and slide. It came about to meet a specific need at a specific time.
**When you're looking for magazines that are appropriate for 1911s with Full-Size, Government, and Commander frames, any magazine that doesn't explicitly state a specific model can usually be assumed to be full-sized.**
Sub-Compact 1911 = Officer's Model
The Officer 1911 is the subcompact variant. The standard barrel length is 3.5 inches for most models from most manufacturers, though there are shorter barrel lengths out there. The grip is also shortened, as most Officer frames are 4.8 inches in height or shorter.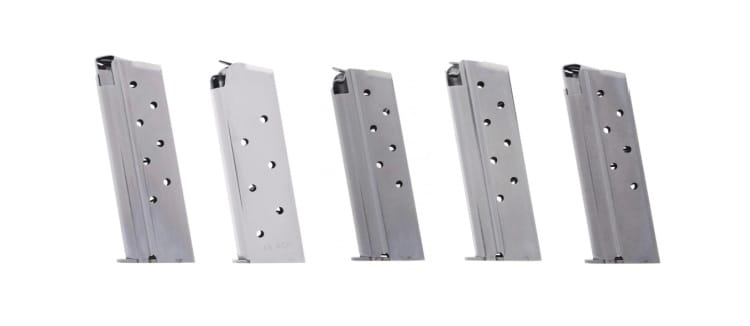 These magazines are for firearms advertised as having Compact, Officer, or sometimes "Carry" sized frames. Any one of these terms can indicate a shorter magazine that is not suitable for a Full-size 1911.
There is some overlap between Commander and Officer frames, so sometimes you'll see magazines listed for both.
Micro (and other) Specialty 1911
Even smaller than compact frames, this class of magazine is hard to quantify and often called micro, subcompact, or Defender sized.
Handguns such as the Colt Defender series utilize very small magazines that are too short for use even with a compact 1911. If your pinky dangles under your grip when you shoot, you probably need one of these.
Since there is no standardized size for this category, check with your firearm's manufacturer to see what magazine they recommend.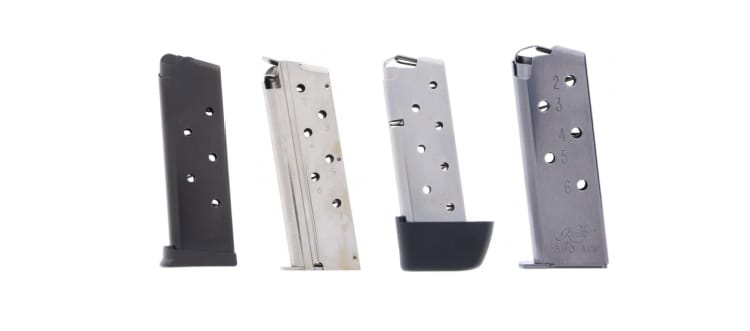 Micro 1911 pistols, like the Kimber Micro, Sig Sauer P238 and P938, and the Colt Mustang, take many cues from the 1911. These pistols are micro-sized and are highly popular for concealed carry, though they are chambered for .380 and 9mm only. The single-action operation remains, as does the thumb safety, but the grip safety is omitted.
If you aren't sure what frame size your 1911 utilizes, we recommend contacting the manufacturer. They can use the serial number to determine frame size and usually offer a recommendation on what magazines to use.
2. What caliber is your 1911 chambered in?
"Guns tend to work best in the calibers they were designed to shoot." – Ray Chapman
The 1911 design is a versatile one. It's been adapted to a wide variety of calibers over its lifetime and is commonly produced in at least a dozen different calibers today.
In order to make sure you get the correct magazines, be sure to match them to your firearm's caliber. The most common calibers for 1911s are:
However, firearms are also produced for less-ubiquitous cartridges like the:
Sometimes you'll see one that is particularly unusual, like the
If you're not sure of the caliber of your firearm, you can usually find it marked on the barrel, typically near the breech. It may also be denoted on the slide.
If you're still not sure of the caliber or need help figuring it out, contact the manufacturer and provide them with your serial number. They can give you a definitive answer, and usually a magazine recommendation.
3. 1911 Brand, Manufacturer, and Reliability
Some 1911 magazines are compatible with more than one brand. Do some research to find out which magazine brands will fit your pistol.
Of course, looking at brands involves more than just compatibility. You're looking at design, construction, and reliability.
In Massad Ayoob's article, Thoughts on 1911 Magazines, he recounts an experience he had with cheaper mags.
A few years ago, I got a 1911 in to test for a gun magazine from one of the most highly regarded boutique manufacturers. It worked fine…except that the one magazine supplied by the maker would choke the pistol with a 12 o'clock misfeed on the last round. Every. Single. Time. An executive of the company that made the gun told me that they frequently changed magazine vendors depending on who gave them the best bid.
As I said in the article I wrote about it, I switched to Wilson 1911 magazines, and the damn pistol ran like the proverbial Singer sewing machine. I liked it so well I bought it. And I still carry it at least sometimes every year.
Only with Wilson magazines.
He goes on to say,
Super cheap magazines – "made of genuine metal," as the saying goes – rarely seem to work out well. Spring tension weakens, soft magazine lips spread, and we are reminded that quality lasts a whole lot longer and better than low-bid cheapness.
4. What's the Stack?
There are two main types of pistol magazines:
Single stack and
Double stack
While the single stack magazines have the cartridges stacked on top of each other for better reliability, the double-stack magazines have the cartridges stacked in a staggered configuration. You can carry more ammo in the double stack, but the magazines and grips are thicker, and thus harder to conceal.
While most 1911s are single stack, double-stack models have become increasingly more common in recent years. Double-stack and single-stack firearms use different magazines that are not compatible with one another.
John Browning's classic single-stack design is the most common magazine type in a 1911. This sucks for capacity, and every extra round you can fit into the magazine is a great accomplishment. A 9x19mm 1911 can often hold ten rounds in a flush-fitting magazine. That's two more than 45s and one more than 10mms. – Travis Pike.
Make sure you know which magazine design your firearm uses in order to purchase the correct magazines. If you aren't sure, you can always contact the manufacturer to find out.
In Single Stack 1911 Magazines, Overall Length Matters!!
As explained by Massad Ayoob, the reason is if you have a short-butt 1911 like the Colt Officers and you slam in a full-length Government Model magazine, and the slide is locked open empty, the magazine can over-travel and prevent the slide from closing (see image below).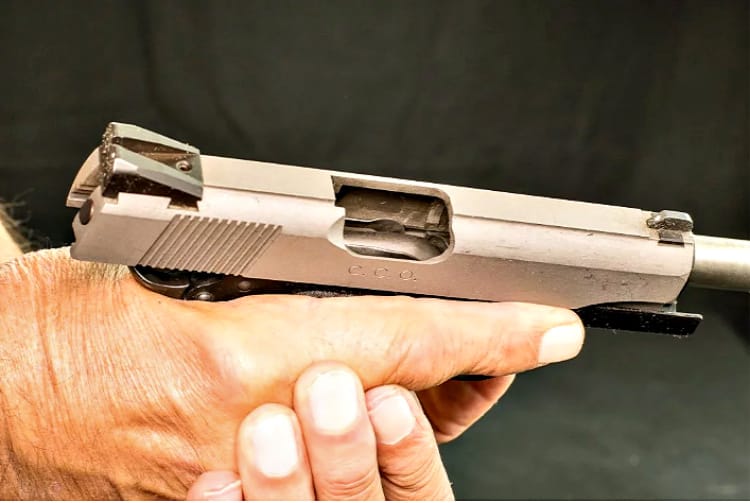 5. Baseplate Options
1911 magazine baseplates come in a number of designs, and not all are compatible with all handguns.
Which kind do you need?
Flush fit
Extended grip and/or capacity
Tapered
Many 1911s utilize flared or extended grips, or magazine wells. If your 1911 features either, be sure to pick up a compatible magazine.
Here are some examples:
Flush-fit
These baseplates sit as close to the base of the pistol's grip as possible, protruding little or not at all.
Extended (Extendo)
Sometimes referred to as "Bumper" plates, these baseplates, usually polymer, stick out a short distance from the grip of the pistol and provide impact resistance or increased capacity.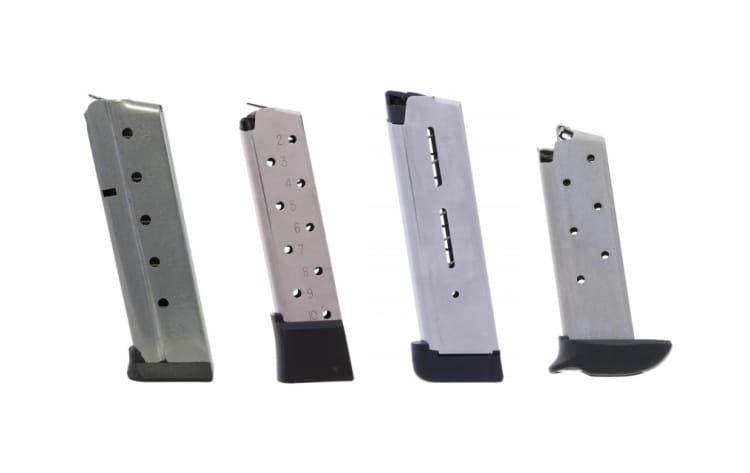 Tapered
A variation of the extended baseplate, these are designed for use with a magazine well or extended, flared grip panels. They feature an angled design along the top edge in order to fit into flared magazine openings.
If your firearm does not feature a magazine well or extended grip panels, you should be able to use any of the three varieties without issue. If you do have one of these features, contact your firearm's manufacturer or the maker of the magazine well or grip panels, as not all wells are compatible with all tapered baseplates.
6. Proprietary 1911 Magazines
Lastly, you'll need to know if your firearm utilizes proprietary magazines. While some may not consider a proprietary magazine to be a "true" 1911, these firearms often look and function exactly like traditional 1911s. Some examples include the Springfield EMP, Browning 1911-380, and the Kimber Micro 9.
These firearms require a magazine specifically designed for them.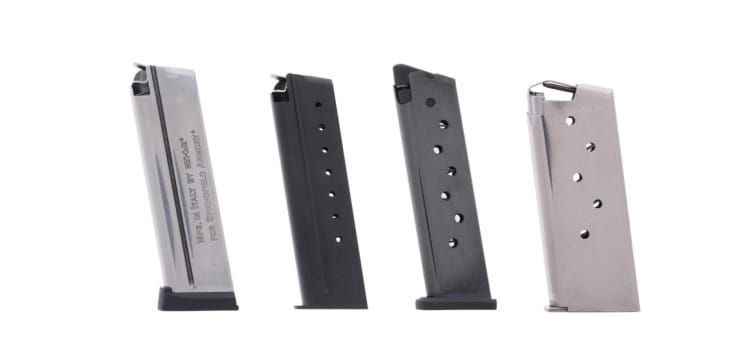 There are a few of the "odd man out" variety (think Wilson Combat Sentinel) "Century": is it a 1911 or a 2011?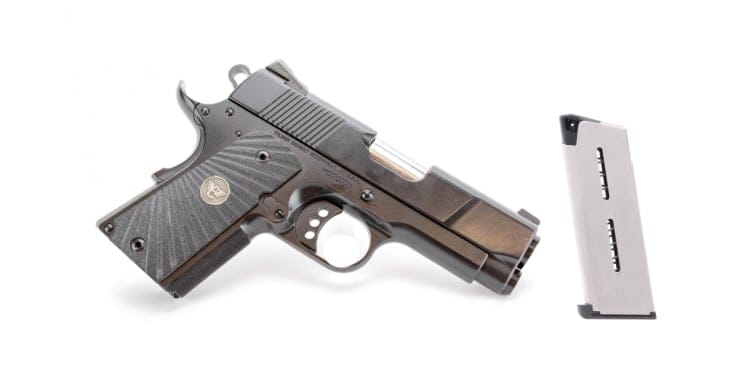 While many would contend that a firearm using proprietary magazines isn't a true 1911, they are commonly marketed as such. Newer designs such as the Springfield EMP look and function like 1911's, but do not take standard magazines.
If you're not sure if your firearm requires a proprietary magazine, contact the manufacturer to verify!
Appendix 3—A History Lesson from Mike Searson
We reached out to firearms expert Mike Searson, asking him to explain the applications for full-size, compact, and specialty frame sizes. Why did we do that? Because in the firearms industry he's a well-respected Author, Consultant, Gunsmith, Ballistician, and all-around badass. He was generous enough to share from his wealth of knowledge on the subject. Enjoy!
Full sized 1911
Standard-sized or Government model 1911 pistols are in service with the military forces of over 35 different countries and have served with an additional 60 or so since their invention. They are by far the most common variant to be found in the world today and are what everyone typically thinks of when they think of a 1911 pistol.
Commander 1911
The Commander sized 1911 came from Colt's candidate in a U.S. government post-World War II trial to find a lighter replacement for the M1911 pistol that would be issued to officers. Requirements were issued in 1949 that the pistol had to be chambered for 9 mm Parabellum and could not exceed 7 inches in length or weigh more than 25 ounces.
Colt entered a modified version of their M1911 pistol that was chambered for 9 mm Parabellum, had an aluminum alloy frame, a short 4.25-inch barrel, and a 9-round magazine.
This particular trial never really went anywhere but in 1950, Colt moved their candidate into regular production. It was the first aluminum-framed large frame pistol in major production and the first Colt pistol to be originally chambered in 9 mm Parabellum. The first year's production included 45 ACP and 38 Super chamberings.
In 1970, Colt introduced the all-steel "Colt Combat Commander", with an optional model in satin nickel.
To differentiate between the two models, the aluminum-framed model was renamed the "Lightweight Commander".
Officer's Size
The Officer's size came from Rock Island Arsenal (not to be confused with Rock Island Armory) in 1975 and was the "General Officer's Model Pistol" for issue to general officers of the US Army and Air Force, but the pistol was unavailable for sale to the general public. In 1976 Detonics introduced their compact "Combat Master" which was a chopped down 1911, with a 3.5″ barrel and a shortened grip frame.
A decade later, Colt developed their own version and named it the "Colt Officer's ACP", the following year they introduced a lighter version with an aluminium frame known as the Lightweight Officer's ACP which weighed 10 ounces less (24 ounces). The main differences from a full-sized M1911 are 6-round magazines not 7-round, 7 1/8″ overall length not 8 1/2″, 5 1/8″ height not 5 1/2″, 34-oz not 39-oz, and most characteristically 3 1/2″ barrel not 5″.
Longslide pistols date back to around 1980 with the first major commercial offering by AMT. These pistols typically have a 7″ barrel and a longer slide to match. Many other manufacturers have offered these types of 1911s over the years in small batches or as custom shop offerings. They are primarily intended for target shooting or hunting and are often too large to be carry concealed, unless you're the Terminator.
Appendix 2—Troubleshooting Wilson Combat 1911 Magazines
When you run into snags or issues with your 1911 mags, there are ways to figure it out. Here's a handy guide that Wilson Combat put together to address issues that may come up with their own magazines. This information may come in useful for other manufacturers as well.
Why won't the slide stop drop on an empty magazine?
Because we use extra power springs for improved feeding and lockback, your unloaded magazine should not allow the slide to drop when empty by using the slide release. When the magazine is loaded with ammunition it will be easy to drop the slide using the slide release.
It is not an important tactical feature for an empty magazine to allow the slide to drop over it. Flawless feeding and reliable lockback on empty are more important.
Why is my magazine hard to seat when fully loaded?
If your pistol is made on the high end of magazine catch/frame specifications, a fully-loaded, new magazine may be difficult to seat. This can often be rectified by allowing the springs to break in by leaving the magazines loaded for a while before your first time shooting them. Or, you could load them by hand several times until the springs relax and take a set. Some pistols may even require a different magazine like our ETM model that has a longer tube and is generally easier to seat.
Why do my 9mm magazines sometimes hang up when loading them?
To accommodate the wide variety of bullet profiles, your magazine has been designed with exacting tolerances. Occasionally the follower will catch on the magazine-catch notch on the tube. If this happens simply push it back in the tube with your fingernail while loading. Eventually, as your magazine is used, this will lessen over time.
Why doesn't my pistol always reliably lock back when empty?
Even though we use the strongest magazine springs in the industry, some pistols have such excessive tolerances in the magazine well/slidestop internal lobe area that some magazines will not reliably lock back on empty, even when new. This is a known problem with some Springfield Armory pistols. You may need to have a gunsmith replace, polish, or fit your slide stop for proper function. This may also be an indication that your springs need replacing.
Why won't my baseplates stay on?
All of our magazine baseplates are sized for a very snug fit on the bottom of the tube and with the retention plate. After installing a 1911 magazine baseplate you may need to rap the baseplate against your workbench to ensure that the baseplate is seated.
My pistol has a failure to eject the last round. Is it my magazines?
No, failure to extract and eject, especially on the last round, is typically a problem with the pistol's extractor. A 1911 pistol with a loose extractor will drag the last empty case across the magazine lips on the way out of the pistol, potentially ruining the magazine in the process. This usually results in a failure to eject the last round.
Pistols with external extractors, clocking extractors, or broken extractors can suffer from this. Make sure your pistol's extractor holds an empty case firmly against the breech face before you blame your magazine. If your pistol has a failure to feed the last round it may indicate you need new springs or a magazine with heavier springs like our HD/+P magazines.
Can I use Full-Size magazines in a Compact?
Yes and No. In a pinch, you can use full-size magazines in a compact frame, but it is not recommended for carry or service use since the longer magazines can over-insert into the frame on a reload, causing malfunctions and damage to your pistol. You will be better served using appropriate magazines for your pistol.
Appendix 3—Colt M1911 Magazine Guide
Shawn over at LooseRounds posted this collection of historic Colt M1911 magazines. We thought it was interesting, so we thought we'd share it with you. Shawn says,
One of the guys in the Colt collectors group put together this excellent guide for old magazines.
Read Normans earlier post and though to put together a visual aide about magazines .. IMO magazines are a great starting point not as overwhelming as understanding roll marks , inspector and assemblers marks on pistols and barrels .. differences in small parts and on .. if interested I put together a simple visual showing Colt Type 1 , 2 , 3 and a late production Springfield no lanyard loop magazine. Included a Type 3 commercial and military example to show the difference in finish.