Ammunition prices these days being what they are, most of us have our eyes peeled for bargains. At least, I certainly do. And every now and then we come across a hot deal that we can't pass up. Such was the case when I found Sellier & Bellot 12-gauge OO buckshot at GunMag Warehouse. At the time of writing, it lists for $19.99 for a 25-round box. At less than $1 per round, that's a steal!
But it's only a steal if the ammo is any good. This begs the question: is it any good?
To find out, I tested it out at the range.
Remington 870
For this test, I used the Remington 870 HHD (Hardwood Home Defense) 12-gauge shotgun. It's Remington's retro-looking shotgun, complete with hardwood (Walnut) furniture. I chose this one because it reminds me of some of the ones I was issued during my tenure in the DOC. During my years of duty, we used the 870, so I'm intimately familiar with it and all the controls. My hands instinctively can operate the controls, and that is a huge plus, especially during times of crisis when the adrenaline is flowing. I've spent many days on the range with the 870, firing tens of thousands of rounds through this platform.
The vast majority of police and other law enforcement agencies have used the 870 over the decades. It was introduced in 1950 and has been going strong for well over 70 years now. That many agencies using one particular model, the 870, tells us that the design is solid and it works.
The 870 HHD has an 18.5-inch barrel with a .73 caliber cylinder bore. It weighs 7.25 pounds and has an overall length of 38.25 inches. I had the stock shortened by an inch to make it fit me better. The receiver is constructed of steel, although the trigger guard is made from polymer. I'd like to see the guard made of steel, but I guess we can't have our cake and eat it too.
The magazine capacity of the 870 HHD is 6+1 rounds and it can handle up to three-inch shells. One of the nice aspects of this 870 is that it comes from the factory with the magazine tube extension installed.
A brass bead sight adorns the front of the barrel. At some point, I'd like to add ghost ring sights, as my eyes pick them up well.
My HHD 870 came with front and rear sling swivel studs, to which I've added swivels and a simple nylon sling.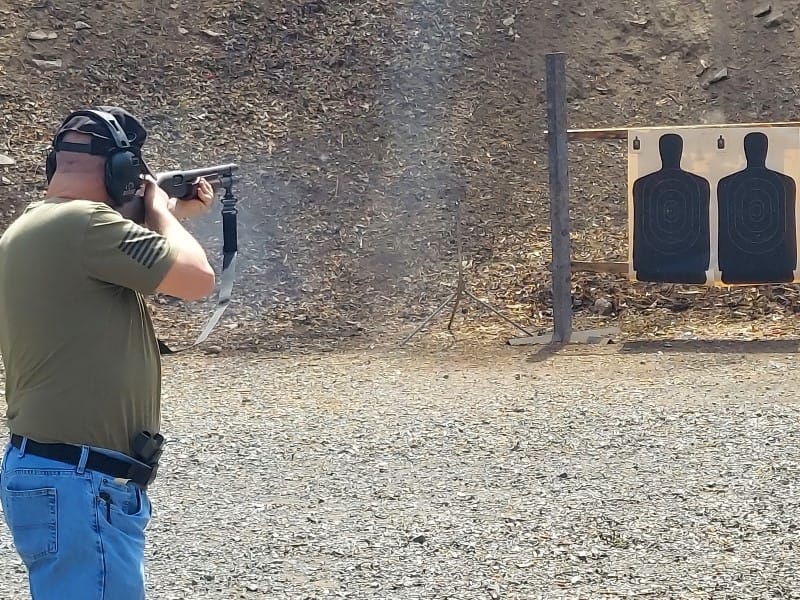 Initially, the action was slightly stiff, but it's smoothing up with use. The dual action bars of the 870 have always worked very well. As a matter of fact, talking about reliability, I've never seen an 870 fail on the firing line. Considering how many of them we used at the prison (dozens), that's saying quite a bit. And those shotguns were not babied; they'd go through an entire qualifying season without being cleaned, which equates to over 1,000 staff using them. That's a lot of use and very little cleaning! Still, they all kept running and did not break down. That's another reason I elected to get an 870.
Sellier & Bellot
Sellier & Bellot has long been making quality ammunition in the Czech Repuplic, and they have a plethora of calibers. I've used their ammo for years and it's always proven to be high quality, I've never had a single issue with any of it. It's accurate and burns fairly cleanly. For the range and training, this ammo has always been perfect. The price has always been reasonable, as well.
12 Gauge
However, this review focuses on their 12-gauge ammunition, which came in a 25-round box. I like the fact that there are 25 rounds, as opposed to most other buckshot rounds from different manufacturers, which typically come in 5-round boxes. Fewer boxes mean it's easier for me to keep organized and to transport to the range. This particular 2¾-inch OO buck load has nine pellets that are .33 caliber (8.43mm).
S&B takes an interesting approach to their shotgun rounds. The hull is transparent plastic, so the buckshot and inner contents can be seen by the shooter. I just think it's a neat approach and makes this ammo a little unique.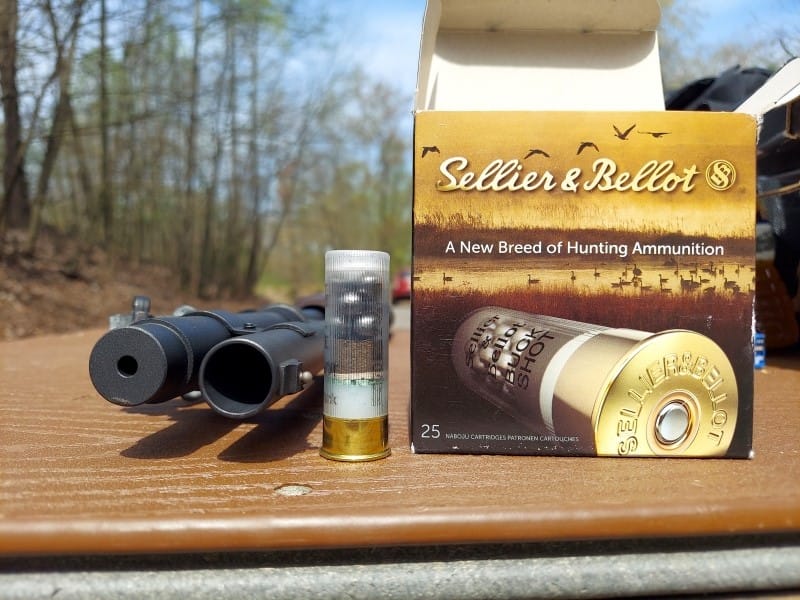 Performance
Looking different is one thing, and costing less is another. But what about performance? If it doesn't deliver, it's all just glitter.
Fear not — the S&B OO buckshot round does what it is supposed to do at the range. Typical pattern groups went from the X-Ring to the 8-Ring of a standard B-27 police qualification target at 15 yards. I'd say it's about average for most OO buckshot rounds, nothing really remarkable about it. Naturally, every round fired as expected. Recoil was about average, as well.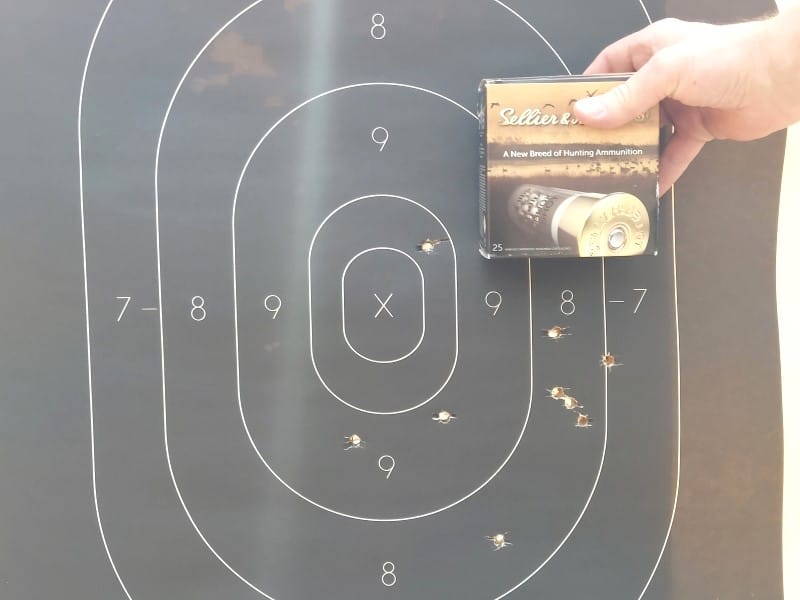 At the price they're sold for, they are excellent for the range. these are great practice rounds. However, I would also feel comfortable using this OO buck for defensive purposes if I had to. They pattern well compared to other buckshot rounds on the market and feed reliably through my 870. I can't ask any more than that. And the fact that I've used ammunition from this company for decades with complete satisfaction adds to my confidence.
Parting Shots
Sellier & Bellot OO buckshot is a great buy from a very reputable company. It shoots great and feeds well through the most popular shotgun platform in the world, the Remington 870.
Although recoil is stout, as would be expected, it's about the same as most other comparable brands on the market. As mentioned, I would feel just fine using this ammo for self-defense if I were forced to defend life and limb.
This solid performer gets my nod.