If you haven't heard of, seen, or even shot the Ruger PC Carbine by now you've likely been living well and truly under a rock. The Ruger PC Carbine isn't the first example of a Ruger brand pistol caliber carbine (PCC) but it is the first time one has seen massive success.
Ruger PC9 / Ruger PC4
Ruger originally released a very similar weapon called the PC9 (or PC4 if you're into .40 S&W). In that weapon, PC stood for Police Carbine. Despite the seemingly LEO-centric name, anyone could buy them. They weren't just for police officers, though they were handy for LEOs who were already using a Ruger pistol. The PC9 gave 'em a long gun that could be fed with the same magazines and offered a bit more oomph to the bullet (and improved accuracy too, of course). The only issue was, or so it seems, no one really wanted PCCs back then. And so the PC9, Marlin Camp 9, and some of their cousins met a lackluster response and all but disappeared from memory.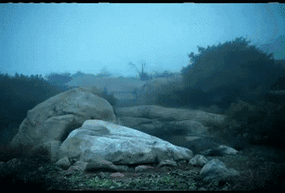 Fast forward a decade to 2017. PCCs have taken off and are now the new Big Thing (or at least one of the new big things).
Ruger, having had tremendous success with its 10/22 Takedown, took some design cues from that weapon and used to build their PC Carbine: a 9mm or .40 S&W pistol caliber carbine that can be easily taken down into component halves.
I first got my hands on the PC Carbine at SHOT Show a few years ago and after firing it knew I had to get one.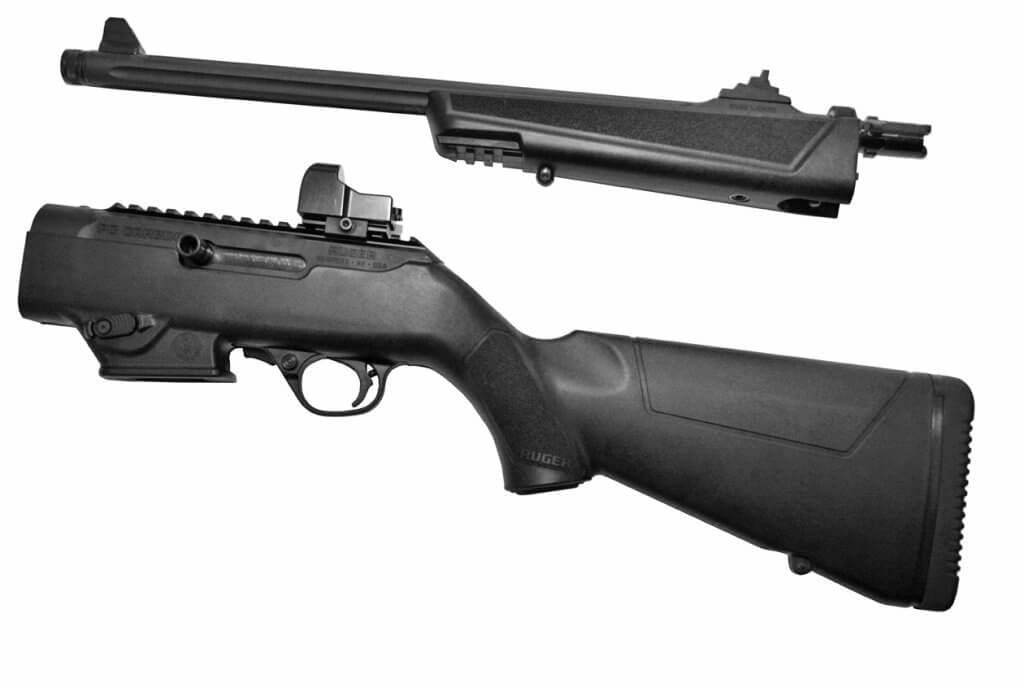 This specific model is the Canuckian version so it has an 18.5 in. barrel to keep it non-restricted, but (most) Americans need not worry about that.
9mm Carbine
A buyer typically receives two Ruger Security 9 (SR9) magazines and a Glock magazine well in the PC Carbine box, plus all the other stuff they stuff in there. The first thing I did was swap the Glock magazine well for the already-installed SR9 one. That's where my first issue arrived, though it wasn't one I noticed right off the bat.
Switching out the magazine well is as simple as removing the barrel half, using a 5/32 in. Allen key to remove the two bolts on the bottom of the buttstock half. Once you do so you'll be able to push on the trigger group and lift the entire receiver unit out of the stock.
To swap the magazine well you just press the magazine release in and lift the SR9 (or Glock specific) magwell out and do the same in reverse. Place the receiver back in and tighten the bolts to 65 in/lbs and you are good to begin feeding your PCC with Glock magazines.
Now comes the function check…
Glock Magazine Carbine: minor issue, simple solution
That ominous ellipse above (the …) is because the Glock magwell did not want to play well with others. Though I'd read no reports of the SR9 magazine well causing issues, the same could not be said for its alternate. In this case the last round bolt hold open did not function. It took a lot of consideration, frequent scratching of heads, and well-delivered profanity to come up with a solution.
The problem, as best I can tell, was likely due to tolerance stacking. This comes from the wide size range of each part; once you hit the extreme ends it can cause issues. When the forward bolt is torqued down the bolt hold open no longer functions (or that what's happened in this rifle). This seems to have been caused by flex in the stock, binding the arm that lifts up and locks the bolt back when the last round is fired.
In my case, the fix was very simple. I just used a tiny piece of cheap, clear plastic clamshell packaging — you know, the stuff that should open right up but really presents enough of a fight that you wind up manhandling it until it tears or just cutting it open so your prize drops out.
I cut a small (roughly 1 in.) square hole, drilled a hole in it the size of the forward bolt, and used it as a washer.
I chose to go with plastic because it is somewhat compressible under the torque of the bolt and because it could be made wider than a washer (thus spreading out the load).
This allowed me to fully torque each bolt down and now the bolt hold-open works exactly as it should.
Ruger PC Carbine Review
A basic overview
The actual rifle itself feels remarkably like a 10/22 Takedown but much heavier. This weight comes from the tungsten buffer inside the bolt. This weight is, according to Ruger, a dead blow weight to shorten bolt travel and reduce felt recoil. This actually seems to work properly and makes sending double taps (or a controlled pair, whatever you're doing) downrange pretty damn easy.
The stock has spacers so you can adjust the length of pull, and the rubber buttpad is grippy and offers some shock absorption.
I should also point out that I bought this version of the rifle in full confidence that Magpul would eventually offer one of their excellent takedown stocks for it. So this will be off to the garbage heap when that finally releases. Not to say the stock is bad. The Magpul one will be just that much better.
The rail on this PCC is actually milled into the receiver, so no chintzy screws hold it on half-assed. The sights are ghost ring style, which are easy enough to use, but I would have preferred an H&K 416 style front sight as I find that faster to pick up.
The barrel has flutes in it to aid in cooling and reduce weight, it also looks great. The muzzle area of the barrel is threaded and comes with a thread protector so you could add a brake or a suppressor if you wanted to. We topped our rifle with Vortex Razor red dot (an excellent optic). Lining up the 6 MOA dot is very simple.
The magazine release and bolt handle can be swapped sides either for lefty purposes or preference. I prefer the bolt handle on the left side in order to keep my firing hand on the pistol grip area of the stock.
Unfortunately, I can't provide range pictures and targets due to the pandemic shutting down all of our ranges. You will have to take our word that this thing makes shots out past 100 meters a breeze. Hitting clays on the berm were almost effortless and the ran every round we put through it effortlessly.
The tiny rail section on the bottom could be used to a small pistol flashlight or something but isn't overly useful for most other things. They do have several variations of the PC Carbine now including ones with AR grips and stocks and aluminum forends that have M-LOK slots.
I am surprised Ruger or aftermarket manufacturers have yet to produce other magazine wells for the PC Carbine for popular pistols like the S&W M&P, but who knows, maybe that's coming.
Ruger takedown 9mm carbine: yes or no?
Should you buy the Ruger PC Carbine? Like anything that situational, but it's certainly cheaper to shoot than an AR. And it could well be a solid performer in the many shooting competitions and action matches that now allow PCCs.
Between its ability to separate in halves to be packed away and its robust build, this handy rifle is also a good option for field use. It might even be a handy option for a scout scope if a barrel mount comes out for it.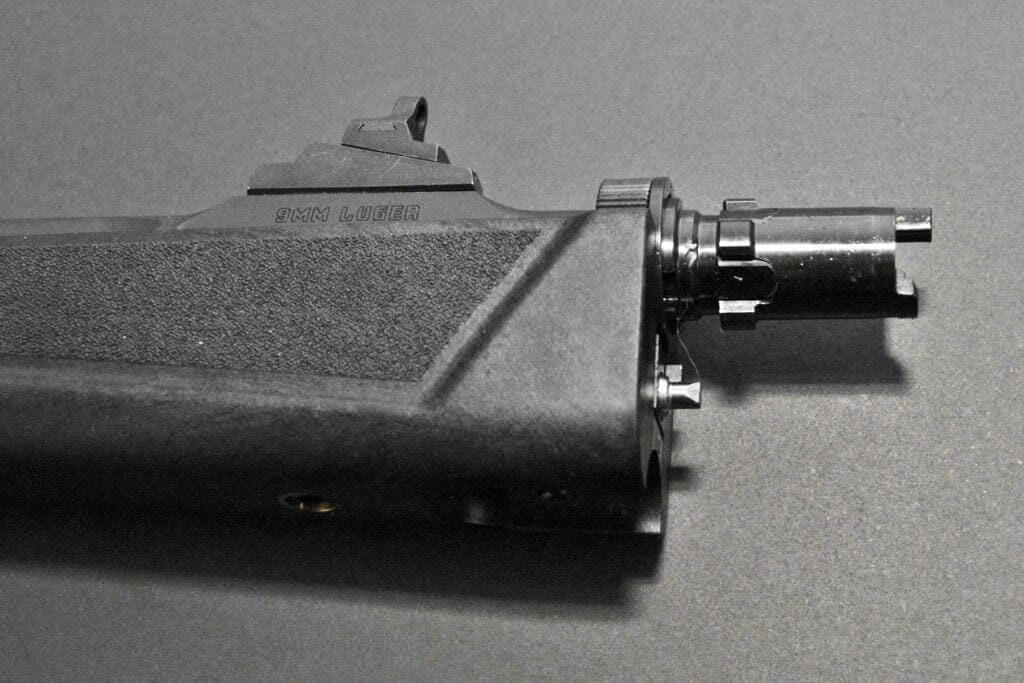 It will be interesting to see how the platform evolves as more aftermarket and Ruger parts are made for it.