I can't keep track of Sig's new releases. They seem to have a constant stream of new guns, optics, suppressors, P320 grip modules, and optics coming out. One of the latest is the successor to the Romeo1, the Romeo1Pro. Sig gave the Romeo1 a few upgrades that most duty and serious competition shooters demand.
What exactly did Sig change about the full-size Romeo1? Well, let's dive in.
Romeo1Pro vs. Romeo1
In a world where we already have the Romeo1, you might be asking what the point of the Romeo1Pro is? The Romeo1Pro provides a noticeable difference in performance and outclasses the Romeo1 everywhere but the price.
The Romeo1 packed 5,000 hours of battery life, and the Romeo1Pro quadruples that with 20,000 hours. Plus, the Pro model utilizes a new point-source emitter to provide a much brighter dot than the Romeo1. Both offer ten daylight brightness settings, but the Pro gives you two-night vision settings.
The Romeo1Pro weighs .02 ounces more. It's slightly longer but also slightly thinner. The difference is fractions of an inch, so it's hardly noticeable. The Romeo1Pro also comes with a big stainless steel shield that adds a hefty layer of protection to the optic. It adds some weight and bulk but is completely optional. I'll rarely say no to an extra layer of protection.
The Romeo1Pro Broken Down
If window size matters, then you're gonna love the size of the Romeo1Pro window. It's 30mms and massive in design. It's seriously huge and wide. It fills your vision, and to me, a big window makes the dot easier to find if you goof your presentation.
Shooters can choose between 3 MOA or 6 MOA reticles, and the optic comes in black or FDE. As a heads up, the Romeo1Pro does not fit Romeo1 mounts. Sig infused the MOTAC system into the Romeo1Pro.
This motion-detecting technology will automatically shut the dot down after it sits stationary for two minutes. The dot will fire back to life as soon as it detects movement. Movement can be as little as the vibration of a car. The lens has a very visible blue tint.
To the Range with The Romeo1Pro
I had a Sig AXG who needed an optic to fill that slot. What better choice for a Sig pistol than a Sig optic? As you'd expect, the Sig Romeo1Pro dropped on the AXG without issue. The footprint changed between the Romeo1 and Romeo1Pro. Sig moved to the Leupold DeltaPoint Pro footprint, which makes sense when you consider the Army's new M17 is cut for the DPP.
The Romeo1Pro will fit on SIG M17 and M18 pistols, all Pro-Cut pistols, and X series guns. The AXG fits the Pro-cut series guns and makes mounting the optic quick and easy. SIG also includes a tool to make zeroing the optic very easy. The tool can also store a spare battery, which is also very handy.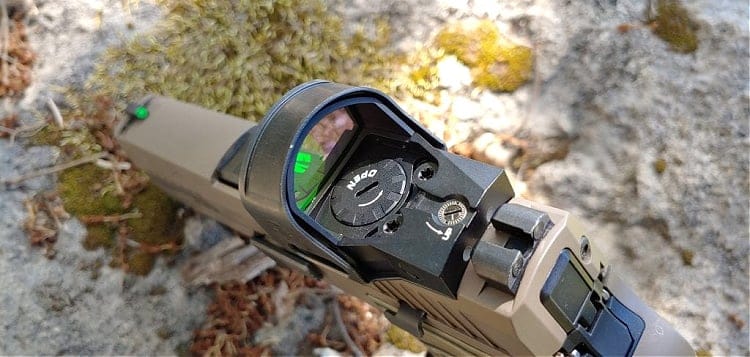 The turrets feature Sig's new TruHold Lockless Zeroing System. The TruHold system uses twin adjustment springs that ensure you keep your zero for round after round and for bump after bump. The turrets have a handy little reference line for making adjustments. If you use the line, you can visually see each adjustment.
That's kind of handy when wearing hearing protection on a range with multiple shooters. You don't have to rely on hearing and feeling the click to see what adjustments you're making. It's a smart design that makes zeroing quick and easy. I'm using the 3 MOA variant, and a 6 MOA version is also available.
While zeroing, I messed with the brightness settings. The big steel shroud does make it a little harder to reach the buttons, which is annoying. The dots provide a very tactile and audible click with each press. That fancy new emitter and that bright blue tint provide a super bright red dot. The highest setting is too bright, even for high noon in Florida.
Hitting Steel
My wonderful wife provided me with an awesome set of steel targets. They consist of a 25% IPSC target, an 8-inch gong, a 6-inch gong, and a teeny tiny 4-inch gong. I can't resist not trying to shoot all four targets as fast as possible.
With the Romeo1Pro in place, I cleared the rack on my first try. After that, I put the 3 MOA dot on the little 4-inch gong, and at 15 yards, I was able to keep that piece of steel rocking and rolling. With iron sights, I'd hardly be able to even see the small gong, much less hit it.
To keep the lead and steel warfighting, I stepped back all the way to 50 yards. At this range, I wasn't ready to kill my ego trying to hit the 4-inch gong, but I would light up the IPSC and 8-inch gong. I went ten for ten on these moderate-sized steel targets. The Romeo1Pro features a super clear and crisp red dot that makes it easy to see against the steel targets.
I went for the 6-inch gong, and while it was a good bit smaller, I could still decimate the gong. I had to shoot a little slower and let the target stop rocking a bit, but I could still go five for five with it.
Again, the red dot makes this relatively easy. Handgun red dots like the Romeo1Pro allow you to utilize the true potential of your handgun. They take you well beyond what your iron sights are capable of.
As a Dot
3 MOA sits on the small side of red dots for a handgun. Many would probably prefer a dot this small on a long gun, and the 6 MOA variant on a handgun. With that being said, the bright dot design and the clear lenses of the Romeo1Pro provide a reticle that's plenty easy to see.
Even when it comes to fast shooting, the dot never flickers or fails. Switching between targets results in no reticle blur, and the circle stays circular. It also never flutters between shots, which poorly made dots often do. It can be somewhat unnoticeable if you do not specifically look for it. I tried some hot +P defensive loads, and I couldn't get it to flicker with those either.
With a target focus, getting the dot on target takes almost zero effort. I can pop that bad boy up and get it on targets, both big and small, with ease. I ran a few snapshot drills with headshots with zero issues. The dot was also easy to find. As long as my presentation wasn't garbage, my poor targets suffered from it.
Durability Testing
Sig claims the hood adds an extreme level of durability to the optic, so I went and tested that out. I threw the Sig AXG, equipped with the Romeo1Pro.
I just threw it away from me several times. Then I dropped it three times, once on each side and once on top.
I then tested it to see if it held zero. I wasn't surprised when it did because these tosses and drops didn't even scratch the finish. Sig also brags about the RomeoPro1 having an IPX7 rating, so I dropped it in a Tupperware container full of water for 30 minutes.
When I finally pulled the Romeo1Pro out, I found a fully functioning red dot. As I type this, it's sitting in the dish rack drying off.
In Living Color
The SIG Romeo1Pro red dot provides shooters with a full-sized mini red dot. This big honking red dot provides shooters with a massive window, a very bright and very clear dot. It's easy to use with excellent controls and is very easy to zero. You can go smaller for concealed carry purposes, but for home defense and competition use, the Romeo1Pro presents a much better option than the original Romeo1.
It's a very capable red dot that stands up to the rigors of heavy use and stands with the big boys of the optics world as a competent contender for your handgun.