ARs have been the must-have shooting sports platform for decades with the minor exception of the stretch of time during former President Bill Clinton's ban (who are we kidding, they were popular then, too). They didn't exactly launch into overnight popularity, though. Almost three-quarters of a century has passed since the AR-15 became a thing and it's really only been in somewhat recent years we've seen a major increase in caliber varieties and features. Among those varieties is the .350 Legend, a cartridge introduced by Winchester in 2019 and now offered in a solid rifle by Rock River Arms. Read on to find out how the RRA 350 Legend performs at the range and in the field.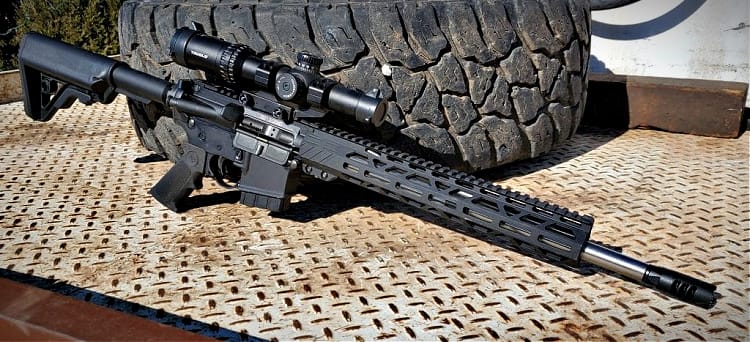 350 Legend FAQs
First, the caliber explanation.
Winchester officially launched the 350 Legend at SHOT Show 2019 under the banner "Straight-Up Legendary." It's a straight-walled cartridge that gives hunters more wiggle room in states where straight-walled cartridges are allowed but rimless rounds such as .223 Remington aren't legal for hunting purposes. That alone means it has much to recommend it. According to license sales there were 11.4 million deer hunters in the United States for the 2020 season so you could say there's a market for it.
What about shooters looking for a new range rifle or home-defense option, though? Is the 350 Legend useful for them? Absolutely.
Randy Bimson, SAAMI – Sporting Arms and Ammunition Manufacturer Institute – technical advisor and director of technical affairs, said the 350 Legend "brings a fresh look and innovation to a very mature cartridge category, opening up new options to both the hunter and recreational shooter." Nailed it.
How are straight-wall cartridges useful?
Well, they allow for the use of heavier-grain bullets in the portable AR platform. But they're also more accurate than shotgun slugs, shotguns being the go-to for a lot of shooters interested in sending heavier bullets down-range.
Their ballistics are greater than what you get from, say, .223 Remington. Winchester Super X 180 grain JSP's deliver a muzzle velocity of 2100 feet per second and Federal Fusion 350 Legend 160 grain Bonded Spitzer Boat Tails have a muzzle velocity of 2300 feet per second. You could say they travel at a rapid pace.
It's also worth mentioning those Federal rounds have a muzzle energy of 1879 foot-pounds. This contrasts significantly with the 1259 foot-pounds of muzzle energy produced by the smaller bullet of the Winchester .223 Remington 45 grain JHP.
Now for the downside which is also an upside of sorts.
Heavier bullets like those found in the 350 Legend drop at a much faster rate than smaller bullets. That aforementioned 180-grain 350 Legend bullet has a muzzle energy of 1762 foot-pounds that drops to 1240 foot-pounds by 100 yards and 604 foot-pounds by 300 yards. Its trajectory drops an average of 9 inches by 200 yards and 36 inches by 300 yards.
Heavy straight-walled cartridges don't have the reach of smaller, more streamlined rounds which is both good and bad.
A shorter range means less chance of striking an unintended target while hunting or during a home defense encounter. Of course, it also limits you if longer shots are what you're after.
Bottom line? All your guns should be purpose-driven. The 350 Legend fulfills specific needs quite well so make sure it suits yours.
Something else to keep in mind about 350 Legend at the time of this writing is that it's one of the few AR calibers still seen floating on gun store shelves during the ammo shortage. The shortage won't be ending any time soon, guys, so these things matter.
Rock River Arms LAR-15M CAR A4 350 Legend Specs and Features
Rock River Arms has produced more than a few guns I enjoy quite a bit and this model is no exception.
Right out of the box it's clear this is a well-designed, solidly-built rifle. And although RRA did originally develop this gun for the hunting industry it's proven to be quite capable of use as a truck gun and for home defense as well.
Yes, this is going to be a favorable gun review.
At first glance, the rifle appears to be a straightforward black-on-black AR but when you handle it, it becomes clear it's so much more.
The RRA LAR-15M has an upper receiver made from forged A4 steel which has superior corrosion resistance to A2; the lower receiver is forged as well. Its handguard is an RRA 13-inch extended lightweight free float rail that's M-LOK compatible and it does have a full-length Picatinny rail.
My model has a 16-inch stainless steel barrel with a 1:16-inch twist rate but there is also a chrome-moly barrel model available. The rifle has an overall length of 33 inches with the stock retracted and weighs 6 pounds, 8 ounces, empty.
Other features include an RRA two-stage trigger, RRA overmolded A2 pistol grip, and a low-profile gas block with a carbine-length gas system. The rifle ships with one 10-round magazine, a hard-shell RRA case, and the usual paperwork like manual and warranty information.
Range Day
On the range, the RRA LAR-15M in 350 Legend performs beautifully. It's a well-balanced rifle made to withstand the bumps and scrapes of hard use, which makes me like it even more, and it's accurate.
My rifle is topped with a TruGlo Omnia 8. Now, it might be easy for you to dismiss that optic because it isn't a high-end brand but the Omnia 8 outperforms its price point and is my favorite TruGlo optic to date. Don't be such a brand snob that you miss well-made, affordably-priced products.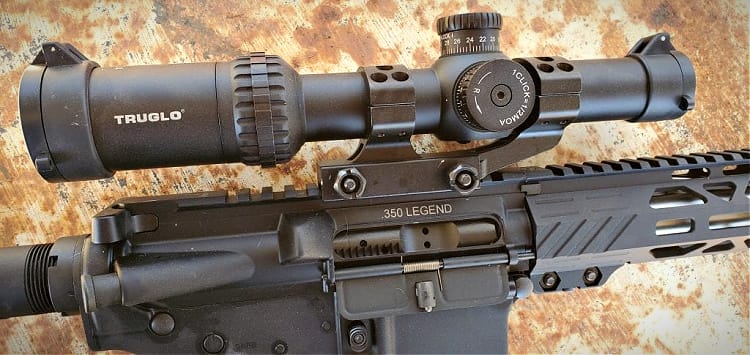 Shooting from the bench at a distance of 100 yards, the RRA LAR-15M delivers five-shot groups averaging 1.6-inches when loaded with Federal Non-Typical 350 Legend 180 grain Soft Points. Group size stays under 2MOA with Federal Fusion 350 Legend 160 grain Bonded SPs and Federal Power-Shok 350 Legend 180 grain JSPs. Switching to off-hand shooting understandably opens up those groups but it remains an accurate rifle.
The RRA Two-Stage trigger has a small amount of grit in its pull but does have a crisp break and brief re-set. It's a standard trigger; if you want a smoother, cleaner trigger just drop the aftermarket model of your choice in. Replacing the trigger will tighten up your groups and, if you go with a single-stage, it will improve your rapid-fire abilities if you're using the rifle for defensive purposes. That said, this is a perfectly serviceable trigger and will get the job done. YMMV.
Thanks to its 16-inch barrel and overall empty weight of 6 pounds, 8 ounces you'll find this rifle easily maneuverable. It's done well as a truck gun and can be out the window and on target of things like feral hogs with good speed (I'm in Texas so these things are legal and necessary). Thus far it's cycled reliably and survived being treated as a duty gun, not a safe queen or dust catcher.
If you're looking for a durable hard-use rifle in a hard-hitting cartridge, check it out.
LAR-15M Specifications
Manufacturer: Rock River Arms
Model: LAR-15M CAR A4 Stainless 350 Legend
Caliber: 350 Legend
Lower Receiver: Forged RRA LAR-15M Multi-Caliber Marked
Upper Receiver: Forged A4
Barrel Material: Stainless Steel
Barrel Length: 16 inches
Twist Rate: 1:16 inches
Muzzle Device: RRA Operator Brake, ½-36 thread
Gas Block: Low-profile Gas Block, Car-length
Trigger: RRA Two-Stage
Trigger Guard: RRA Winter Trigger Guard
Handguard: RRA 13-inch Extended Lightweight Free-Float Rail, M-LOK Compatible
Buttstock: RRA Operator CAR Stock
Pistol Grip: RRA Overmolded A2 Grip
Weight: 6 pounds, 8 ounces, empty
Length: 33 inches, retracted
Ships With: (1) 10-round Magazine, RRA Case, Manual, Warranty Information
MSRP: starting at $1210.00