In a day where you can find 1911s with compensators, mounted red dots, go pedals, and any and everything else you can toss on a gun, it's nice to see a basic 1911 at an affordable price. Rock Island Armory made their name with their affordable (and very simple) GI style 1911s. This 1911 was a gift that I received 13 years ago and was the first real handgun I ever owned. Since then, this classic gun and I have been everywhere. It's always tagged along and will never leave my collection. The term GI 1911 refers to a very simple gun without the modern accouterments of most production 1911s. It's not a perfect historical representative, but it's quite close. So here's my Rock Island 1911 review.
This article is from May 2019.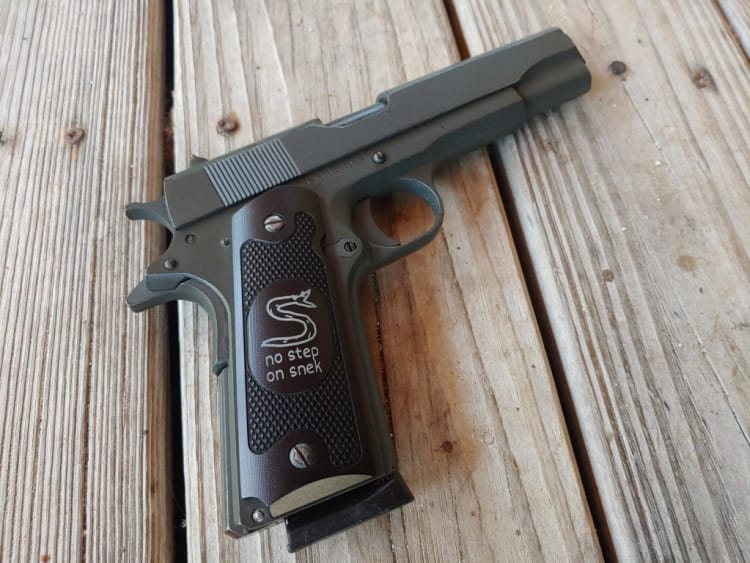 Everything about the gun is quite simple and that makes it quite reliable. The Rock Island GI 1911 packs the smallest and simplest sights imaginable. It's a small half circle front sight that's ultra-thin. The rear is a very small notch. There are no contrasting colors or shapes. I don't think sights get much smaller than this. The grips that come with the gun are wooden, but, as you can see, I've replaced them. The stock grips worked but they became scratched and ugly over time.
There is no ambidextrous safety, or extended beavertail, or skeletonized hammer or trigger. It's ruggedly simple. Mine has an old finish that's somewhat grey. Newer RIA GI 1911s are black and resemble an older blued design. The controls are small and dainty, much different than what you find on most guns these days.
Functional Ergonomics
The gun is so simple and plain it would get a lower score if it was trying to be a modern handgun. However, as what's practically a functional WW2 era 1911 clone, it does a good job replicating the classic design. These guns are made in the Philippines and the Philippines has a long and storied history with the 1911 platform. They been producing them on old machines after WWII and have, for decades, used them in their police and military forces.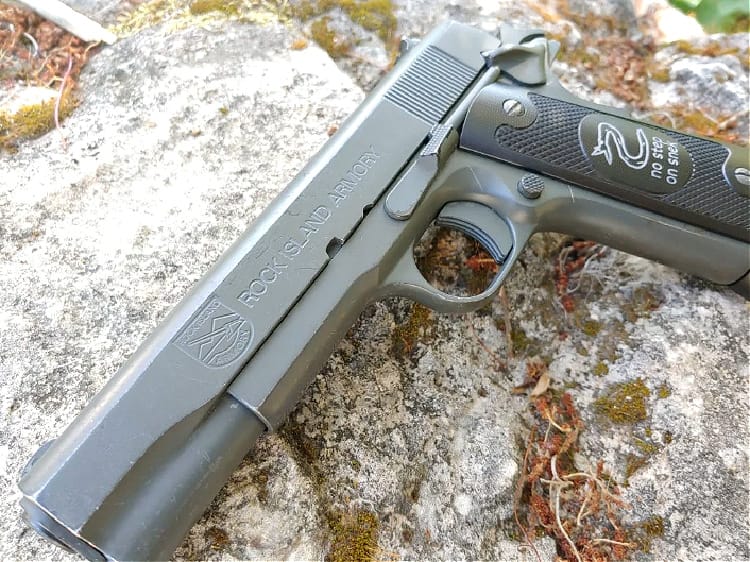 This Rock Island Armory GI 1911 sports rear serrations and a slightly checkered hammer. The serrations are shallow and thin and you need to make sure you have a nice and tight grip. The safety has a slight shelf and makes it easy to engage and disengage as well as giving your thumb a place to rest. The magazine release is a small round button that engages tightly and releases the magazine without issue.
It all works as it should. As you can imagine, it is nothing fancy.
The GI 1911 – An Age-Old Design
This is as close as you can get to an original 1911 for $400 or so. My particular model was purchased for $389.99 in 2006 and prices have risen slightly since then. As the guns became more well known they grew in popularity and thus became more expensive. However, as far as 1911s go, this is one of the cheapest and more reliable models.
I will say it wasn't always reliable. I won't lie. 13 years ago I tried my hand at a bowling pin competition and I sucked at it. My gun had several issues where the slide failed to go fully into battery. This required a manual press with my thumb to get it into action. This issue plagued me for a short period of time and then all of a sudden it stopped halfway through the first summer I shot bowling pins. After that, it sucked a lot less.
I have 13 years with my GI 1911, nearly problem-free. The gun admittedly likes to run wet. Without lubrication, it tends to have problems here and there — mostly related to the gun cycling properly. These issues are still few and far between, maybe once a year at most, and are typically after the gun sits unused for a long period of time.
Would I use it as a defensive firearm? No. Better options exist. If this is your only option, then I would advise you keep it clean and well lubricated. Ammo-wise, it can be picky too. It doesn't like 180-grain JHPs. It really prefers the bigger and better 230-grain JHPs and FMJs. The GI 1911 was made to run with these rounds so it seems to be the best choice in this old design.
How it Fires
It's rough, especially if you are used to a tuned 1911, or just a more refined hammer-fired gun. The trigger is actually nice-ish, for such a cheap gun. That's a side effect of the 1911 design, and it shows through on even a bare-bones GI 1911. It is heavier than a custom gun, but it has a short pull and just a hair of pre-travel. The reset is very short, but it's hard to feel and hear. The reset is hardly audible and just barely tactile.
The beavertail on the gun is short and thin and recoil makes it bite hard. It's just long enough to avoid hammer bite though. It digs in and that's really the worst part of handling this gun. I remember the first time I shot an M9 and how soft it was compared to this gun.
It fires true though. It's plenty accurate. The sights make it a challenge, but their small size makes it easy to see your target at longer distances. If you can see the sights, it's very easy to align them and shoot accurately at longer ranges.
Seeing the sights is the challenge. In the middle of the day is easy. But earlier in the morning, or inside a dimly lit indoor range? Good luck. It's still a fun gun to shoot from a historical perspective but not a very comfortable one.
After 13 years of use, you'd think I'd start to see issues. For a time I shot this gun way more than any other. Back when I simply couldn't afford anything but ammo, I took this gun to the range all the time. Its round count is well into the thousands.
Mine came with one Mec Gar 8 round magazine, but additionally, you can use any standard 1911 magazine with the gun. I like ten rounders because ten rounds are better than 8.
Hell, a summer of bowling pin shooting took me a thousand rounds and I shot three summers worth. I still shoot the gun on occasion and still enjoy it for what it is.
Who needs a GI 1911?
No one needs one, so to say, but it is fun to have. The Rock Island Armory GI 1911 provides a historical perspective of handguns from way back when. Comparing this gun to others shows you just how far the combat handgun has come in a century. Rock Island has done a good job bringing a simple, well made, bare-bones 1911 to market and I applaud them for it. After 13 years of faithful service, for this Rock Island 1911 review, I think I can say I'm a fan.