Review: Ruger Precision Rimfire – The Most Fun $400 You Will Spend
The Ruger Precision rifle has been a huge success for the company. It provides an entry-level precision rifle to the masses at an affordable cost. Well, just last December, they announced the Ruger Precision Rimfire Rifle (RPRR). It is a scaled-down version of the Precision rifle. It packs a lot of features for not a lot of money. I guarantee you will have a lot of fun shooting this gun so lets get into the weeds with this Ruger Precision Rifle review.
This article is from May 2018.
It's Packed Full Of Features
The Ruger Precision Rimfire is chock full of features you normally do not see in rifles at this price point.
First up, let's just take a look at the bolt.
The bolt has short or long travel with a simple yet clever design. They use a spring steel clip that hits the bolt stop early. But you can remove the steel clip so the bolt will have similar travel like on a big bore rifle short action.
As you see in the photo above there is a small compartment just behind and beneath the bolt. This little storage compartment is for keeping the small Allen wrench for adjusting the trigger pull weight. The RPRR trigger comes set from the factory at the lowest pull weight of just 2.25 lbs. You can adjust this up to 5 lbs and you don't need to remove the chassis to do it. You just reach up underneath in front of the trigger guard and there is a small set screw that you turn to adjust the trigger weight.
Next, the safety.
Moving a little bit rearward you will notice the RPRR uses an AR-style safety selector. Unlike an AR, the RPRR uses that diamond-shaped stop just below the selector to stop its travel. This gives the AR-style selector a 45-degree position rather than the stereotypical 90-degree throw you see on ARs.
The Ruger Precision Rimfire also uses an AR-style pistol grip.
On my personal RPRR, I swapped out the original grip for the Magneto Speed M-Series Grip System and monopod. While it is not as stable as a rear bag, it is always on my gun. The knob allows fine height adjustment and there is a red detent button in the knob that allows for gross height adjustments. Release the latch on the pistol grip and the monopod can extend to a second position as you see below.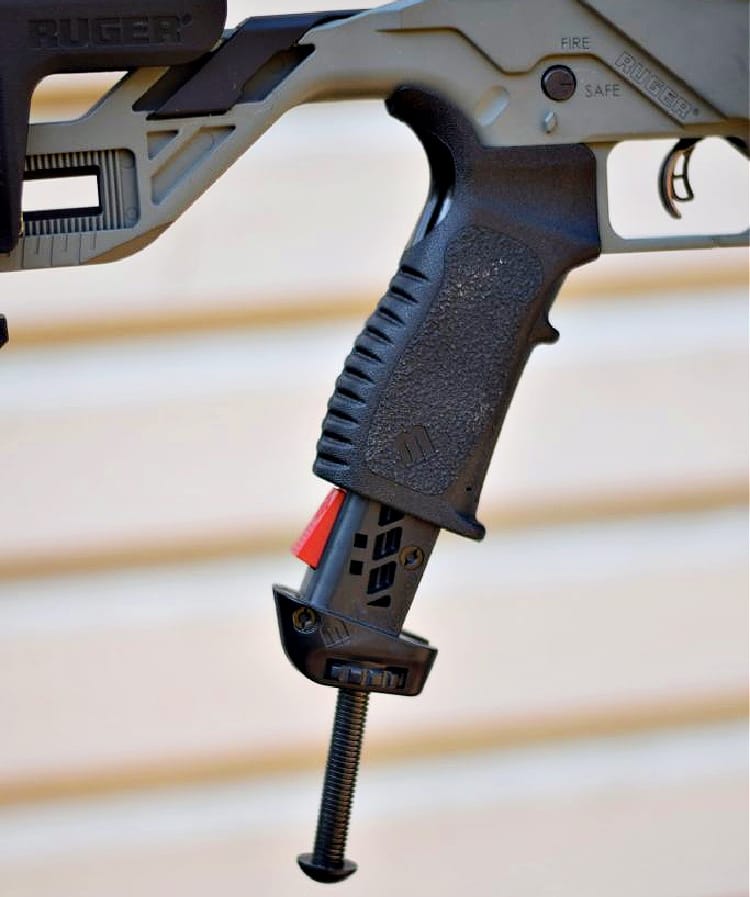 The stock has more adjustment than I anticipated.
Adjustable length of pull and cheek comb height is rather standard. But the cheek rest can slide back and forth while the butt pad can be raised and lowered.
The stock also has an integrated QD sling point and a bottom Picatinny rail for a monopod.
Stock adjustments are made by loosening the single tightening lever. However, the butt pad height adjustment requires a hex wrench to loosen the bolts and then retighten them after you adjust the height.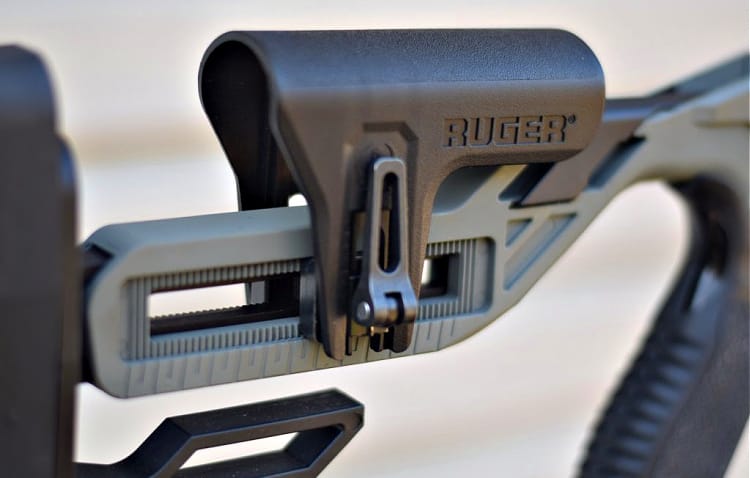 The bolt knob is oversized.
Just like on the bigger Ruger Precision Rifle, it's large and easy to grasp. As you can see below, the knob is screwed onto the handle so you can easily change the knob if you wanted to.
The RPRR has a free-float handguard with MLOK slots.
They did include a 45-degree slot near the front but the rest of the slots are just enlarged holes for weight reduction.
The free-float handguard is attached via barrel nut with similar dimensions to an AR barrel nut. I tried to see if one of my free float AR handguards could fit. While it does fit over the barrel nut, the top rail height is nowhere close to matching the receiver top rail. Hopefully, someone comes out with a railed handguard for the RPRR.
The barrel is threaded 1/2×28 making it perfect for use with a suppressor.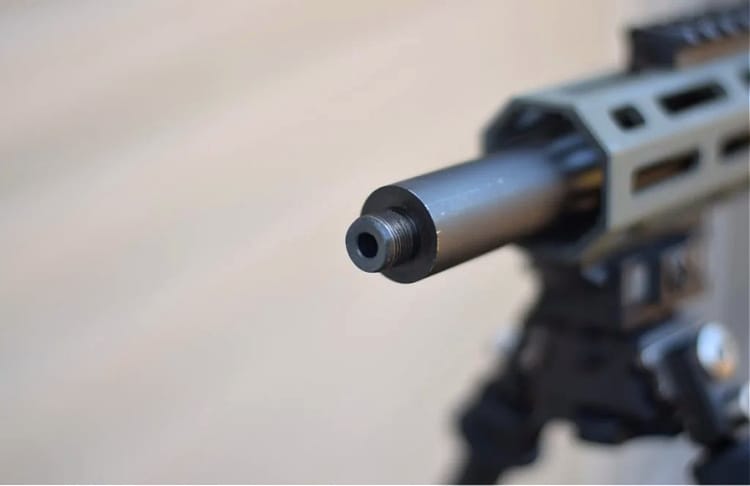 Check out the top of the receiver.
Ruger added a 30MOA base for long-range shooting.
Zeroing the Ruger Precision Rimfire Rifle
The 30MOA base is a perfect segue into zeroing the RPRR. I used two different scopes. A Meopta 6.5-20 HTR and my Nikon M-308 4-16×42.
Since the 30MOA base is installed, I could not get a 50-yard zero, my Meopta scope ran out of elevation. See the image below. This is my 50 yard zero. See where the crosshairs are pointed? That is where I have to aim in order for the rounds to hit the red center. I switched to my Nikon and was able to zero properly.
Then when I shoot out to 300 yards I also run out of elevation adjustment so I end up having to hold up. The number 8 line is my POA POI.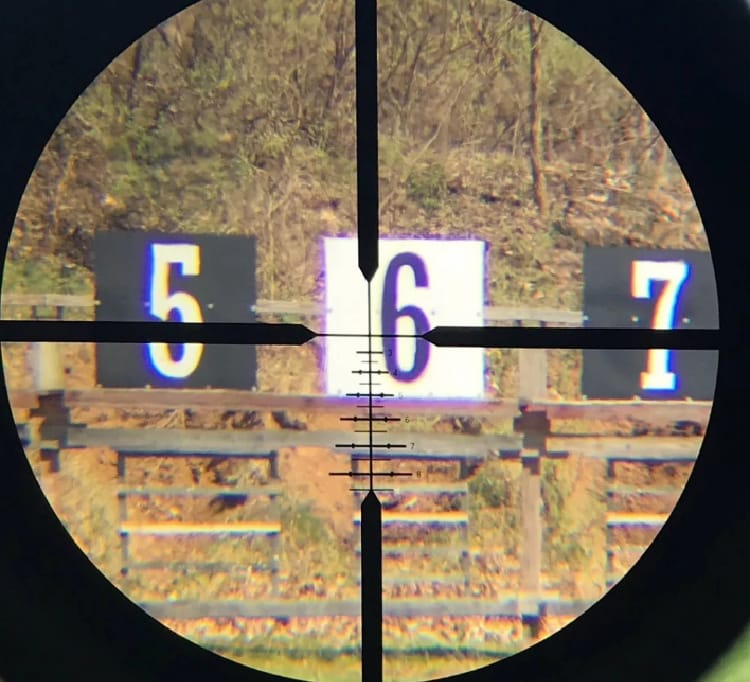 Modifications
As you saw above, I changed out the pistol grip. Well, the mag release is similar to a 10/22. This means it can work with aftermarket extended mag releases however not all will work.
The problem is how that mag release is inserted. On a 10/22 you simply remove the stock and the mag release is part of the trigger unit. Well, the RPRR mag release is an interdependent block that is dropped into the chassis.
The shape of some extended mag releases interferes with the chassis. I bought a TacSol mag release but it would not fit the chassis since it is designed to hug the trigger guard of the 10/22. So I ended up using the Archangel extended mag release which has a straighter profile and matches the angle of the RPRR trigger guard.
Be careful when using an extended mag release. Some may block access to the rear receiver bolt.
I added a Magpul MLOK tripod adapter and used a Manfrotto 322RC2 ball head to mount the RPRR to my camera tripod.
FYI, the RPRR does not come with any MLOK Picatinny rails so if you want to add a laser or bipod then you will need to get some. I have a bunch from my Midwest Industries handguards.
I was able to mount my FLIR T50 thermal weapon sight and get a decent thermal sight picture.
Size and Weight
The Ruger Precision Rimfire Rifle is very long, especially with the suppressor at the end of the barrel. The soft case that came with my Springfield Loaded M1A is the only rifle bag that I have that fits it.
My current setup on the RPRR weighs almost 11 lbs.
How does it shoot?
So I will preface this with the fact that I am an impatient shooter and do not like shooting small groups. I am happy if I can hit steel at distance. With that said. while shooting for this Ruger Precision Rifle review, I was getting much better groups than my Ruger American Rimfire. People have been reporting sub MOA with their RPRR and match ammo.
This is one of the best groups I got at 50 yards. I was shooting bulk Federal Target ammo.
Recently I tried shooting Eley Match out to 100 yards and found that is the most consistent .22lr ammo I have ever shot before. Although it was the first time I have ever shot match grade .22lr ammo.
I did try it and was able to get hits on a torso sized steel target at 300 yards.
I was able to shoot a couple dum dum pops at 50 yards using the Federal Target ammo.
One shooter in an RPRR Facebook group showed cutting a playing card and match sticks at 25 yards. I am not that good.
Ruger Precision Rifle Review Conclusion
The Ruger Precision Rimfire has an MSRP of $529 but street prices are around $400 on average. The only issue is trying to find one in stock. I got lucky and found one at a local gun store and they only wanted $409.
The rifle has a lot of cool features like the adjustable bolt travel that mimics a short action bolt gun, the fully adjustable stock, adjustable trigger, and free-float handguard. My Ruger American Rimfire cost me $350 and I feel like the Precision Rimfire is a much better bang for the buck.
There are a few things I would change though.
This wouldn't be a true Ruger Precision Rifle review without discussing the things I would like to be different. There are a few minor issues to look at.
The 30 MOA base is great for shooting long-range but I would like to have a zero MOA or 20 MOA base for people who don't have the ability to shoot out to 300 yards.
I would have liked it if the stock could fold just like the bigger RPR. Sadly the RPRR chassis is one solid piece of polymer. So other than a DIY custom job an aftermarket chassis is the only solution for a folding stock.
I did have some issues with the factory BX-15 and BX-25 mags tilting even when seated. This would cause the rounds to nose dive and fail to feed. I ended up just using my standard 10-rd magazines and every so often I would have to push them up to chamber a round. I will try a stiffer plunger spring and upgraded plunger to see if that fixes the problem. The Promag drum does not fit because the magwell gets in the way.
So, to conclude this Ruger Precision Rifle review, aside from these minor issues, I am having the most fun shooting the Ruger Precision Rimfire rifle over any of my other firearms. You would be hard-pressed to build a rifle or buy one other than the RPRR for the same price with all the features it has.
I highly recommend getting one of these, then go out and have fun.
Buy your mags at the Warehouse! Be sure to watch GunMag TV too.
Nicholas Chen is a firearm aficionado. Growing up in California, He learned about firearms and hunted with his father growing up in Southern California. Once he moved out to Pennsylvania and then spent a few years in New York State, he learned to truly appreciate firearms and the second amendment. It was in New York State where he became a USPSA competitive shooter and learned about 3Gun. He is an avid fan of running and gunning. Nicholas is a fan of pretty much anything that shoots although the slicked-up race guns are what interests him the most. Having spent time with FFLs and other friends with NFA items he has begun his collection of NFA items and has learned that everything should be suppressed and full auto where possible and legal.