I just surprised myself. You see, I was never a big pistol red dot guy. Sure, optics on rifles were fine. They looked like they belonged there. Rifles are long-range weapons. They need some sort of visual aid beyond iron sights to hit your target far away with any kind of precision. But on a pistol? I just didn't see the need. Besides, an optic broke up the clean horizontal lines of the slide. Perhaps I had spent too much
time studying architecture. Thank you, Frank Lloyd Wright. You ruined gun accessories for me.
But then the fine folks at Vortex sent me a Venom to review. The 6 MOA variety. The good stuff. I use the drug analogy because now that I've spent over a year shooting thousands of rounds through my Glock 17 MOS, I've become rather addicted to the Venom. I'm not sure I could ever take it off and feel entirely comfortable that I'd shoot it straight. (There's that horizontal line thing again.) That's the definition of an addiction, right? The feeling that you can never live without something?
Installing the Venom
When the Venom arrived, I immediately sat down at the dining room table to install it…only to realize my Glock didn't have the right plate. Yes, it was a Gen 4 G17 MOS, but the previous owner didn't include the plate. I reached out to him and he said the original owner hadn't given it to him either. (Yes, it was a third-hand gun.) So I rattled off a quick message to a guy I know at Glock and a few days later the plate arrived. I was back in business.
To mount the optic, you have two options. For your pistol, of course, you'll need an OSP slide, either one that came that way from the manufacturer or take a trip to your favorite gunsmith to carve out a spot on your non-OSP slide. The Venom includes all the mounting hardware and tools for an easy installation. If you decide to rifle mount it on a rail instead, that hardware is included, too.
Installing the Venom was super simple, now that I had everything I needed. Two screws for the plate, two screws for the optic, and voila! The battery goes into a small compartment on top, so that was easy, too.
Vortex Venom Features
The optic features some nice touches for the price, which falls into the moderate range. More on that later. First off, the reticle is huge and covered with an anti-reflective coating to keep down the glare and make the dot shine. Spotting the red dot was quick, making target acquisition fast and easy. Of course, I hadn't sighted it in yet, so I wasn't ready to go shooting, but we'll get to that in a minute.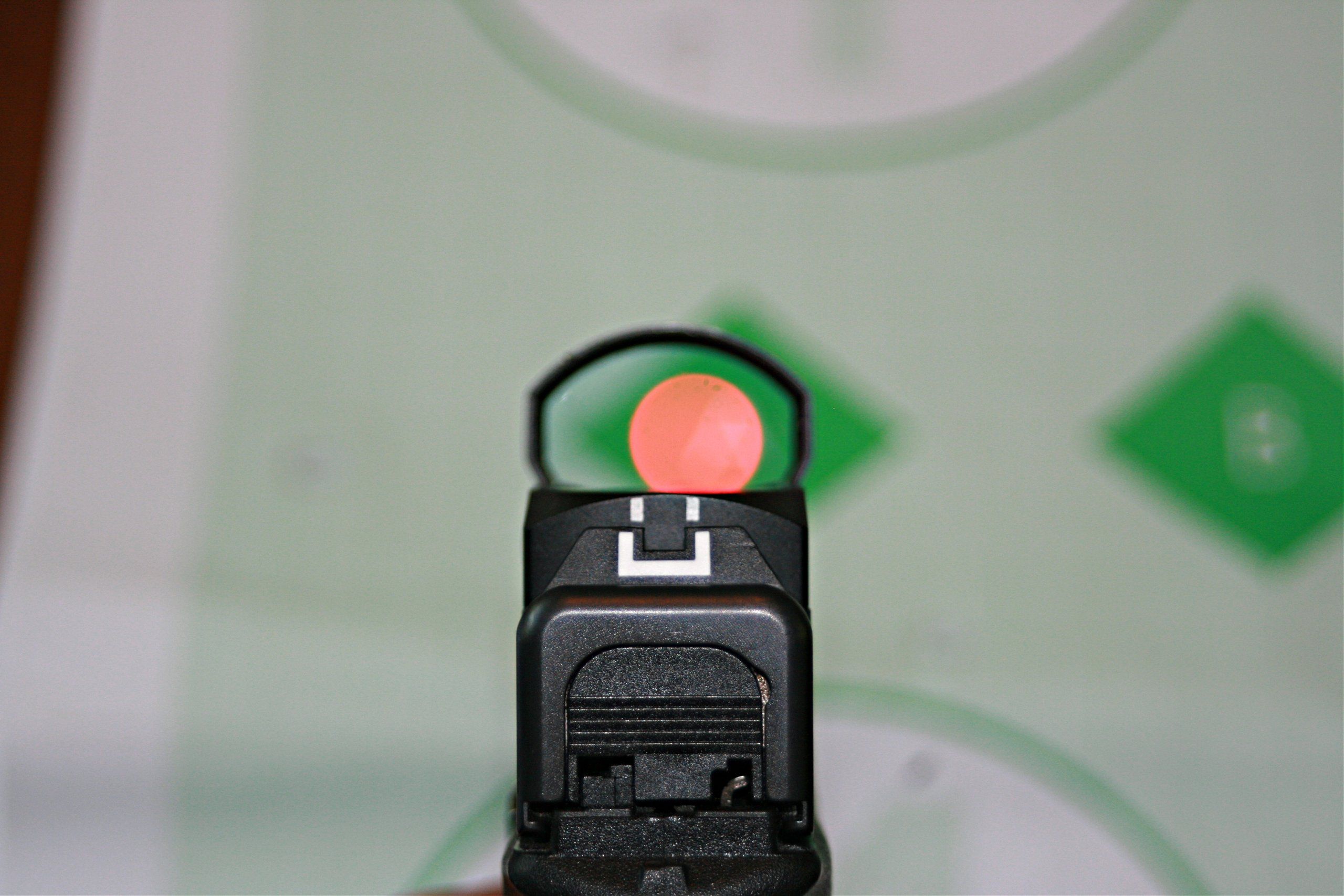 The lens is kept scratch-free by a layer of ArmorTek protectant that also resists dirt and oil, especially useful if you're hard on your equipment and spend a lot of time shooting outdoors. Vision is clear and undistorted from edge to edge, allowing for a smooth visual transition to and from the optic. The target looks the same through the lens or away from it, with no warping.
For durability, the entire case is lightweight metal with O rings for a waterproof seal. For this test, I did not dunk the lens underwater – Vortex makes no claims about it being submergible – but I did shoot several times in the rain and never lost performance.
Vortex's "shockproof" claim seems substantial, although they do not specify any drop distance. I dropped the gun on the hard ground, including rocks and concrete, several times and was not gentle with it the rest of the time and the optic still ran like a champ, no issues. Aside from a few expected cosmetic scratches, the Venom suffered no other damage.
Power Up!
Battery installation can always be hit and miss on optics. Some are on the side, others on top, the rest are underneath. The Venom's CR 1632 battery – an industry-standard power source – is right on top, loud and proud, making for super-simple installation and replacement. The cap is easily accessible without taking the optic off the gun or even moving anything out of the way. Vortex includes a handy flat head screwdriver, but you could probably unscrew the cap with any other flat-edged object such as a coin if you don't happen to carry all your accessories with you all the time.
Powering up the unit is simple using the up arrow on the side. Vortex offers two power settings: always on and auto. Always on means exactly that – it will stay on until either you turn it off or the battery runs out. The auto function saves battery by shutting the unit off automatically after 14 hours. While that may seem like a long time, Vortex rates their battery performance at 150 hours of constant use at the highest setting and up to 10,000 hours of sporadic use. So if the optic is mounted on a gun you only shoot occasionally, it might be years before you replace the battery. The good news for those of us who shoot regularly: CR 1632 batteries are cheap. I found a 10-pack the other day for $6.
The other benefit of auto mode is the dot will automatically adjust brightness on the fly thanks to a sensor on the front. It will dim in lowlight situations and brighten in sunlight, allowing for continued, high-contrast use no matter the lighting.
Zeroing
Now that you've installed and powered up the Vortex Venom, it's time to zero. The other end of the battery installation screwdriver is another smaller flathead for adjusting the easily accessible windage screws on the top and side. These controls are high visibility white against the black background with helpful arrows that show which direction to turn the screws for the desired adjustment. Vortex recommends zeroing to 25 yards. The optic they sent me was close to zero out of the box, so it didn't take long to fine-tune it. Each MOA hashmark on the adjustment plate equals 1.05 inches at 100 yards, so it doesn't take much twisting to line up the dot. While the hash marks are easy to find, it would be nice if there was an audible click with each one. Yes, I'm being nitpicky, but it still would be a nice addition to a great optic.
Cleaning the optic is easy with the included lens cloth. Thanks to the aforementioned waterproof O rings, it's nearly impossible for goop and grime to get inside the works and muck things up, so only external cleaning is needed.
Performance
After sight-in and some range time getting used to drawing and getting on target quickly, I shot a local IDPA match to see how well it performed under pressure. To my great surprise, my accuracy went way up, lowering my overall time. I finished 7th out of 25 shooters. I was already a decent shooter, but this Venom made me that much better.
What About the Value?
At $349.99 MSRP, the Vortex Venom is priced way below a lot of other red dots, well within the affordability range of most serious shooters. And you get a ton of great features not found on less expensive offerings. Overall, the Venom did everything I expected and more.
Overall, the Vortex Venom is a solid choice for a great red dot. And thanks to Vortex's VIP Warranty program included with every optic, if you're not satisfied with it or something happens and it breaks, they will repair or replace it at no charge forever.