It is has been almost seven years since AAC unveiled the Honey Badger. The original SBR was developed at AAC at the request of an elite US special operations group looking to replace their MP5-SD's with an upgraded platform. Requirements included the ability to shoot a rifle caliber round while maintaining low visibility and excellent signature suppression. The .300 AAC Blackout Honey Badger was born. It exceeded expectations, but never made it to the commercial market. That's about to change.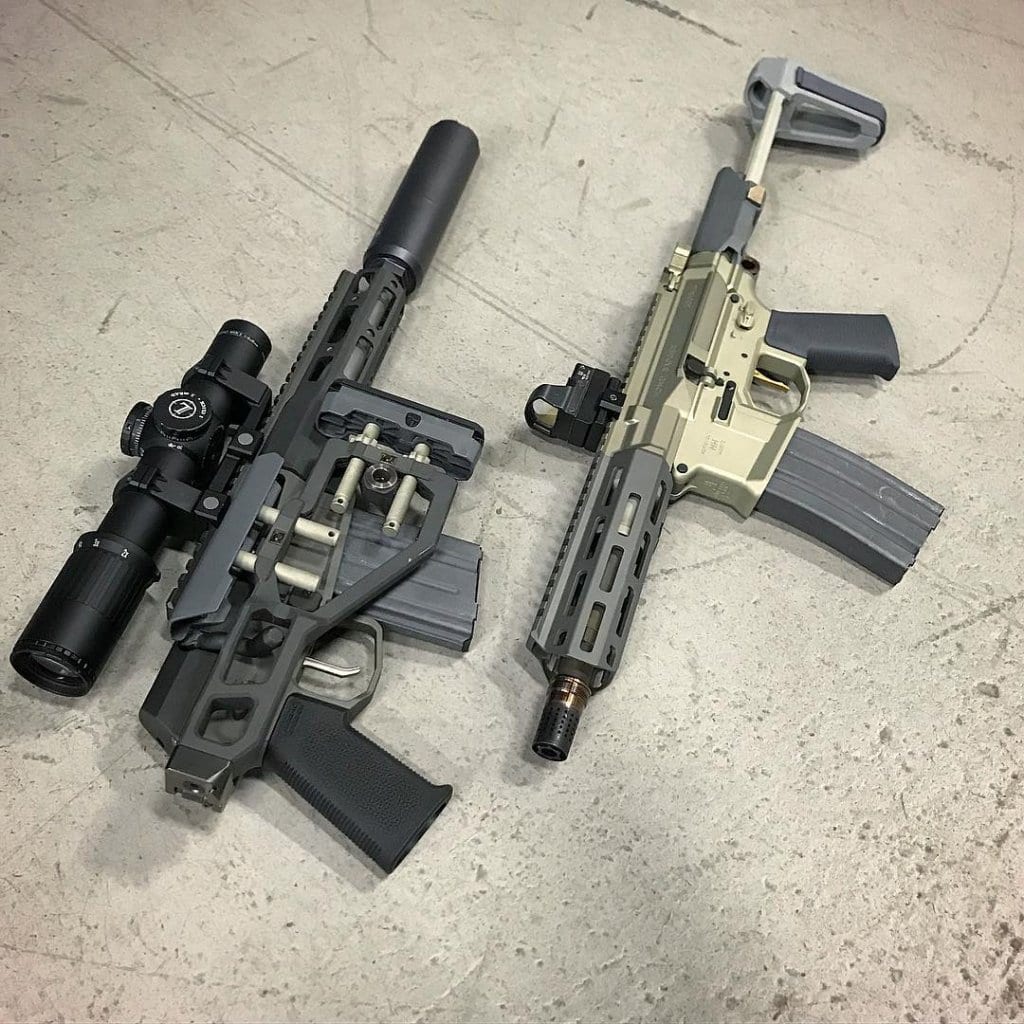 At the time, AAC was owned by Kevin Brittingham. It was his R&D team that lead the development. Brittingham sold AAC and started up a new company, Q, where he continued production of the Honey Badger. It comes in various lengths but the intent was always a short barreled firearm. Now Q has teamed up with SB Tactical and developed a pistol stabilizing brace to make a Honey Badger Pistol.
Below are two Honey Badgers. The left side is the SBR version next to the new pistol version with prototype stabilizing brace.
The Honey Badger is extremely light weight. As this image demonstrates. Two honey badgers is only a pound heavier than an HK MP5SD.
COMMON FEATURES & SPECS:
CLEAR HARD COAT ANODIZED 7075 ALUMINUM RECEIVERS
FREE FLOATING MLOK HANDGUARD
70° SAFETY SELECTOR
2-POSITION TELESCOPING STOCK
ADJUSTABLE, LOW-PROFILE GAS BLOCK
MUZZLE: 5/8-24 Threads, Tapered Muzzle, Cherry Bomb Muzzle Brake
TRIGGER: 2-Stage Match
AR CONTROLS
7″ .300 BLK SHORT BARREL RIFLES w/ SILENCER
WEIGHT: 5 lbs 6 oz
LENGTH: 26 IN – 31 IN
BARREL: 7 IN, 1:5 TWIST
HANDGUARD: 12 INCH MLOK
7″ .300 BLK SHORT BARRELED RIFLE
WEIGHT: 4 lbs 8 oz
LENGTH: 20 IN – 25 IN
BARREL: 7 IN, 1:5 TWIST
HANDGUARD: 6 INCH MLOK
There is no word on an actual release date, though it is expected to be available within a few weeks. Pricing will most likely be similar to the 7″ SBR which retails at $1,999 or $2,599 with the suppressor. Since the Honey Badger is chambered in .300BLK make sure you check out our selection of .300blk magazines.