Legendary firearms maker Walther has weathered a ton of storms over their long history (mainly because of history) yet continues to innovate and set new industry standards. From their all-metal lineup that includes the little 1930s production .32 caliber PPK made famous by James Bond for the right reasons and Adolf Hitler for the wrong reasons, to their newest line of polymer pistols, the PPQ and PDP, Walther has consistently produced some of the best pistols in the world. People love them for a reason: they work really well.
As the firearms industry shifted primarily away from all-metal guns and into the polymer hybrid pistols, Walther seemed to lose their way a bit, or so it appeared. They moved from the elegant lines of the stylish PP series into the world dominated by blocky guns such as Glock and Sig Sauer, where function beat form at every turn. Gone were the days of smooth, sleek lines that looked more at home in a museum than in a holster, replaced by purely utilitarian engineering designed for lightweight operation that stood up under severe conditions. The industry was shifting, so Walther shifted with it.
But one of their early attempts—the PPX—met quite a bit of resistance and didn't sell very well, which is frankly a crying shame because, as I discovered kind of by accident, it's a great gun.
I bought one in 2014, in the middle of the PPX's short production run (2013-2016), mainly because I was in the market for a low-priced full-size 9mm from a reputable company. Everyone knows Walther's reputation for top-notch firearms, so it seemed like a good idea. I purchased it from an online retailer based on the brand name reputation, a picture, and the description, and had it shipped to my local FFL to complete the transaction. That was it. No YouTube video reviews, no research, just a whim. And it turned out to be one of the best firearms purchases I ever made. Stick with me while I explain.
When you think of bargain guns, "top quality" is not typically a term that comes to mind, replaced instead by "junkie," "unreliable," and "the trigger is probably ultra-sloppy." The Walther PPX sheds all of those descriptors and instead delivers a pistol it's hard to believe wasn't more popular.
Walther PPX Specs
Caliber: 9mm

Finish: Black

Trigger Pull: 6.5 lbs

Capacity: 16 rounds

Barrel Length: 4 in.

Tenifer-coated slide and barrel

MIL-STD-1913 Picatinny accessory mounting rail

Available in black or two-tone silver and black
What Walther Got Right in the PPX
On paper, the specs of the PPX aren't going to set anyone's hair on fire, as they look like a typical 9mm semi-auto handgun today, but that wasn't the case 10 years ago. Sure, 9mm has been around since before World War II, so that's nothing new. And, like Walther, the 9mm cartridge is German, so it makes sense to pair them up. But there are a few innovations Walther added to the PPX that were not all that common back then.
Innovations
First, was the amazing ergonomics Walther has since become known for. The PPX was the first Walther handgun to feature the bumps and contours on the grip that later moved over to the Creed and then refined for the PPQ and PDP. Some reviewers have commented that the grip module ergos feel so good that it borders on obscene. Either way, they all say it's one of the most comfortable grips they've ever experienced on a handgun. I totally agree. Shooting this gun feels secure and comfortable, with easy recoil management despite its high bore axis. More on that in a minute.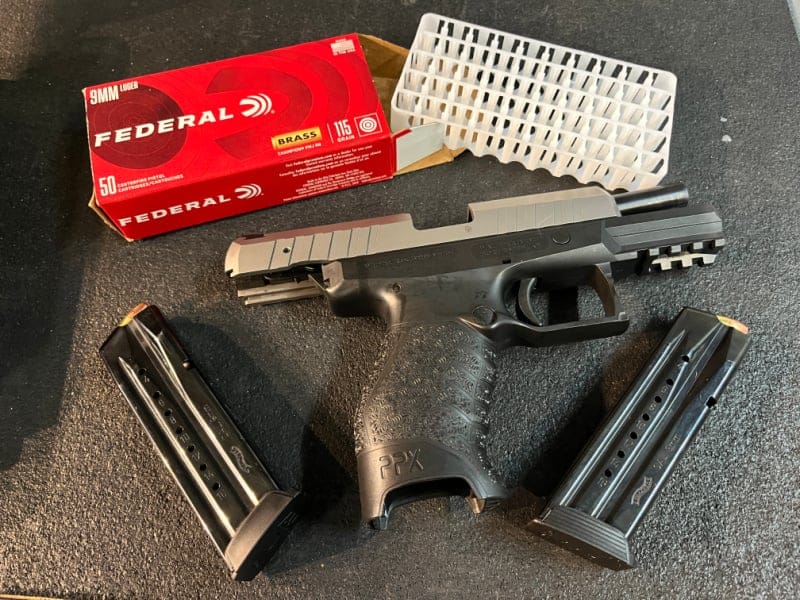 Second, was the introduction of forward slide serrations. At the time the PPX hit the market, very few other handguns had forward serrations. They became more popular in subsequent years, but at the time, they were forward-thinking (pun fully intended). And they weren't just forward; they were beefy and easy to grip.
Most guns at the time also didn't have a flared mag well. But the PPX did. Not only was it flared, but it had cutouts at the bottom of the grip to make grabbing the magazine's chunky base plate easier for quick reloads. The magazine ejection system on the PPX was so strong, it would spring the magazine partway out, even with the gun upside down.
Want to attach a light or laser? The PPX came with a full Picatinny rail with four slots for a variety of accessories.
Feeling Triggered
One of the comments most often made by PPX owners (including yours truly) and reviewers is how nice the trigger is. It's a constant theme among those privileged enough to shoot this gun. They pick up it and load it, put the sights on target, and squeeze the bang switch with very low expectations. And then a smile breaks out across their face. This is a sub-$400 gun? Really? Did you replace the trigger? Nope, it's factory stock. It's just that good.
Officially, the PPX is a double action, but it's not really. It's more of an action and a half. When you rack the slide, the hammer cocks partway back but remains flush with the rear of the slide. As the trigger is pulled, the hammer finishes its slight backward travel before flashing forward all the way to strike the firing pin. Then the slide reciprocates and everything starts over. The result is an action so smooth you'd swear it was a striker if you didn't know better.
Why So Glum?
If the PPX was so innovative for its time and had such a great trigger, why didn't it sell better? Why wasn't it warmly received and embraced? Two reasons stick out.
One, the bore axis is a bit higher than most other polymer-framed guns, especially its most popular rival, the Glock 17. At almost a half inch higher, the PPX's barrel sits just enough higher that a lot of people didn't like it. They said it made the recoil too hard to manage despite the amazing grip. The combination of a more vertical grip and higher bore axis doomed the PPX from being widely accepted in light of other guns with more angled grips and lower barrels that came along during its three years of production. In an ironic twist, I shot my PPX in a contest to win a Glock 17. Go figure.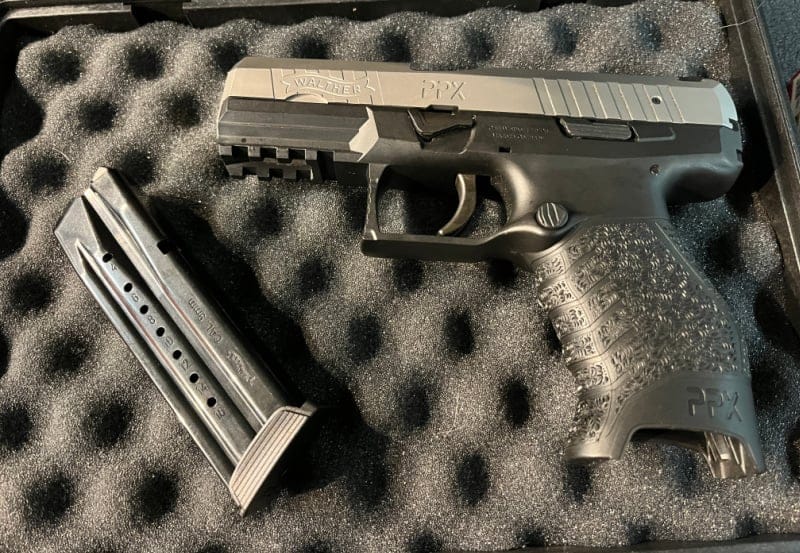 The second reason it didn't sell well was purely cosmetic: it's an ugly gun. It's not High Point ugly—let's not go overboard here—but it's a big, chunky block of a gun with very little aesthetic appeal. The PPX is high on function, low on looks, and not in danger of winning any beauty pageants. "Sexiest Gun" will be awarded to another pistol. If you're looking for a mantel display piece, keep looking.
Magazines Galore
After production stopped in 2016, Walther replaced the PPX with a slightly smaller Creed with a lower bore axis and somewhat more appealing lines. However, it met a similar short-lived fate and was phased out like its predecessor after only three tumultuous years.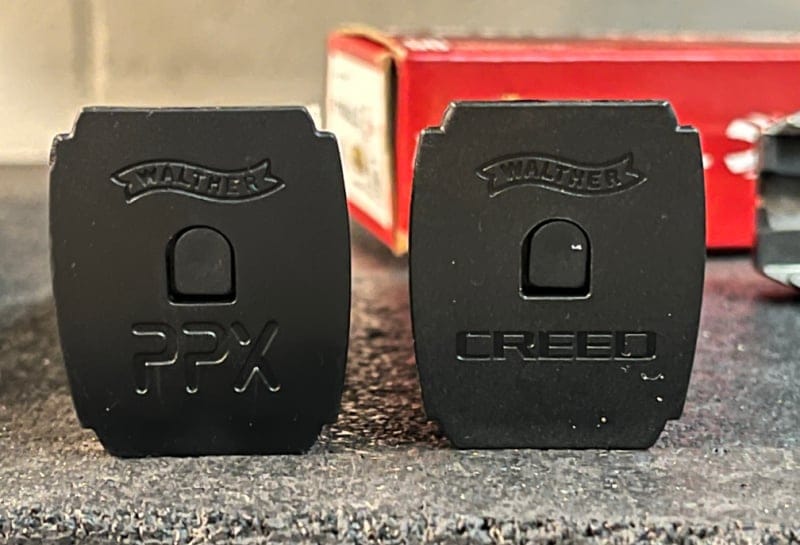 The good news for legacy PPX and Creed owners is that both models shared the same magazines. The only differences are the name stamp on the base plate and slight ribbing on the edge of the bottom grip. Otherwise, they are identical.
Is the Walther PPX still available?
Even though Walther stopped making the PPX in 2016, you can still occasionally find them online and maybe in the dusty corner of your local gun store at a greatly reduced price. Some places have dropped it to around $300, a fantastic bargain on a gun that won't likely become your go-to EDC but will definitely find itself causing a big ol' grin across your face on range day.