I've been testing some new ammo with my handiest .22LR pistol. Super quiet ammo made for use with a suppressor.
Winchester has a relatively new .22LR load on the market: the Winchester Super Suppressed. As you might guess from the name, it's designed specifically for use with a rimfire suppressor, although there's certainly no reason you can't use it without one if you like the performance attributes of the ammo.
While most any .22 rifle or pistol redefines the word "fun" when you add a silencer, there's one gun in my safe that stands out. The Smith & Wesson M&P 22 Compact is, to me, the perfect suppressed pistol. It's a ¾ scale version (more or less) of the big centerfire M&P and that makes it ideal as a suppressor host. Rimfire suppressors like the SilencerCo Sparrow shown here are small and light, so when you combine that with a more compact pistol, the overall package isn't unwieldy in length, bulk, or weight. In fact, the M&P 22 Compact with the Sparrow attached handles much like a standard full-size pistol. Even with its reduced size, the M&P 22 Compact still stuffs 10 rounds of .22LR ammo into its magazine.
The Winchester Super Suppressed uses a "heavier than standard" lead projectile. At 45 grains, it carries a bit of a "thud" as far as .22 rimfire ammo goes. The bullet itself looks like lead but it's actually a copper-plated lead bullet colored black. That helps reduce suppressor fouling which is a good thing. Rimfire suppressors get filthy and lead deposits are tough to get out of the interior baffles. The powder is also chosen to reduce flash and fouling, both of which are also positive suppressor attributes.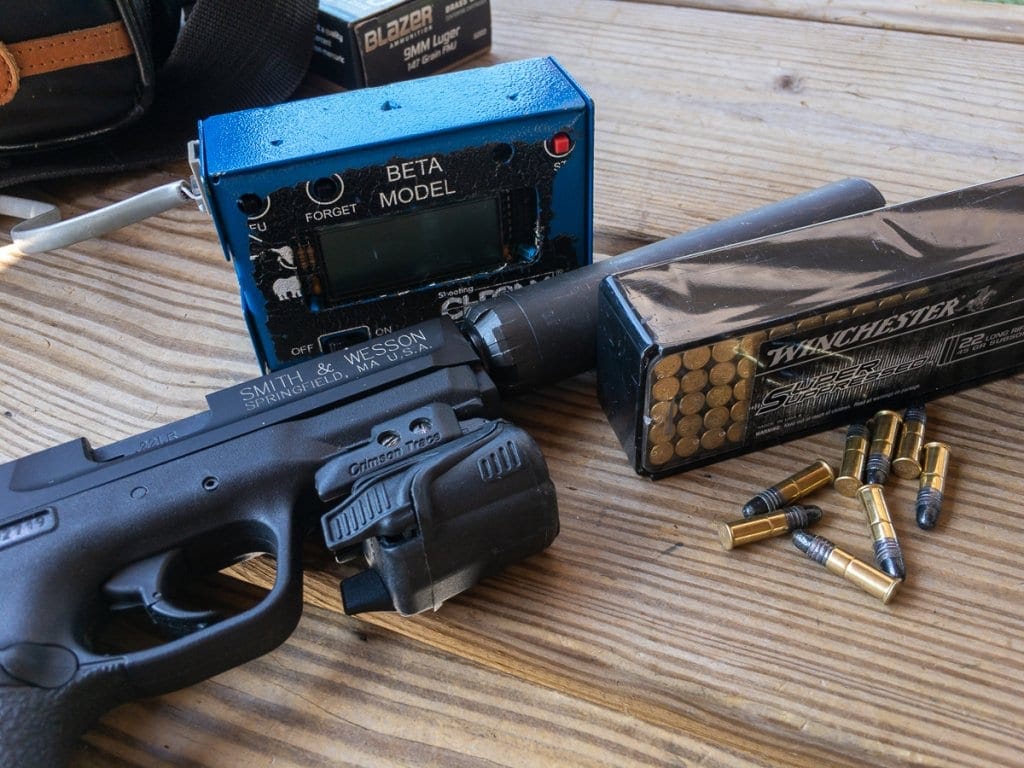 The main "suppressor-friendly" feature is the specified velocity. The factory specs show 1,090 feet per second. That figure must be for a rifle as I clocked it here fired from the Smith & Wesson M&P 22 Compact with a SilencerCo Sparrow attached and observed and average muzzle velocity of 875.4 and 902.6 feet per second on different days. That's perfect as the speed of sound in my location is about 1,130 feet per second depending on the current atmospheric conditions.
This ammo, even when fired from the short pistol, is quiet. Really quiet. The loudest noise with each shot is the operation of the action itself, closely followed by the "thud" of that 45-grain little slug hitting the target berm.
If you haven't yet swallowed your pride and common sense to overcome the onerous $200 tax stamp for Uncle Spendy, a rimfire suppressor with the right ammo should convince you. It's about as much fun as one can have on the range.