Let's talk red dots. Specifically, let's talk about the differences between an open and enclosed red dot optic. Red dot optics come in lots of configurations and designs with various colors, reticles, and designs that range from tubular to square, and most importantly, today, we are talking open and enclosed optics. We'll cover the benefits of each design as well as the downsides and where they fit most appropriately in the world of defensive, duty, and competitive firearms.
Open Vs. Enclosed Optics
Let's define open and enclosed optics before we dive too deep into the subject. Open optics in the world of red dots refer to the lack of a hood over the emitter. These are most popular with handguns. Optics like the Holosun 507C, the Sig ROMEO1PRO, and Trijicon RMR all have open emitters.
Open emitter optics are not just dedicated to handgun optics, but some rifle optics feature an open emitter. Notably, the Holosun HS510C sports an open design and is intended for long guns.
Enclosed optics feature an enclosed emitter that utilizes a hood-like system and an additional lens. This protects the emitter and ensures nothing can come between your lens and emitter. The closed emitters are more common with rifles, and optics like the Holosun 512C, AEMs, Sig Romeo5, and Aimpoint series all use enclosed emitters.
Enclosed optics might be more popular with long guns, but pistol-sized optics exist. The Holosun 509T, Aimpoint ACRO, and Sig ROMEO2 all utilize some form of the enclosed emitter. These ultra-small optics can be readily and reliably used on long guns.
Today we will be using a variety of optics to compare and contrast the benefits and downsides of enclosed and open optics. I'll be using the Holosun HS510C, a long gun-oriented red dot optic that utilizes an open emitter. Besides it, I will use the Holosun 507C as a mini red dot with an open emitter.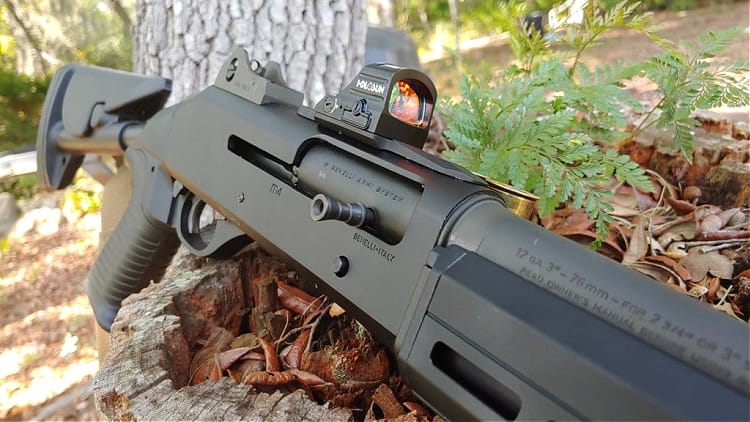 For enclosed red dot optics, we will compare the HS512C and the Holosun 509T. The 512C is a long gun optic, and the 509T is a micro-sized optic.
Benefits of an Open Optic
Let's talk about the main benefits an open emitter optic offers over an enclosed optic. The lack of a hood and second piece of glass cuts weight a fair bit between open and enclosed optics. For example, the HS510C is approximately ten percent lighter than the 512C. For rifle optics, this isn't a big deal but notable.
On handguns, no one wants a boat anchor as a weapon. The difference in weight between the 507C and the 509T is .22 ounces. That's not much, but it does provide a clear difference between the optics.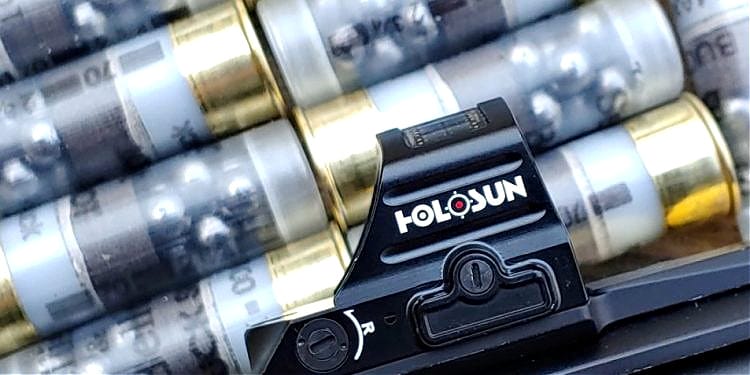 As you'd imagine, the open optics are smaller in general than the enclosed optics. The dimensional differences are few, but a smaller optic tends to be a less obtrusive optic. The lack of a hood and a second lens does provide some benefits worth noting.
First, the lack of a hood does help open up your peripheral vision a slight bit. With rifles, it can be easier to get a compromised view through the optic in awkward situations. This can be slightly more appealing when you are shooting from awkward positions behind cover.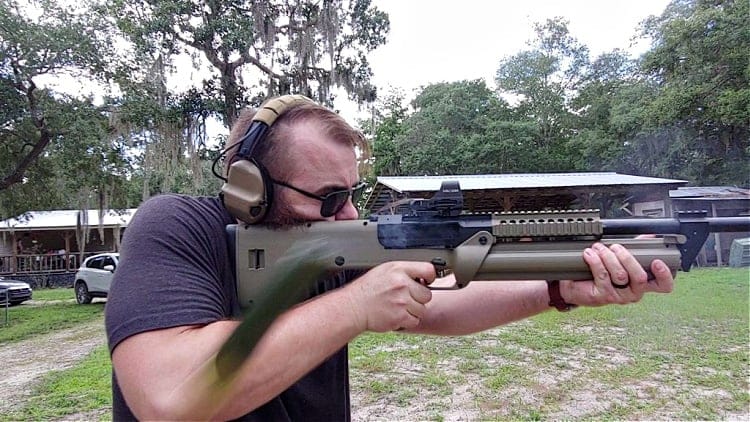 Open emitter optics also grant you a clearer overall view. The lack of a second lens helps keep things nice and clear. A single lens provides less distortion, and it's a nice clear view through optics like the HS510C.
Finally, a lot of open optics tend to be cheaper than enclosed optics. For example, the Trijicon RMR is cheaper than the Aimpoint Acro series, but both are duty-grade optics.
Benefits of an Enclosed Optic
Red dot optics work via an emitter casting a red dot onto the lens in front of it. It's very simple, and all you really need is a single lens. However, with a hood and second lens, anything that gets between the emitter and the lens can cause the optic to fail and eliminate your reticle from appearing on the lens.
This could be rain, dust, snow, and whatever else you might run into in the big wide world of unpredictable environments. A drop of rain on the emitter can cause your reticle to spatter and starburst. With no reticle, an optic is quite useless. With an enclosed optic, this is not an issue at all.
The emitter remains protected by the hood and second lens. This level of protection ensures the highest level of reliability. Nothing can stop you, and you shoot in the rain, snow, and sleet without complaint.
That's one of the few benefits of this design, but it's remarkably important for duty use and when loves are on the line.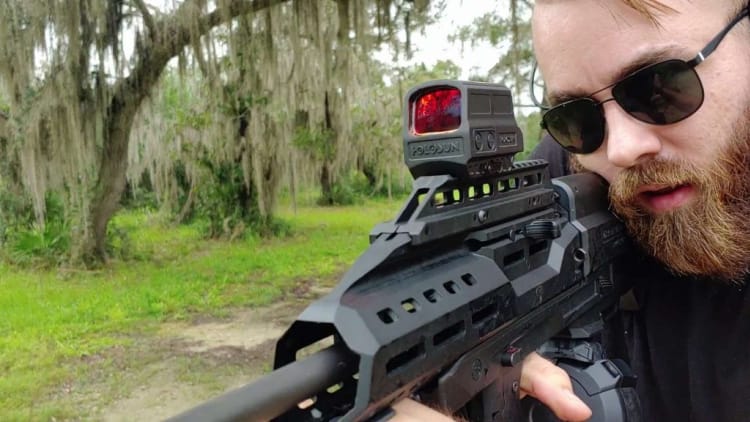 That's the most significant benefit, but the enclosed pistol optic does offer one advantage over opened. The enclosed design forces you to look through the optic and allows you to find the dot a bit easier. It's a minor advantage and really only applies to new pistol red dot shooters. Once you figure out proper presentation, then the enclosed optic does offer that advantage.
Which for What?
When choosing an optic, you have to consider a few things.
What weapon is it being mounted to?
What size do you need?
Which manufacturer provides the features you want?
What's its purpose? Purpose is where the biggest difference between the open and enclosed optics appears.
On handguns, your choice of miniature red dot isn't nearly as important as on a long gun. Concealed carriers have a handy dandy garment and holster to protect the emitter. Soldiers rarely use handguns, and the biggest difference would be apparent for police. We've seen military, and police forces utilize optics like the open Trijicon RMR without issue for years. You're unlikely to run into problems, but if you want the best and most reliable optic, then an enclosed emitter is the way to go.
With long guns meant for duty, it's all about the enclosed optic. These rifles are slung to your body and exposed to everything. The enclosed optic provides more durability and reliability in any situation. That makes it tough to justify an open optic on a duty rifle.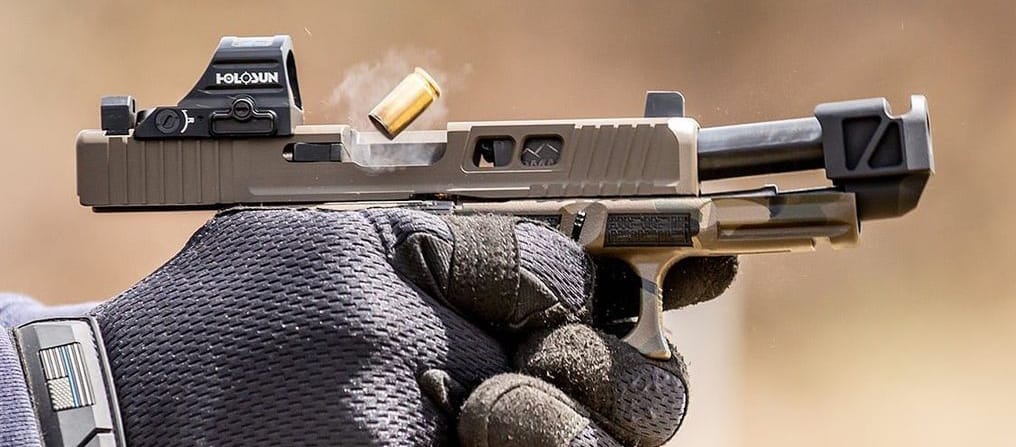 For home defense and competition, an open optic works fine. For home defense, it's not likely to be exposed to the elements, and competition doesn't have the same risks as duty use. In fact, optics like the HS510C have become quite popular for competitive use in PCC divisions. The clear lens and great peripheral vision often make finding those small PCC targets fast and easy.
Open the Door or Close it
The presence of an open or enclosed emitter is a small but important detail. Considerations like durability, mounting options, clarity, and beyond also need to be considered. It's plenty easy to make crappy optics in open and enclosed variants; however, once you've narrowed down who makes good red dot optics and who doesn't, then you can start considering whether to go enclosed or open.
Which do you prefer? Let us know below and let us know why.