If you want a pocket holster that will safely and comfortably conceal your pistol or revolver in your pocket, look no further—you've found it in Mika's Pocket Holsters!
Founder Robert Mika understands the importance of having dependable gear, having been a law enforcement officer for 33 years. He was dissatisfied with the holsters he was finding commercially, so in 1984, he began making his own holsters and founded his company.
Mika makes custom holsters to the customer's specifications. He guarantees his work so that if the customer is not happy, they get their money back.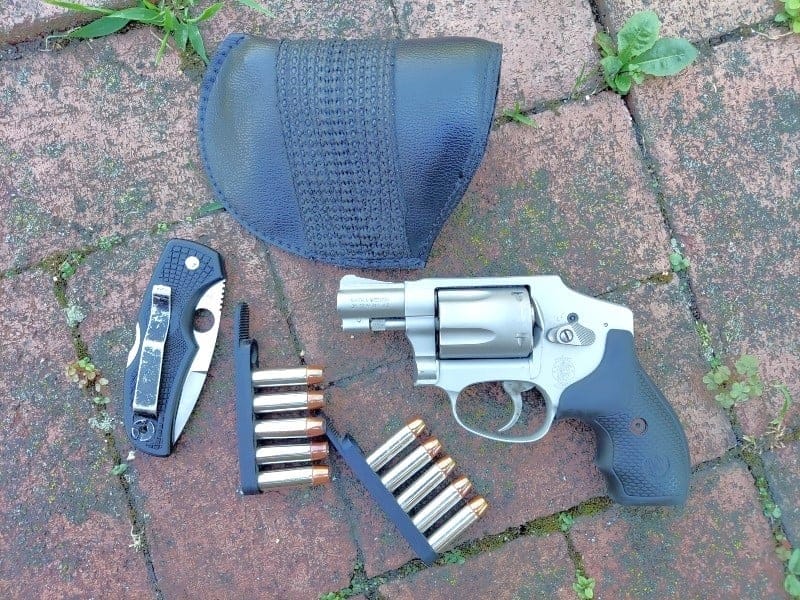 Why?
Why use a pocket holster? For me, it's often a matter of convenience. Sometimes I like being able to drop a handgun into my pocket without having to tuck one into my waistband or strap a holster onto my belt. It's a quick way to be armed, having my shirt tucked in.
Other times, if I'm wearing a nice dress shirt that's tucked in, I can't really have a pistol in my waistband or on my belt without it being obvious. So concealment comes into play. The pocket holster is a way to be armed without anyone having any idea.
Another advantage is being able to have my S&W revolver in my pocket and being able to place my hand into my pocket, having my hand on the grip of the gun without anyone knowing. If I need to use the revolver, I just withdraw my hand. If I don't need the gun, I just go on about my business.
Holster Materials
Mika states that his holsters are made from a material that is moisture resistant and that will keep the inside of the holster dry. Unlike leather, this material does not become sticky with moisture. Moist leather will hinder a fast, smooth draw. Not so with Mika holsters. Mika's holsters will also prevent the body's harmful, corrosive salts from getting to your firearms. The outer material on my holster appears to be leather, so I'm not exactly sure what material it is. I can, however, tell you that it works perfectly.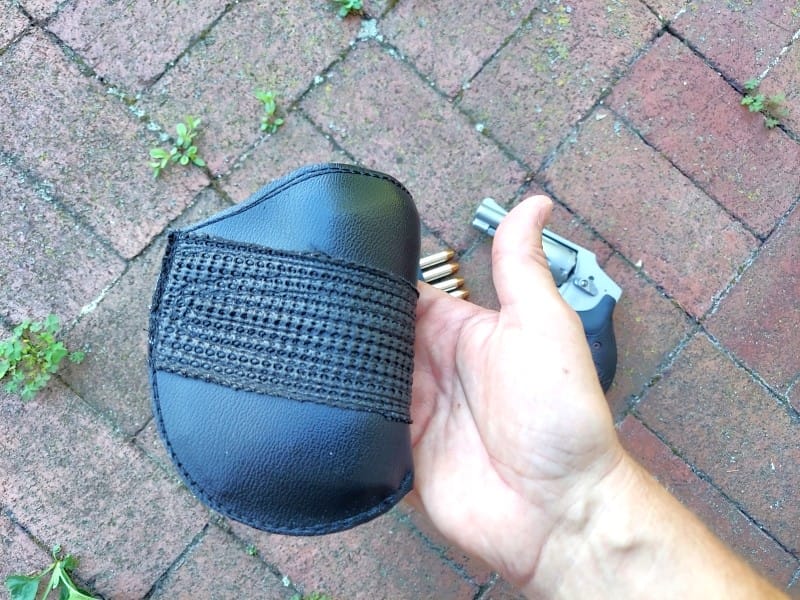 Around the outside of the holster, about midway, Mika attaches some sort of grippy material that absolutely keeps the holster from coming out of your pocket as you draw your handgun. It's almost like some sort of mesh material. This stuff works so perfectly that I still marvel at it every time I draw my revolver from my pocket! It's as though it's magic.
The inside of the holster is lined with a material that I cannot identify, but it is smooth and allows the handgun to be drawn very smoothly. After many draws, it exhibits very little wear. As a neat detail, Mika signed the material on the inside of the holster.
Concealment
How does the holster perform for concealment? Works like a charm!! You place the handgun inside the holster into your pocket and it disappears. The holster takes away the outline of the handgun in your pocket, it's that simple. I can carry my S&W 642 in my front pocket and it's hard to detect that I'm carrying anything there. If someone did take notice, they'd assume I had a wallet in that pocket.
Comfort
Carrying in the front pocket, the holster makes the handgun completely comfortable to carry, as it doesn't dig into my leg or body at all. It's literally about as comfortable as carrying a wallet in that pocket. I can also carry with the same amount of comfort using a back pocket, but the concealment factor depends on the size of the back pocket and how deeply the handgun sits in the pocket.
Mika Products
Mika offers many different products. Pocket holsters, vest holsters, Inside The Waistband holsters, pocket handcuff cases, pocket knife cases, a notebook case, and a magazine case.
There are options, too. With holsters, they can be had in black or brown. The buyer can choose between a square cut and a round cut for the bottom of their holster. Certain holsters can be ordered in left or right-hand versions.
It appears that the price of an IWB holster is $31.95 at the time of this writing, which is incredibly reasonable, in my opinion. The prices of Mika's other items are also quite reasonable, with many being under $20.
The holster I have is a pocket holster with a round cut bottom, black in color. It fits my S&W 642 perfectly. As mentioned, I can draw the revolver very quickly with nary a worry that the holster will come out with the gun. I've performed countless draws and it's never happened once. Just smooth, fast draws.
Mika can apparently make a holster to fit just about any handgun that you want to carry, so the holsters are quite versatile.
Uses
I don't carry my S&W 642 in this manner all the time. However, it's nice to have this option. There are times when I like to be able to carry and have my shirt tucked in instead of untucked and covering my carry piece. Carrying the revolver in my right, front pocket offers a great deal of concealability while still giving me access to the handgun, which can be an attractive option at times.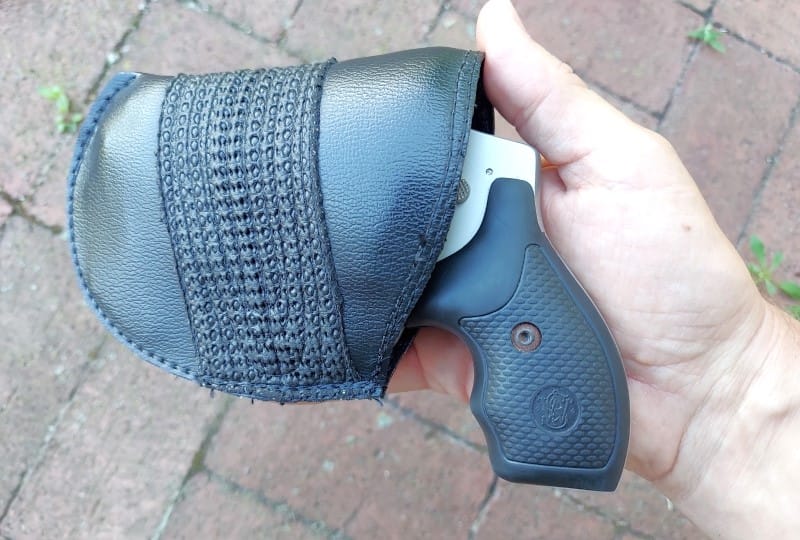 Aside from armed citizens, police could also benefit from these holsters. Having a backup handgun in the pocket would certainly be a comfort to those on duty, just in case.
Mika's Vest Holster secures to the left or right side of a body armor vest, offering perfect concealability for an officer. There is a strip of Velcro that attaches to the vest. They can be had in either black or brown and either open-ended or close-ended.
The Bottom Line
Rarely do we see a piece of equipment that is simple, inexpensive, and works so efficiently! These are holsters made with functionality in mind, not highly polished show pieces. They're priced so that ordinary, working people can easily afford them. And you can feel confident betting your life on them because they're made by a man who knows what it is to use gear that your life depends on. These products represent an extraordinary value.