The lever-action rifle is an iconic piece of Americana. Many of us feel a fierce and terrible lever gun love…everyone else is wrong. Whether you love lever-action rifles for their practicality, their history, or just because, we have a few examples to share with ya…and we'll drop some ammo knowledge on ya too.
Looking for a capable pistol caliber carbine that isn't built on the AR platform? Henry lever-action rifles are a great place to start.
It's isn't from Bas-Lag, Fullmetal Alchemist, or anything by Jules Verne…but it could be!
Running a lever gun PCC? Should you choose a .357 or .44?
The Practical Appeal of a Henry Lever Action PCC
David Higginbotham
Most Henry lever-action rifles fill a distinct niche. These are rock-solid working guns that pay an homage to their historical roots, but don't shy away from modern configurations and set-ups. As such, hunters and sportsmen have a brand dedicated to functionality and reliability that can take the abuse that regular use can dish out without stripping away any historical value.
And these rifles tend to look better with a few battle scars. This .357 is getting a few of those scratches and dings. Back in May, Mag Life Editor David Reeder ran it through a Practical Rifle course taught by Rainier Arms. More on that to come.
Let's break down the gun.
This is a Big Boy Color Case Hardened Side Gate .357. That's a mouthful, but an accurately descriptive title of this compact Henry lever-action rifle.
Barrel Length: 16.5″
Barrel Type: Octagon Blued Steel
Rate of Twist: 1:16
Overall Length: 34.1″
Weight: 7.41 lbs.
Receiver Finish: Color Case Hardened Steel
Rear Sight: Fully Adj. Semi-Buckhorn w/ Diamond Insert
Front Sight: Brass Bead
Scopeability: Drilled and Tapped
Scope Mount: Type BB-RSM
Stock Material: American Walnut
Buttplate/Pad: Black Solid Rubber Recoil Pad
Length of Pull: 14″
Safety: Transfer Bar
Best Uses: Target/Hunting/Large Game
Embellishments/Extras: Swivel Studs, Side Gate
I'm not sure where the Big Boy concept comes from. Maybe this is the gun the Bob's Big Boy mascot would carry when he was a way from the restaurant.
The Case Hardened part is easier. The steel frame of the gun has been color case hardened. This is a technique used on many older guns to add an element of aesthetic refinement to steel. It has the added benefit of adding a modest amount of protection, too, through the hardening of the surface layer of the steel.
Most color case hardening is done on highly polished steel. When done right, the technique forms bands and clouds of color that look almost like smoke in clear water. It is mesmerizing.
The Henry has the color case hardening done on an almost brushed finish. This is an odd new look for the technique. The colors are still there, as is the protection from the hardening, but the depth to the surface is absent. Light still plays off of the imperfections left by the grinding or brushing—whatever the final surface preparation is.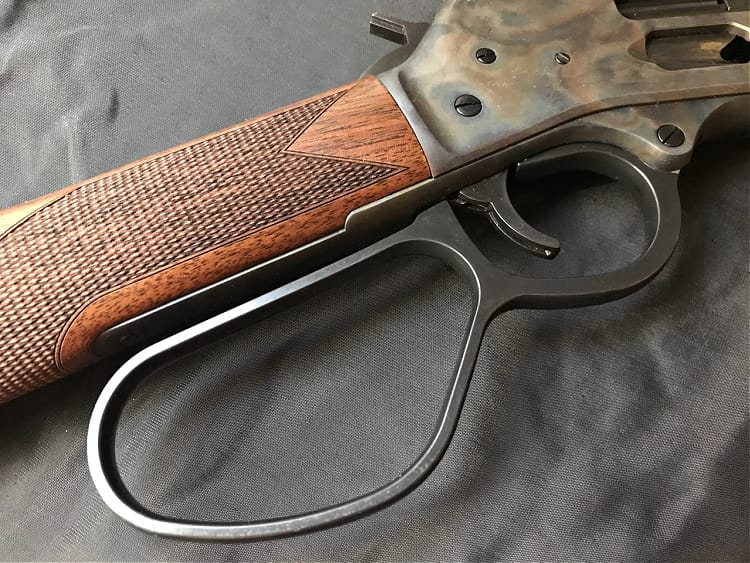 The Walnut stock
That's not to say that it isn't still handsome. This is a good-looking gun, it is just different. And that difference doesn't feel as precious or as delicate as the more traditional color case hardened finishes.
The parts that aren't blued or color case hardened are equally attractive. The walnut stock is plain and not overly adorned. It is finished well and will pick up character as it takes a beating. Walnut is not a super-hard hardwood. Though durable and well suited for rifle stocks, walnut dings as easily as any wood.
As I'm not one to baby anything I might consider to be a tool, I don't see this as a problem. Every scar tells a story. This is a gun that would rather be in a truck or on an ATV than in the safe.
Clearly, the look won't be for everyone. If you are after a wall-hanger, or a nostalgic lever-gun to add to a working collection of functional history pieces, this isn't it. If you want a rock-solid gun you won't hesitate to drop behind the seat of the truck, this is it.
The practical side
Henry's Big Boy Color Case Hardened Side Gate .357 is compact. The overall length is under 3 feet. That makes the gun maneuverable and easy to carry.
It also means that the Henry lever action can feel a bit small for larger shooters. While some Henry rifles in larger calibers offer more to hold on to, this one is more of a true carbine length.
And at more than seven pounds, it isn't a featherweight either. There's a substantial amount of steel in its octagonal barrel. While this adds weight, it is part of what makes the gun so easy to keep on target during rapid-fire shooting.
Side-gate
Henry has added more side-gate loaders to their line-up in the last few years. These allow you to thumb in a round easily, without having to remove a magazine tube from under a barrel.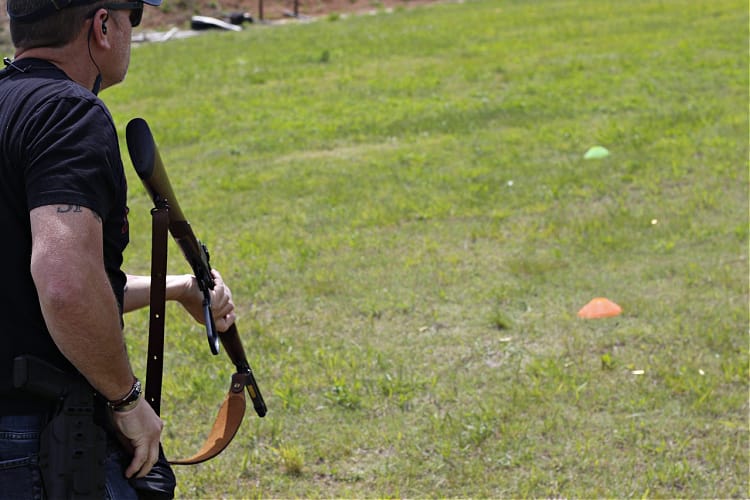 You can still remove the tube to unload some rounds, as needed, though anything in the chamber would have to be freed with a throw of the lever.
There's a trick to loading these. Push a round in about 2/3 of the way and then use the nose of the next round to seat it all the way in—and end at the 2/3 point with that round—rinse and repeat.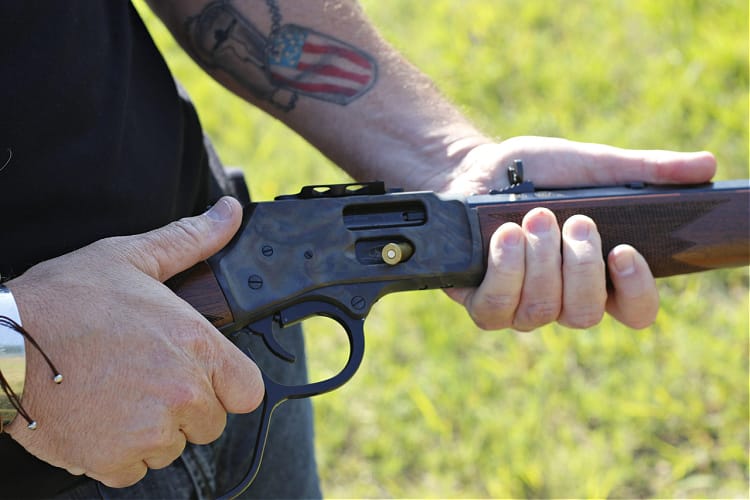 This saves your thumbs and, maybe more likely, your thumb nails. I finger-pick guitar with the same hand I use to load a lever-action, so my loner-than-average nails tend to get in the way. Before I go to a class like this, or spend any serious time on the range, I'll trim them back, but I've found that keeping my thumb out of the side gate helps immensely.
The .357
Most people think of the .357 as a revolver round. And for good reason. There are not many rifles chambered in the caliber anymore. But it is a damn-good round.
Some .357 rounds will top out at speeds over 1,500 FPS from a rifle this size. And there's no loss of energy at the cylinder gap. That makes for an exceptionally effective round in close quarters scenarios.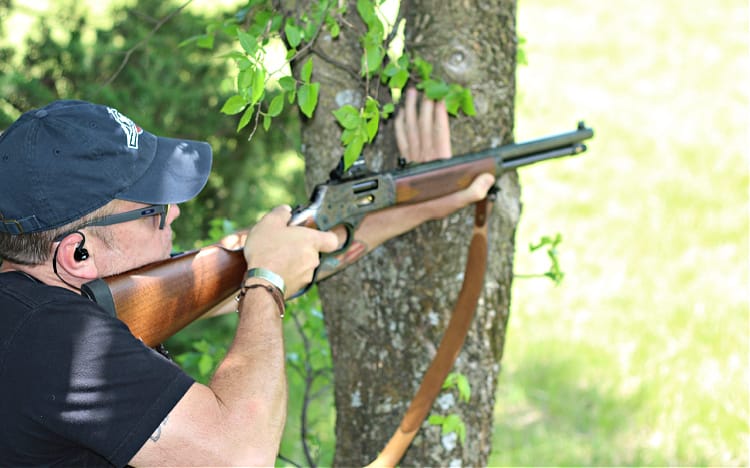 The .357 is even a solid round for a brush gun. With solid shot placement, it has impressive terminal ballistic potential. And the recoil is almost nothing.
The Henry will also run .38s, so there's an even better option for the recoil sensitive. Shooting .38s from the Big Boy produces about as much kick as you would get from a light .22 LR. Almost nothing to speak of.
If you are looking for a rapid-fire fun gun, the Big Boy running .38s shoots flat and fast. You can drive the lever like a mad man and keep the Big Boy humming along until that last click. The gun will hold 7 or 8—at least 7 and one in the chamber.
What's the best way to top the Henry Big Boy?
The gun comes with Henry's traditional iron sights. These work fine. I've reviewed a bunch of Henry's rifles over the years and I've never once found reason to complain about the irons. The brass bead on the Big Boy is easy to pick up, and the semi-buckhorn rear sight has a diamond to help speed up target acquisition and fine-tune longer-range shot placement.
For this review, we set up the Henry with a Holosun Micro Red Dot (a 507c). This was a pretty radical choice for a lever gun, but one that was made incredibly easy by the mount that we got from Phoenix Weaponry.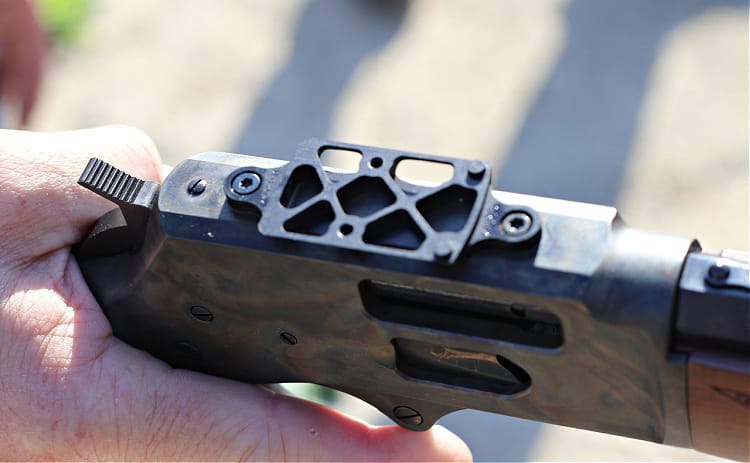 This little thing is milled to match the drilled holes in the receiver. Phoenix makes them in a variety of optics patterns. When we began the review process, I went looking for options for optics. Phoenix had what I was looking for—but there was some confusion—mostly on my part—about fit with the various Henry models out there (as there are big-bore Big Boys, and PCC Big Boys and they're not the same size). After a quick conversation with the team at Phoenix, I was set.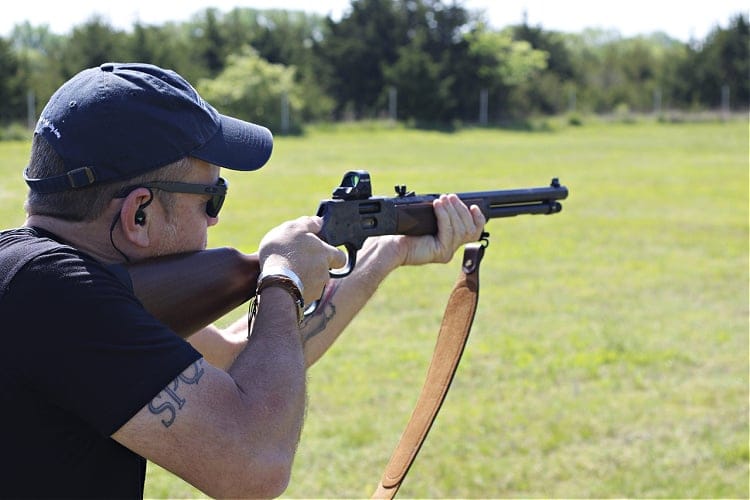 And the mount provides the security to hold the Holosun steady. After shooting all day in the rifle class, there had been no shift in zero from the optic or the plate. And the plate added just the right amount of rise to the red dot—getting a solid cheek weld put my line of sight exactly where it needed to be on the gun.
Henry Lever Action Accuracy
As this isn't a bench gun, I didn't put it in the rest to zero the optic. During the rifle class, we were shooting on the move, from prone, standing, kneeling…. We were putting rounds on steel, so we zeroed the Holosun standing in front of a paper target until we were on.
And the emphasis of this gun is stability and speed. First-shot accuracy is dependable and second-shot accuracy is spot on. This rifle smoked the split times of the bolt-action guns that were running the same course of fire. From initial target acquisition to multiple target engagement, the Henry performed well.
Where it suffered was at distance. At 200 yards, with a red dot, you can imagine the challenges. And as this was a high-round count class in the midst of the 2020 ammo shortages, we shot a lot of .38. With a shooter and a spotter, walking shots in off the impacts on the berm was easy enough, but it would have been more difficult alone or without the benefit of small dirt puffs 200 yards downrange.
With .357, connecting at 200 yards was more consistent. Either way, we were ringing steel at that distance.
In the end
I've got a deep respect for what Henry's doing with their catalog. They keep bringing new twists to familiar favorites. And this gun is no different. The Henry lever action is, at least in this form, a testament to craftsmanship.
The price, MSRP is $1,141.00, seems on point for what you get. Like most of the other Henry rifles I've run, this could easily be a rifle that is passed down to the next generation and the next.
Steampunk Marlin 336
An unusual lever gun indeed!
Jon Duty
Holy brass patina, Batman! Just take a moment and look over this Steampunk Marlin 336!
Go ahead…we'll wait.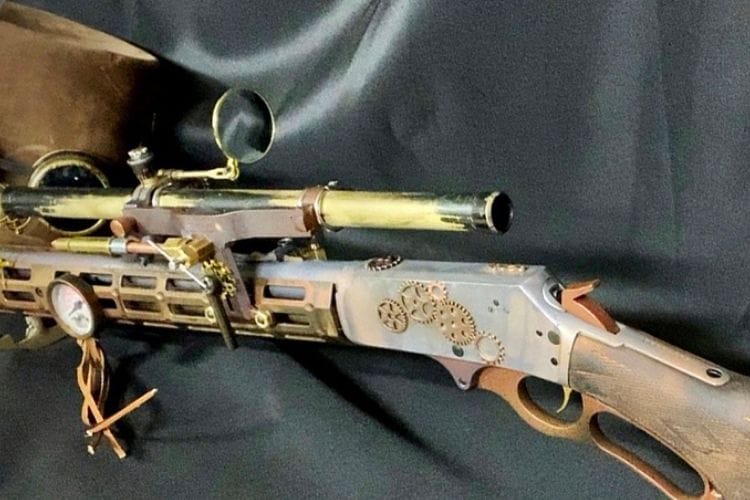 This thing looks like something James West & Artemus Gordon would've used to fight off that wily-ass Dr. Loveless in that Wild Wild West movie. You know, the reboot of the old show, with Kevin Kline and Will Smith?
This Marlin 336 would be perfect for that!
Indeed, it would've handled the Doc, shortened the storyline, and paved the way for more screen time for the real reason we all watched that movie…Salma Hayek.
At the very least, Agents West and Gordon wouldn't have had to fight the giant mech-spider thingy at the end.
But I digress…
Steampunk Marlin 336 Build
This Marlin came into David Wilson at Silverfox Coatings as a pawn shop find and got the full-send steampunk treatment. This thing is crazy in the details. I literally had to look at each picture a couple of times to catch them all.
David says this rifle had more than 100 hours put into it. The stock was reshaped, refinished, had custom hammered metal accents, and copper gears added, along with a working clock and a humidifier gauge. The lever got an extra finger ring welded in, and the handguards were replaced with a Midwest Industries MLOK set. The scope is actually an original working antique scope from the 1900s. It stayed as is because…well…it's cooler than your ex's heart just the way it was.
David hit this up with a custom mix cerakote on the barrel to round it all out and complete the look. He did the receiver in a copper/gold/silver patina cerakote finish.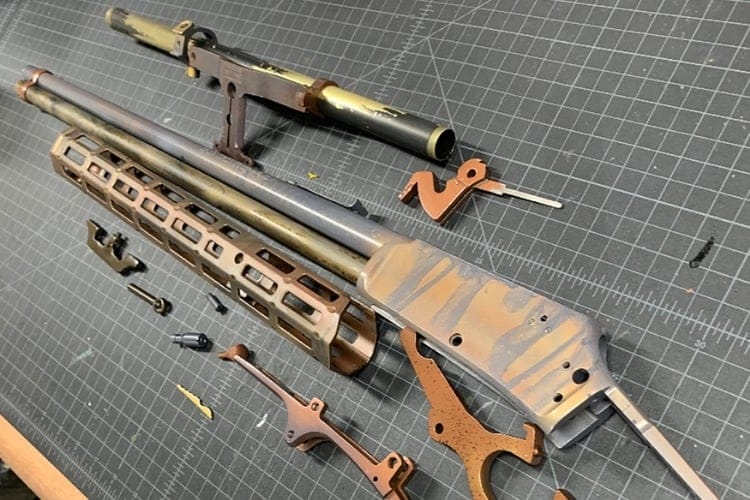 All in all, this little Marlin got a complete makeover. Still, it's not the first time Silverfox Coatings has stomped out a spot in the Cerakote applicator forest. So go and give them a follow on Instagram @silverfox_cerakote and see their other work for yourself. Or, if you're in the Dallas, TX area, and need some Cerakote magic sprinkled on your roscoe, hit them up!
357 or 44 Magnum for that Lever Gun?
A look at two lever-action rifle cartridges
Kat Ainsworth
Lever-action rifles have been getting more attention, and we think that's a great thing. Levers aren't just the classic guns that won the West anymore; levers are versatile, useful, and fun. Of course, they also come chambered in quite a variety of calibers, so you might need some help deciding which one to add to your collection next (after all, you're going to need more than one in the long run). In this video, Chris Baker of Lucky Gunner does a comparison of levers chambered in 357 Magnum and 44 Magnum.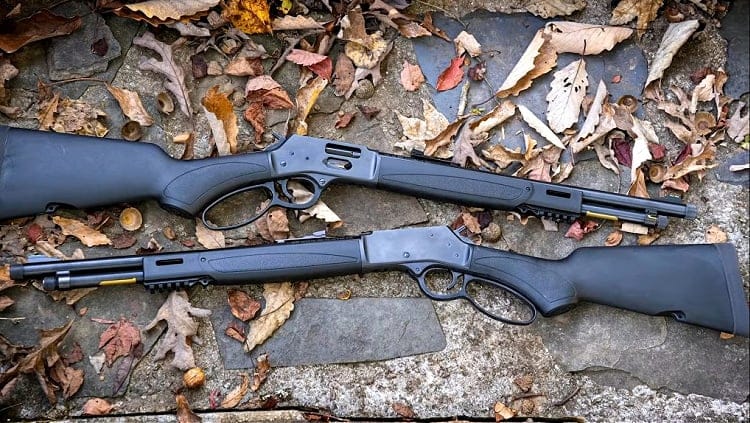 What Distance Can 357 and 44 Magnum Levers Shoot Accurately?
Although estimating effective range depends somewhat on your gun, ammo, and shooting skills, there is always a general accuracy range to consider. Chris Baker talked about the effective range of 357 and 44 Magnum levers:
"Best case scenario, a 357 or 44 Mag lever-action is probably about a 150-yard gun unless you're just a real superstar in range estimation. Realistically, for most of us, for any practical purpose, it's more like a 100 yard or 125-yard gun with maybe some wiggle room. If you use one of the flatter shooting loads and you played around with your zero, you could maybe stretch it out past 150 in a pinch. Personally, if I thought there was a decent chance I might need to shoot something that far away, I would just go with a true rifle caliber."
How did Chris figure out effective range?
Well, he checked velocity and documented drop rate:
[Earlier] when I shot…groups, I also took velocity readings with our LabRadar. This device measures velocity at the muzzle just like a chronograph does but it can also tell you the velocity in various increments as the bullet moves down-range. I had it set to give readings at 50, 100, and 150 yards. I also tried 200, but it had trouble picking up the bullets that far away. There's a lot of cool stuff we can do with these measurements."
Check out the video for a closer look at the results of velocity testing and for other information about the 357 and 44 Magnum levers:
What can my lever-action rifle do?
Lever-action rifles and carbines have a lot of uses. Remember, there was a time when they were the hottest thing around in the gun world, and they were used for just about everything. Today you can use them for a lot, too, such as:
Hunting
Home defense
Self-defense
Brush gun
Truck gun
Cowboy action shooting
Range time
You should definitely consider getting a lever-action rifle or three in your gun safe. Not only can you use them for just about anything, but they're also flat-out fun to run. If 357 Magnum and 44 Magnum aren't your thing, they do come chambered in a lot of other calibers like 444 Marlin and 30-30 Win, among others.
Do you own a lever gun or several? What's your favorite caliber? Drop a comment below to let us know.