I was at that SHOT Show more than twenty years ago when the buzz on the floor was, "You guys gotta see this little tiny booth where they've got a double action only 9mm concealment gun. You won't believe the action on it!" I went there…and that was my introduction to Justin Moon and his Kahr pistols.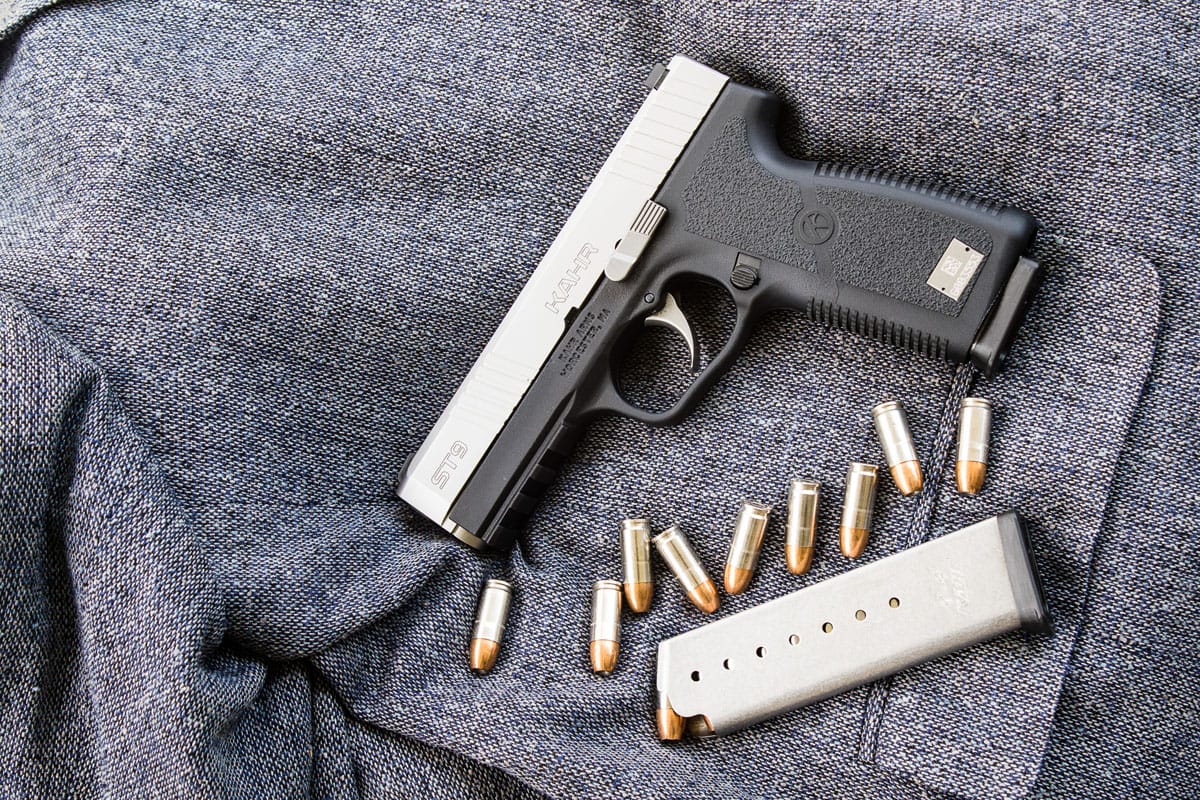 I tried them, liked them, and have liked them ever since. The Kahr helped to define what I call the "slim-nine," the thin, flat 9mm pistol with single stack magazine designed expressly for concealed carry. The original was called the K9, but it was certainly no dog. The slide ran smoothly and the light double action trigger pull, smoother still. Accuracy was decent: my first K9 once put five rounds of Federal 9BP 115 grain JHPs into an inch and three eights from a bench rest at 25 yards. Chambers were tight and not tolerant of sloppy handloads, but with factory ammo, reliability was excellent.
The Kahr helped create the market for slim, single-stack 9mm carry guns, and they evolved. When the single recurring complaint initially was that the all-steel guns were too heavy, the company branched out into polymer frames. This lightened the pistol, lightened the production cost, and commensurately lightened the retail price. They made longer ones and shorter ones. When some folks complained that 9mm was too wussy for them, Kahr offered the same format in .40 S&W and .45 ACP, and even a tiny polymer rendition in .380 ACP.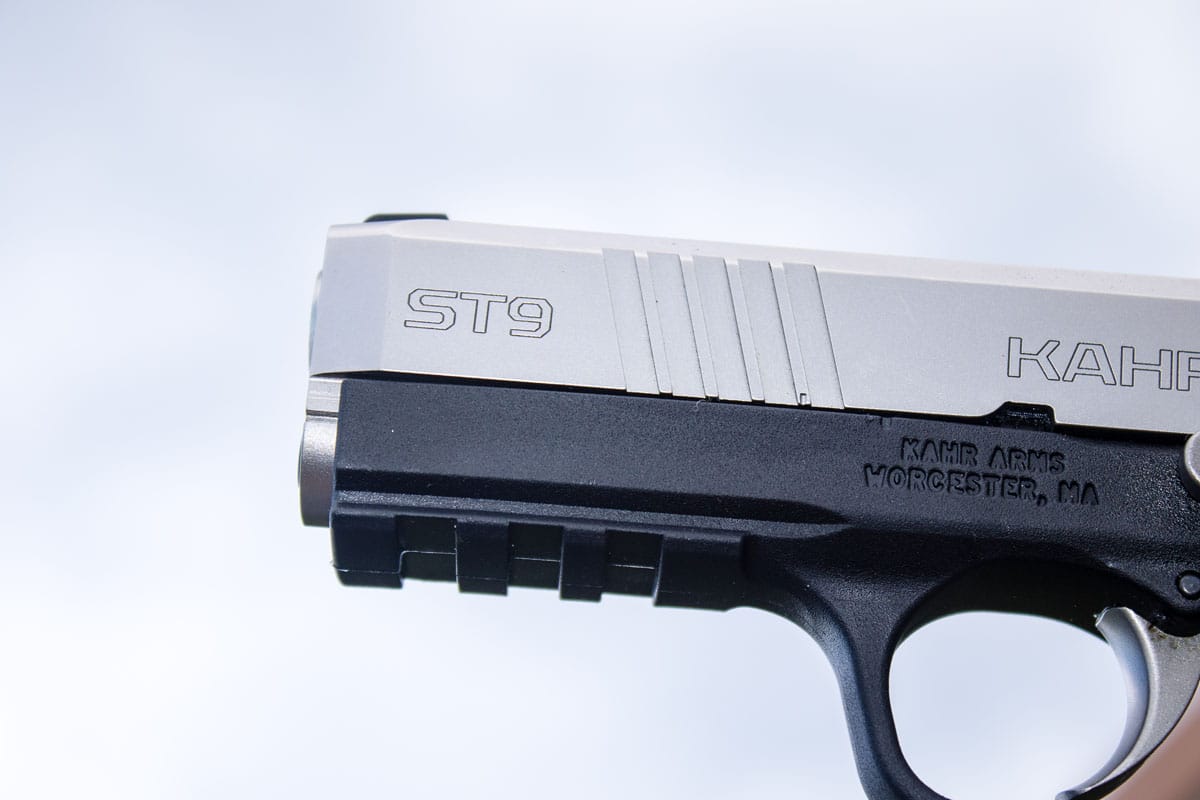 While there was a highly polished Kahr Elite series, the company found logically enough that sales went up when prices went down, so they put commensurately more effort into offering economy versions. Their inexpensive CW-line pistols do everything the more expensive models do in terms of accuracy and function, but with squarer edges, less cost, and ugly lettering stamped on the slide.
Now comes the latest incarnation of Kahr pistols, the S-series.
Where They Stand
The S-series pistols are all currently chambered for 9mm Luger. There are two at present: The S-9 and the ST-9. The only real difference between the two is size. The S9 (SKU S9093) is 5.9 inches long with 3.6 inch barrel, 4.5 inches high, and comes with two seven-round magazines. The ST9, product code ST9093, has a 4.0 inch barrel, is 6.5 inches in overall length, and has a height of 5.8 inches; the ST magazines are eight-rounders. Curiously, the larger gun with more material in it is less expensive: Kahr's website has a suggested retail of $477 for the S9 and only $456 for the ST9. Kahr's weight specs for the S9 are 15.8 ounces for the unloaded S9 pistol and 1.9 ounces for its empty mag, 18.5 ounces for the gun and 2.1 ounces for the empty magazine for the ST9.
The model we tested for this article was the ST9.
Overview
In size, the ST9's footprint is very much like that of a Glock 19, but a tad longer in the butt and a tad shorter at the front. It is, however, dramatically thinner than a G19. When you compare the two, you're sacrificing seven rounds of capacity with the thinner Kahr (but only two rounds if you live in a ten-round magazine limit jurisdiction), and gaining more concealability and, with inside the waistband carry, more comfort. The balance is there, and the choice is yours.
A glance at the Kahr catalog or website (www.kahr.com) shows a many-page array of Kahr pistol options. Surfing through it, you will find the first Kahr in this format, the all stainless steel 26-ounce T9, which carries a retail tag of $857. With a polymer frame like the ST9, the predecessor gun is the T9, which is $697. Each of those comes with three eight-round magazines. The ST9, though it has only two mags in the box, is only $456. We pause for a do-the-math moment, and discover that the ST9 is helluva deal right there.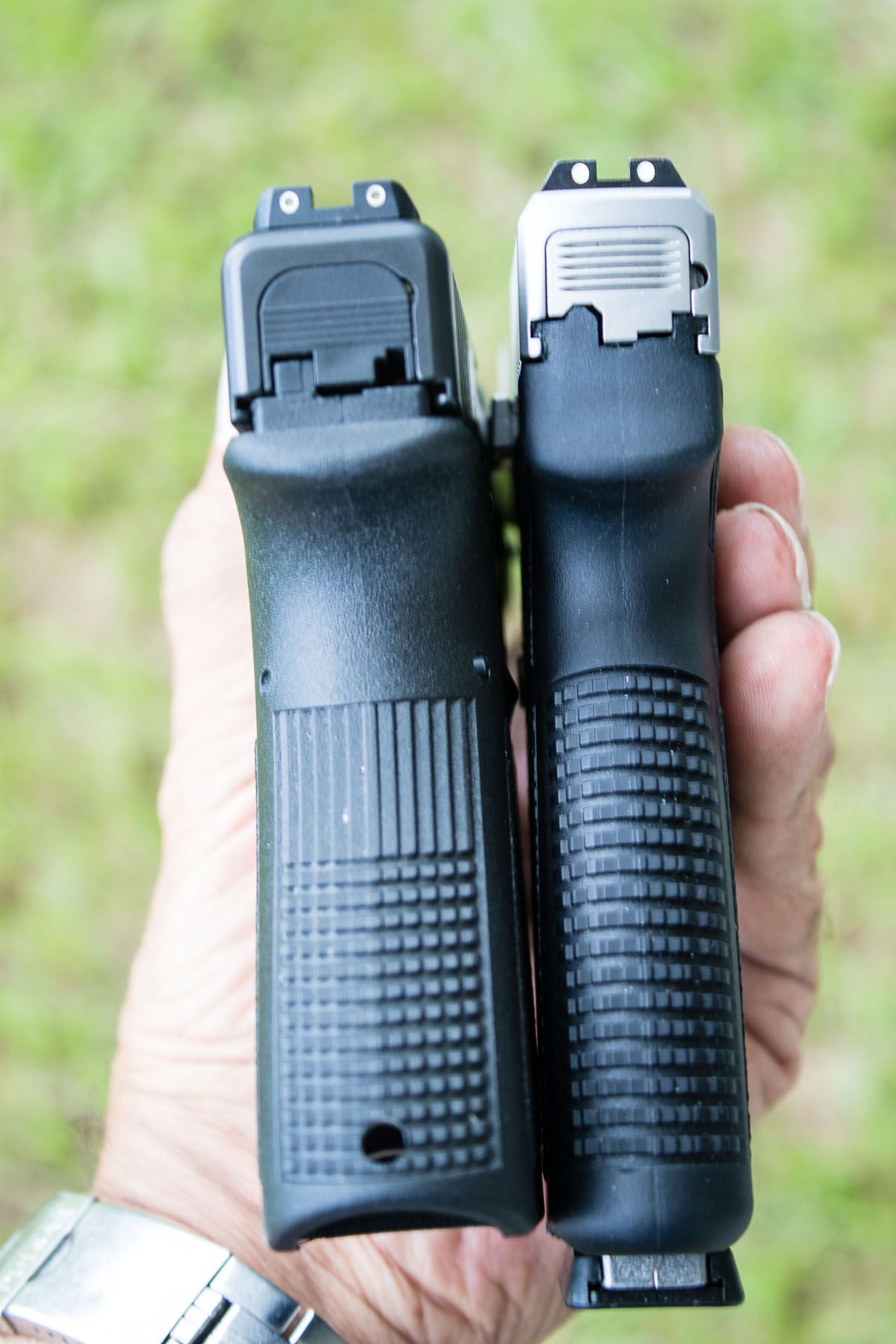 But, it gets better. The ST9 comes with an integral rail for light and/or laser. Those units are small enough now for daily concealed carry in an appropriate holster, and are particularly useful in a home defense gun. Even if you don't choose to walk around with a gun-mounted light, snapping it on at night when the everyday carry (EDC) pistol becomes the "bedside home companion," that's a useful feature. Another S-series feature is forward slide grasping grooves. I don't need those nor like them, but you might feel differently, and if so that's another point in the S-series' favor.
On the Firing Line
On a Lyman digital trigger pull gauge (I got mine for cheap from Brownell's, and it's a useful tool for any serious shooter), the ST9 averaged 6.55 pounds pull weight at the toe of its pivoting trigger, where leverage is greatest. However, unless we have spidery fingers, we're likely to be placing our index finger on the center of the trigger, and from there pull weight was very consistent at 8.16 pounds.
Kahr nine millimeters have been known for their smooth "double action only" trigger pulls and their soft recoil since their introduction. This ST9 was no exception. The first time I dry-fired a Kahr, at the SHOT Show a score of years ago, my first impression was "My God, it feels like pulling through the double action on a K-frame Smith & Wesson with the mainspring removed from the gun." That light, smooth DA pull was evident on our test ST9, serial number GOO3553.
Every design has its own idiosyncrasies, and the Kahrs are no exception. You want the owner's manual and a rubber mallet handy when you take one down and reassemble it for the first time. Almost every Kahr I've shot has exhibited what gun writer Wiley Clapp was the first to define as "four-plus-one" syndrome: the first hand-chambered cartridge would send its bullet to a different point of impact than subsequent automatically-cycled rounds. The ST9 certainly did so, as we shall see in more detail shortly.
If you're used to a pre-tensioned or partially-pre-tensioned striker-fired auto, or a single action autoloader, you'll find the Kahr's pull length and trigger return long. If you are accustomed to true double action revolvers and autos, you'll merely find the Kahr's pull…delicious. It's a matter of habituation. (One of our testers complained, "The trigger return forward is too long!" Another answered, "You need to get out more, 1911 Boy!")
The eight-round magazines were easy to fill all the way up, even with arthritic hands, and it was easy to thumb the cartridges out. With the slide forward, a full magazine inserted easily and positively for tactical reloads.
Accuracy
This writer has grown weary of the ignorant claim, "If the bad guy is farther away than seven yards you probably aren't justified in shooting him anyway." If an attorney was ever stupid enough to make that argument, your answer would be a simple, crushing sound bite: "Counselor, if we were close enough to one another for me to shoot him, we were obviously close enough for him to shoot me."
Not yet having seen a validated treaty in which the bad guys promised not to murder us if we were more than seven yards apart, I still test concealed carry guns to the same standard as service pistols for accuracy, 25 yards. I took the Kahr ST9 to my 25 yard bay with a Caldwell Matrix rest set on a concrete bench. Each group consisted of five shots, two-hand rested hold, and measured twice. The group of all five hits gives us an idea what we can do with stress factored out with that gun and that ammo. The second measurement is the best three of those hits, because testing and experience over the decades has shown me that this will factor out enough human error to approximate what all five would have done from a Ransom machine rest. (Most of my readers don't have a machine rest for their own testing, but most of them can replicate this test from a solid bench to compare their results with mine.) Each group measurement was taken from center to center between the farthest of the hits being analyzed, to the nearest 0.05"
I like to test with the three most popular bullet weights of the given caliber. For 9mm Parabellum, that's 115, 124, and 147 grains.
The 147 grain subsonic was from a known-accurate batch of inexpensive Remington-UMC full metal jacket, with which I had won IDPA matches in the past. It shot high from the sights by about three inches from 75 feet, but the five shot group measured 2.65" with the best three under an inch at 0.95".
For 124 grain I went with SIG V-Crown, a relatively new jacketed hollow point that has shown itself to be quite accurate in many tests. With the ST9 Kahr it delivered all five hits in 3.05", and the best three in two and a quarter inches.
Over the decades, Federal's Classic-line 9BP load, an unassuming and seemingly ordinary 115 grain jacketed hollow point has not only earned a very good reputation "on the street" as a standard pressure 9mm load, but has proven itself "most accurate" in many, many gun tests. Here, the first shot went low ("4+1 effect" again) but the next four shots formed a diamond pattern measuring only 1.20", the best three of which formed a tightest-of-test cluster measuring only 85/100ths of one inch.
With each load, the first shot went low and usually left of where the others did. Nonetheless, the pistol had shown outstanding potential for grouping. That 4+1 thing is why back when I shot the Bianchi Cup, which went out to 50 yards and was very accuracy intensive, a lot of champions would risk the penalties from losing count and firing one round too few or one too many by loading each magazine beyond the required six, so on every reload the chambered round would have been cycled automatically into battery out of the last magazine. This avoided the problem of the one hand-chambered round not going quite where the others did. Yes, 4+1 syndrome is known to occur even with very expensive custom target pistols.
Overall Impressions
I shot bullseye competition with a 6 o'clock in my formative years in the 1960s, and can certainly do so with a carry gun that shoots as well as this one, and having to do so was my only real complaint with it. Considering features vis-à-vis price, and recognizing the balance of its attributes, I think the Kahr ST9 is an outstanding value…so outstanding, that Kahr Arms is probably going to get a check from me, instead of getting this ST9 pistol back.