Alaska's Groove Life started out making silicone wedding bands that won't make your finger sweat. They've since introduced other product lines aimed at outdoorsmen. Outdoorswomen too. Groove Life's belts are quite popular, but are they robust enough to support your EDC blaster? Well, in the video linked below, YouTube's Bunny Operator tells us all about his experience using the Groove Life belt for just that.
The Groovy Groove Life "Groove Belt"
So, what exactly is a Groove Belt anyway? Since there ain't been no hippies around here for centuries, we went to Groove Life's website to find out. They got our immediate attention by claiming the Groove Belt idea sprang partially from "some choice whiskey." We're totally down with that.
They advertise the belt as being good for the following:
Kicking Ass
Adventuring
Tactical
Grillin' Meat
Tracking Bears
Looking Good
Again, we're down for all that, but what makes the Groove Belt so groovy? Well, again, here's what the website says about it:
Space-Tech – the belt is made from proprietary webbing with an A380 aluminum alloy buckle featuring rare earth neodymium magnets.
Stiff-Tech – the anti-curl webbing conforms to your body.
Anti-Flap – The end tucks behind the belt for a clean look, helped out by the integral adjustable loop.
Snap-Tech – Those neodymium magnets make the buckle snap together every time and hold it until you take it off. Groove Life says it's "Strong as Hell."
Ready for Action – The buckle is strong and secure but designed for quick release when you need it.
A no BS 94-year warranty. So, technically, my grandson can get a replacement if it goes bad on him. Sweet.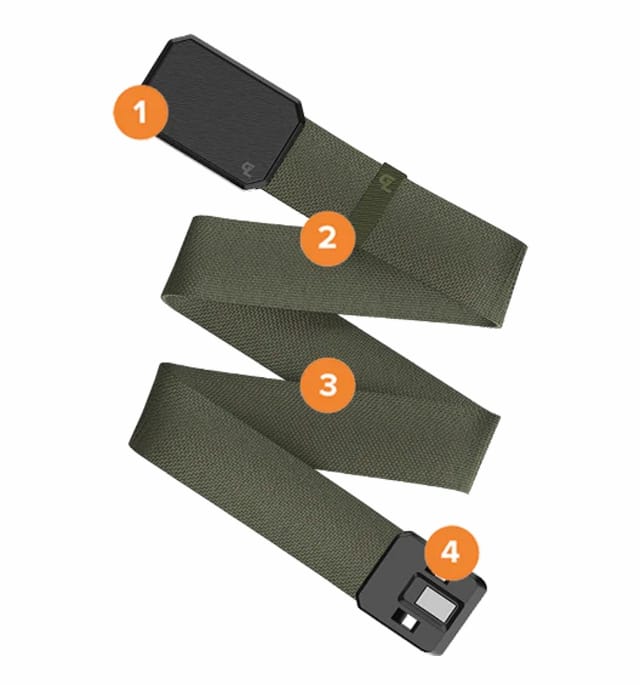 The Groove Belt for Concealed Carry
Bunny Operator, henceforth known as "Bunny," tested the Groove Belt for several weeks. He measured it against his usual Blue Alpha Gear EDC Hybrid belt. He notes that his review is not a straight-up comparison, but the Blue Alpha Gear belt is his baseline.
Bunny's normal EDC loadout is a Smith & Wesson M&P Shield or Glock 19 Gen 4. Both guns are equipped with a weapon light, and he carries an extra magazine. He uses an LAS Concealment Ronin L holster with an attached mag caddy for each gun. He utilizes a centerline appendix carry method.
The two primary differences between the Groove Belt and the Blue Alpha Gear belt are the buckle and the stiffness of the belt itself. The Blue Alpha Gear belt has a more traditional male/female quick detach buckle, while the Groove Belt uses magnets with two claw attachments. The Blue Alpha Gear belt is noticeably stiffer than the Groove Belt, showing little flexibility. The Groove Belt has some elasticity and allows greater freedom of movement.
Bunny says he likes both, depending on what he's doing. The Groove Belt's flexibility makes it more comfortable, and Bunny says it's really nice if you've just eaten a big meal. The trade-off is that the Groove Belt has "a little bit of wiggle, a little bit of stretch, and slightly less support." He speculates that those characteristics would be greater with a heavier gun, but notes that his friend carries a Sig Sauer P226 on a Groove Belt with no problems.
Both parts of the Groove Belt's buckle fit through normal belt loops, while only the female end of the Blue Alpha Gear belt will do that. It's a nice touch. He also notes that the Groove Belt's flexibility makes it easier to offset the buckle for centerline carry. Both belts are adjustable, but the Groove Belt's flexibility means it requires less.
Recommendations
As noted, gear often comes with a trade-off. The Groove Belt, in this case, sacrifices some rigidity and support for comfort. Is that a bad thing? Well, only you can decide that. Bunny says that the Groove Belt and the Blue Alpha Gear Belt "both work and the Groove Life belt is an excellent alternative to what is currently out there.

"At the end of the day," he says, "it works. And frankly, when you're wearing your holster…and it's tucked up against your body, the support of everything combined is usually pretty good. You're not going to notice too much of the support differences between these two systems. Just note that you will probably feel that the Groove Belt does allow the holster to tilt just a little bit more, even if you cinch it down, because of the stretch."
So, it seems to be a good option for some folks. Take a look at Bunny's video, because he demonstrates his points with both belts.
Do you have experience with this belt? If so, what do you think? Hit us up in the comments.