How to load an AR 15 (no, seriously, this will help)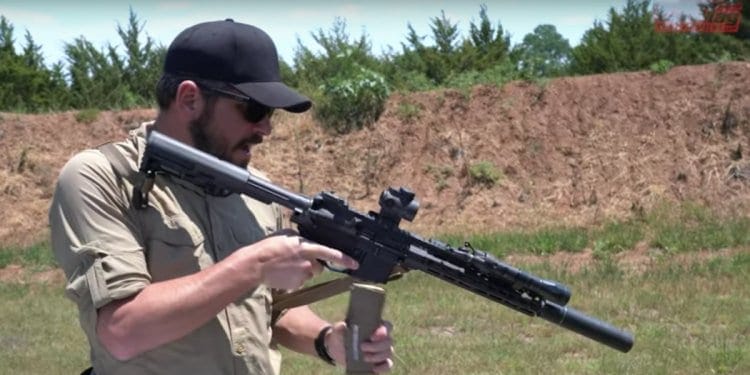 Don't you hate it when you're ready to shoot but you get a <click> when you expect a satisfying BANG? Loading an AR-15 is a pretty basic task, but it's fairly easy to make mistakes. The most common way to load an AR-15 is to shove the magazine into the gun, rack the charging handle, and go. However, you can eliminate the surprise clicks if you adopt a system for loading your AR that you use every time. GunMag TV has a video lesson on how to properly load an AR-15.
Procedure to Load an AR-15
In the video below, Daniel Shaw explains his system. First off, he knows his gun isn't ready to roll if the ejection port is open because there isn't a round in the chamber. With the gun safety mode, he grabs a magazine and checks to see which side the top round is on. For example, in the photo below, the round is on the right-hand side of the magazine.
Never mind with the explanation, just show me the video! 
Next, he inserts the magazine into the magazine well. He gives it a little pull to make sure it's securely seated in the well. After pulling the charging handle all the way back to the metal, he lets it go and drops the magazine. If the top bullet is now on the opposite side, he knows that the first round was stripped from the magazine, and is now properly chambered.
Using this method to load an AR-15, Shaw says he doesn't need to do any brass checks, chamber checks, or anything else. He knows he has a round in the chamber and everything is good to go.
Subscribe to GunMag TV after ya watch the video!
Give this procedure a try and let us know what you think. If you need more magazines for your AR-15, GunMag Warehouse has 217 options to choose from.
GunMag TV
GunMag Warehouse has a badass YouTube channel. Take a minute and check it out.
More Handgun Skills from GunMag TV
Want more great tips so you can shoot gooder? Check out the 5 Tips to Make Your Rifle Standing Position Better video on GunMag TV.
Stephanie Kimmell is the firstborn daughter of Missouri's Pecan King, worthy scion of a Vietnam veteran sailor turned mad engineer-orchardist-inventor-genius. With a BA in technical writing, she freelances as a writer and editor. A Zymurgist greatly interested in the decoction of fermented barley and hops, she is in many ways a modern amalgam of Esther Hobart Morris, Rebecca Boone, and Nellie Bly. She hunts, fishes, butchers, and cooks most anything. When not editing or writing, she makes soaps and salves, spins wool, and occasionally makes cheese from cows she milked herself. Kimmell is a driven epistemophilic who loves live music and all sorts of beer.