I purchased my Holosun 507C about six months ago with the intention of mounting it to a handgun. That intention was swiftly abated when I decided it would be more practical on a shotgun, specifically my Benelli M4. I initially reviewed the optic here and found it to be a surprisingly robust and affordable option that was well suited for a shotgun.
Since my initial review, the world's changed. We got a new puppet in the White House, ammo is scanter than ever, and Trijicon and Holosun have settled their little lawsuit. Oh, and you can no longer find the Holosun 507C V2 for a reasonable price. The end of the Trijicon and Holosun lawsuit was some sort of settlement in which Holosun has since redesigned their optics to vary slightly. The new 507C X2 replaces the ultra-large and ergonomic buttons with smaller variants. Other than that, the optic has remained the same.
The 507C and Scatter Gun Optics
Over time I've found the Holosun 507C to be one of the best shotgun optics you can get. I'm not fudd about red dots. I think any gun can be improved with a red dot and red dots on shotguns are especially Sympatico. Red dots and shotguns are both designed for close-range use. Close range combat is all about speed, and so are shotguns and red dots. The bead sights found on shotguns are not much different than red dots in purpose and design.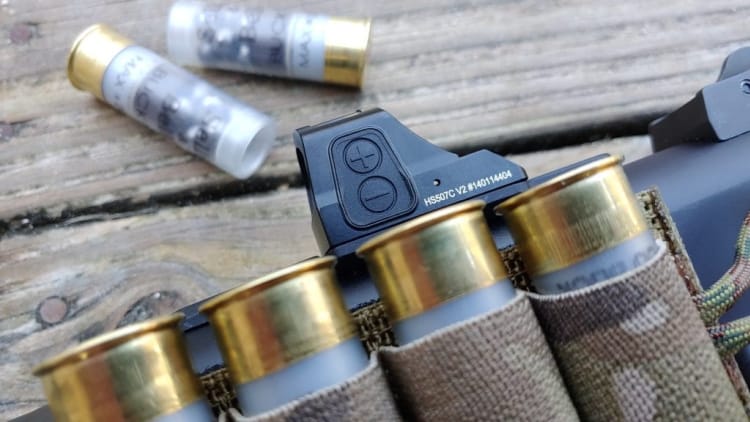 Beads don't require sight alignment, are very simple to see and use, and use target focus versus front sight focus. A red dot is used the exact same way as a shotgun bead but works better in low light, better catches the eye, and can be used for precise work with slugs when called upon.
The Holosun 507C on a Shotgun
My choice to mount the Holosun 507C to a shotgun was a wise one for a few reasons. First, in the midst of an ammo drought, I can still obtain shotgun ammunition and shoot at my heart's content.
That's lead to my favored Benelli M4 having a particularly impressive round count put through it this year. I'm well over 1,000 rounds of just birdshot through the thing, as well at least 250 rounds of Monarch 00 nine pellet buckshot, and lord knows what else.
Off the top of my head, I know I've put hundreds of rounds of Rio Buckshot through it, as well some hot 1,600 FPS Hornady Black buckshot. An educated guess puts my round count around 1,500 rounds through the Holosun 507C.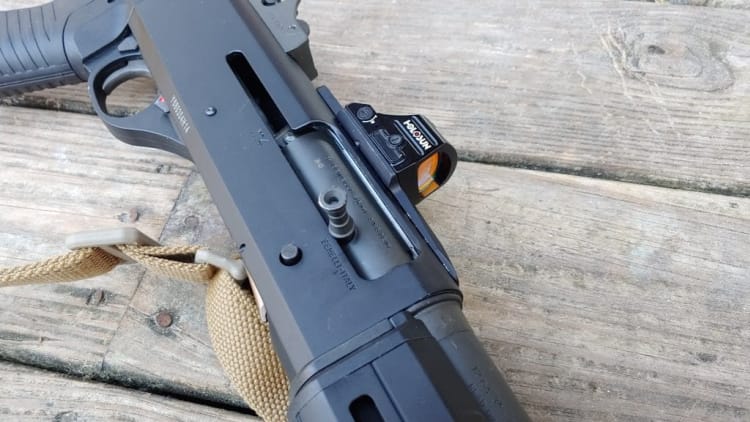 The second reason it's a natural fit on a scattergun is Holsoun's multi reticle system.
This system favors the shotgun in the best way possible. A plain red dot is fine, but the 507C's 32 MOA circle dot is perfect for a shotgun. Not only is it bigger and easier to see, but you can use the circle to pattern your load. I know that at 15 yards, every single pellet of my Federal FliteControl load stays within that circle. That creates perfect pellet accountability for home defense.
Zeroing and Patterning
Zeroing and patterning are different, but I did both at 15 yards with the 507C on a shotgun. Twelve yards is the absolute longest shot I can make inside my home, so a 15 yard zero and pattern is perfect. I confirmed at 25 yards and found the zero to still be dead on.
My zero has not shifted in that 1,500 rounds even a bit. It's still dead on and when using my chosen load patterns right inside that 32 MOA circle. I would feel completely confident in taking headshots or targeting small exposed portions of a target. The Holosun 507C holds zero very well with a shotgun. If the optic can hold zero with a shotgun, it will hold zero with a rifle or pistol.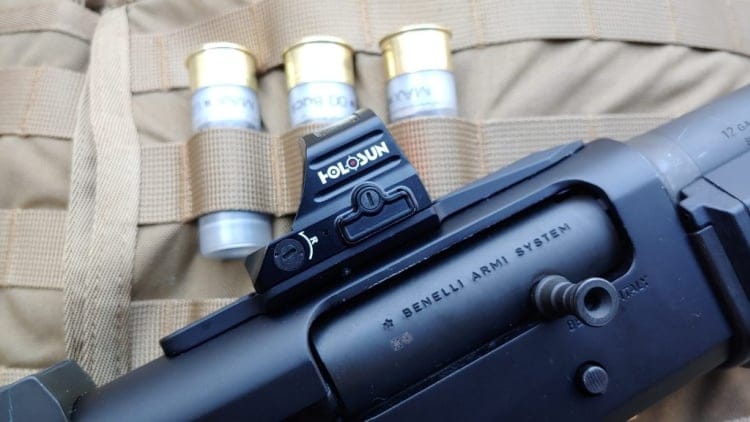 Red dots are adaptable to specific platforms, and wise users will zero their red dots to best compliment the specific platform. If I was using the Holosun 507C on a handgun, I'd have the red dot zeroed at 10 yards as a concealed carrier. I'd also know how rounds land at 15, 20, and 25 yards with a handgun. With a rifle, your range opens up substantially, and a 50-200 yard zero makes perfect sense with any red dot on a rifle.
Battery Performance
The Holosun 507C has two power sources, a traditional 1632 battery, and a solar panel. Battery life is 50,000 hours with the 2 MOA red dot and medium settings. With my bigger 32 MOA red dot, the battery life is cut to 10,000 hours.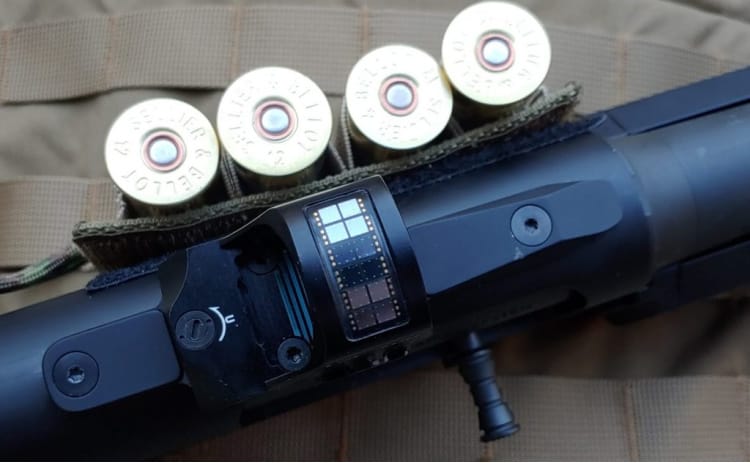 I leave my optic on all the time. This is my home defense shotgun, and I want the dot on when I grab the gun. 10K hours translates to a little over a year, and after six months, there is no issue with battery life.
To help preserve the battery life, the Holsoun 507C is equipped with shake awake technology. When the optic remains unmoved for a short period of time, it shuts off automatically. When the optic is moved ever so slightly, it springs back to life.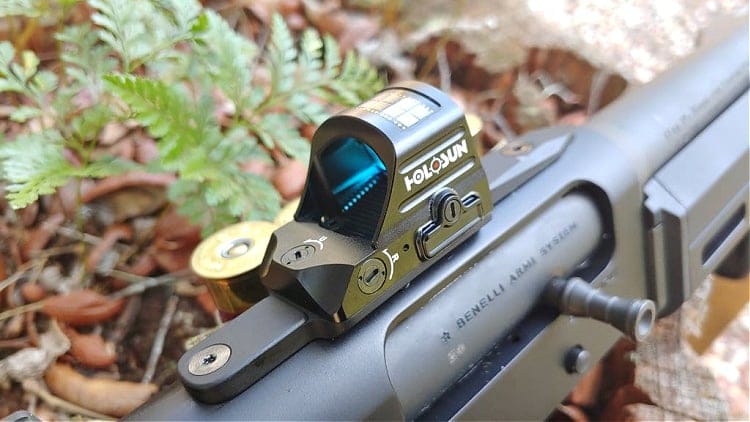 As part of my long-term test, I popped out the battery to just see what the solar panel can do. I was impressed by how easily the solar panel worked. It sprung to life and glowed brightly in the midst of a sunny Florida day. Even when a bit of overcast creeps in, the reticle functions without issue.
Used and Abused
The Holosun 507C has never flickered or fluttered when under pressure. Even when mag dumping seven rounds of 00 buckshot as fast as I could, the dot never blinked or gave up. It has yet to fail. For a Chinese-made red dot, the Holosun 507C is extremely well made and durable. It can take some significant abuse, and that's a must-have on a shotgun red dot. 1,500 rounds of 12 gauge are no joke.
Rain is also no issue for the Holosun 507C. I live in Florida, and it rains randomly, and weathermen are more like wizards than scientists here. Sometimes it rains in my backyard and not my front yard, and sometimes I get sick of it and just deal with it. That means I'm shooting in the rain and trying to take sick in the rain shooting pics so I can Instagram a picture and tag #ifitsrainingwe'retraining.
I've also made the mistake many a Staff NCO berated me for and rested my shotgun against walls, fence posts, and other surfaces. This often results in the gun falling and me clamoring over to save my uber-expensive Italian shotgun. The good news is after all these tumbles and falls, and the Holosun 507C seems not to care and shrugs it off.
I'm Sold
I was impressed a month into owning the Holosun 507C, and now six months in, I'm completely sold on it. It's a remarkably impressive design that's not only durable but innovative with its multiple reticle system and shake awake technology.
I wouldn't hesitate to trust the Holosun 507C with my life, and it sits on my home defense shotgun for a reason. I never thought I'd say that about a budget-grade optic made in China, but here we are.