It seems as though the 9mm Luger round has been around just about forever. The truth is that it certainly does have some years on it. Have you ever wondered how it got its start? If so, you're going to enjoy this article. Follow along and I'll lay out all the details here.
The Inventor
Born on March 6, 1849, Georg Luger was a member of the upper class from the start. His father was a famous surgeon, and Georg received his education in Italy. Later on, he studied business at the Vienna Commercial Academy.
He enlisted into the Austria-Hungary 78th Infantry Regiment in 1867 as a reserve officer cadet. While there, he demonstrated excellent marksmanship skills, which led to his assignment at the Austro-Hungarian Military Firearms School at Camp Bruckneudorf. Before long, he became an instructor there.
Luger was intrigued by automatic firearms, which were in their infancy at the time. He soon took an active role in their development. Following his military service, he took odd jobs, including that of an accountant at a jockey club. During this period, he met Austrian firearms engineer Ferdinand Von Mannlicher. Together, they worked on developing firearms magazines.
Eventually, Luger was working at Ludwig Loewe & Company in Berlin, Germany. After Loewe's death, the company changed its name to Deutsche Waffen Und Munitions Fabriken (DWM). Luger became a design consultant there, demonstrating the C-93 pistol to the US Army.
Although the Army rejected this pistol design, Luger made careful note of their criticisms and he returned to DWM. Those criticisms included excessive recoil from the 7.65x25mm cartridge, unwieldy handling because of a nearly vertical grip and excessive weight, and being too expensive to mass produce.
The first improvement that Luger made was to shorten the cartridge to 7.65×21 Parabellum (Parabellum means "Prepare For War"). This shortened round allowed Luger to make several significant improvements to the pistol. Those improvements included: lightening and shrinking the size of the toggle link system, shortening the stroke of the toggle, and a narrower grip that made the pistol point and handle better. These improvements culminated in the Luger Parabellum Pistol of 1898.
Switzerland instantly adopted this pistol when production began in 1900. It was called the Pistole Parabellum in 7.65x21mm or 7.65 Parabellum, i.e., .30 Luger.
The 9mm Is Born!
Eventually, Germany increased the bullet diameter to 9mm and increased the standard bullet weight from 93 grains to 116. The case was shortened from 21.59mm to 19.15mm and the bottleneck was removed.
The resulting cartridge was the 9x19mm, or 9mm Luger, which was developed in 1901.
I don't need to point out that the 9x19mm is a wildly enduring cartridge. The fact that it has hung on for close to 125 years is simply spellbinding! It's the most popular submachine gun round the world over, and has been for quite some time (well before WWII, at least). This is a testament to its design and effectiveness.
The round delivers a nice balance between low recoil, good velocity, and effectiveness.
Evolution
As modern components advance, the round continues to improve in its effectiveness. More modern propellants, bullet design, and materials have swept the 9mm along over the decades, keeping up with the best of bullets.
As a handgun round, it is also one of the most popular in the world. Not only for uniformed military and police personnel but also for armed citizens who need an effective caliber for concealed carry.
Pistols chambered for 9mm back in the 1980s tended to be on the larger size, often holding 15 or more rounds. These days, they've dramatically shrunk in size, being very compact.
The 9mm also enjoys very good accuracy, and its recoil is fairly tame compared to many other defensive rounds.
9mm Pistols
There's no way to name all the pistols that have been chambered for 9mm; the list would be far too voluminous. So we'll touch on just a few here.
The earliest, as mentioned, was the Luger P-08, the first pistol to use the 9x19mm round.
The Browning Hi-Power was another one that served well for a number of years and was used by several countries during World War II, including Belgium, Germany, and Allied forces. Eventually, it would be used by more than 50 countries at one time or another. It was designated the P-35 because it was introduced in 1935. John Browning did most of the designing of the pistol, but he died before it could be completed. The rest of the design was completed by Diedonne Saive of Fabrique Nationale. It held 13 rounds, which was a lot of rounds for that time period.
Carl Walther GmbH developed a service pistol for the Wehrmacht at the beginning of World War II. It was slated to replace the Luger P-08, which was costly to produce. The German Army specified that the pistol should have an external hammer. It was a double-action/single-action design that also featured a safety/decocker. It was fed by an 8-round magazine. After some development issues were fixed, the Walther P-38 went into full production midway through 1940.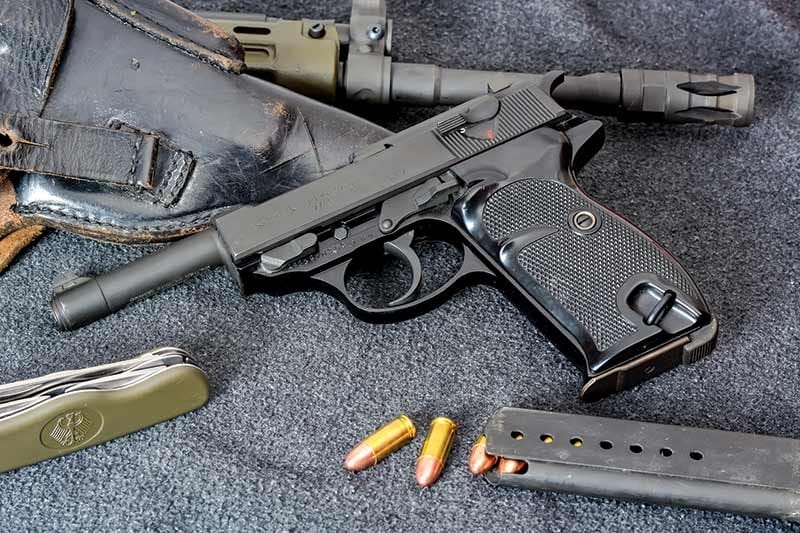 Submachine Guns
Certainly, Germany used guns other than pistols during World War II. Probably the most recognizable of these is the famed MP-40, often referred to by the nickname, "Schmeisser." It fired its 9mm cartridges from a 32-round magazine.
Modern Designs
Following World War II, Smith & Wesson developed the Model 39 in 9mm. The design was heavily influenced by the German P-38. Like the P-38, the Model 39 was fed by an 8-round single-stack magazine.
The Model 39, which was double action, went for commercial sale in 1955. It went on to be used by the US Navy SEALs in Vietnam, who used a suppressed version for sentry removal and other quiet tasks. A special sub-sonic bullet weighing 158 grains was developed by Remington Arms. The pistol was designated the MK 22 Mod O.
Next came the Model 59 from Smith & Wesson. It was also 9mm but featured a double-stack magazine that held 14+1. It had a 4-inch long barrel and an alloy frame. This is really the one that started the trend of high-capacity, double-stack 9mm pistols for America. Or, as they're sometimes known, the "Wonder-Nines."
Other 9mm pistols followed over the years. Sig Sauer came up with many models, including the P226 and P228 pistols.
Heckler & Koch also designed many of their weapons around the 9mm cartridge as well. The MP-5 is one of the most widely known submachine guns in history. Their VP-70 was the first pistol in history to have a polymer frame, and it utilized the 9mm round.
Of course, I'd be remiss if I were to neglect to mention the various offerings from Glock.
Nearly everyone who makes a pistol makes one in 9mm. These days, "Micro-Nines" are all the rage. Small pistols, some of which can fit into a pocket, are popular with shooters.
Modern Rounds
As mentioned, modern propellants and materials have taken the 9mm cartridge to new heights. It's the most popular defensive round in the United States, and possibly the world.
Some of the more popular and effective rounds out there are made by Federal and Speer. Federal's Hydra-Shok is a popular and effective line for the 9mm, being available in various bullet weights.
Common weights these days are 115 grains, 124 grains, and 147 grains. Personally, I usually prefer rounds in the 124-grain range for self-defense, as they split the difference between heavy and light rounds.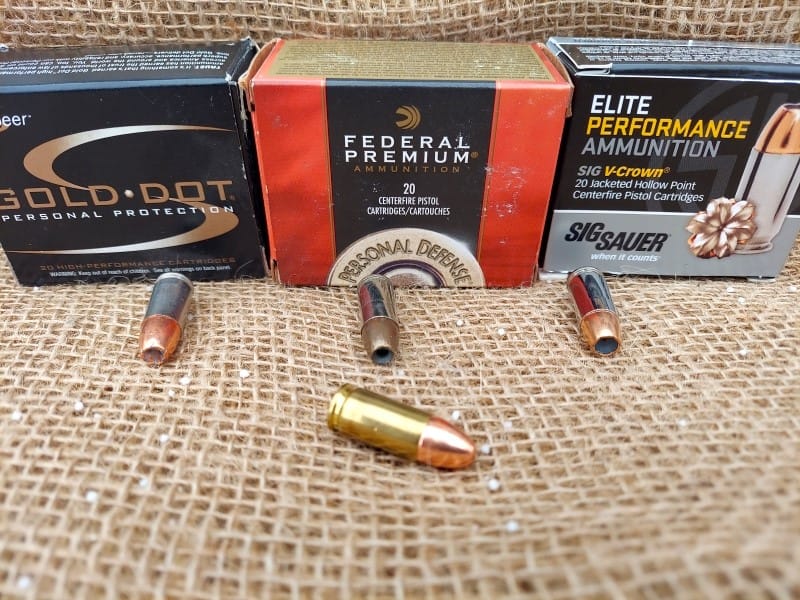 Speer's line of Gold Dot Hollow Point ammunition is also popular, both with private citizens and law enforcement. It has a proven track record in street shootings.
There are dozens of different brands of both Full Metal Jacket rounds and hollow points. Shooters will have no trouble finding a huge variety.
If shooters want lighter, faster rounds, the 9mm has them. For those desiring medium-weight rounds, they can have their wish. There are also heavier, deeper-penetrating rounds too. We can have it all!
FBI/Law Enforcement
Many readers will remember the infamous "FBI Shootout" in Miami in 1986, which involved several agents and two violent, murderous robbers. During the incident, two special agents were killed, along with the violent felons.
The FBI needed to place the blame for the dead agents, and that blame was placed upon the 9mm round. They said it was not powerful enough because it didn't penetrate deeply enough into the bad guys. One of whom sustained mortal wounds, but who continued to fight. The FBI had found their scapegoat.
In real life, bad guys don't know that they're supposed to drop dead when fatally wounded, and so they often continue to fight beyond the point where the medical books say they should have died. We could say that the bad actors sometimes don't "get the memo" that they're dead.
The FBI made a massive show of demonstrating how the 9mm was not sufficient for their needs because it didn't penetrate deeply enough. They developed a set of criteria that mandated that bullets had to penetrate within certain guidelines, or they were deemed unworthy. Long story short, they settled on a down-loaded 10mm round. This launched an odyssey (I'd call it a debacle) that lasted for decades.
The 10mm proved too difficult for some agents to control, and it ended in failure because of that.
When the 10mm round didn't pan out, the FBI went to the .40 Cal. S&W round. Departments and agencies around the country flocked to the .40 caliber, along with millions of armed citizens. Millions of dollars were dumped into this project. Suddenly, the 9mm was chopped liver with many people and agencies.
Full Circle
In the end, it was found that the .40 caliber S&W, while a decent round, is unnecessary and offers little, if any, advantages over the 9mm.
In fact, agencies are migrating back to the 9mm in droves. Why? Because it works after all! And it's less expensive than the .40. And it has less recoil. And it beats guns up less than the 9mm. Once again, the advantages of the 9mm were realized.
How about that—it turns out that Georg Luger really was onto something when he developed the 9mm! It's even better today than it was in 1901.
Come to think of it (and this just dawned on my not-so-young mind), I wonder how far into the future the 9mm will continue to serve? I'm betting it will be with us for decades to come!