Adams Arms is known for refinements to the AR-15 platform. The Adams Arms P-Series rifles are built around a short-stroke piston that keeps the internals clean and cool—at least when compared with their direct-impingement counterparts. Their parts kits are essential upgrades for custom AR builders. Now they're making a new line of guns under their VooDoo Innovations—and they're not piston guns.
The Witch Doctor and the Dark Moon (the two new VooDoo Innovaitons guns) are both direct-impingement ARs that are hitting the market at just the right time. These guns are filtering into gun stores now and are available for those lucky enough to find one.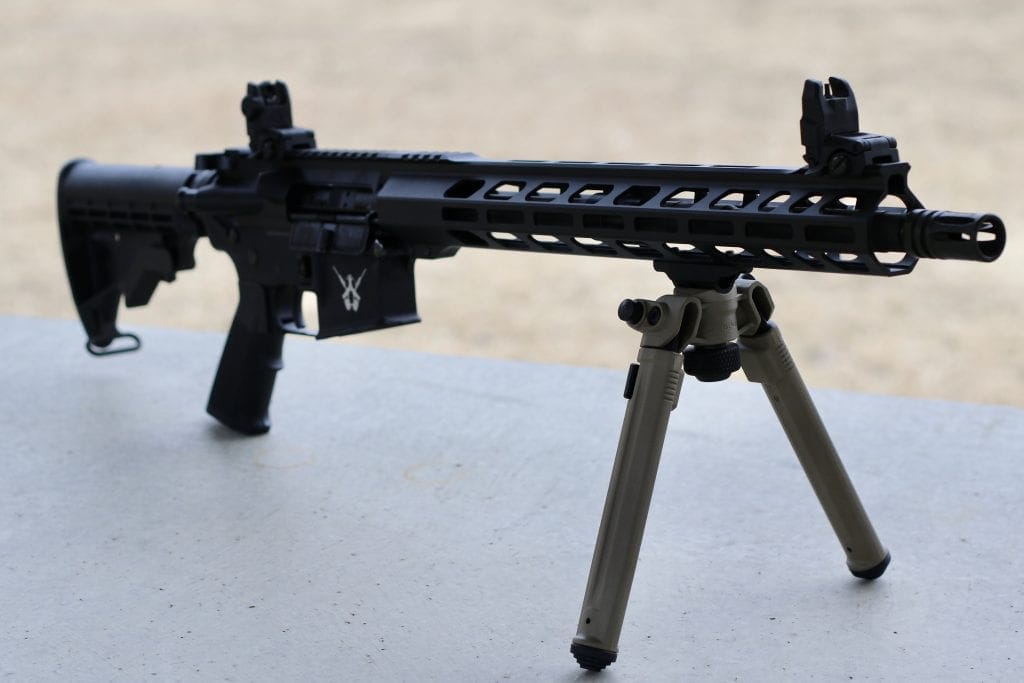 I was fortunate enough to pick up a Witch Doctor to review, and here's what I've found.
Off-the-Shelf
To begin, the Witch Doctor is a rock-solid starting point for anyone looking for an off-the-shelf rifle that is ready to run, as-is.
It also provides an adaptable platform for those looking to begin the process of customization. The time is right for tinkering—it is a fantastic way to stay engaged when there's a shortage of ammo and a shortage of available guns.
Witch Doctor Bones
The upper and lower are forged aluminum. They're 7075-T6 aluminum with a Type III Class II hard-coat anodized finish. This is a standard for ARs. 7050-T6 has a healthy mix of zinc in the alloy. The mechanical properties are sound. As aluminum goes, 7075 shows good ductility, strength—it is durable and resistant to fatigue, and reasonably light, so everyone uses it.
VooDoo Innovations has set this up as a working platform that is easy to customize. That makes sense for a company like Adams Arms—their piston kits are a popular upgrade to the AR-15.
The Witch Doctor is chambered in 5.56 NATO. With its 1:7 twist, it will favor the mid-to-high range of bullet weights. If this were 2018, and I had my seemingly unlimited stock of 5.56 flavors on hand for testing, I'd run better numbers. As it is, I can talk about 55-grain options and 62-grain accuracy from Hornady Black.
The Parkerized barrel's M4 profile will manage heat well enough for repeat accuracy on follow-up shots. This is not a rifle that's set-up to take on extreme long-range targets. It isn't impossible to make 500-yard shots with a 16" barrel, but it is hardly easy. I'm keeping the Witch Doctor in a defensive role, so I'm looking for center-mass hits at 100 yards from the iron sights, and an ability to engage multiple targets while moving at distances from 5 to 150 yards. And even the 55 grain Tula rounds hit their mark.
The Witch Doctor's Other Parts
So once you get beyond the basic build (as in the elements you're least likely to change out), you'll find solid standards.
They describe the trigger as a "standard G.I." model. If you're accustomed to out-of-the-box AR triggers, this one will feel familiar. The trigger shoe has a typical curve to it, and there's no creep or grit. It breaks at 4 pounds. All-things-considered, this trigger is a solid place to start. If you did swap it out, I'd keep it and its parts in your toolbox, just in case.
The rest of the furniture follows this theme.
The Witch Doctor has a free-float M-Lok rail. This is perfectly functional as-is, and a solid step up from the clam-shell handguards on many entry-level rifles. This rail is aluminum. To cut weight, it has a rail above the low-profile gas block and a small section of rail where the handguard mates with the upper—but the center is cut smooth.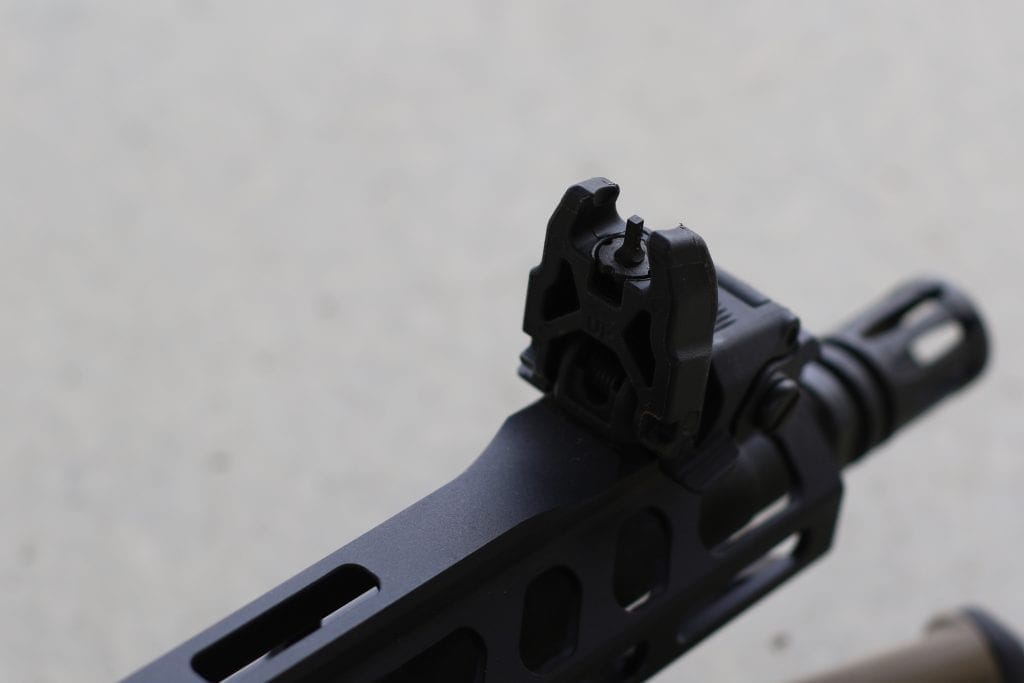 I like this design better than the traditional A2 front sight found on many carbines. It allows me to stretch out more with my support hand. And it is not going to flex much during recoil, so adding a light or a laser is reliable. And the smooth cut on top of the rail provides a positive ergonomic hand hold for thumb-over-bore shooters.
Maybe the most appealing option is the ability to put whatever sight you'd like up front. There's nothing to obscure optics—any kind of sight, back-up sight, or canted sights would work.
The standard 6-position stock and A2 grip are going to get less ink. If this rifle stays in the stable, I'm likely to swap out the stock pretty quickly. The tube is Mil-Spec, so finding available options should still be easy enough.
Shooting the VooDoo Innovations Witch Doctor
Naked, the Witch Doctor comes in at an industry-standard 7 pounds. It could be lighter with a polymer forend and a minimalist stock, but it would lose the robust feel. With the stock collapsed, it comes in at 33". Again, this is all straight-up standard for the platform.
Like most AR-15s, the Witch Doctor isn't picky about mags. I ran a variety of mags (some aluminum, some polymer) with no hiccups. The gun ships with an Amend 2 mag.
Witch Doctor Basics
Features:

Forged 7075-T6 Receivers with Type III Class II Hard-Coat Anodized Finish
16″ Parkerized M4 Barrel, 1:7 Twist
5.56×45 NATO
Free-Float M-LOK Rail
Standard G.I. Trigger
A2 Grip
M4 6-Position Stock
Low Profile Gas Block
A2 Flash Hider
Weight: 7lbs
OAL: 33″ Collapsed
The Other VooDoo
VooDoo Innovations has another model—The Dark Moon. It is, in many ways, the same rifle. The notable difference is a full-length rail along the entire handguard. If you need that extra real estate for infrared, or lights, or a magnifier—whatever—it is primed and ready to go.
All of the VDI rifles have a warranty for one year from their date of purchase. This is a decent safeguard, and I bet it won't be needed much, if at all. ARs are not complicated, but the team at Adams Arms that builds these are accustomed to much more nuanced builds. Their P-Series rifles are legendary for their quality and a frequent choice of agencies and departments across the country.
So where can you find a Witch Doctor?
Where to start? I'd suggest an episode of Scooby Doo. You're far more likely to find one there.
Let's acknowledge the elephant in the room. AR-15s are hard to find. They've been hard to find for a year, and it is only going to get worse. Adams Arms does have a resource for locating dealers. And you may be able to ask an FFL for help. Or hit the auction sites. Sooner or later, this buying bonanza is going to flip and the market is going to be flooded again.
Until then, you have to pound the pavement.
If you are currently in need of an AR-15, the VooDoo Innovations guns are a great place to start. This is a serviceable AR that is set up to run as-is. And it will make a great platform to build on.
After you've put some rounds down range and had to clean this a few times, you might begin to see the benefit of Adams Arms' piston system. And once you get the bug for upgrading guns, there's no end in sight.