Though we live in a golden age of fine firearms covering a broader spectrum of needs than ever, there are guns no longer in production that we miss. Let's begin the Guns We Miss series with one that is little remembered today, the Colt Pocket Positive .32 revolver.
Why pick that one? The choice is surprisingly timely. In 2023, when this is written, the 9mm semiautomatic pistol has gone from being seen as a "weak sister" as little as 20 years ago to the dominant choice of both America's police and its armed citizens, on the theory that modern ammunition has made it just as effective as larger caliber handguns. As the gun experts of yesteryear age and experience arthritis and loss of physical strength, less powerful handguns with lighter recoil are more appreciated. Some experts are now even comfortable carrying .22s. We've seen the .32 Magnum come and (almost) go, and its more powerful sibling the .327 Magnum hang on tenaciously, selling enough to keep them in production. Revolvers themselves are undergoing something of a renaissance in popularity.
A Brief History
The Pocket Positive lasted from 1905 to 1940. Mine in the lead photo is marked ".32 Police CTG" on the barrel, probably because gun companies have historically been reluctant to stamp competitors' names on their guns. The cartridge it's chambered for was the .32 Smith & Wesson Long. A time came when Colt convinced some ammo makers to produce that cartridge with a flat-tipped lead bullet instead of the usual round nose, and call it the .32 Colt New Police. Later Colt .32 revolvers would in fact be marked ".32 NP."
The Pocket Positive was the improved version of the Colt New Pocket in the same caliber, of which some 30,000 were manufactured between 1893 and 1905. The primary improvement in the Pocket Positive gave it its name: Colt's "Positive" internal safety design that made it drop safe, and characterized the more popular Police Positive in .32 and .38 caliber, introduced in 1905 also. The Pocket Positive externally was a much better-looking gun than its predecessor, with what became a Colt signature feature — a round cylinder release latch replacing the cheap, rickety-looking flat latch on the New Pocket — and a streamlined trigger guard that flowed more pleasingly into the rest of the frame.
The Pocket Positive was a true .32 frame. In barrel lengths of 2", 2.5", and 3" with an occasional longer one, the 2.5" seems to have been the most popular. If you look at the accompanying photos, the gun has the proportions of a K-frame S&W or D-frame Colt Detective Special with a three-inch barre … but the barrel on that Pocket Positive is 2.5". It seems in keeping with a gun that's roughly one-sixth the size of its much more popular big brother, the Colt Detective Special, and is distinctly smaller than the super-popular J-frame Smith & Wesson.
J. Edgar Hoover was known to carry a Pocket Positive daily, nickel plated with a 2" barrel and grips of either ivory or pearl (reports differ). Efrem Zimbalist, Jr. carried one while playing a private detective on the old TV series "77 Sunset Strip." Real-life gun and knife expert David Steele told me he frequently carried a Pocket Positive in "non-permissive environments."
Shooting the Pocket Positive
Despite a barrel five-eighths of an inch longer than today's J-frame S&Ws, the Pocket Positive hides better in a pocket holster. Its small, rounded grip makes it quick to grab from there. The pinky finger tucks comfortably under the butt when firing. My specimen has the exquisitely smooth hand-honed action that was standard in its day, a tribute to the skills of the people who built firearms in the "Gun Valley" of Hartford, Connecticut and Springfield, Massachusetts back then.
The sights suck, of course, a sadder hallmark of handguns of that period. The rear is a tiny V-notch cut into the top of the frame, and the round front sight presents an itty-bitty knife blade to the aiming eye of the shooter. While this does allow someone with sharp eyesight to proverbially "draw a fine bead," it takes time, and time is seldom generous to people who need defensive firearms for their actual intended purpose. At close range, it works better to take a "StressPoint Index." That is, letting the whole front sight sit atop the notch as you aim.
Recoil is pleasantly mild. Unfortunately, that's because .32 Long ammunition is unpleasantly anemic. For years, the standard round was a 98-grain round nose lead bullet at a nominal 780 feet per second and generating only 130 foot-pounds of energy. The second most commonly encountered round is the target wadcutter, spec'd by Magtech at 682 foot-seconds and 102 foot-pounds and by Fiocchi at 100 grains, 730 fps, and 118 ME. These unimpressive stats are made worse when you consider the still lesser velocity from the short barrels of this type of revolver.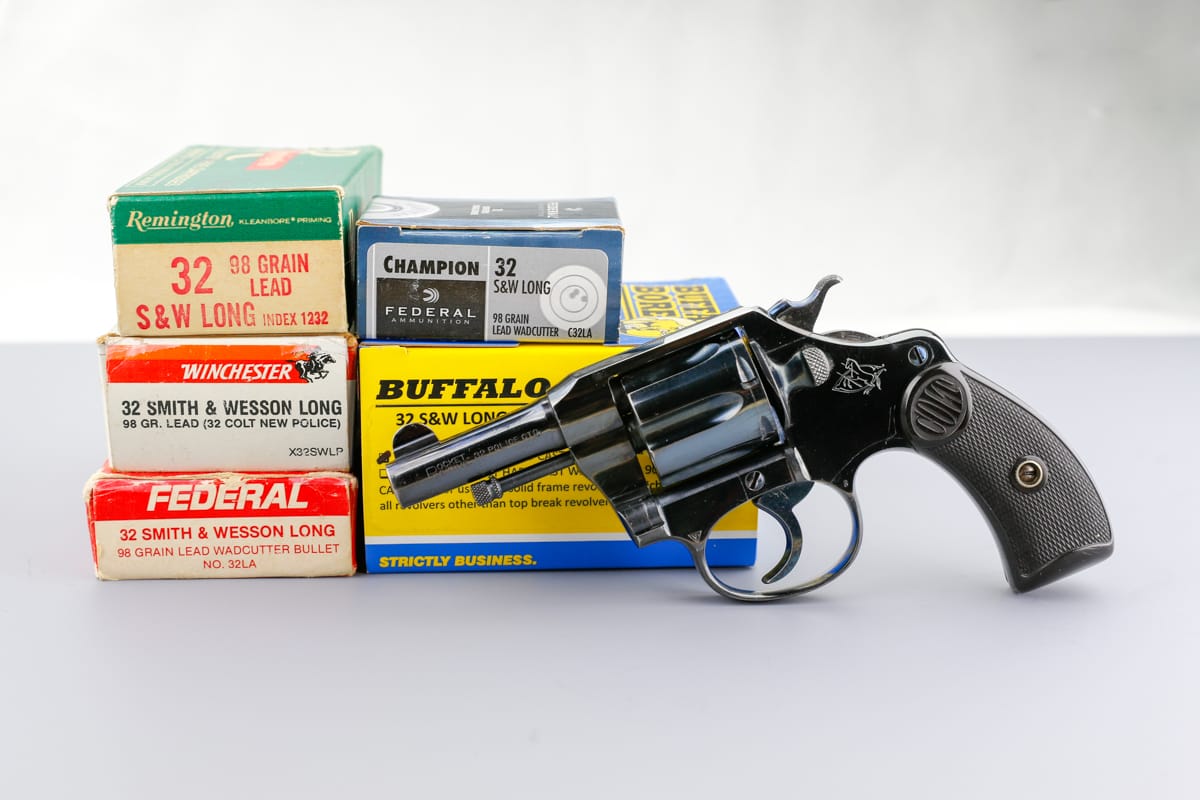 If I was to carry one of these for self-defense, I'd load it with the wadcutters. Even on the two-dimensional cardboard target, the full wadcutter .32 slug cuts a larger hole than the puckered entry produced by the old round-nose .38 Special lead bullet, which was notorious for creating puckered, icepick-like wounds that would mortally wound opponents but not necessarily stop them. Buffalo Bore makes a 115-grain hard cast flat-nose bullet at 800 foot-seconds and a 100-grain full wadcutter at 900, but those strike me as better suited for larger .32 Long revolvers than the relatively delicate old Pocket Positive.
Potential for Reintroduction?
Modern materials should allow for a .32 revolver exactly this diminutive size, but chambered for .32 Magnum or even .327. Yes, it would need a longer cylinder, but with a true 2" barrel instead of the 2.5" so commonly seen on the Pocket Positive wouldn't be any longer overall. Recoil would be much snappier, of course, but compact neoprene grips of the right shape would go far toward mitigating that.
Today's .32s, .32 Mags, and .327s are built J-frame size. A manufacturer would have to start with a new frame size to shrink those down to Pocket Positive dimensions. Would a one-sixth-smaller gun have that much appeal? With neither .32 Mag nor .327 having set the world on fire, and polymer autos being the order of the day, would a manufacturer invest as much as it would take to reanimate the Pocket Positive concept? Or would making an ultra-light version in .32 Long be enough, in light of current trends toward less powerful handguns?