If you love the venerable MP-5 with its compact design and way-too-fun forward charging handle but would like it in a smaller caliber, check out the GSG-16 in .22LR. While they're not identical – pesky trademark and patent laws and all that getting in the way – they are close enough that you can switch from one to the other blindfolded – although we don't recommend shooting that way.
German Sporting Guns has pulled together a complete package of awesomeness and an overall good time in a plinker that won't break the bank. How did they do it? Let's dive into why this little bundle of fun works so well.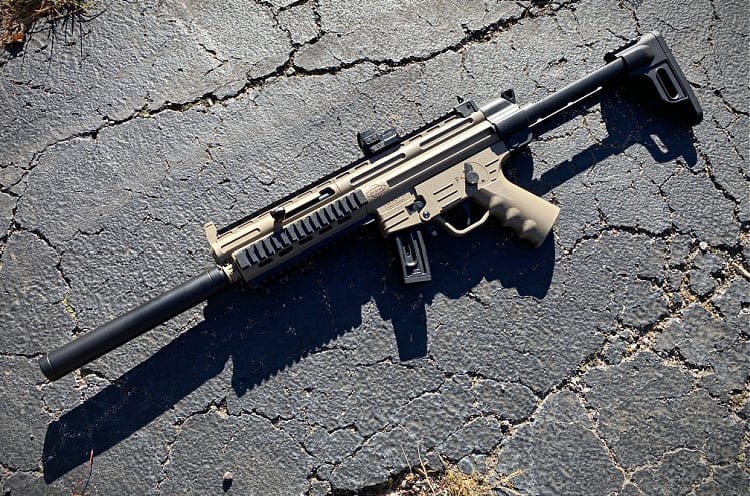 Aesthetics
While most .22s are modeled after hunting rifles, the GSG-16 has a decidedly tactical look with robust styling and a large handguard. If you're like most shooters today, you'll like the aggressive look and feel. I certainly did. It reminded me a lot of its larger caliber cousins, starting with full Picatinny rails from the rear sight all the way down the top and onto the handguard, which is a quad rail system.
In what seemed to be a bit of an oddity but ended up being a huge benefit, the Picatinny is attached via M-Lok. This seemed weird at first until I realized its intended purpose: the option to attach accessories either way. Well played, GSG.
One place that didn't make sense for rail, however, was the stock. Yes, there is a little swatch of rail atop the stock that seems completely out of place.
What would you attach there? Certainly not an optic, light, or laser. My conclusion was it was just there for looks. If anyone knows another reason for it, please comment below.
The tactical-themed stock is telescoping with three settings on the way out. It deploys quickly and firmly and held up with no twisting under a mag dump, repeated movement, and reshouldering despite being full polymer. It felt as solid against my shoulder and under fire as its metal counterparts, with no bending, warping, or flex.
One nice touch on the stock is a spare mag holder inside the contoured shoulder pad for faster reloads. The spare mag slides firmly right into the mag-shaped opening in the butt of the stock and stays put until needed. It works with both the 10-round and 22-round mags available with the gun.
Polymer is the dominant material throughout the rifle. The entire chassis, pistol grip, and rail system are all polymer, making it extremely lightweight, as expected in a typical .22. It's just five pounds empty. After all, a heavy .22 seems out of place. However, I was leery at first about a polymer rifle, especially at this price. But my fears were quickly erased when I hit the range. Add a full mag of lightweight .22 ammo, and you can hardly tell a difference.
Speaking of mags, the fine folks at American Tactical who provided my test rifle also sent a GSG 110-round drum mag, which, of course, I had to test because who doesn't salivate over a 110-round drum mag. Plus, I would be irresponsible if I didn't run it through its paces, right? So I loaded up the drum and standard mag and headed to the range.
Performance
The GSG-16 ran like a champ with a mix of ammo. Both the owner's manual and stamp on the mag well recommend using only high-velocity rounds, as is typical with most .22LRs, so I started off with some CCI Mini-Mag 36 grains traveling at 1,260 FPS. They ran perfectly with zero misfeeds or stoppages. Every shot was clean and crisp, no problems.
Then my inner rebel emerged, and I knew I just had to put the high-velocity-only recommendations to the test with some lower velocity rounds – for science, of course. So I threw in some Federal Auto Match 40 grains, secretly hoping it would hate them. Is it wrong of me to root against a gun? Anyway, much to my surprise, those ran flawlessly, too. Not a single stoppage or other issue. The only malfunction the entire time was user-induced: I failed once to seat the mag completely. My fault, not the guns.
At just 5.5 pounds, the factory trigger is firm yet light, with a crisp wall and reset reminiscent of more expensive components. Slack was minimal and pull weight was consistent and reliable, allowing for quick follow-up shots under rapid fire.
Thanks to an AK-style combat mag release, mag changes are super simple and fast. Each time, the mag dropped free like it was supposed to, and the generous mag well quickly ate up the new mag, seating it straight in with no issues. If you prefer an AR-style mag release, you're in luck. The GSG-16 has both, although the AK-style is easier to reach and operate, and because it is center-placed, it is naturally ambidextrous.
Fire control switches are ambidextrous, too. And they're huge! If you can't find them, you probably shouldn't be shooting a gun because you're beyond legally blind. They're so big, in fact, that they even operated smoothly with winter gloves. The trigger guard is also large enough to accommodate the extra thickness of ski gloves without risk of accidental discharge, so you can plink all year long no matter the weather.
One purely fun feature on the GSG-16 is the faux suppressor. It's totally fake but looks awesome and serves as a great barrel shroud to hide the cold-forged barrel, an improvement over earlier versions of the rifle that should be tough enough to last through a lifetime of shooting. The shroud also serves to balance out the gun, which it does admirably. The platform felt stable all session.
GSG-16 Sights & Optics
The GSG-16 comes with multiple iron (really polymer) sight options. For most shooters, the pre-installed front and rear will work just fine, as they did for me. Taller and shorter front sights with bigger and smaller rear apertures are included and can be quickly swapped out with a small screwdriver.
For my evaluation, I started with the standard sights, putting about 50 rounds down range with great success from 15 yards. Then, just for fun, I threw on a SOUSA Optics RAID red dot on the top rail, zeroed it with a few shots at 25 yards, and went to town with the 110-round mag, moving the target to various distances. And fun it was! Maybe a bit too much fun…
Wrap-Up
Overall, the GSG-16 is a great gun to shoot. It's lightweight and easy to handle. The look is tacti-cool, but make no mistake: this is a serious .22LR rifle. And at $339.95 from American Tactical, the GSG-16 is a great value in a training gun and cool-looking plinker.