Federal needs little introduction, having opened its doors 101 years ago in 1922. Since then, they've been delivering top-notch ammunition for over a century. Hunters, cops, law enforcement in general, target shooters, competitors…you name it, every shooter uses this ammunition. And for good reason — it's always high quality.
I've used Federal ammunition all my private life as well as in my law enforcement career. My experience with it has been 100% positive, I've never had a negative encounter with their ammunition.
How does Federal's Low Recoil Power-Shok OO Buckshot perform at the range? The concept of "low recoil" sounds good on paper, but does it really recoil less than full-power ammunition? You've come to the right place because you're going to get straight answers.
Federal's Low Recoil Power Shok OO Buckshot has nine .33 caliber (8.38mm) lead pellets. These are 2¾-inch loads and are rated at 1145 feet per second. It's not likely that the reduced velocity, when compared to standard velocity rounds, will be obvious in this round's lethality.
The Shotgun
For this test, I used a Remington 870 HHD (Hardwood Home Defense) with an 18.5-inch barrel and an overall length of 37.5 inches. The standard length is 38.5 inches, but I had an inch of the stock removed to make it a bit more comfortable.
The weight of this shotgun is 7.5 pounds. It's a cylinder bore of .73 caliber. This 870 will hold 6+1 rounds of 12 gauge ammo and will also operate with 3-inch shells.
The furniture is Walnut and I chose it because of the old-school, retro look that appealed to me. The sights consist of a front bead. For home defense, that's sufficient. The action has dual action bars and the action is getting smoother with use.
I'll mention that finding this shotgun took a little bit of doing. During the pandemic, finding a decent shotgun on the shelves of a gun store was like searching for hens' teeth. People bought them up with a quickness, and apparently, the supply chain was not coming close to keeping up with the demand. And when they could be found, the prices of quality shotguns were crazy.
I mention "Quality" shotguns because right now there's a lot of foreign-made junk floating around out there. I've had experience with some of the made-in-Turkey guns and they were less than encouraging. To put it bluntly, many don't seem to go bang when the trigger is pulled. And I'm under the delusion that it should go bang each and every time that trigger is pulled. Perhaps I'm too demanding.
Low Recoil Buckshot Testing: At the Range
We retired to the range to see just how this Low Recoil ammo performs. They say it's low recoil, but is it really? I was also curious as to how tightly it would pattern.
First, the recoil. It's difficult to really convey how much recoil my shoulder feels. And readers might have an entirely different view of how recoil feels. With that said, I fired this Low Recoil ammunition next to other standard-power ammunition.
Indeed, I felt a noticeable reduction in recoil. In fact, the Low Recoil Federal ammo was definitely more comfortable to shoot than standard ammunition. Personally, I just don't enjoy being beaten up by my weaponry, and the 12 gauge kind of does that. You know, I'd swear that the recoil of the 12-gauge increases a little bit each year. If I didn't know better, I'd accuse the manufacturers of slipping a little more powder into the loads annually.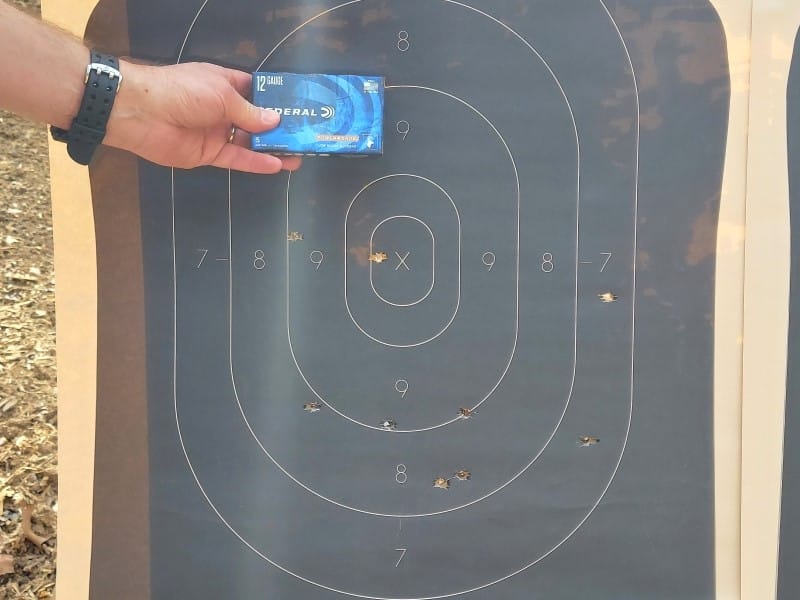 The pattern wasn't too bad. To be honest, I had expected a slightly smaller pattern, given that it's a low recoil round. Pellets impacted in the X-Ring, all the way out to the 7-Ring of a standard police B-27 target. To keep all the pellets inside a silhouette, I wouldn't want to move back much farther than 20 yards with this round. However, other shotguns might pattern a bit tighter, as they all shoot a little differently.
Parting Shots
Is the Federal 12-Gauge Power Shock Low Recoil Buckshot really low recoil? Absolutely! When compared to full-power 12-gauge buckshot rounds, the Power-Shok Low Recoil shows obviously lower recoil. I mean, it's not as though you're shooting a .22LR, but it is noticeably lower. I just spoke with another shooter who uses this exact ammunition because, like me, he has an injury (his is a shoulder injury, mine is a neck & spine injury). Both of us can fire our 12-gauge shotguns in significantly more comfort because of the lower recoil.
Even if you don't have an injury, less recoil means faster follow-up shots. Or if you're a beginning shooter, or teaching beginners, less recoil is going to enhance your experience.
Aside from the lower recoil, you're buying Federal's high quality with these rounds, which is a plus. A box of five rounds sells for $6.99 at the time of this writing, which is not a bad price at all. Everything considered, these are good rounds that I highly endorse.