Gone are the days when red dot sights (RDS) were thought of as gimmicks for competition shooters or aiming aids for handgun hunters. Today, they're used by everyone, including gun owners who carry handguns for self-defense purposes.
As with any purchase, sorting through all of the details and features can be daunting when you're trying to decide which is the best one for you. It helps when there are side-by-side comparative reviews, and for that purpose, Nick at DEFCON Creative reviewed three compact pistol red dots in a video series. While usually opting for concealed carry of a full-sized pistol, Nick says he carries a compact pistol during the summer. Thus, the appeal of the smaller optic for a smaller pistol. He wanted to see the different options available and see what worked best for him.
I want to take a deep dive into each of the most popular/widely available Red Dots for compact handguns and come up with my recommendation for the best all-around option to put a dot on a slim gun.
The sights he reviews in this series are the Springfield Armory HEX Wasp RDS, the Trijicon RMRcc, and the Holosun 507K X2.
Which one is best? Here are the three video reviews with notes, followed by the final video with Nick's conclusion.
Review: Springfield Armory HEX Wasp RDS
By Kat Ainsworth
In this first video review, DEFCON Creative checks out the Springfield Armory HEX Wasp RDS, covering its performance, usability, and various thoughts on RDS.
Why would you want a pistol red dot?
There are a lot of benefits to running your carry gun with an RDS:
Rapid target acquisition
Broader field of view
Low-light use
Accuracy
Co-witness with iron sights
Faster follow-up shots
What do you need to know about the HEX Wasp RDS?
DEFCON Creative gets into a fairly lengthy review of this red dot, which is fantastic for viewers. They had the following to say about a few of its features and its overall performance:
"The dot is a 3.5 MOA red dot. [Springfield Armory] claims a two-year run time. I've only had this gun for maybe six months…and obviously, the dot is still working. [The website] says it is IPX7 waterproof. I don't get wet…often, but it's super nice to have."
He also mentions that the brightness adjustment is auto-dimming and Springfield says it's a parallax-free lense. "I thought most dots…would be parallax-free. There would be distortions, but I don't see a lot of…parallax in a single lens red dot."
The magnification is 1X and that is always on. MSRP is $299.00.
Performance
Getting into his experience with the HEX Wasp, he points out some features.
The lens isn't super-big. There isn't a gigantic field of view like on a Trijicon SRO or even a standard-sized RMR, because it is more compact. It does, however, seem to have even more tunnel vision than some of the other compact options.
Still, he says it' is acceptable, especially for a compact gun. He points out that the engagement distance needs to be taken into consideration. It's unlikely that you're going to try and shoot this gun at 50 yards. You could, but that's not really the purpose of a compact gun.
"This is the gun I carry in a fanny pack when I go running. [So] it is compact, but it is enough to be able to reach out and see at…closer engagement distances….I have no problem picking up the dot and actually seeing the target"
Watch the full review:
HEX Wasp Features
Springfield Armory lists the HEX Wasp RDS features as the following:
"Designed for low-profile, direct mounting, the HEX Wasp is perfectly suited for compact applications like today's concealed carry pistols and offset rifle mounting."
3.5 MOA Dot, Red
.5 MOA Adjustment (90 MOA Windage and Elevation)
CR2032 Battery Included – 65,000 Hours
Glass Lens, Scratch Resistant / Anti Glare Coating
Springfield Micro Footprint (Shield RMSc)
6061 T6 Hardcoat Aluminum Housing
Always On, Auto-Dimming
IPX7 Waterproof
.95″ W x .86″ H x 1.6″ L
0.7 oz
(2) sets of screws included
Operating temperature certified from -40F to 158F"
Trijicon RMRcc Pistol Red Dot Review
By Patti Miller
In his second video review, Nick was able to get his hands on a Trijicon RMRcc and with the help of a borrowed Sig 365, he ran it through its paces to get a better picture of it.
Key specs of the RMRcc
Specifically designed as a concealed carry option, essentially a baby version of the RMR Type 2
Two options for the red dot – crisp 3.25 or 6 MOA
Up to a 4-year battery life
Snag-free design that's designed to be beaten up
Positives
According to Nick, the RMRcc overall is a smaller version of the Type 2 RMR with the most durable open emitter dot optic. With a narrow body, it can be mounted on a 1911 or 2011, as well as on compact pistols. He is also impressed at the different brightness and night shooting modes. Even though he doesn't find the brightest setting particularly bright, he did say that it was bright enough to handle the Texas sunlight. Additionally, the optic has two different button lockout options so you won't go accidentally mess up your settings when you are carrying.
The RMRcc is meant to be used for shots less than 25 yards because it is a concealed carry model. But if you require a bit more from it, it has a tactile 3MOA adjustment per click that doesn't use a proprietary tool to adjust for homing your shots with ease. The exterior is also a familiar shape so, worse comes to worst, you can use the top notch of the optic for an approximate last ditch back up sight. Essentially, if you like the RMR Type 2 optic, you'll like the RMRcc.
Negatives
There are a few things that Nick doesn't really like about the RMRcc pistol red dot sight. For one, it uses a proprietary footprint, which is also different from the RMR full size. In order to mount the optic, you'll need to mill the slide or use an adapter plate. Also, because of the size of the optic and how the slide has to be milled to accept the optic, you won't be able to co-witness with the stock sights. Nick goes on to mention that the actual shape of the window itself is not great for shooting out over 25 yards.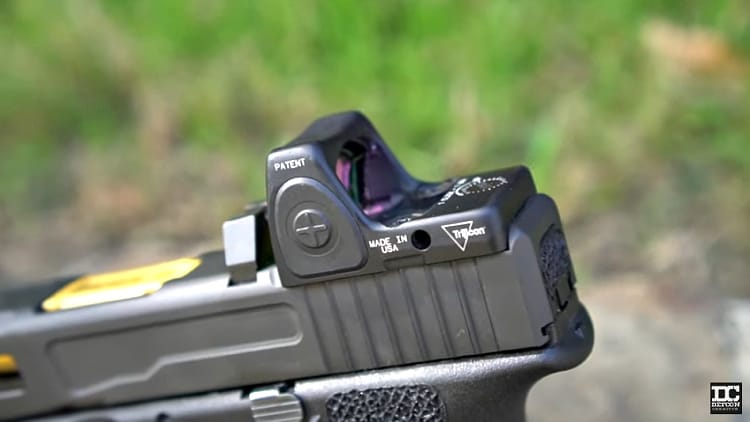 Another feature of the pistol red dot that he's not thrilled with is the bottom mounting battery. To swap out the battery you have to unmount it, replace the battery, re-Loctite the screws, remount, and rezero. With the 4-year battery life, it might not be a big deal to most, but because he swaps out all batteries in his optics every year on his birthday, it's time-consuming.
Nick's last negative for the RMRcc is the price, at a $695 MSRP. He says that while that price is pretty normal for a Trijicon, it can easily end up doubling the overall price of your pistol in the end.
In conclusion, Nick likes the Trijicon RMRcc. He says it is a very good pistol red dot option for a compact concealed carry optic. In his opinion, it's worth the price tag but just know you'll have some extra work that comes along with it.
Review: Holosun 507K X2 Red Dot
By Kat Ainsworth
In part three of this micro RDS review series, Nick goes over the Holosun 507K X2 RD. If you've ever wondered about the Holosun brand of optics, now's your chance to learn.
What do you need to know about the Holosun 507K X2 RDS?
This RDS has a lot of nice features like a 50,000-hour battery life and 12 different brightness settings. In fact, it's even night vision compatible in two of those settings. Holosun designed the 507K X2 as a purpose-driven optic, and that purpose is defensive use in all light settings. Unlike some red dot sights that are restricted one way or the other, this one appears to be versatile and tough.
So, what does DEFCON Creative have to say about it?
Quite a bit, here are some of the highlights:
Durability
Nick says, "I did not expect this to be durable but I have had zero issues with this in the same round count [when reviewing others like the Trijicon] RMRcc…this housing is very, very durable. I don't go dropping it over 500 rounds, but it has done the job for me."
The Reticle
The Holosun 507K X2 has a 2 MOA dot and a 32 MOA ring, and it comes in red or green. Nick notes that the green has a lower battery life, saying, "I just don't like green dots. The red is what I go with [which is nice] because the ring…gives you something easier to pick up."
For example, if you are brand new to red dots and this is your first dot on a gun, you might have some difficulty finding the dot at first. With the extra ring around the dot, you'll be able to see the top of the ring if you're a little low, and then you can bring it up.
What else did Nick have to say about the Holosun 507K X2? You'll have to watch the video to find out.
Bottom line?
The Holosun 507K X2 was Nick's favorite of the trio of brands they tried out for this particular RDS series. Is it right for you? The only way to find out is to try it. It can take some time to learn how to use an RDS instead of iron sights. Remember, you can always get RDS-height irons and co-witness, but it's worth the investment of time and effort. Having a good RDS in your collection is a great idea for any dedicated shooter.
Specifications
MRS: Circle Dot; 2 MOA Dot; 32 MOA Circle
Up to 50,000 Hours Battery Life (Setting 6)
12 Brightness Setting: 10 DL & 2 NV Compatible
Convenient Tray Battery Compartment
Parallax-free & Unlimited Eye Relief
Designed for CCW
IP67 Waterproof
Shake awake
Multilayer reflective glass
Light Wavelength: 650nm
Reticle Color: Red
1X Magnification
CR1632 Battery
Window Size: 0.58″ x 0.77″
Dimension:1.6″ x 0.98″ x 0.95″
Weight: 1 ounce
Housing Material:7075 T6 Aluminum
Surface Finish: Anodized
Adjustment per Click: 1 MOA
Storage Temperature: -20℃~65℃
Working Temperature: -20℃~51℃
Submersion: IP67
Vibration: 5000G
Compact Red Dot Showdown: Which one wins?
By Kat Ainsworth
To conclude the series, this final video summarizes all three hands-on reviews, objectively breaking it all down by category.
Which Red Dot Sight is Best?
DEFCON Creative tried out a number of RDS to find out which worked best for them. He assigns a winner to each categories, finally calling out one of them as the best.
Here's the lowdown on their initial impressions of the first two factors, usability and battery life:
Universality
He points out that there aren't a lot of guns that come from the factory pre-milled for a red dot. However, it is becoming more common.
I think within the next two years, every gun is going to come with at least the option for milling.
In the Universality category, the [Springfield Armory] HEX wins because it uses the Shield RMSc footprint which is compatible with several platforms including the Springfield Hellcat, Sig Sauer, and Bul Armory 2011s.
The Shield RMSc is, up to this point, the most universally-used footprint. So the HEX Was is going to be the most universally fit dot.
The Holosun almost made it, being very close to the RMSc footprint, "but you're still going to have to get a plate because they've changed it just enough to make it aggravating. You're either going to have to get an adapter plate or you're going to have to get your slide milled."
As for the RMRcc, "Trijicon just said [forget you all]…just like they did with the RMR, the RMRcc uses its own footprint. [Right now] I don't know of any guns that have the RMRcc [milled] standard. So you're going to have to use an adapter plate, or if you have a Glock with the MOS system, get an MOS plate for [the RMRcc]."
The first point goes to the Springfield HEX.
Battery Life
Things get a little wonky in this category when you take in factors like low vs. high settings, and the differing phrases the companies use to describe how long the battery is going to last.
Springfield says the HEX Wasp will run over 65,000 hours on its lowest setting, but "In the real world…it's going to be like 17,500 hours….[approximately] 2 years on this, in real-life applications."
Trijicon says the RMRcc battery offers 4 years of illumination, but "I don't know what brightness setting that's going to be on. It comes out to [about] 35,000 hours."
Ultimately, Holosun wins in this category, because the company says the 507K X2 RDS will run up to 50,000 hours at brightness setting Six.
So how does the rest of the chart fill out, and which Compact Red Dot Sight is the winner? You'll have to watch the final video in the series to find out!
Which red dot sight is best for you?
Bottom line? Red dots serve a purpose, and odds are good they'd be useful for you. As with any gun or gear, choosing the best RDS for you comes down to your needs. It has to serve the specific purpose for which you intend to use it, whether that's for your everyday carry gun or for range use, and it has to fit your gun.
All aftermarket plates are not being made for every gun and RDS out there. There are quite a few factors to take into consideration. There are a lot of RDS on the market, though, so it's a good idea to do your research. In order to narrow it down it's a great idea to watch videos like this one from DEFCON Creative.
Do you have a favorite RDS? Tell us about it in the comments below.