The ATF has signed off on the new ban to restrict pistol braces. The 120-day grace period will begin next week and everyone with a firearm equipped with a pistol brace will have to decide what to do. I am expecting a slew of court challenges soon. There is also a possibility of an injunction being placed until those challenges can be reviewed. Everyone must decide what action they want to take.
The ATF gives four options for compliance with an arm brace. One of them is to give up your guns and we all know that's not a real option. Registering your weapons with the ATF or removing the arm brace are two other options. The last is to install a 16″ barrel. For me, this option is the best because I can switch them right back if the rule gets overturned.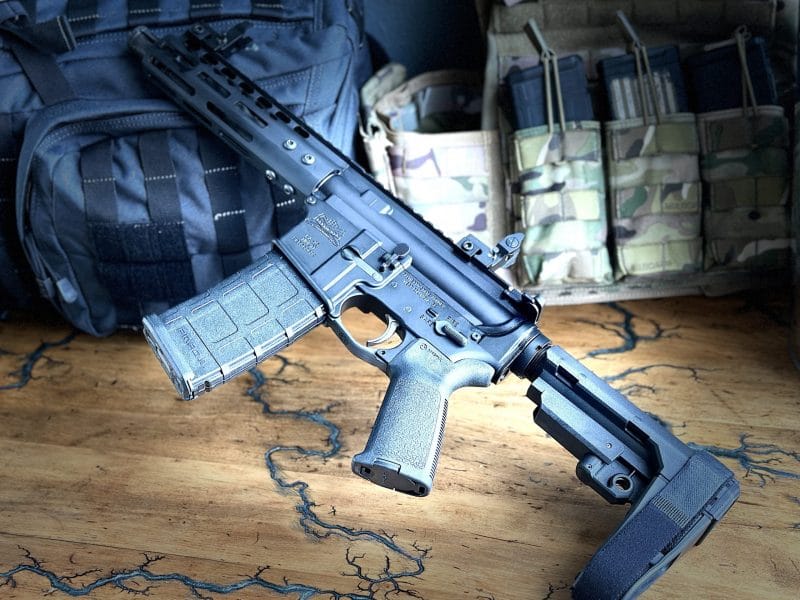 The process of converting a pistol to a rifle can be intimidating, but it's not as hard as it appears. You need a few tools, a new barrel, and stock. Some of these tools make the job much easier but it can be done without them. Having some basic tools for an AR is a good idea anyway if you plan to own one.
Tools Needed To Convert an AR Pistol to a Rifle
All you need to convert an AR pistol into a rifle is to change the barrel. The pistol brace can stay or be replaced with a stock and the handguard can be changed if you want a longer one, but this is not required. We will cover the tools needed and then cover the parts next. The first place to start is with a vice. This can be done without a vice, but I would not recommend trying it.
I changed a few barrels back in the day by having my buddies hold the gun while I cranked away on the barrel, but this is not easy or recommended. I have a cheap vice from Harbor Freight that I bolted to a 2-inch-thick piece of scrap wood. This lets me move it around if I need to. The Real Avid Smart Fit Vice Block is the next tool you need. This is what clamps into the vice with the other end going into the mag well of your gun.
An armors wrench, like the Real Avid Master Armorers Wrench, is another tool you should own if you are going to have an AR-15 rifle. A screwdriver set such as the wheeler gunsmithing set is nice, but any screwdriver set will work if it has hex bits with it. A torque wrench will be needed when installing the barrel nut so if you don't have one, someone you know probably does. If not, Real Avid and Wheeler both make an easy-to-use torque wrench. A rubber mallet, barrel grease, and blue Loctite are the other needed tools.
Suggested Tools
Vice
AR-15 Vice Block
Rubber Mallet
Torque Wrench
3/32 Allen T-Handle Wrench
Screwdriver Set
Blue Loctite
Barrel Grease
Rubber Tray (or small container for screws)
Parts Needed
As stated above, the only thing you really need to make your pistol into a rifle is a new barrel. The gas block and gas tube may have to be purchased with the rifle if your current one is too short. A stock can be switched once the barrel has been replaced. When ordering a new barrel, the first thing you need to do is make sure you order the correct caliber. If you have 5.56 ammo you don't want to order a .223 barrel. A 5.56 NATO barrel can shoot both .223 5.56. Because of this, I would recommend just going with a 5.56 barrel. If you own a .300 blackout, then make sure the new 16" barrel is in that caliber. Barrels can be found online and start around $100.
The barrel I am using is a 5.56 NATO 4150 Chrome Moly Vanadium Steel. You will need a gas tube that fits on the 16" barrel so if the tube on your pistol is shorter, you will need to order that with the barrel. Most sites make it easy to order the gas block and tube with the barrel. A gas block with the tube installed costs about $35.00.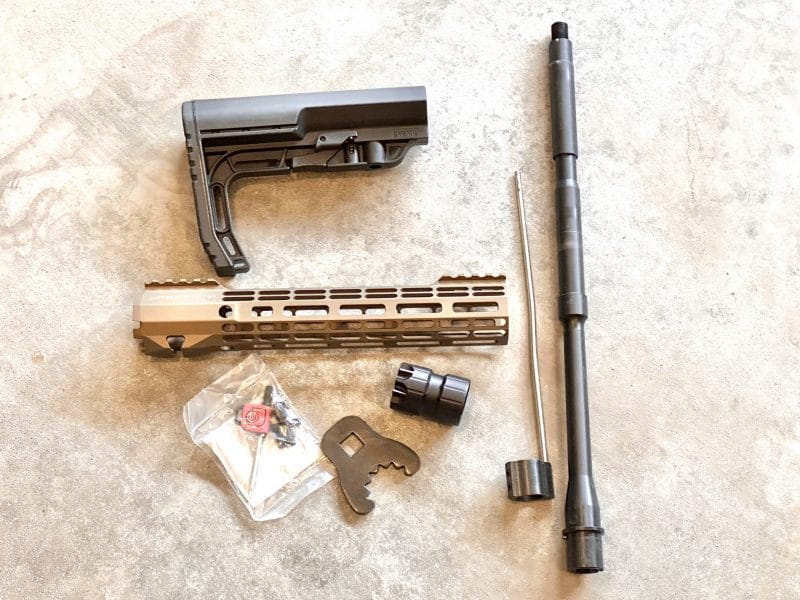 The handguard does not have to be replaced, but if it is short, you may want to. I have an Aero Precision 10-inch hand guard that was intended for an AR pistol build down the road, so I decided to just use it on this conversion.
New parts for conversion
16" Barrel.
Gas block and tube for barrel.
Handguard (not required). If you buy a new handguard, make sure it comes with a barrel nut.
Rifle stock (not required).
Removing the Old AR Pistol Parts
Once you have your AR pistol in the vice block and ready to work on, remove the charging handle and BCG (bolt carrier group). Next, the handguard can be removed, and then the muzzle device. The gas block will not come off with the muzzle device on the barrel. Most armorer's wrenches have the right size of wrench built into them. If not, a crescent wrench or mechanic's wrench will work too.
Once the handguard and muzzle device has been removed, the barrel will be ready to come off. The way I do this is to place the armorer's wrench or a crescent wrench (whichever fits) on the barrel nut and smack the bottom wrench handle with a rubber mallet until the barrel nut comes loose. After the barrel nut is off, the barrel will pull out of the upper receiver.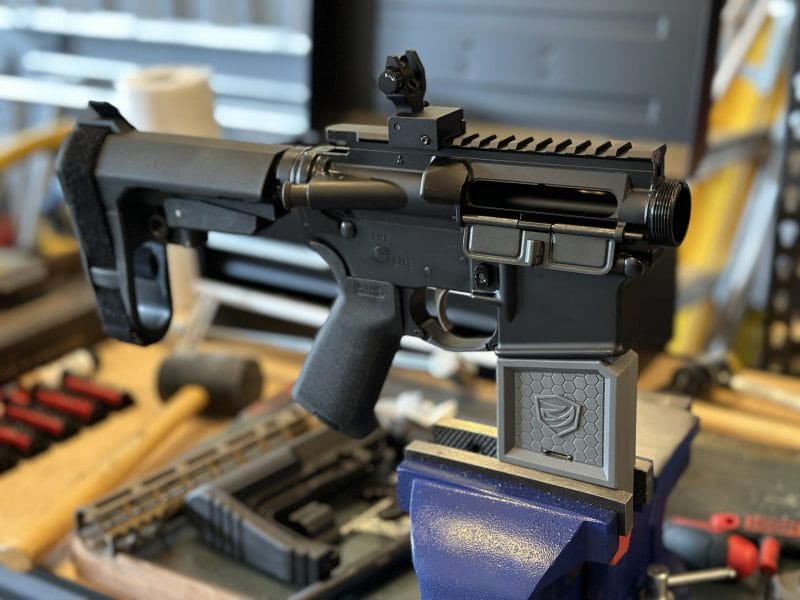 Installing the New Barrel
Now you are ready to install the new barrel. The new barrel can be inserted into the upper receiver using the barrel post to line it up. Place a small amount of barrel grease on the threads before installing the barrel nut. The barrel nut needs to be tightened with the torque wrench between 30-80 pounds. I recommend going to around 50. Next is the gas block and tube. You want to make sure the gas block is lined up with the gas port (the small hole in the top of the barrel) or the rifle will have cycling issues.
Once it is lined up, tighten the screws on the bottom of the gas block. When they are on, I like to remove one screw and place a small amount of blue Loctite on it and screw it back in. It can be removed again by heating it up with a heat gun. After that, reinstall the handguard (or the new handguard if you bought one) and then the muzzle device. The pistol brace can be removed, and the stock slid back over the gas tube. Most pistol braces use a standard buffer tube so it will not need to be replaced for a stock to fit back on.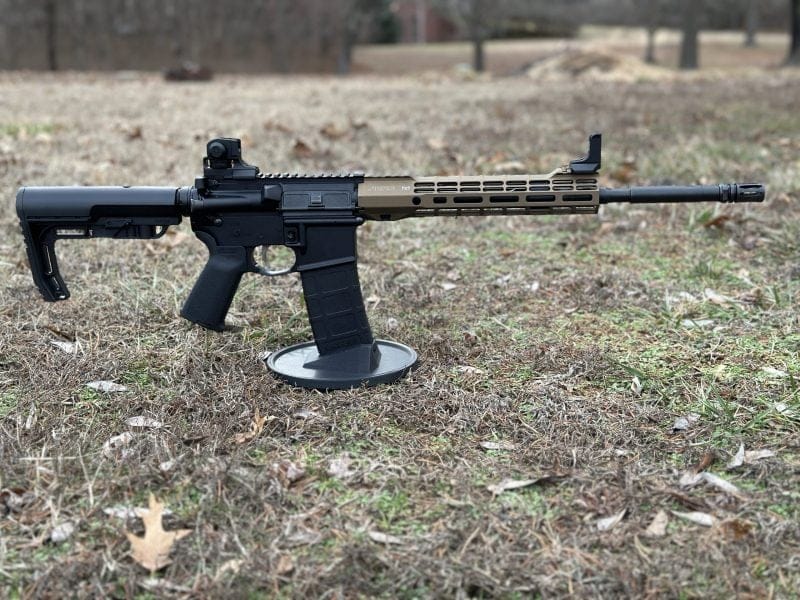 Summary
If you can do small mechanical tasks and are familiar with an AR-15, this process is not hard. If you are not familiar with the weapon, I would recommend an armorer or gunsmith do the work. Learning to make repairs and work on your own rifle can be satisfying and save money down the road. An AR pistol can be changed to a rifle in less than an hour. Down the road, if the ATF rule is overturned, it can always be switched back to its original form.