Usually, when people hear the term "chest pack" they don't think about a CCW. That's an oversight we hope to correct. A concealed carry chest pack is a good option already used by many people who go into the wilderness, like hikers or climbers who want gear and weapon closer to hand than can usually be achieved by a traditional backpack.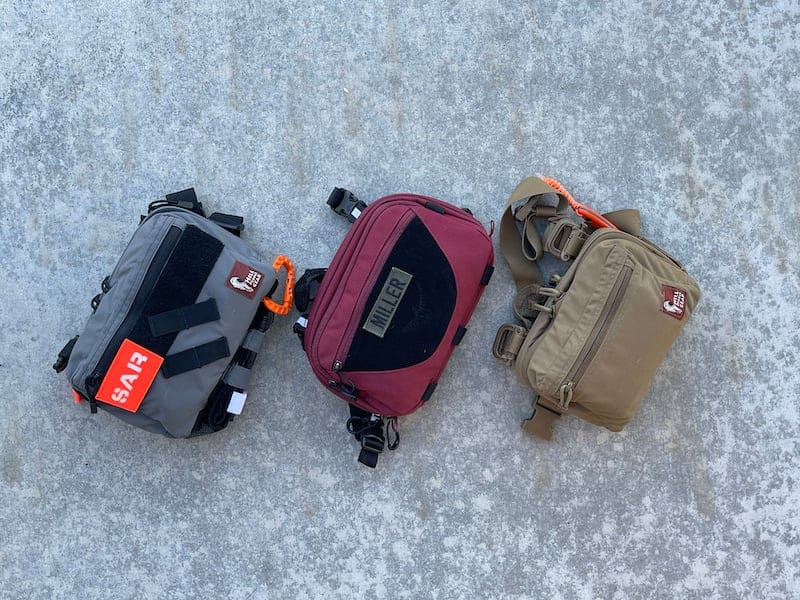 Much of the appeal of a pack is simple accessibility. Virtually everything you might need (assuming you're carrying it) is right there in your "workspace." That could mean having your emergency medical gear or firearm quite literally under your nose as opposed to being around behind you. It could also contribute to the ease of having a fire starter handy when you're struggling to get that tinder and kindling going.
For me, it is nice to have things in one place, organized, and in a smaller container than a backpack. For the longest time, I would carry a full backpack and then take the smaller items I wanted out of the pack and put them in my pant pockets or in jacket pockets. That's just inefficient.
Plus, I've dropped things too many times than I'd care to admit. That only adds to the appeal of a chest pack.
Chest Pack Options and Construction
There isn't one set look when it comes to chest packs, although they generally follow the same form and ideation. There is an ever-expanding variety of chest packs on the market so it shouldn't be too difficult to locate one that suits your individual needs. Most of my experiences with concealed carry chest packs have come from the Hill People Gear and Osprey brands. The latter is currently my carry option. Each chest pack has a series of pockets in varying sizes, each with its own admin and organizational features.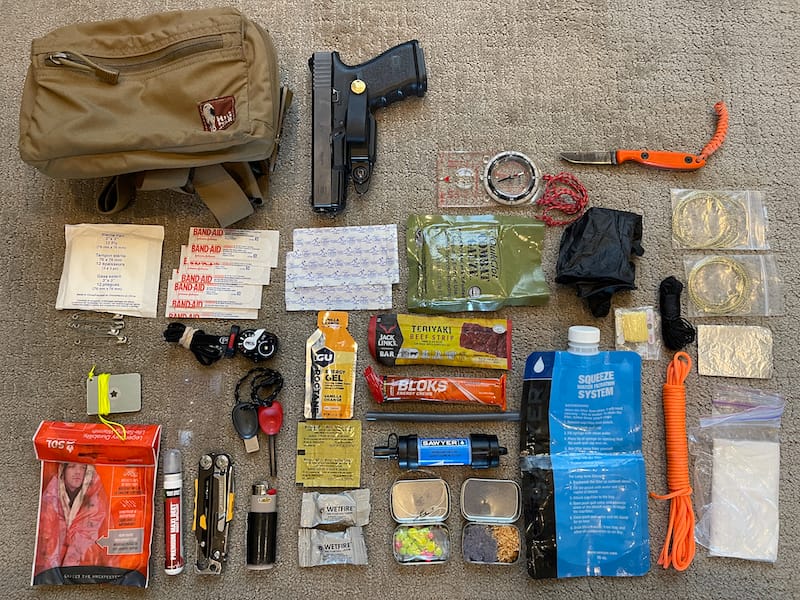 The chest packs I use have common features. This usually consists of MOLLE or straps on the outside front or bottom of the pack for easy storage of larger items. Each has deep pockets with solid zippers made with treated fabric to keep some of the weather out. Mine have been weather-resistant, but not weatherproof. The size and design of a typical chest pack should allow it to be worn either as a stand-alone or in addition to a backpack.
Each chest pack has stabilizing straps with a back mesh section to keep the pack snug when worn. The packs also have cinch-down points on the straps with quick-release buckles for easy on and off. The straps also help in a fitted feel that helps with the rapid concealed carry deployment and secure carry.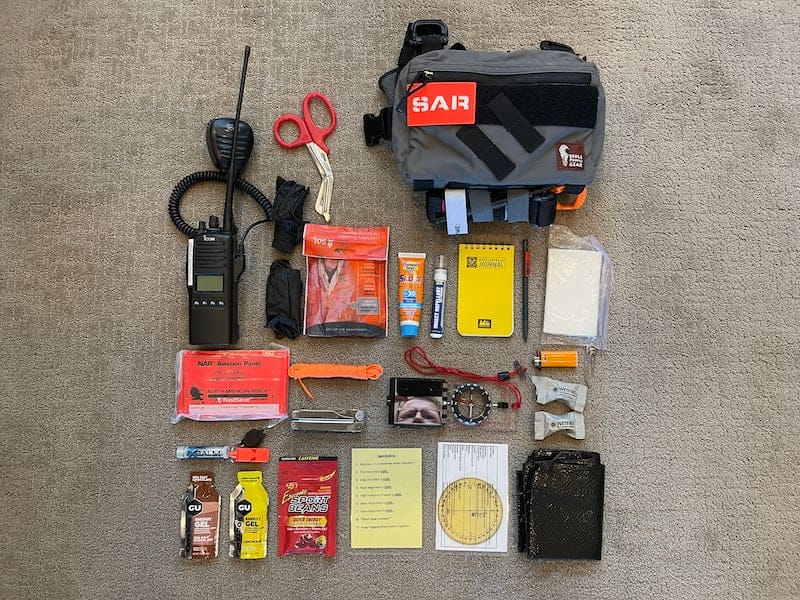 What do I carry in my chest pack?
The main reason my husband and I use chest packs is that of weapon accessibility. They provide a quick-access concealed carry option for the times we are way out on the back roads. This is important protection from both human and animal predators.
A pistol is not the only thing I carry, of course. Let me run down the items that are in my Osprey Archeon Chest Rig (which is not commercially available anymore in the US to the best of my knowledge).
We are careful to have the backcountry essentials at hand to up our preparedness levels. Essentials such as having multiple fire-starting options, emergency shelter or heat options, a multitool and knife, compass and signaling devices, first aid items, light sources, and sun and bug protection.
Other essentials like extra water, food, and clothing—things we can take more time to access—are usually stored in the larger backpack. Most of the items listed above, however, are held securely in my chest rig, which itself is never far away even during long breaks or overnight.
The largest pocket in the back is where my pistol lives, along with an extra extended capacity ETS magazine, because reasons. Also in the back pocket are internal mesh dividers to help organize things a bit more. In those pockets, I have a titanium spork, a Leatherman multitool, at least one knife, an emergency whistle, matches in a waterproof container with cotton, a container of pain medication, and a Bic lighter with duct tape wound around the outside.
Inside the back pocket, there is a smaller zippered pocket that holds an emergency blanket that can also double as an emergency shelter if needed.
In the middle pocket, I have a Magpul DAKA pouch that contains essentials such as sunscreen and bug spray. Also in the pouch are zip ties and safety pins, an emergency light, pen, paper, several yards of cordage, and a signaling mirror. Outside the DAKA is a sheet of folded aluminum foil for emergency cooking.
The front pocket is the smallest and holds the other small items. I have an additional lighter with duct tape because we subscribe to the idea that two is one and one is none when it comes to survival essentials. There is also a compact first aid kit that holds band-aids of varying sizes, allergy medication, alcohol wipes, water purification tablets, gloves, and gauze. There is also a Ferro rod striker, Fresnel lens, and the multitool extra tool bits.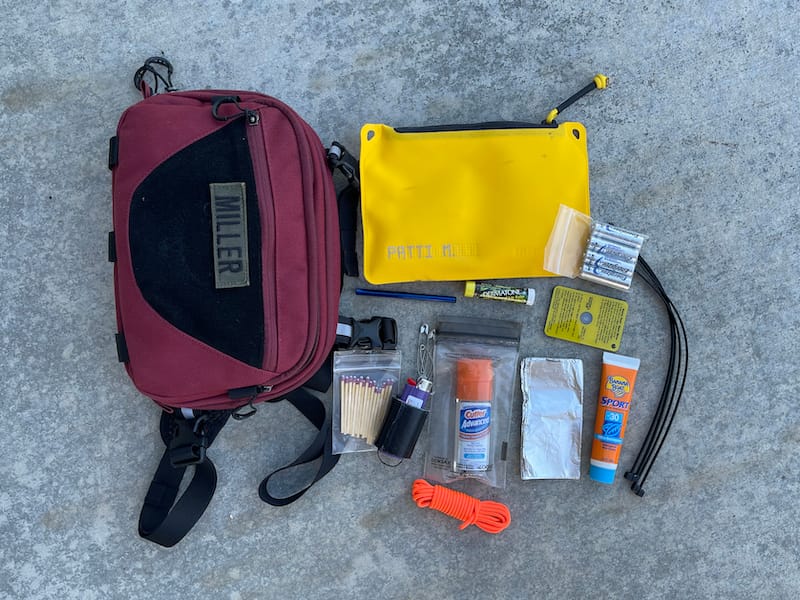 This may seem like a lot to have in a chest pack, but we have the rigs organized and laid out relatively the same so if I got my husband's pack, I would know where to start looking for things if necessary. The overall weight of the pack is less than five pounds fully loaded.
Why do I use a concealed carry chest pack?
The need to use a chest pack has been demonstrated to me time and again for certain applications. Specifically, my family leads an active outdoor lifestyle so having a small pack on my chest means things are close when I need them. We spend a lot of time camping and exploring in the Idaho wilderness in addition to backcountry flying.
With the backcountry flying, having something small and relatively lightweight is paramount. On our last trip into the backcountry, we were staying in a cabin off the grass airstrip with the closest people being at least 15 miles away, as the crow flies. As we explored the area, we noticed an alarming amount of wolf scat and tracks. We assumed it was older scat based on how it was decomposing, but on our last day at the cabin, I spotted a wolf no more than 250 yards away.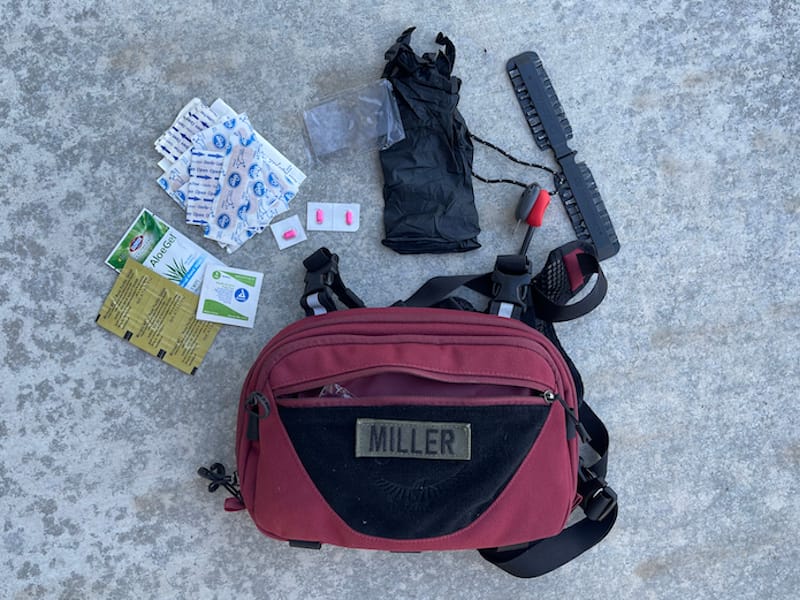 Having the chest pack with my carry pistol right on my chest made me feel better, especially when I had our two kids with us. Both my husband and I took turns making sure that no one was outside without protection or coverage. While we did not see the wolf again, we could hear it howling and both felt better with having our chest packs.
Some might not see the need for a chest pack or think that it is overkill in certain situations. I can see their point. But for myself, and others like me, we have seen the demonstrable need of having gear close at hand for whatever situation life throws our way. Just like with the case of the wolf (or the two-legged criminal version thereof), having my hands free to grab gear and be able to get to my carry weapon quickly is need enough for me.