The number of rounds a gun holds can range from just a few to many. There isn't really a magazine capacity standard for handguns. When 10-round mags were considered high-capacity, we were happy with that and frowned on anything smaller. Then 15-round mags started to get popular and finally, 17-round mags were introduced and became the new standard. Now we are starting to see 21-round mags in full-size guns like the Sig M17.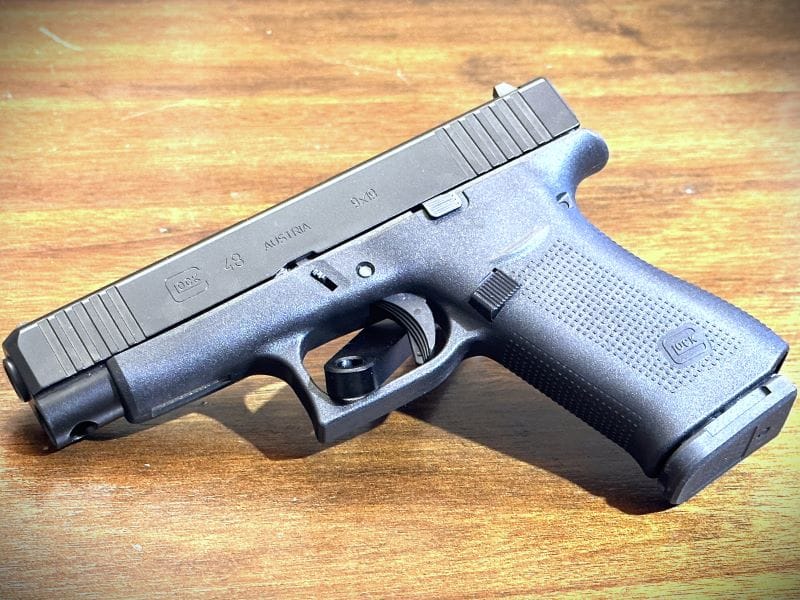 So, when I consider carrying a semi-full-sized gun with a magazine capacity of 10, I start to become critical of it. The size of the Glock 48 is a perfect size and shape for me to carry every day. It's thin, but not a small, compact gun either. The problem, however, is the magazine capacity is only 10. Glock is normally the one that sets the standard with the "must have" merchandise. But this time they had a product that I didn't prefer over aftermarket items. I don't mind a compact gun that holds 10 rounds, but the Glock 48 is not really compact, so more ammo would be nice.
Shield Arms S15 Gen 2 Mag
Shield Arms developed a magazine that is the same size as the Glock but holds five more rounds. This means the Glock 48 can hold 15 bullets just like the Glock 19. But to use these higher capacity mags there is a catch. No really, the actual magazine catch must be replaced for the Shield Arms magazine to work. The steel mag catch costs about $35, or it can be purchased in a set with the magazine. The base of the Glock 48 is the same as the Glock 43, so the Glock 43 can also use the same 15-round mags.
The magazine catch is not hard to replace, and we will cover that in another article. Once the magazine catch has been upgraded, you can start using the 15-round mags with the same quality and reliability you would expect from Glock. The upgraded mag catch will still work with Glock mags so they can be used without issue.
Shield Arms Magazine Quality
Shield Arms offers a lifetime warranty on their magazines. I have seen some reviews where people complain they are not reliable and have feeding issues with them. Therefore, it is important to note the mag catch/release that Shield Arms says needs to be installed when using their mags. It would be great if that wasn't the case, but if you want a 15-round mag, you need the part that goes with them. For me, switching out a mag catch to work with mags that hold 50% more ammo is worth the money and the few minutes it takes to change it.
The construction of the magazine is metal, which is why the plastic mag release on the Glock needs to be replaced with these mags. The spring has Shield Arms' "spring for life" warranty which states that any spring that becomes weak or breaks will be replaced. A warranty does not make a product more durable, but it does show the company is standing behind its work.
As I like to do with warranty information, I looked to see if they make their contact info easy to find. Shield Arms has a warranty section on its website that gives instructions for returning product. They claim to respond to emails within 24 hours and state they will send a shipping label for the product to be returned.
Is the Shield Arms magazine reliable on the range?
The best way to gauge a product is to review the companies' specs, their warrantee, and third-party tests, and then shoot it yourself. I decided to take my Glock 48 and Shield Arms magazines to a training event. During this event, I performed mag changes and fired hundreds of rounds through the magazines. I didn't have any issues with the magazines during the event. Since then, I have fired several hundred more rounds through it and have not had any problems.
Shield Arms has third-party links to people performing tests and reviews of their products. One of these reviews is a video of a 1,000-round reliability test being conducted on the S15 gen 2 mags. They didn't have any issues during the 1,000 rounds test. I found a few reviews of complaints about feeding issues with the Shield Arms mag, but I also found they did not install the Shield Arms mag release. The company does stress that this is a requirement when using their mags in the Glock 43X and G48 models.
Specifications
15 round capacity
Same length as an OEM Glock 43X/48 magazine
Easy to remove, impact-resistant base pad
High lubricity finish, Powercron coating
Made in the USA
Patent-pending
Summary
Some people may not want to buy a magazine that requires a metal mag release before it can be used. It really comes down to how important those extra rounds are. I always carry at least one extra mag on me so that is a difference of 10 rounds between both mags. The odds of needing thirty rounds of ammo in a defense situation are low, but that does not mean you won't need 30 rounds. I would rather take the proactive route and be ready for anything.
If you are fine with the Glock OEM 10-round mags, there is nothing wrong with that. If you want to carry a 15-round mag that sits flush in the gun, Shield Arms is a great alternative. I like having a metal mag catch in the gun anyway, so the upgrade doesn't bother me. It's just another thing to consider with all the other endless gun choices you will undoubtedly be making in the future.