Budget guns can be hit and miss. The amount of quality you give up for a lower price can be hard to decipher, but there are some quality-built ARs out there that don't break the bank. PSA (Palmetto State Armory) has had some issues in the past, but over the years their quality has been improving. The magic question is: are they worth the money? During PSA's labor-day sale, I found some prices that were almost too good to pass up. An AR-pistol build for some time on the range sounded like a fun project.
I decided to build the PSA with a Marauder Shockwave AR pistol upper and MFT Battlelink pistol lower. You can find complete AR pistols from PSA for around $479 on sale. But if you buy the upper and lower separately (BCG and charging handle not included) you can get it much cheaper. The idea was to see how little I can spend overall and use up some of the parts I had leftover after other upgrades. I also wanted to see how well such a cheap AR held up on the range.
Pistol Upper: Shockwave Marauder $199
The upper for the marauder is a mil-spec US-made 7" Phosphate pistol length upper chambered in 5.56.
Specifications
4150v chrome molly steel
Nitride barrel finish
Muzzle thread ½-28
Twist rate 1-7"
Receiver – forged 7075 T6
I purchased the upper for $199 (shipping included) and received it in about a week. The BCG (bolt carrier group) and charging handle were not an issue as I had extras laying around from upgrading old ones. The handguard that comes with this upper is a Magpul "MOE" M-Lok without fixed sight.
The flash-can on the end of the barrel is oversized and almost too big. It does make those around wonder what on earth you are shooting, and it is very loud. I haven't decided if I like the looks of it yet, but no one can argue that it is different.
PSA AR-Pistol Lower $129
The lower that I found on sale was the MFT Battlelink pistol lower. This is PSA's standard AR lower kit with a Mission First Battlelink pistol stabilizer. I swapped out the Mission First pistol brace with an SB tactical A3 pistol brace I had from an older AR I recently upgraded to the SB Tactical A4.
This is another fun way to use your older AR parts as you make upgrades. I paid $129 for the lower and was able to get free shipping because it was ordered at the same time as the upper. The lower arrived at the FFL dealer in just under a week.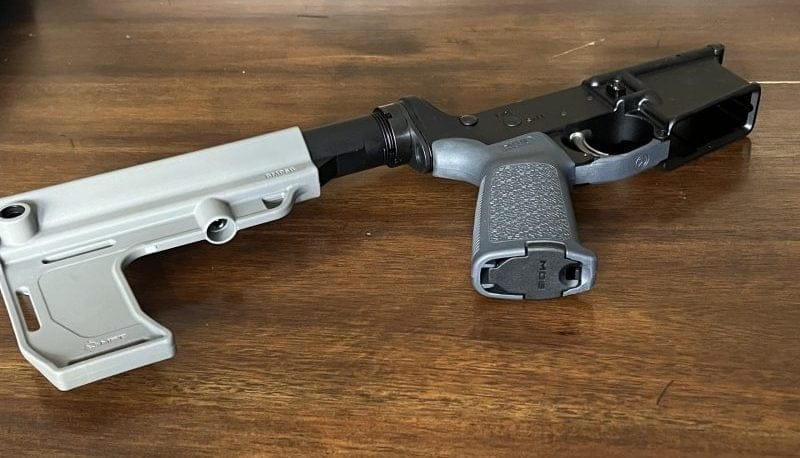 Specifications
Lower Receiver: Forged 7075 T6 Aluminum
Receiver Finish: Hardcoat Anodized
Fire Control Group: Single-Stage, Mil-Spec
Grip: Classic A2 Grip, Black
Buffer Tube: Mil-Spec Buffer Tube
Adjustment: 6-Position
Pistol Brace: Mission First Tactical Battlelink Pistol Stabilizer
First Impression
Once I picked up my lower from the FFL, I was able to put my new AR pistol together. I swapped out the pistol brace, and installed the BCG, the charging handle, and a red dot. For the red dot, I used a Bushnell TRS-25 Electro-Optic (which I will be reviewing later). If I am going to be building and testing a low budget AR, I want to find a low budget optic as well.
The PSA had a good feel to it and was very light but the safety selector did not have a "smooth" feel to it and the trigger was on the stiff side. But this is also a very cheap gun, so I wasn't expecting it to feel like 2K dollar AR either. The real question was if it functions reliably at that price point. The next thing to do was take it to the range and dump ammo through it to find out.
On the Range With the PSA
With ammo being so high, it is hard to shoot much of it these days for reliability testing. But I also wanted to know if this little gun would function or if it was it a waste of money. We decided to use some .223 and 5.56 in an assortment of manufacturers just for fun. We did stick with 55 grain ammo in each brand because I already had bulk ammo I wanted to use up. I had some Hornady Frontier, Winchester, PMC, and a lot of Prvi Partizan Rangemaster that we used for the test. I also sprayed the bolt carrier down with some CLP before we began.
We zeroed in the red dot at 50 yards and did most of the test between 50 and 75 yards on the range. Hitting pop cans at 50 yards was extremely easy with this setup. When it came to doing some speed drills, however, we did run into problems with that stiff trigger. The reset was also on the long side so shooting quickly took some adjusting. If I were to make any other upgrades to this gun, it would be the trigger.
Results
Overall, we fired 400 rounds through the PSA and were very pleased with the results. During the first magazine, we had one failure to feed, but that was all. During the last 100 rounds I swapped out the BCG to a nickel-born bolt to see how an aftermarket BCG would perform and there were no issues there either.
We fired a 60-round coffin mag, 50-round drum, and an assortment of 30-round mags through it to test magazine compatibility. Everything we used worked very well. We did get the barrel to smoking after we rapid-fired the coffin mag and drum consecutively, but the handguard kept cool enough to keep shooting.
Price
Here is a breakdown of the total investment in this project.
Upper $199
Lower $129
BCG (already had a used one)
SB Tactical A3 brace (already had a used one)
Standard mil-spec charging handle (already had a used one)
Total AR Pistol Investment: $328
Total with $75 red dot: $403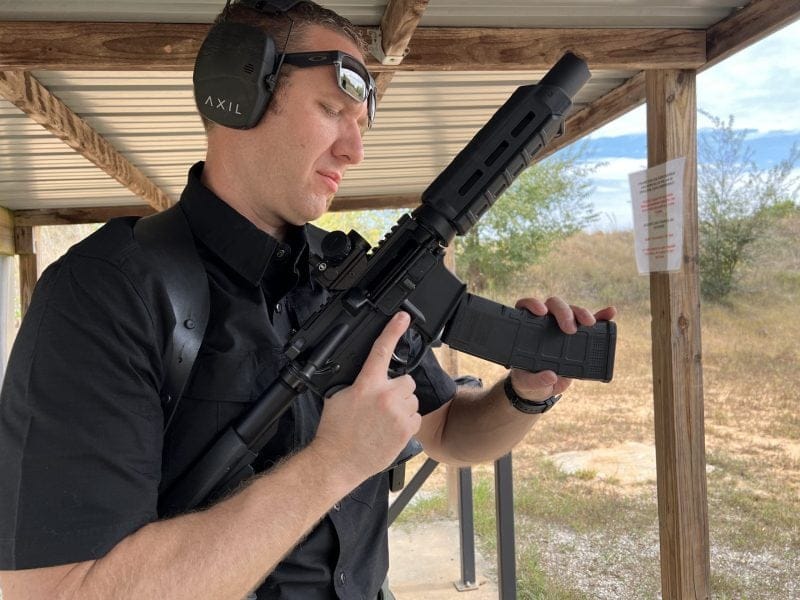 Final Thoughts
Of course, this would not be a firearm we would use on duty, and it would not be my top choice for a doomsday gun either. But for the price, I was very impressed with how it handles at the range. I could purchase an AR that would already have some better upgrades for a little more money, but sometimes it's just fun to buy parts on your own. For someone who is looking for an extremely budget-friendly gun that is still reliable, this could be a great choice.
The most fun part of budget guns for me is using up those older parts that I have upgraded on other firearms. If I have a stock, BCG, charging handle, maybe a trigger group assembly, or optics that are still good, why not use them?
The cool thing about AR-15s is the options are endless and you can build what you want or can afford. I can always make upgrades later, but I also just like the idea of buying a cheap little gun to blast away on the range for some fun times with the guys. Either way, I'm going to say it was a great deal for a $300 AR-Pistol.