If you're an avid gun owner, I don't have to tell you what Brownells is. For those who don't know, Brownell's motto is, "Serious About Firearms Since 1939." They definitely live up to that statement. I have been a customer since I got my first firearm. They have a huge selection of everything related to firearms. Chances are, they probably have what you're looking for. Brownell's also has their own line of products and today, I will go over one of their latest offerings, the BRN 180s Gen 2 upper receiver. But let's get into the .300 AAC Blackout before we do that. Also, make sure you read till the very end of this article as I have an important announcement!
BRN 180S Gen 2
A .300 Blackout Retro Review
If you don't have .300 AAC Blackout in your inventory, or if you're unfamiliar with what it's all about, I'll share my experience with the cartridge with you. I stayed away from .300 Blackout for a long time because I didn't want to acquire a new round in my inventory. The cost per round is significantly more expensive than 5.56, especially these days, and I was very afraid of mixing ammunition in the wrong rifle and that leading to a catastrophic incident.
Once I had a few AR Pistols, I started doing more research into .300 Blackout and found there were plenty of benefits to the cartridge. It was designed to work well with short barrels and has a more effective ballistic performance than 5.56 at closer ranges.
Another important feature is that it is much quieter even with supersonic ammunition making it an ideal choice for home defense or for your Personal Defensive Weapon in close quarters. You can use the same magazines and bolt face as the 5.56 platform. Basically, by swapping the upper, you now have a whole new weapon system that is based on the same lower.
The cost of getting into .300 Blackout is very minimal as you can keep most of the same parts from your 5.56 AR-15 platform. As for keeping my ammunition separate, I reserve every black magazine for .300 Blackout and I only handle one type of platform at a time on the range.
BRN 180S Gen2 Upper
The BRN 180S Gen2 complete upper is chambered in .300 AAC Blackout. A collaboration between Brownell's, PWS, and FM Products, it is a modernized weapons system inspired by the Armalite AR-180. Brownell's offers a dedicated lower that goes with the upper but for the purposes of this review, I did not get it. This is the second generation of the BRN-180S and introduces .300 Blackout in a 10-inch barrel that works with an adjustable piston system that is easily accessible to work whether you are shooting super or subsonic ammunition; shooting suppressed or non suppressed.
Some other features that differentiate it from a standard AR-15 upper, other than the Piston System, are the bolt carrier system that is very much like the AR-180's. It runs on a dual spring guide rod instead of a buffer tube system and uses a side charging handle.
What that means is that a buffer tube isn't necessary and that it was designed to have a folding stock in mind. The left side of the BRN 180S Gen2 upper is a rubber stopper for a folded stock to rest beside. Not only can it be folded, it can be fired from that position if the situation required.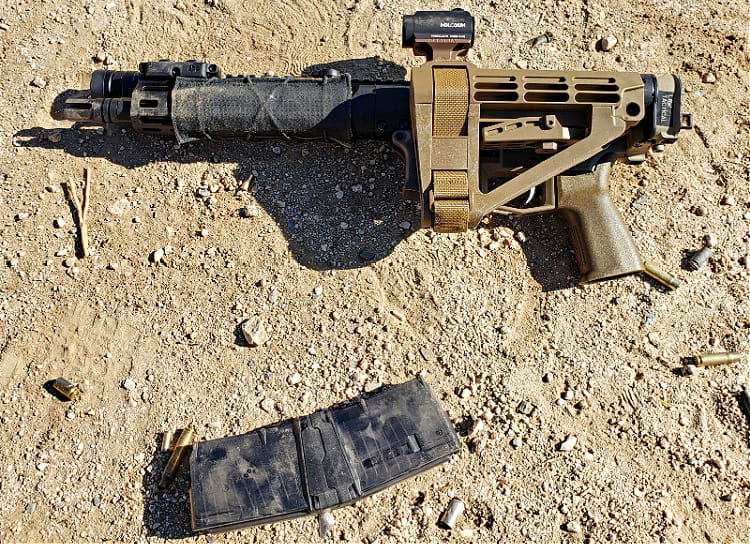 The barrel is made from 4150 carbon steel and has a 1/8 twist rate. Up front is a replica of the AR-180 three-pronged flash hider. It has standard 5/8-24 TPI muzzle threads, so if you want to swap it out with something else, that's easily done. The Gen2 rail or handguard is attached to the upper with a single locking screw and the short-stroke gas piston system is adjustable with an opening in the rail.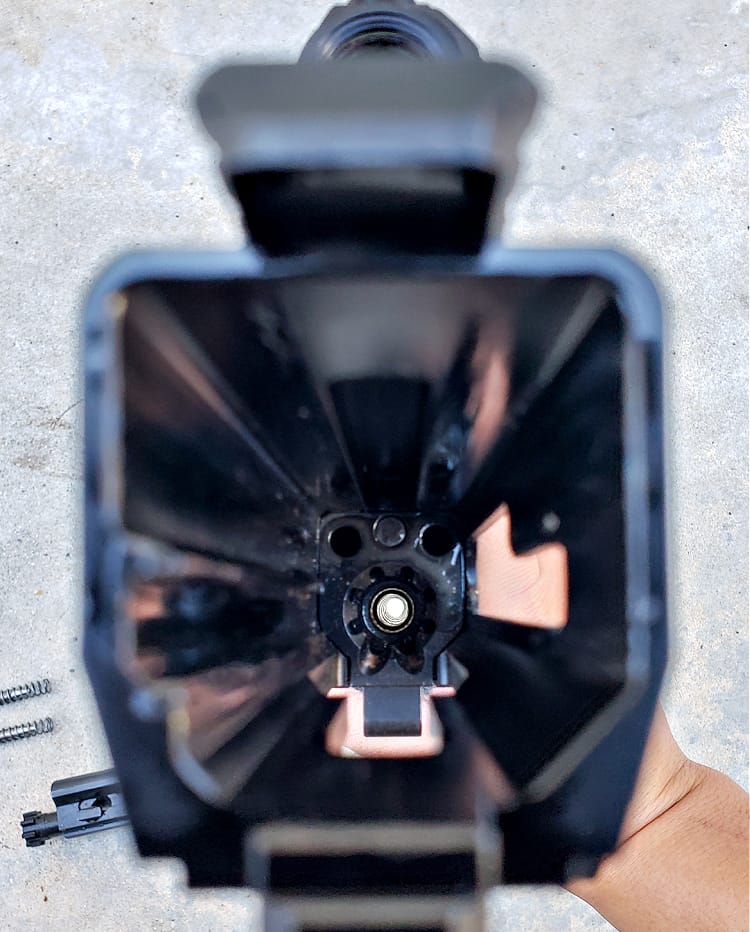 The Build
After seeing the BRN-180S upper online, my interest grew and the more I read about it, I wanted to check it out for myself. I asked if I could obtain one for review, and a few days later it showed up on my doorstep. As a customer of Brownell's, I am always used to the awesome customer service and fast shipping the company provides.
The BRN-180S Gen2 upper came in a box with foam padding. It was well greased inside a thick plastic bag.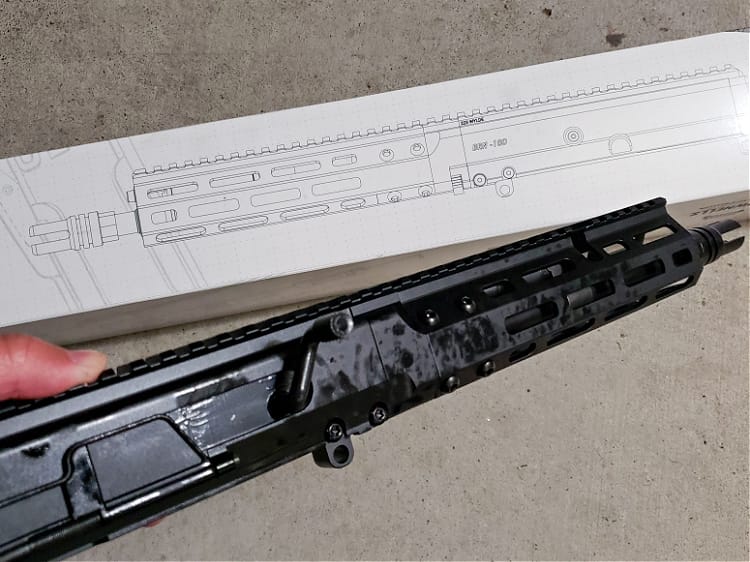 I immediately grabbed one of my AR Pistol lowers and attached it. It is a very tight fit, thanks to the polymer buffer that contains the dual buffer springs. Unlike many of my standard AR-15 uppers, there is absolutely no slight gap between the upper and lower and there is no minor wobble. It takes a good amount of downward pressure to get the rear takedown pin to close.
I started adding minimal accessories to set it up as a close-range weapon system.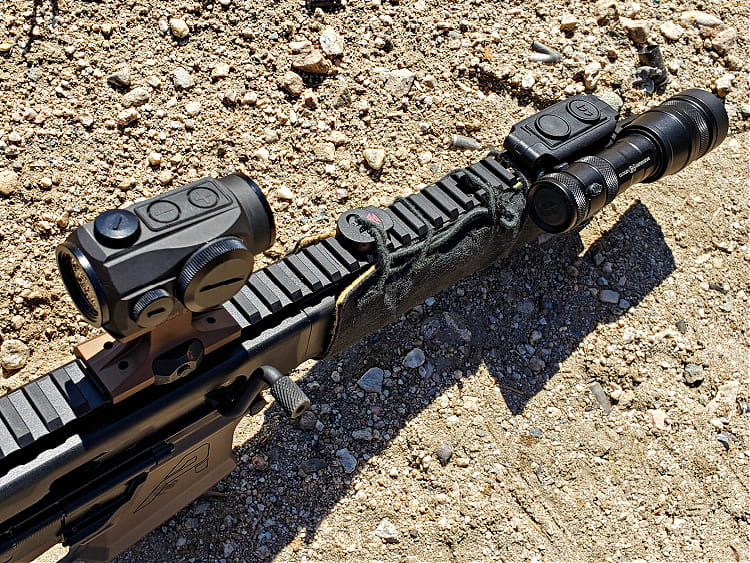 Optic
The Holosun HS503G with Primary Arms ACSS Micro reticle mounted on top a Reptilia Corp DOT 1.93″ mount was chosen for fast sight acquisition for close distances with an easy to spot semi-circle with a chevron with BDC holds in the center.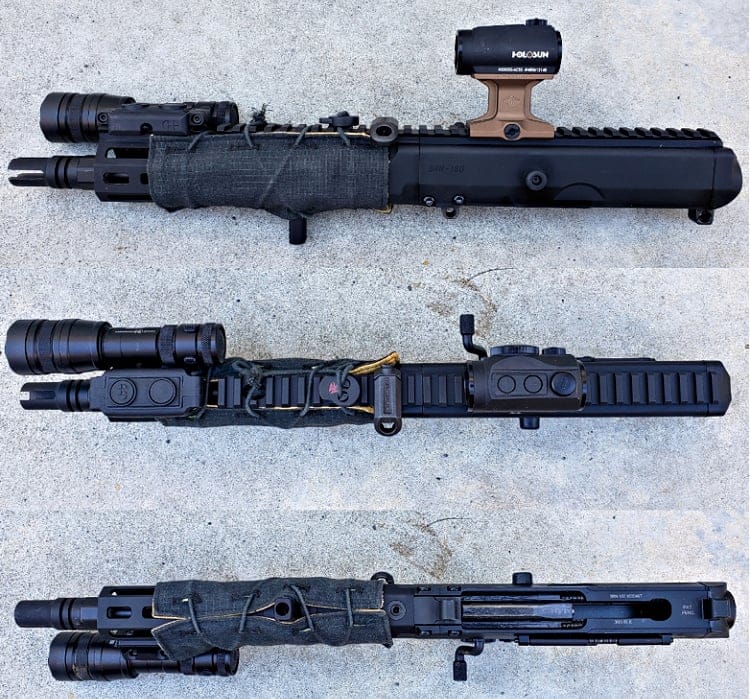 Find Holosun Optics at the Warehouse.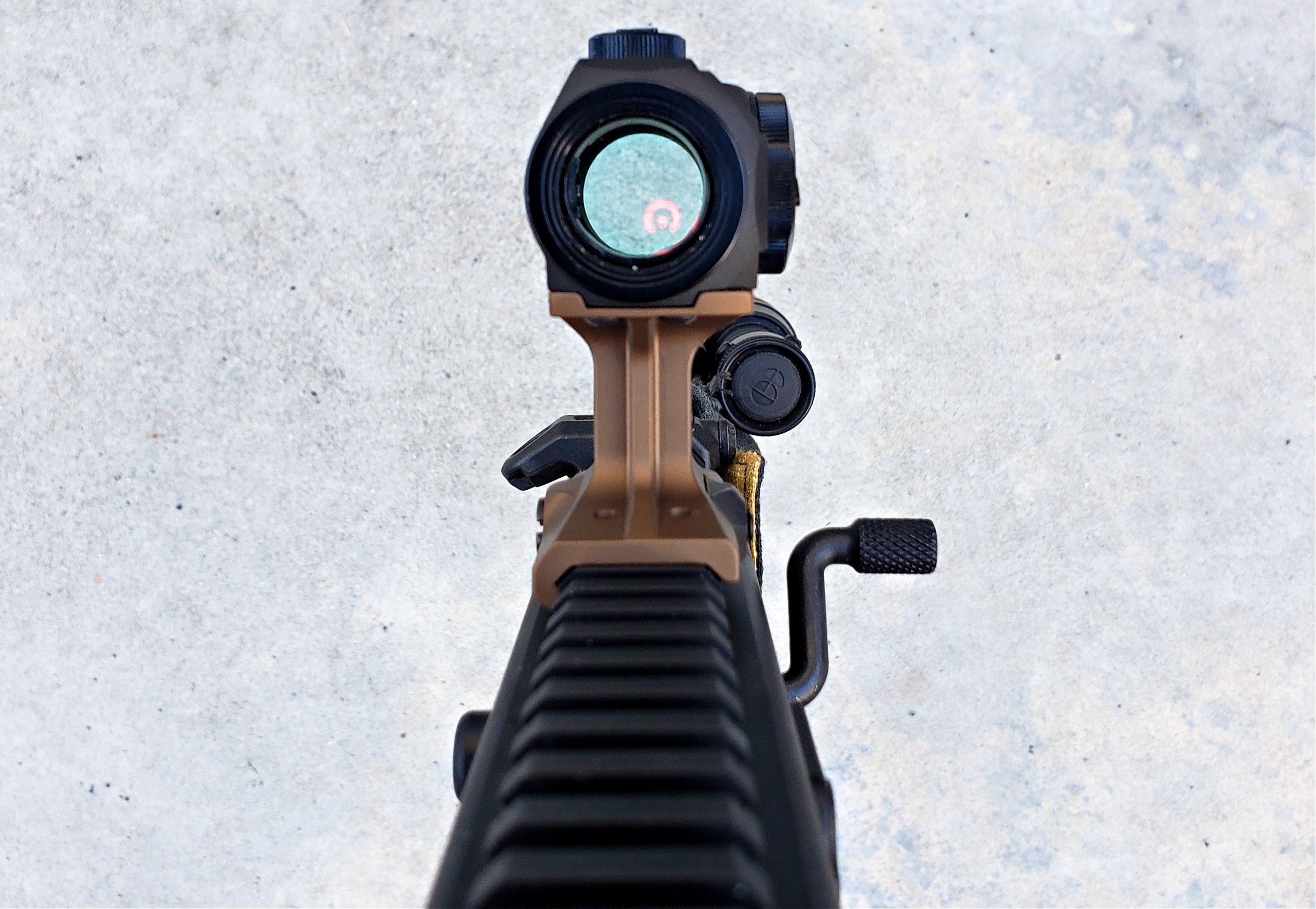 Weapon Light
The Cloud Defensive REIN Micro complete kit attached with their Torrent Offset mount made by Impact Weapons Components partnered with Haley Strategic Partners. The REIN Micro is lightweight and puts out 1300 Lumens with 55K Candela. It's plenty bright with a strong hotspot that has very good spill too. I attached the remote switch at the very front of the railed handguard, taking up all the rail space before the cut out to the adjustable gas piston.
Heat Management
From watching BRN-180S reviews on YouTube, heat was mentioned a few times and that is a common issue with really, any rifle or ar pistol. I decided to add the Burn Proof Gear Railrap to the handguard. The Railrap is made with fire retardant material and can synch onto any rail giving you a nice fabric barrier between your hands and the hot metal handguard.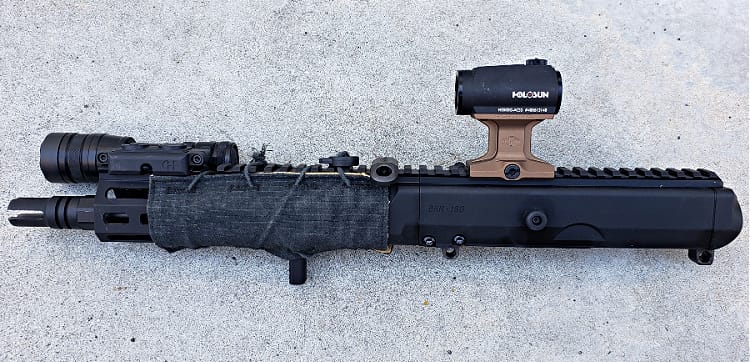 Handstop
I like to have a reference point for my support hand to go to on the handguard. For the BRN-180S, I attached the Impact Weapons Components barricade handstop. It's a low profile stubby handstop that can be put against barricades if need be.
Sling Mount
For this, I used a simple Magpul Picatinny QD sling mount so I could attach my sling to.
That's it when it comes to what I added on. Keeping it simple is the way to go and on a PDW setup. Not much is needed.
Range Time
I am not sponsored by anyone when it comes to ammunition. I provide my own ammunition for my reviews and if you're paying attention to our current market for guns and ammo, you know that its scare and extremely expensive if it's in stock. Luckily I had a few hundred rounds I bought prior to the panic buying and set aside a hundred factory supersonic rounds I got from LAX Ammunition for this review. I know it's not a lot of ammunition for a review but I did the best with what I had to get some feedback for you.
I had an opportunity on this past Veteran's Day to go out on the range with my friends at Ravenwing Limited, a great training outfit if you're looking to improve your skills with firearms.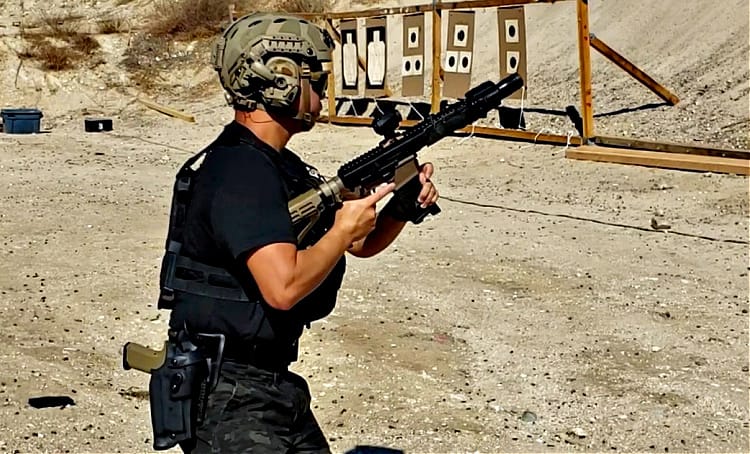 The firing line was set at seven yards so that's where I stayed. Good enough for what I was going to do with the BRN-180S out there. I did a hasty zero on the Holosun HS503G with Primary Arms ACSS Micro. It was spot on with windage so all I had to do was dial the elevation with height of bore and distance in mind.
Since the BRN-180S utilizes a side charging handle, I made sure to try all the methods to charging it. Similar to the AK platform, if you're right-handed, you can use your firing hand to pull back on the charging handle or you can go over the top or below to manipulate it. It's all up to your preference when you get enough repetitions in to see what works best for you.
I ran low round count drills with several different magazines: a Lancer Systems L5AWM made specifically for .300 Blackout, a second generation Magpul PMAG and Cross Industries magazines. All of them ran reliably and held the bolt to the rear upon the last round fired. When doing emergency reloads, I found the easiest way to release the bolt is the same method as it is on a standard AR15 upper, pushing the bolt release button with my support thumb after seating the magazine. All the other methods are slower and require more movement of the weapon using a lot of unnecessary and inefficient movement.
The .300 Blackout recoil is a just a bit more stout than the almost nonexistent 5.56 cartridge. It's not hard to stay on target from shot to shot. It's definitely a fun gun to shoot, just as much as your wallet is willing to give.
My thoughts on the Brownell's BRN-180S Gen2 Upper.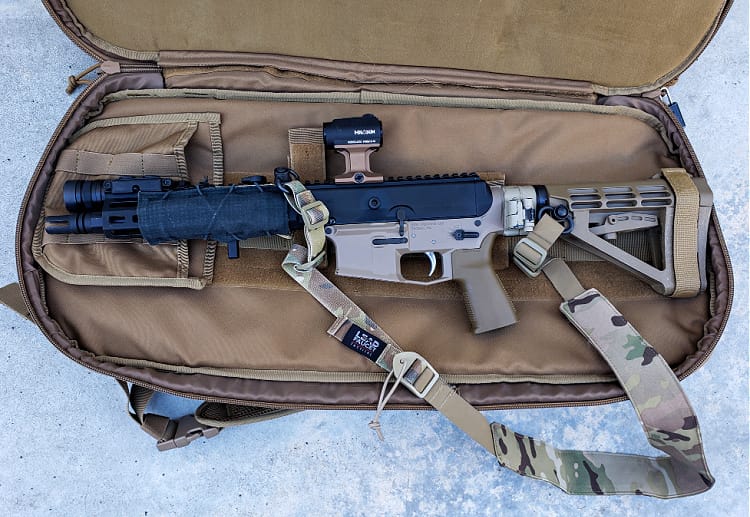 After my time with it on and off the range, I found it to be a well-made upper receiver that is reliable and easy to use. It makes getting into the .300 AAC Blackout caliber an easy transition by simply attaching it to your existing lower. The handguard fitted with MLOK slots give it a slim profile and makes it easy to attach accessories.
Some things to note, however, it is slightly taller than the standard AR-15 uppers so height over bore is a little higher. Not a big deal at all, just an observation. I found it to be front heavy, also not an issue for a short PDW-sized weapon.
Dust Cover
One thing I did not like was how open the internals are when the dust cover is open. On standard AR-15 uppers, the BCG is pretty much closed off with the exception of a few holes when the dust cover is down. On the BRN-180S Gen2, there is a much bigger opening where the rear of the bolt group, the recoil system, and the trigger group can be seen.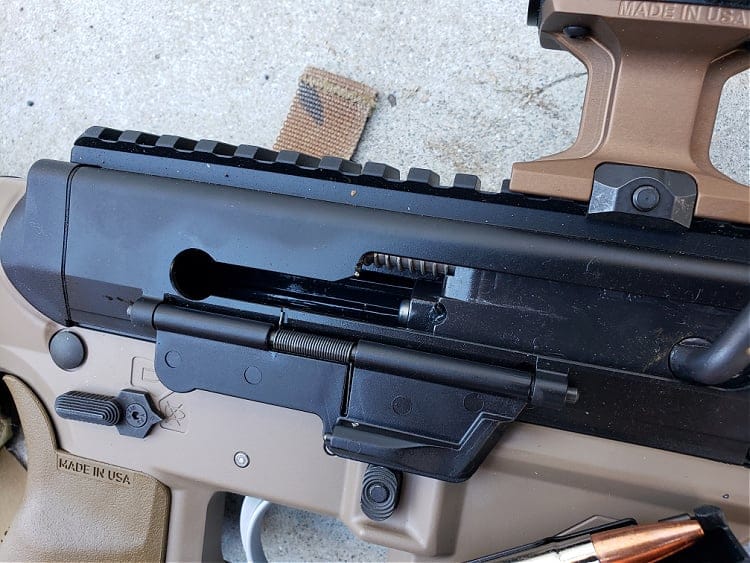 Dirt and debris can easily get in there and cause some problems for you. It shouldn't be a problem if it's a fun gun or even if it serves as a home defense/PDW that you don't expect to roll in the dirt or be exposed to the elements. I was just surprised to be able to see as much of the internals as I did with the dust cover down.
The ergonomics are a bit different. Like anything else before it, you'll need to train and practice with the side charging handle to be proficient with it. Those are some things to keep in mind if you're interested in getting the BRN-180S.
The takedown is different in a few ways compared to the AR-15, but still simple nonetheless. First, you remove the upper receiver from the lower. Make sure you have one of your palms ready to catch the polymer buffer. You then start to slowly pull the charging handle rearward and the recoil springs will start to push the polymer buffer out into your palm. Don't it too fast without your palm there to catch it, or you'll be chasing down the buffer and springs. Don't ask me how I know.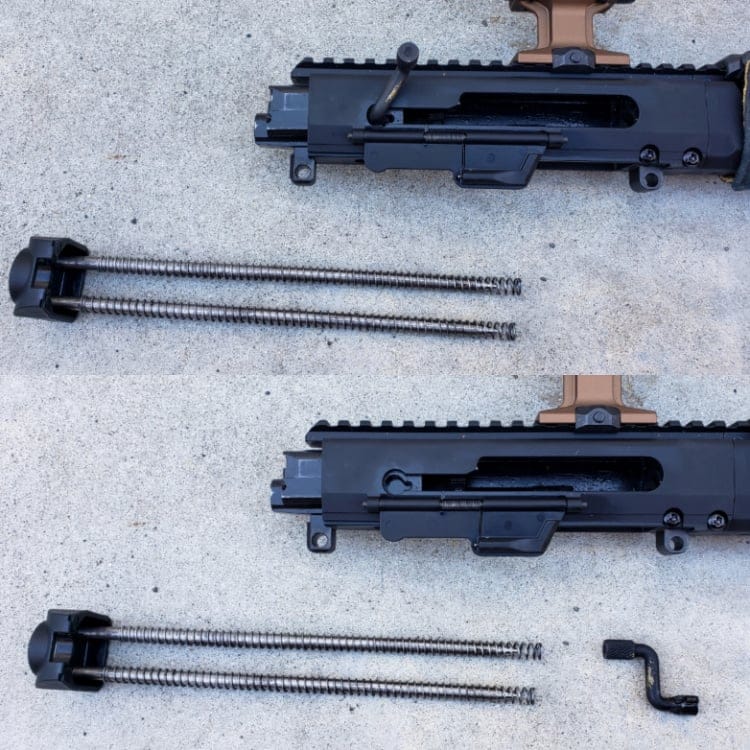 Once the buffer and springs are out, you can move the charging handle all the way to the rear and you'll be able to pull it straight out of the bolt. The bolt will come straight out the back of the receiver and that's it when it comes to taking it down for a field strip to clean.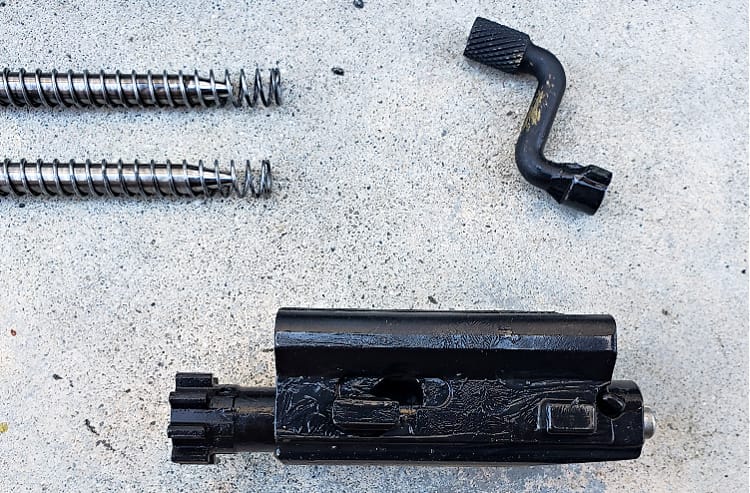 The Brownell's BRN-180S Gen2 upper in .300 AAC Blackout goes for $899 on their site. That might not fit into some budgets but it is a fair price for a high-quality upper that provides a simple way to turn your 5.56 AR Pistol into a .300 Blackout platform.
It also has a retro-but-modern look. If you want a folder that can fire from that position as a truck gun or PDW, the BRN-180S would serve well in that role. Brownell's did an excellent job with PWS and FM Products in making something from history with the AR-180 and bringing it back with modern features to the overly crowded AR-15 market. It is a very functional retro style weapon system that is also practical for the end user.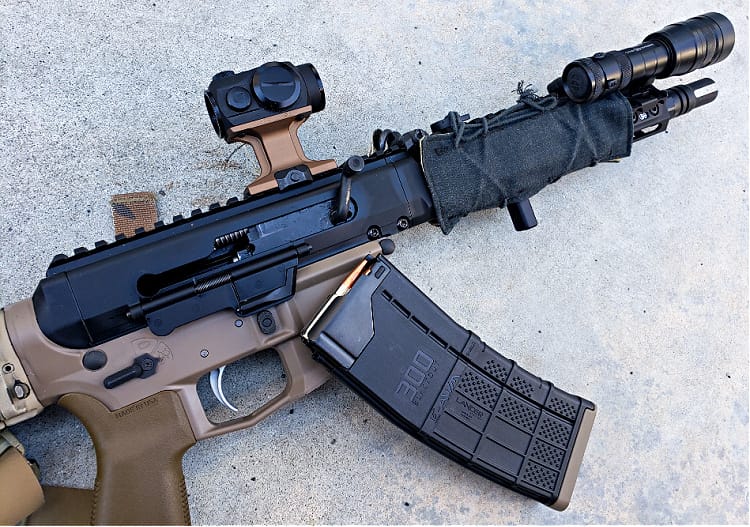 Okay, you've gotten to the end! If you follow my Instagram page @fiftyshadesoffde closely, you'll already know some of this. I just reached over 90,000 followers on my account and have been working on the biggest giveaway that I've ever done. Most of the products you read about will be in it. That includes the BRN-180S Gen2 upper, yes you read that right!
I'll be sending off the same upper I used for this review along with most of the accessories on it. Primary Arms has sent in a new ACSS Micro and Reptilia Corp sent in their DOT 1.93 mount and CQG grip. There will be a lot more prizes included. I will be announcing the giveaway once it's ready and finalized in a few weeks. The best place to be informed is on my Instagram page! Thank you for your support and to all the great companies that are sponsoring this. This is my way of showing how much I appreciate you all!