Weird guns are my all-time favorite guns. Normal guns bore me rather fast. I like the weird, the silly, and sometimes impractical. I also own a good variety of weird guns. Some of them absolutely suck coughUSFAZIPGuncough, but others do this crazy thing where they actually work. These weird guns may not always be immensely practical, but they actually function as intended.
Being weird is easy, but becoming one of the best weird guns is a slightly tough conundrum. You don't have to be a practical weapon designed to revolutionize the firearms world. All you have to do is be weird and function as the designer intended. It's not about beating the Glock 19 as a handgun, but about being frustration-free and going bang when the trigger is pulled… and sometimes when it's released.
I've written about weird guns before, but these are the best weird guns I actually own and use.
Altor 9mm Single Shot Pistol
Single-shot pistols are not inherently weird, but the Altor 9mm is a weird one. A single shot 9mm is an odd duck, but it's not the first of its kind. What's weird about the Altor is what makes it great. Single-shot firearms are simple, but the Altor is simpler than most. It consists of six parts in total. That's what makes it so cool and one of the best weird guns out there.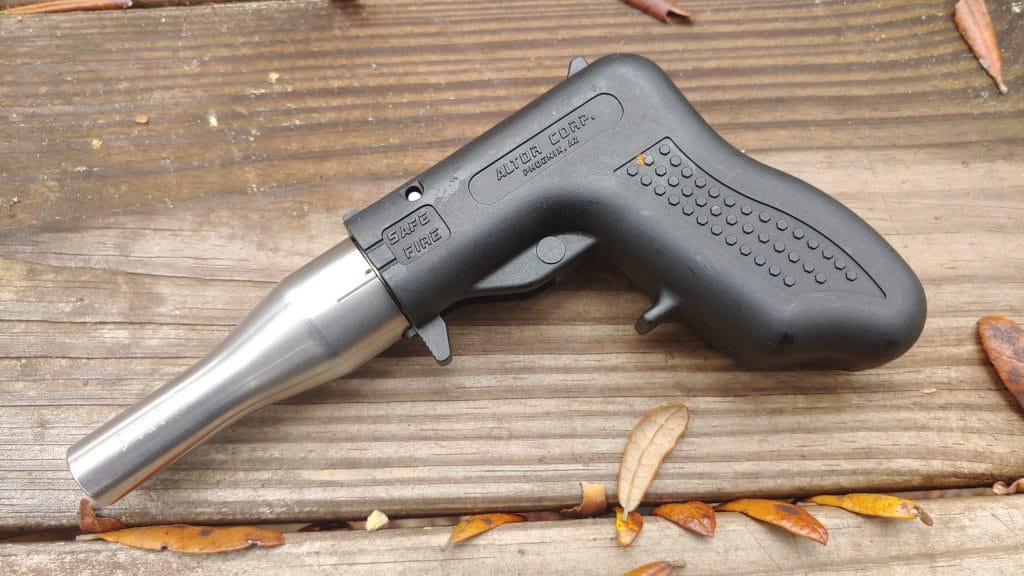 Another major weird factor is that this is a quasi slam fire gun. When you pull the trigger fully to the rear, the gun doesn't fire. Nope, it's not until you release the trigger that it fires. Interestingly this trigger takes part of the human element out of it. You can't fudge your trigger pull. Pair that with the fixed barrel, and the gun is surprisingly accurate. Once you get used to the trigger, it's easy to score tight little groups.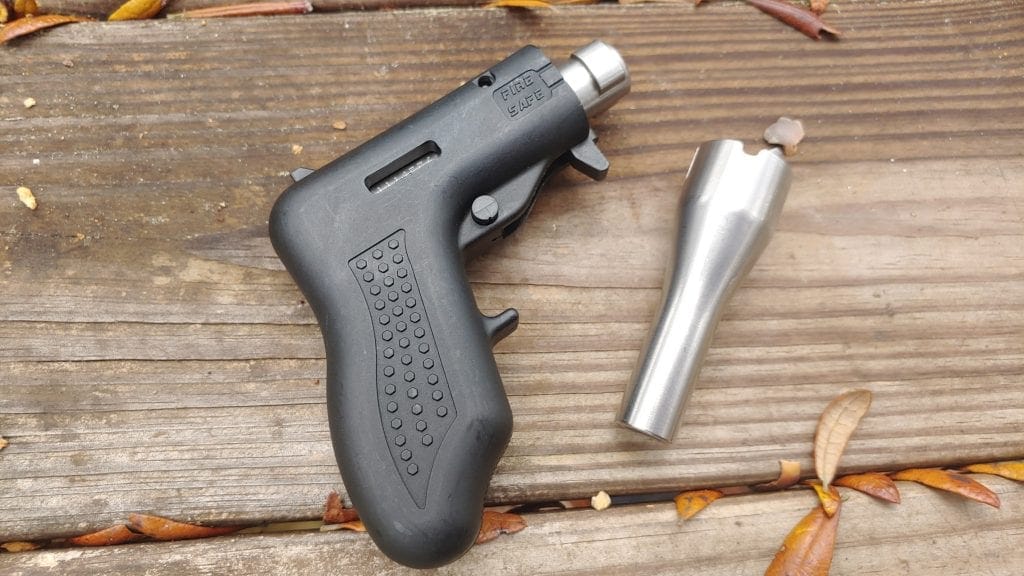 One weird trait is that it looks like a hot glue gun! It's non-threatening in appearance, and there is some degree of usefulness there. We are doing a full review of the Altor single shot 9mm soon, so be on the lookout for that.
The Kel Tec Sub 2000
The only reason anyone thinks the Sub 2000 is anything but weird is that it's been around for 20-something years. If KelTec introduced the Sub 2000 this year, people would lose their minds. It would be both loved and hated. A PCC that comes in 9mm and 40 S&W and takes magazines from Glock, Smith and Wesson, SIG, CZ, and Beretta—and it folds in half.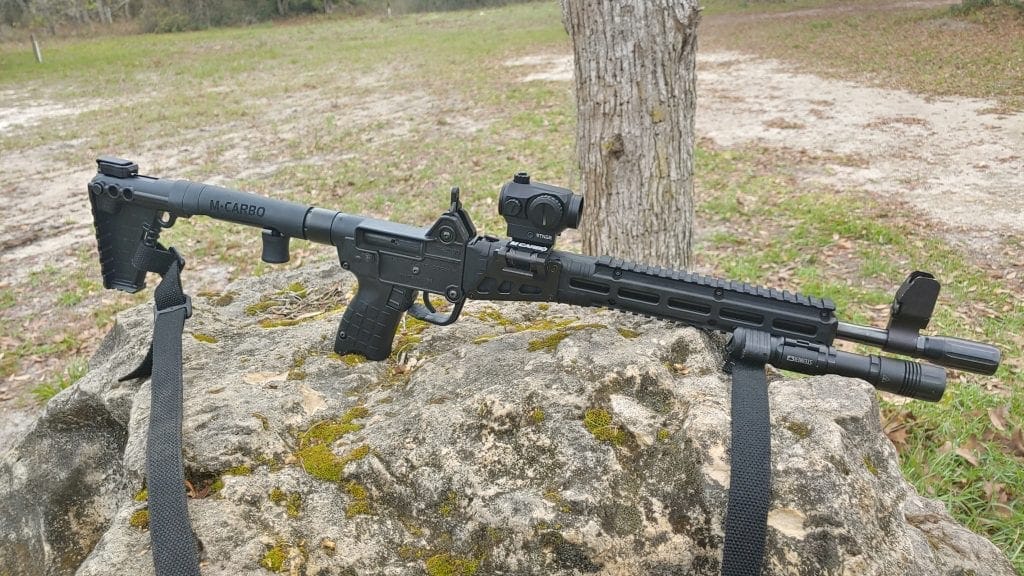 It's genius but bizarre and ultimately one of the best budget PCCs on the market. The Sub 2000 is built in the states but is sold for less than 400 dollars under normal circumstances. It's fun to shoot, very easy to use, and super small and lightweight. The folding nature makes the gun easy to pack for traveling, and it can fit in something as small as a briefcase.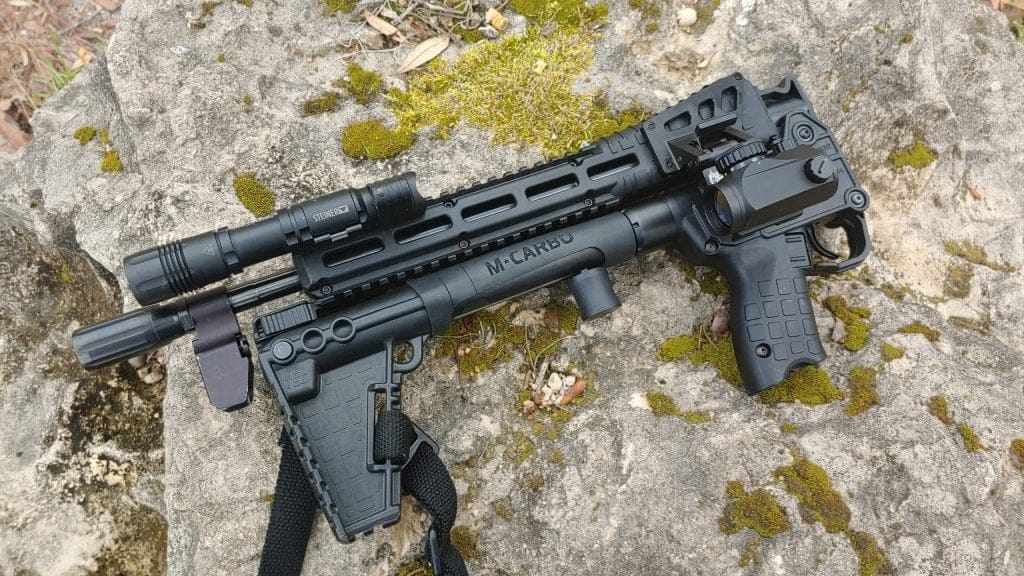 Also, of my best weird guns, this one is the most practical. It's a semi-auto PCC that is well suited for self-defense and home defense. It's accurate, reliable, and the gen 2 model ratcheted up the modularity factor to 11. An MLOK handguard, a threaded barrel, and an adjustable stock make it easy to fit for everyone. It's a weird gun, but a good weird gun.
Henry Axe
Lever action shotguns are odd, not weird. Winchester developed one in the late 1800s, and they've come and gone over time. What is weird is a lever-action firearm that fires shotgun shells but technically isn't a shotgun. The Henry Axe is a lever-action .410 firearm that is riding in on the wave of success created by the Mossberg Shockwave.
It's a firearm that has never had a stock, and by definition, a shotgun had to have had a stock. This ensures the Henry can have a short barrel without it being an NFA weapon. The catch is the gun has to be longer than 26 inches. Our Axe has a 16-inch barrel with an overall length well beyond 26 inches due to the ax handle grip.
Henry's lever actions are smooth and fun to use, and the Axe is no different. This fella weighs over 7 pounds and eats up 410 recoil without much of a fight. It's a blast to shoot and is easily my most fun of my best weird guns.
The Kel Tec KS7
Okay, another Kel Tec, but honestly, weird guns are Kel Tec's bread and butter. The KS7 is a bullpup, pump-action shotgun based on the KSG series. The difference is the simplified design of the KS7 with its single tube. The KS7 beats the KSG as far as weird guns go, mostly because the KS7 has a slightly weirder design.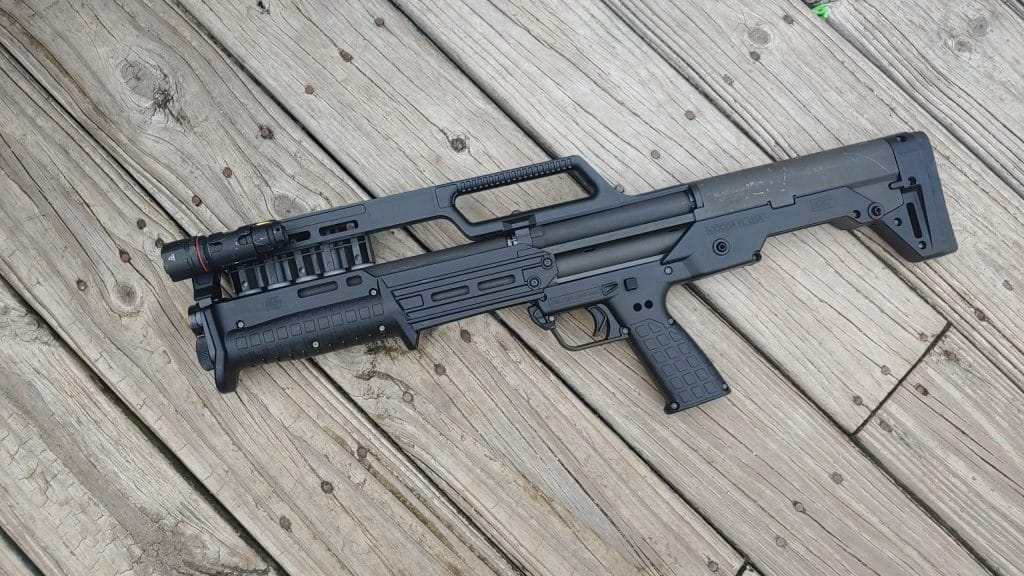 The massive carry handle is a retro throwback to the guns coming out of the cold war. Like those guns, the carry handle contains the front sight too. Old meets new with the carry handle's inclusion of M-LOK slots for accessory attachments. Lights, lasers, and even a side saddle can be added to the carry handle.
Beyond that, the layout and design are ultra-thin and space-age-like. It would be a great gun for a universal space force spreading American influence on the moon and beyond. On Earth, it's a weird gun that satisfies a weird urge to bullpup a shotgun. This might be my personal favorite of my best weird guns, but that's because I have a bias towards shotguns.
The LifeCard by Trailblazer
How about a gun that folds in half but is a single-shot 22LR, and when it folds, it becomes roughly the size of a credit card. Obviously, it's thicker than a credit card, but it's approximately the same width and height. The LifeCard is a unique design, and it's the most compact of firearms on this best weird guns list.
It's bizarre and has limited utility, but man, is it well made. Trailblazer put a ton of effort into this design, and the quality is absolutely outstanding. The LifeCard unfolds and folds with ease. You can bring it into action and fire 22LR at your heart's content. This gun is small and light, and believe it or not, and it actually generates recoil, which is rare for anything in 22LR, but that shows how lightweight the weapon is.
James Bond would appreciate this design. It's the deepest of concealed firearms. It's not just small and light, but the rectangular shape doesn't shout gun. It doesn't print like a regular gun, and you could open carry it (where legal), and no one would ever know it was a gun—at least when it's folded. It can be unfolded quickly, but drawing a standard gun is much faster.
The utility might be limited, but the coolness is not.
The Best Weird Guns and I
Weird guns are just so fun. I love when I see companies release weird guns across the market. I like building practical skills that improve my marksmanship, speed, and ability to protect myself and my family. However, I also like shooting for fun and weird guns give me that. They break the ole AR and striker-fired polymer pistol mold. Sometimes, admittedly, they suck. But when they are fun and frustration-free, they end up on my list of best weird guns.