We live in a fast-moving world. Technology constantly refines, shrinks, and gets better. In the gun world, we've seen a massive shift towards pistol red dots. Not only do we have more red dots than ever to choose from, but we also have optics-ready pistols than ever. In fact, if a gun doesn't have an optics-ready option, it's almost obsolescent from the start. We've gathered the five best pistol red dots on the market, broken down by their intended use and where they shine.
Why Pistol Red Dots?
Maybe you're unconvinced, and you're not sure you need a fancy-dancy pistol red dot. I'm unlikely to sell you on the idea. It's really something you need to go out and see and experience for yourself. My experience with pistol red dots has been nothing but beneficial.
I've found that pistol red dots expanded my effective range and accuracy. I've been able to hit steel gongs at 50 yards with a subcompact pistol wearing a pistol red dot. Putting a red dot reticle on a target is much faster than aligning sights and makes it easier and faster to engage targets with. Overall, a pistol red dot is a more efficient sighting system that's more intuitive than standard iron sights.
1. Duty Pistols — Trijicon RMR
There is no pistol red dot more proven than the Type 2 Trijicon RMR. This little optic-that-could has been the most issued series of pistol red dots for police and military forces, including the United States Special Operations Command.
The Trijicon RMR Type 2 fixes a few issues the Type 1 had on the reciprocating slides of pistols. It can withstand the force of recoil and is well known for its extreme durability. The Trijicon RMR presents a series of pistol red dots that can shrug off shock and water. In fact, it's durable enough to be submerged in 20 meters of water.
Beyond that, the Trijicon RMR provides a ton of different options in terms of color, reticle size and use a dual fuel option that utilizes a battery and solar power. The Trijicon RMR provides shooters, police officers, and soldiers with a rugged and dependable sighting option for their duty handguns.
2. Budget-Friendly / Carry Worthy — Sig ROMEO1PRO
The Trijicon RMR is tough enough for duty use, but does everyone need that degree of strength?
Concealed carriers live a far smoother life than cops and soldiers and might want an optic that's carry-worthy but a little more budget-friendly. The Sig ROMEO1PRO provides shooters with a rugged and reliable red dot compatible with a metal shroud for enhanced durability.
The ROMEO1PRO proved to be quite rugged in my testing and provided me with an optic designed perfectly for compact carry pistols. It's also chock full of features that make it worth the rather modest price tag. We get a huge window, a clear and crisp red dot, and Sig's MOTAC technology which automatically turns the optic off when it doesn't detect movement for a short period of time. As soon as the optic senses movement, it springs back to life.
For the money, these are awesome pistol red dots. It's become a permanent contribution to my Sig P320. Even after all the abuse I put it through, it works perfectly fine with nary a scratch. Plus, it's relatively affordable. It's tough enough for concealed carry and doesn't break the bank.
3. Subcompact Pistols — Holosun 507K
If you are looking for teeny tiny pistol red dots, your choices are limited. Holosun's little 507K came out of nowhere and quickly took the crown of being the most durable and capable option. It might be unseated as this genre grows, but for now, it's the beast to beat. The little 507K comes made from aluminum, packs a multitude of settings, easy-to-use controls, and even multiple reticles.
The 507K fits the Shield RMSc footprint and works with optics like the Glock 43X and 48 MOS series, the Walther PPS M2, and the P365 series of pistols. The little red dot provides a 1 MOA dot, a 32 MOA circle, or a combination of the dot and circle as reticles.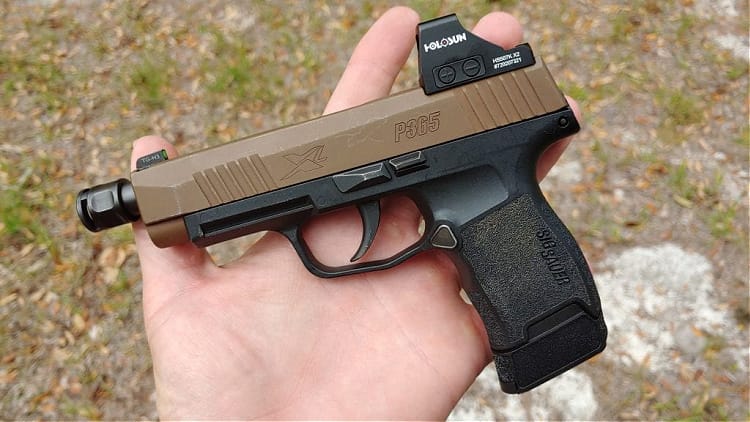 The bigger 32 MOA circle makes it really easy to see and is perfect for those close-range shots you'll often take with a concealed carry pistol. I even like using the bottom stadia to compensate for mechanical offset at super close ranges. Outside of the reticle, a notch in the rear makes it easy to use the optic as a rear iron sight, and it sits low enough to work with most stock front sights.
4. Sporting Pistols – Tasco ProPoint
Sporting pistols are often handguns used for small game hunting, plinking, and informal competition. Guns like the Ruger Mk series, the S&W Victory pistols, the KelTec CP33, and other similar, often rimfire designs qualify as sporting pistols. Most come optics ready with Picatinny rails across the top of their pistols.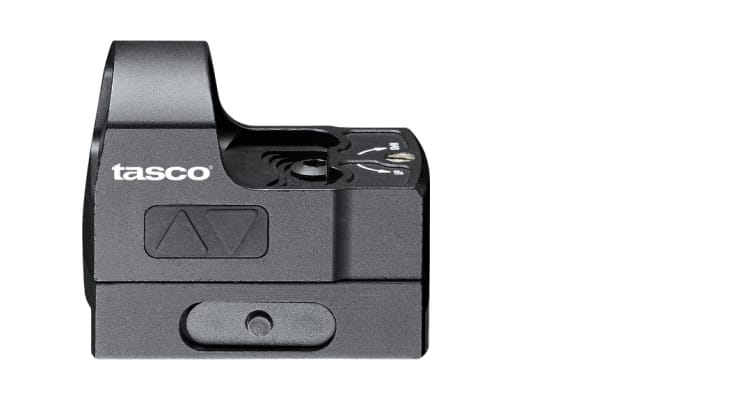 As such, you'll need an optic that's Picatinny ready, and the Tasco ProPoint reflex sight is an excellent option. This budget-friendly red dot isn't made for Navy SEALs clearing buildings but for shooters who desire a simplistic red dot for their sporting pistols.
It packs a 4 MOA dot that is nice and easy to see. It's a big enough dot that's easy to see and easy to use. It's perfect for plinking at cans and small game hunting. The lenses are crystal clear, the mount works easily, and simple ergonomics. The Tasco ProPoint retails for less than a hundred bucks, and it's tough to beat when it comes to sporting pistol red dots.
5. Large Format Pistol — Holosun HE509T
What's a large-format pistol? Oh, you know, those guns that look like SMGs but lack stocks due to the NFA. Guns like the Ruger PC Charger, some of the CZ Scorpion series, and CMMG Banshee series guns. These guns can't be holstered or easily protected from the environment, so we turn to an enclosed emitter optic. The HE509T from Holosun offers shooters a miniature red dot sight that's completely enclosed.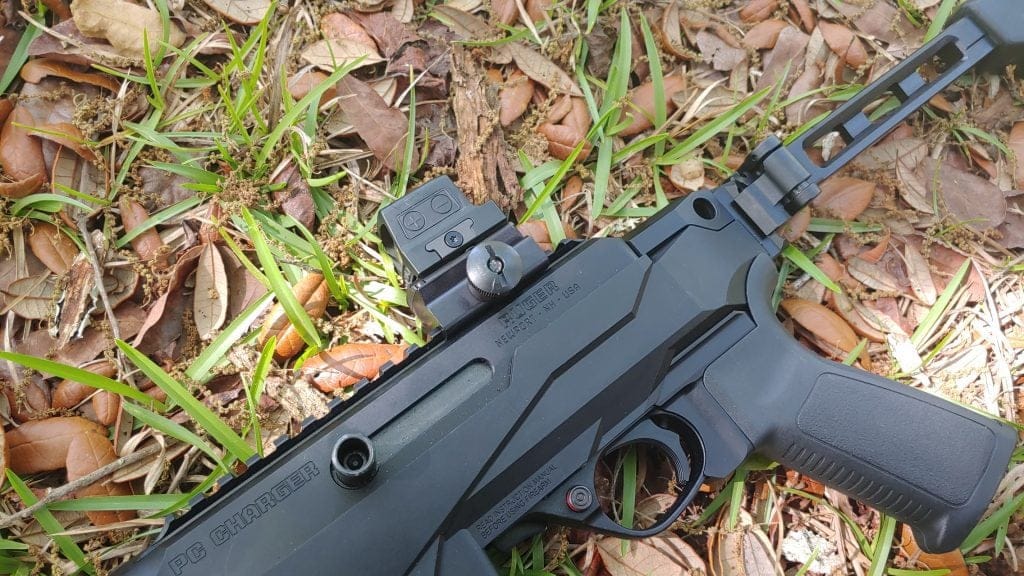 On large-format pistols, an open emitter can work okay, but the open emitter opens up the possibility of junk introducing its way between the emitter and the lens. The HE509T series of pistol red dots prevent this from happening. The little 509T grants you both battery and solar options, large buttons to control the optic, and a Trijicon RMR footprint.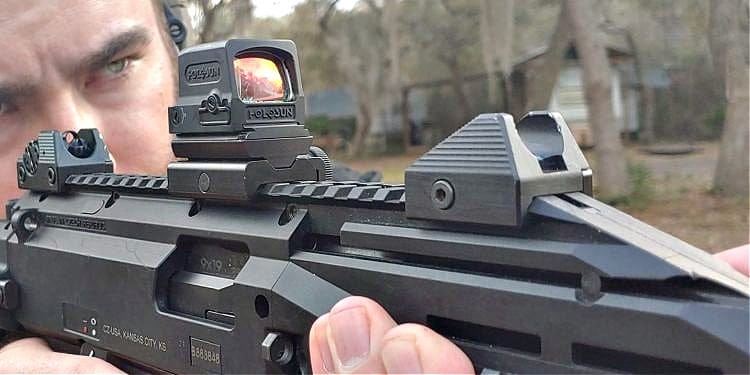 That footprint makes it perfect for finding heights of multiple mounts at different heights to accommodate mounting the gun to nearly any firearm. It a natural fit on my large format pistols, and like most Holosuns, it punches above its price point.
Pistol Red Dots And You
If you've never taken pistol red dots for a ride, I suggest you jump on it. With just a little practice, I'm betting you'll find yourself rather impressed by the prowess a red dot adds to your pistol. You'll shoot faster, further, and with more precision. What's not to love?
What are your feelings about red dot handguns? Let us know below!