I love drums, a lot. Even though I don't have a practical use for them, I adore them. I own one for my Glock in 9mm, as well as one for my ARs, and of course, I have one for my Draco AK pistol. I've been impressed by KCI drums in the past and the reason why is their affordability. I don't use drums for serious tasks or any kind of competition. I use them for fun and as a fun gun item I'm not looking to spend a ton of money on them. This is why KCI's AK drum appealed to me.
Reliability
I wanted a fun drum for the range that wouldn't give me headaches and frustrations. I don't need a drum to hump in the mountains of Afghanistan and fight off the Russians. For range purposes, the KCI AK Drum functions like a champ. I'm not climbing through mud, or fighting in a building with it.
The KCI AK Drum is reliable for range use. I've dumped hundreds of rounds through it, and its the drum I've owned the longest. The damn thing just works and works. I will say the hardest part is loading it. It's the only magazine I've ever received that needed instruction manual. You have to line things up just right and drop rounds in one by one. It's fairly quick and easy once you get used to it. You can load a drum in just a few minutes once the follower is in place.
Failures wise, I'm at three failure to feeds with the first round. You have to make sure the spring is sufficiently wound. Three complete rotations is a must for the drum to function effectively. If you don't, the first round won't be high enough to catch the bolt and chamber.
Also, to keep the drum reliable, never store the drum with the spring wound. That's what is great about rear loading drums. They can be stored loaded indefinitely since the spring can be unwound. This makes the drum incredibly reliable.
Fitment and AKs
AKs are notoriously fickle with different magazines. With so many countries making slightly different spec AKs mag fitment can be odd. With over a dozen countries producing guns or parts kits, not to mention the do it at home 80 percent lower crowd. Some fit tight and some fit loose, and some just don't fit. The KCI AK Drum fits my Draco AK pistol a little tight, but it fits. It will not fit my SIG 556R rifle. In the Draco with the old school SB Tactical brace, this is such a fun gun. It gives the Draco a modern Tommy Gun look. Additionally, the drum fits perfect in a friend's PSA AK rifle. Online it appears the AK drum fits WASR models as well as NPAP AKs to varying degrees of tightness. However, it fits.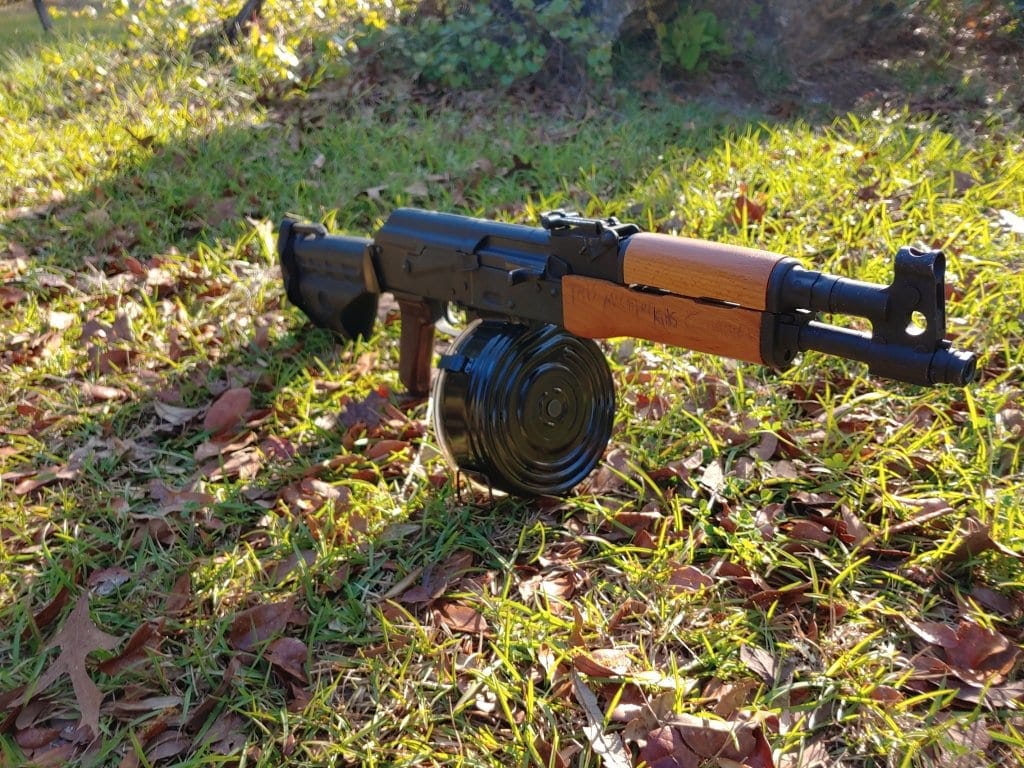 The KCI AK Drum In Action
Once all 75 rounds of AK ammo are shoved into the drum, it's time to hit the range. As you could expect, this is a bit heavier than a standard magazine. The rear cover of the KCI AK drum is a clear polymer. I prefer all metal, due to paranoia, but the polymer feels strong and has been reliable. The clear design does allow you to see the amount of ammo you have left in the drum.
This is admittedly pretty handy when it comes to dumping rounds at the range. If you run into a malfunction there is no tap, rack, bang to get things fixed. You gotta take things apart and get everything in place. You'll likely have to remove the magazine and open up the back cover to remedy the error.
If your rounds are placed correctly in the drum, and the spring is wound at least three times, the drum should feed fine. I've yet to have issues once I learned exactly how to load the drum. It's an absolute blast and an excellent tool for range time fun. Topped in something like a Draco and is incredibly ridiculous and tons of fun. While it's a Koren drum, loaded into a Romanian weapon, it's 100% America awesome.