If you asked a random person for the name of a famous gunfighter or Old West lawman, odds are good they'd come back with Wyatt Earp or maybe Bat Masterson. After all, some names are better known than others, despite the importance of certain people in history. One such person who is all too frequently overlooked is Bass Reeves, the first African American Deputy U.S. Marshal west of the Mississippi. Interested in learning more about one of the coolest marshals in history? Read on to find out who he was, what he did, and what makes him noteworthy.
Who is Bass Reeves?
Bass Reeves was born a slave in 1838 in Arkansas. According to historical records, he was named after his biological grandfather, Bass Washington. It seems like there aren't any records of Reeves' family, so beyond the knowledge that he was born into slavery and that he and his family were owned by Arkansas State Legislator William Reeves, not much is known. As you might have guessed, his surname was taken from his owner's last name rather than from that of his biological family.
When Bass was around eight years old, William Reeves moved his family and slaves from Arkansas to Texas. That was in 1846, and when the Civil War got underway in 1861, William Reeves' son George apparently joined the war and took Bass with him. This means Bass Reeves was somewhere around 28 years of age when he escaped slavery. How this happened is a matter of some debate.
According to some sources, Bass and George were playing cards one night during the war and got into a physical fight. Those people claim Bass beat George senseless, then ran off. Others say Bass simply escaped with no fight as a precursor. Regardless, he spent time living in Oklahoma, which was then known as Indian Territory. While living among the Seminole, Cherokee, and Creek Indians, Bass learned their languages and acquired skills in tracking. His firearms skills were also improved during that time.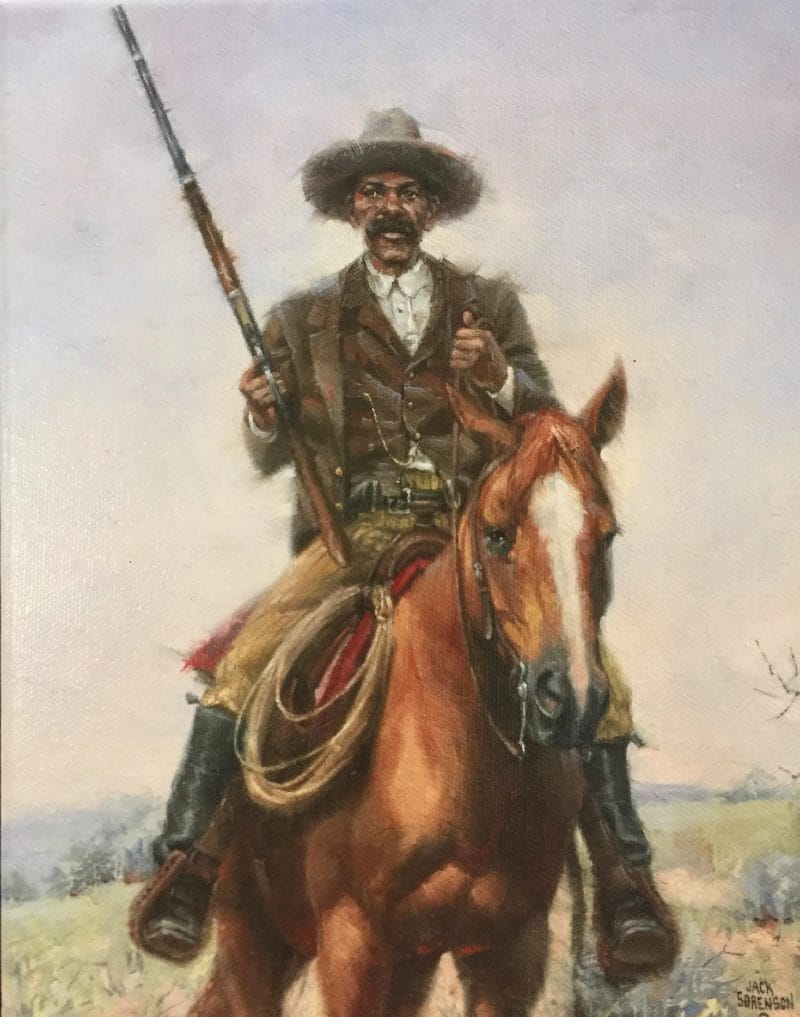 In 1863, President Abraham Lincoln issued the Emancipation Proclamation "that all persons held as slaves" within the rebellious areas "are, and henceforward shall be free." Of course, that was a military measure and didn't end slavery, but it did lay the groundwork for what was to come. It was 1865 when the Thirteenth Amendment abolished slavery, and historians largely agree that is when Bass chose to leave the Indian Territories. At that point, his life began its shift into law enforcement, but it would be another decade before he got deeply involved.
Deputy U.S. Marshal
From 1865 to around 1875, Bass raised a family. He married Nellie Jennie, had five girls and five boys, and settled into farm life in Arkansas. Many historians believe Bass was already serving as a guide for the U.S. Marshals in the interim time. Then, in 1875, his life changed even more drastically.
The Federal Western District Court moved near Bass's home in Arkansas, and Isaac Parker was appointed judge in 1875. Up to that point, there'd been no federal jurisdiction in the Indian Territories, and the entire area was filled with killers and thieves avoiding the law. Due to the incredible lawlessness that had grown in the Indian Territories, Judge Parker made his first act appointing U.S. Marshal James Fagan to oversee 200 deputies, all of whom he'd have to first hire. Fagan had, of course, heard of Bass' incredible knowledge of the area and his ability to speak multiple languages, which put Bass on the list of men to hire without delay.
Bass began riding through the area apprehending outlaws. He was joined by famed lawmen such as Heck Thomas, Bud Ledbetter, and Bill Tilghman. The area covered by the aforementioned court spanned 75,000 square miles, and it was an enormous undertaking for the lawmen to attempt to clear it of wrongdoers.
Legends of America gives the following account of one of Bass Reeves' apprehensions (remember, dead or alive):
One of the high points of Reeves' career was apprehending a notorious outlaw named Bob Dozier. Dozier was known as a jack-of-all-trades when it came to committing crimes, as they covered a wide range from cattle and horse rustling to holding up banks, stores, and stagecoaches; to murder and land swindles. Because Dozier was unpredictable, he was also hard to catch, and though many lawmen had tried to apprehend him, none were successful until it came to Reeves. Dozier eluded Reeves for several months until the lawman tracked him down in the Cherokee Nation. After [Dozier refused] to surrender, Reeves killed Dozier in an accompanying gunfight on December 20, 1878.
The hardest apprehension of Bass' career was likely that of his grown son, Bennie. While Bass was out in the field catching criminals, a warrant was issued for his adult son, who had allegedly murdered his wife in a fit of rage. The warrant sat untouched for days because the other lawmen weren't comfortable going after Bass's own son, so when Bass returned to the office, he requested to take it for himself.
He did, indeed, locate his son and return him to the court. Bennie Reeves was tried, convicted, and sentenced to prison. Eventually, Bennie was freed as a result of his own good behavior and a citizen's petition, and according to historical records lived out the remainder of his days as a law-abiding man.
Was Bass Reeves the Lone Ranger?
Many theories abound regarding the idea that Bass Reeves was the inspiration for The Lone Ranger. He was, after all, described as constantly riding a "white stallion" when chasing bad guys and his exploits were legendary.
In 1907, an Oklahoma City newspaper mentioned Bass:
Eighty miles west of Fort Smith was known as "the deadline," and whenever a deputy marshal from Fort Smith or Paris, Texas, crossed the Missouri, Kansas & Texas track, he took his own life in his hands, and he knew it. On nearly every trail would be found posted by outlaws a small card warning certain deputies that if they ever crossed the deadline, they would be killed. Reeves has a dozen of these cards, which were posted for his special benefit. And in those days, such a notice was no idle boast, and many an outlaw has bitten the dust trying to ambush a deputy on these trails.
Bass was known among fellow lawmen as a force to be reckoned with and a man to be trusted. When he passed away in 1910, he went down in history as the most effective marshal ever in the Indian Territories. He'd brought in more than 3,000 criminals, many of which he caught by disguising himself, and believed firmly in the importance of duty. Was he the Lone Ranger? We like to think he was, but even if he wasn't, he remains one of the most courageous U.S. Marshals of his time.