Today we're going to take a look at a stock from a company called B5 Systems. It is called (simply and accurately) the Precision Stock. Just a quick glance will tell you why. The B5 Systems Precision Stock has adjustments for the length of pull (LOP) of the butt pad and for the cheek piece, along with some other interesting features.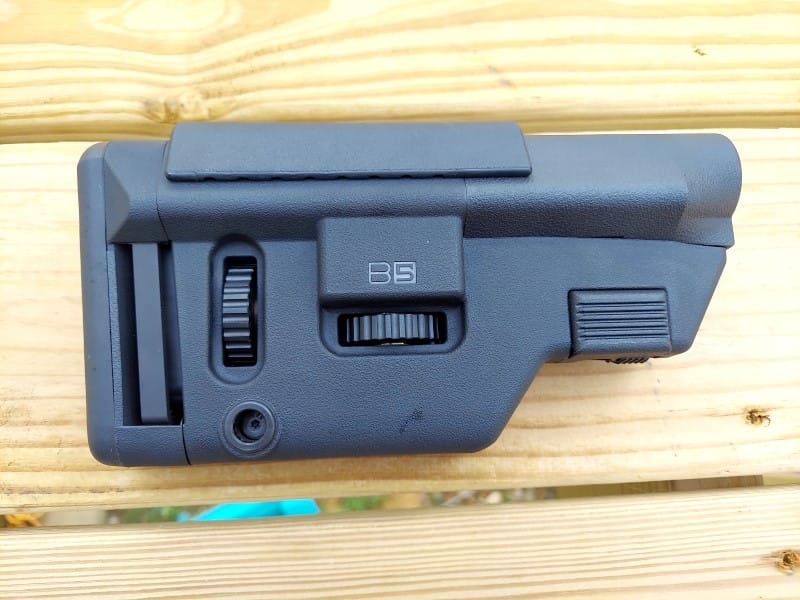 B5 Systems was founded in 2008 and they manufacture gear for Defense and Aerospace. They offer a range of products for firearms (mostly AR-15 type), including stocks, pistol grips, hand guards, and trigger guards, among others.
B5 Precision Stock: Handicaps & Installation
Before we get into it, let me explain something. I am a mechanical moron. Switching out a simple pistol grip or buttstock (and let's not even talk about more involved tasks around the gun bench) can fill me with a sense of foreboding. I'm here to tell you that my reservations for this project were totally unfounded. A quick YouTube search showed me how simple and easy it is to pop off the telescoping buttstock from my AR15 carbine.
If you're like me, you can relax.
I then picked up the Precision Stock and looked into the tube which attaches to the receiver extension on my AR and saw immediately that there is a tab that pulls down so that it will slide right onto the receiver extension of the carbine. The entire process, even for my dumb ass, takes mere seconds! Note that the stocks I received did not come with directions. To be fair, I don't really think any are needed to install them, particularly if you have any experience with AR style rifles.
B5 states that the stock is MILSPEC and fits MILSPEC receiver extensions.
Features and Adjustments
As mentioned, the Stock has an adjustable cheek piece. To adjust, the user simply turns a dial that has positive clicks until the cheek piece is at the desired height. The stock and dials appear to be made from polymer and are sturdy.
The butt pad adjusts the same way – with a dial. These adjustments occur in small increments, as in fractions of an inch. That gives the user the ability to get a perfect adjustment. This is especially nice if you frequently change out gear (like plate carriers, etc.) Also, with the change of seasons, we often go to lighter or heavier clothing, which can necessitate adjustments. With this stock, these are made easy and simple.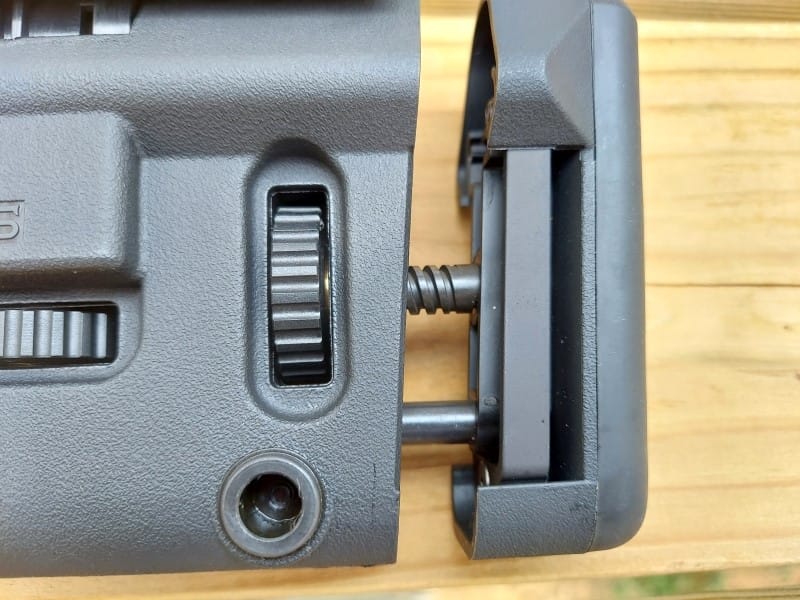 There are internal tensioners inside the stock, which help to keep things nice and stable, so the stock doesn't develop wobble. On my sample, they seem to work very well.
Also of note is that the butt pad has what I'd describe as a hard, rubbery quality to it. It does not appear that it will snag on clothing, but it should give a little padding for your shoulder.
Other Features
At the rear base of the stock are holes that will accept ambidextrous quick disconnect sling mounts. There is also an underside M-LOK accessory mount should the user decide to install a monopod. B5 also says that this stock will clear the M-4 charging handle.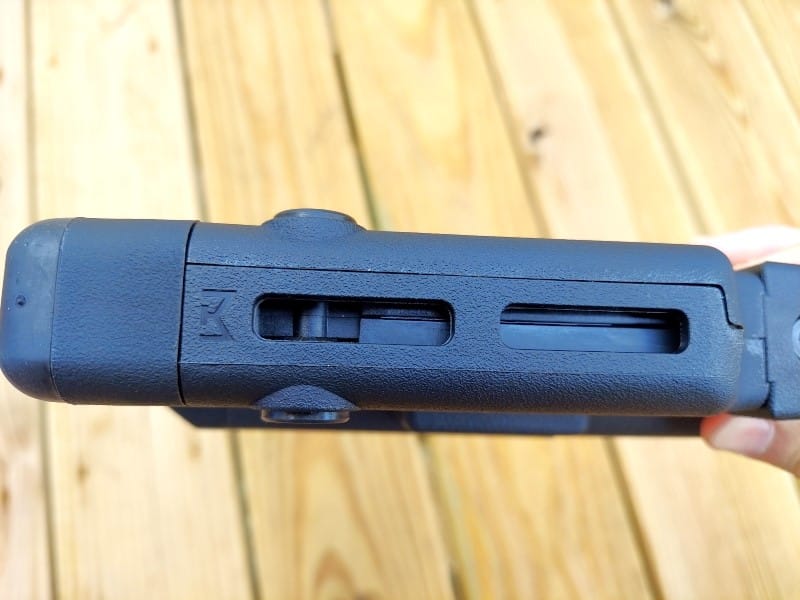 There are also fixed sling mounts toward the rear of the stock, which is a nice aspect.
There is also a pull-down adjustment lever so that the stock can be slid on the receiver extension like a telescoping stock. It can then be locked into place via a small tab. This is great, because you can get the stock into the rough length that you desire, and then fine tune the adjustment via the dial at the butt pad.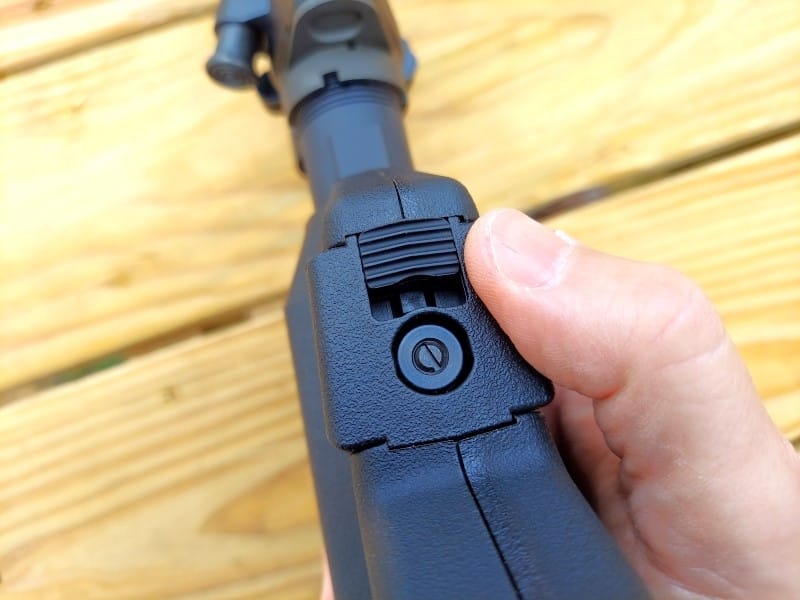 Tech Specs
-Weight: 20.65 ounces.
-Length: 8.5 inches.
-Width: 2.00 inches.
-Height: 4.35 inches.
It appears to my eye that the adjustments, both the length of pull and the cheek riser, allow up to 1/2-inch of movement.
Colors
My stock came in black, although other colors are available: OD Green, Flat Dark Earth, Coyote Brown, and Wolf Grey.
Notable Impressions
The stock is not a lightweight, flimsy affair; rather, it is solid and has a little weight to it. If you're looking to shave every possible ounce of weight off your carbine, don't buy this stock. If, on the other hand, you're after something that is robust, this is the one. Because of the weight factor, some people might not want to mount it on a carbine, although it will certainly perform well.
An area where this stock will really shine is if you're running an optic, especially a variable power optic. Often, the standard carbine stock does not provide the greatest range of adjustment. As well, the cheek weld is sadly lacking, especially if you're trying to line your eye up with that scope. The Precision Stock eliminates that issue altogether.
Yes, you can often slide by without a perfect cheek weld, but it equates to you fighting your gear. This translates into extra fatigue. And if you're observing a target for hours on end, you really don't need extra fatigue. You're going to be tired enough by the time it's all over.
Having gear that works in harmony with you is oh-so-satisfying.
Performance-wise, you will be able to acquire a sight picture through your scope much more quickly with that proper, consistent cheek weld. And speed can mean life in serious situations.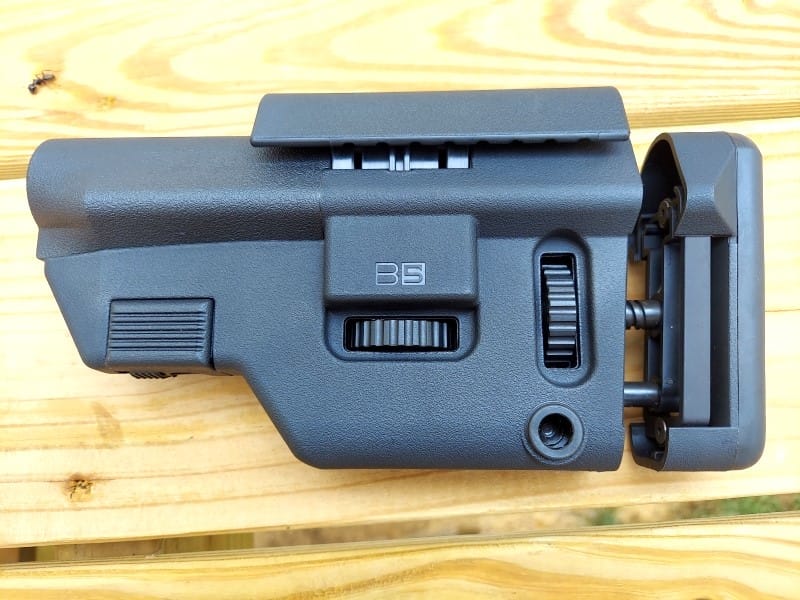 One feature that I like is that there is a cutout on the bottom of the stock that creates a sort of shelf that you can use for your support hand to pull the stock into your shoulder to further stabilize it. This is a great feature and shows attention to detail and that the company is thinking about the end user.
B5 Systems Precision Stock Installation
Removing the old stock and installing the B5 could not have gone more easily! You know the lever that you squeeze to adjust the standard carbine stock? Simply pull it down the opposite way and slide the stock right off. It takes about five seconds, if that.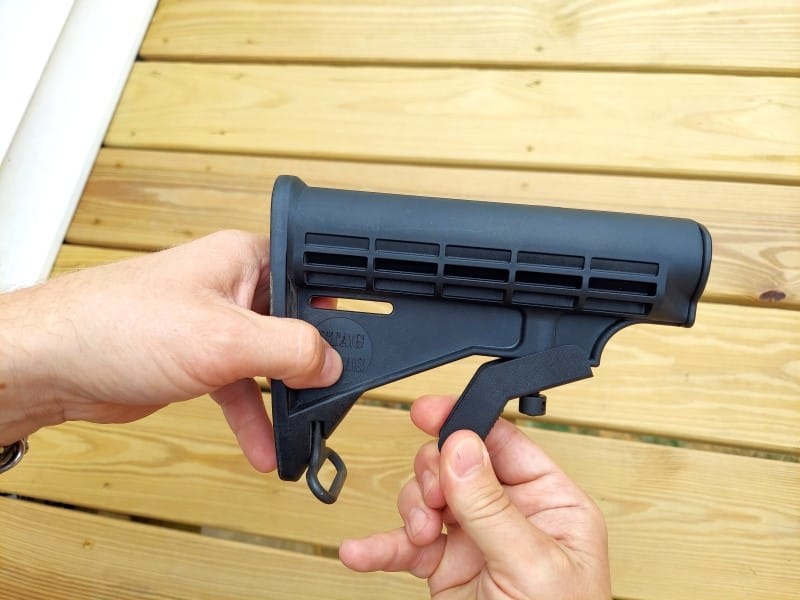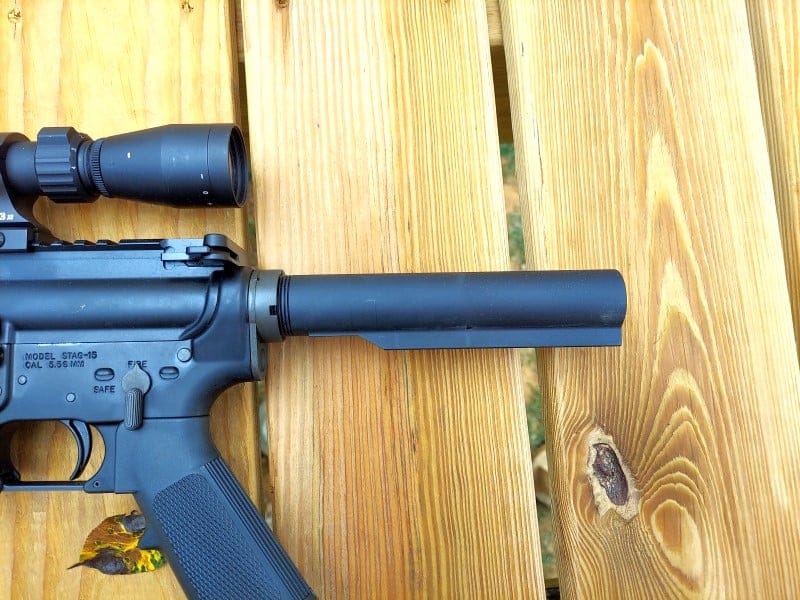 The B5 Systems Precision Stock is installed by pulling down on the tab at the bottom front of the stock – it works in the same fashion as the original carbine stock, it just looks differently. Once you have the stock in the position that you want it, slide the little lever forward to lock it in place. Installing the stock took about five seconds, literally.
How Does It Work?
In a matter of about a minute, I had the cheek piece adjusted, as well as the butt pad, to suit my needs. It's very easy and straightforward.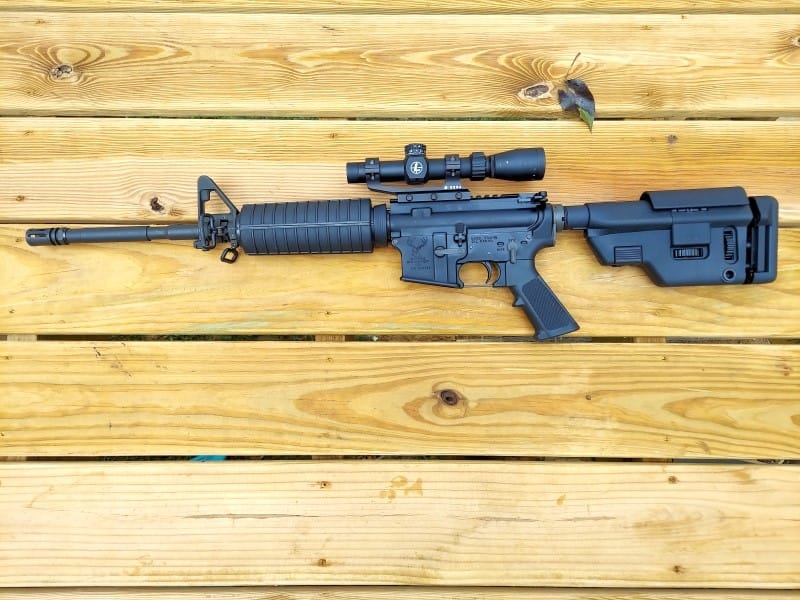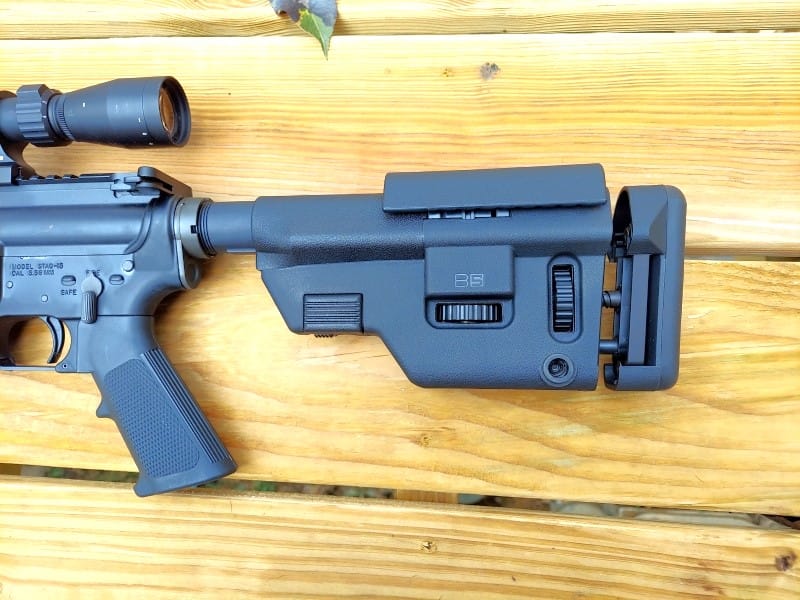 Does the stock make a different? Wow. Does it ever!
Compared to the standard carbine stock, this Precision stock is like night and day. Now as soon as I bring the carbine up, I get a perfect sight picture with my scope (a Leupold Mark AR 1.5-4x20mm scope) instantly.
I cannot imagine how this would not be the case on any scope or LPVO.
With the old carbine stock, it took me a little bit of time to adjust my head to the point where I'd get a proper sight picture. Even when I got it, it was a little wobbly, as I didn't have a rock-solid cheek weld, so I sometimes invested more time in reacquiring a sight picture after the initial one. To be honest, I really didn't realize how inefficient the standard carbine stock was. I knew it was a pain to use with the scope but installing this upgrade made me realize just how poorly the old one is.
Sometimes you don't know what you don't know.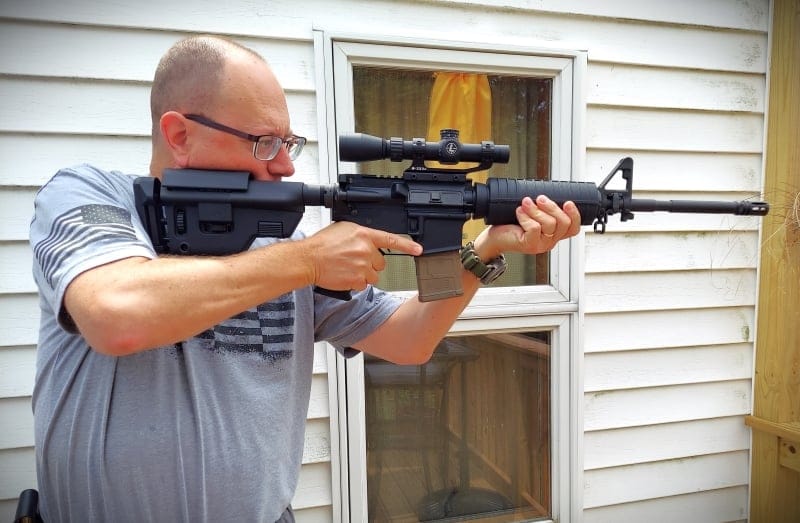 Worth mentioning is the fact that it does add a little weight. That said, the carbine now seems to balance a little better, even being slightly stock-heavy.
This stock is the best thing since sliced bread.
If you're going to be operating with an optic, it's worth checking out this stock, you'll thank yourself.
As you can guess, this stock gets two thumbs up.