The world of drum magazines has been a chaotic one. Drums often increase capacity without increasing magazine length. People have made them for rifles, SMGs, and machine guns, but they have rarely been successful. Their overt complications and fragile nature make them a tough sell. Drums have been around forever, but it took Magpul to make one that works. The Magpul D-60 was one of the first drum magazines reliable enough for professional use.
Indeed, the Magpul D-60 saw action with an experimental Marine Corps squad. The entire squad packed suppressors, M27 rifles, D-60 drums, and other bright and shiny gear. According to the Marine Corps Times, the Marine Corps allows the use of the D-60. Random pictures of Green Berets and French Commandoes have popped up as well.
Why A Drum?
Cause more bullets is better than fewer bullets! Duh!
Okay, I'm being dramatic. The D-60 drum contains 60 rounds, and for those who suck at math, that's twice as much as a standard capacity AR magazine. From a civilian perspective, this gives you 60 rounds of ammo for a home defense encounter. Are you likely to need that many?
Of course not.
You're also unlikely to face a threat that requires 60 rounds, but it's nice to have it. A drum deals with multiple home invaders better than a magazine and a reload.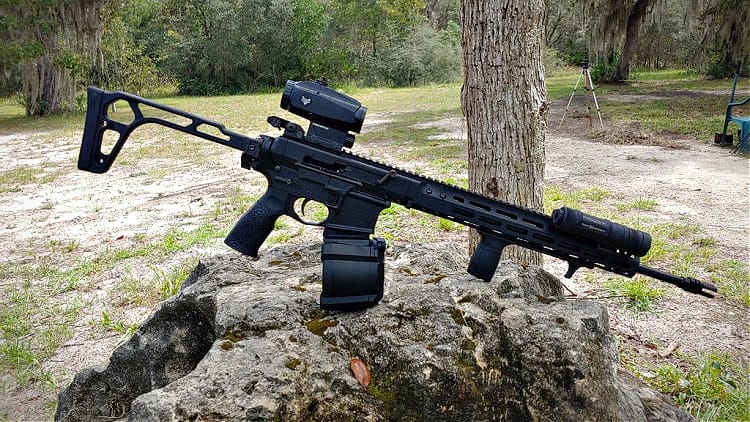 From a military perspective, the Magpul D-60 drum is perfect for establishing a base of fire. The drum's design lets gunners get nice and low to provide a stable prone position and lay down the hate.
Inside the D-60
The Magpul D-60 is an AR-15 drum in most senses of the term, but Magpul designed the D-60 using the Gen M3 design. This design allows for compatibility with the AR-15, the BRN 180, the SCAR 16, the NATO Aug, the HK 416, and even the Tavor. While the D-60 will work with bullpups, it makes them a bit more awkward.
The D-60 runs with 5.56 and 223 Remington rounds. Magpul advises against using rounds like 300 Blackout in the D-60. There are many videos online of dudes and dudettes dropping 60 rounds of 300 Blackout out of a D-60. If it breaks, I wouldn't count on the warranty to be in effect, though.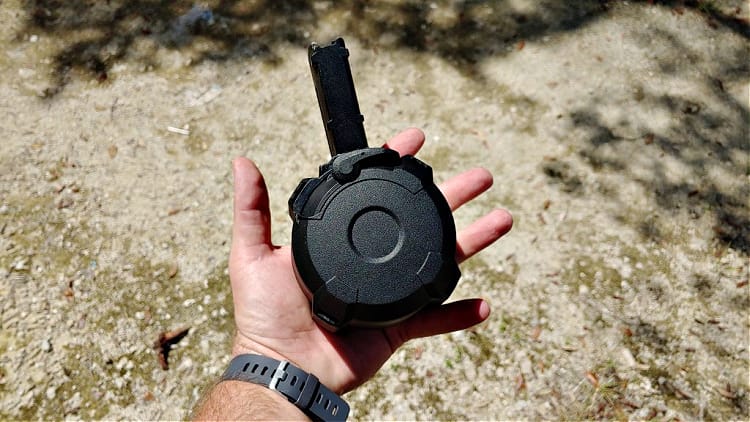 Gen M3 means a more rigid polymer design, a dot matrix, and even a small translucent window at the drum's rear. Gunners can look at the back of the window and get a rough idea about their capacity.
Oh, and guess what? You can leave the damn thing loaded. It's designed to be left loaded and won't break anything. The drum is auto tensioned and doesn't need manual tension like many AK drums.
This leads us to talk about how the D-60 works.
How it Works – A Ratcheting Design.
On the front of the D-60 is a ratcheting lever that pushes the follower down. To load the drum, you press the ratcheting lever up and drop rounds in. Release the lever and repeat until the drum is fully loaded. When you start loading the drum, you'll find that you can drop four to five rounds in at a time. Over time you'll be able to load fewer rounds at a time. Between rounds 57 and 60, it can take multiple ratchets of the crank to a single round in.
Loading it will tire your hand at first; without a doubt, you won't want to be loading ten D-60 drums in a single day. But once you get that sucker loaded, you can leave it loaded and forget about it. That's the good news; the bad news is how fun the gun is to empty.
Another issue many run into with drums is cleaning them. You have to clean a drum just like any other magazine, and Magpul says you need to clean it every thousand rounds. The D-60 pops apart with nothing more than some form of flat-headed tool. Like day drinking, screwdrivers work best.
Four straps wrap around the front and back of the drum. Insert the flat-headed screwdriver under the tab and pop it up. Beneath each strap is a tab that can be defeated with the same flat head screwdriver. Once you pop those tabs off, the rear of the drum pops off and allows you to access the guts of the D-60.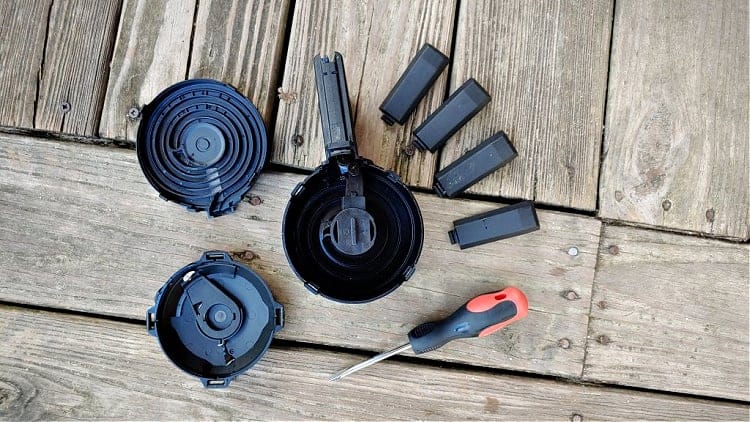 The D-60 design does allow the drum to work with the straps removed. They may pop off if the drum is dropped or kicked or beat up in some way. All four straps can be removed, and the D-60 can still run reliably. The straps are resistant to popping off and seem to be held on quite tightly.
Does It Flippin' Work?
The million-dollar question is simple: does it work? Sure, the D-60 feeds like an absolute champ and chews through 60 rounds with little effort. It eats and eats and eats without a single jam, failure to feed, or double feed. Standing up and shooting at a square range is easy enough, so let's see how the gun runs under pressure.
When resting against the ground as the world's thicket monopod, the drum still functions flawlessly. Even when pushed forward or pulled rearward, the D-60 yet feeds like a champ. When pulled into weird shooting positions, like let's say when pressed against a barrier, the D-60 still works. Pressure can be applied from the front, rear, and both sides without causing malfunctions.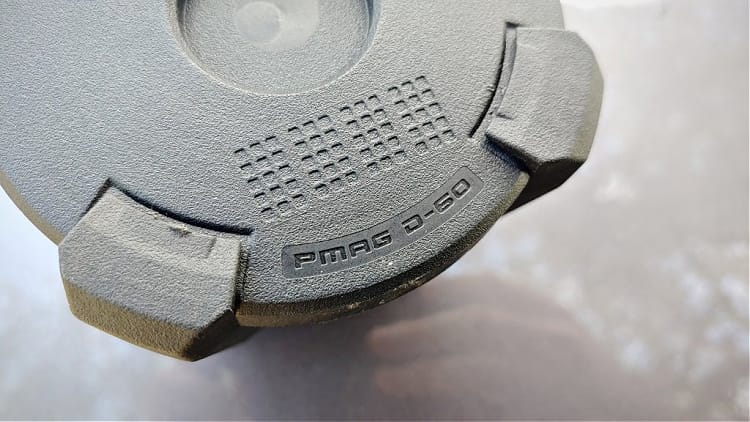 The Magpul D-60 drum isn't afraid of random ammo types. This includes steel cased crap from Monarch, Wolf, and Tula. This cheap, dry ammo is of the lowest price and quality, but the D-60 shrugs it off.
Brrrrraaaaappppp
Successful, reliable, and well-designed drums are not the norm. The Magpul D-60 blew that whole mess out of the water. If anyone could make a drum magazine that works, it would be Magpul. Magpul is also producing a Glock, and Scorpion drum soon and also creates a 308 variant called the D-50. The only downside is that it doesn't store well in a traditional AR 15 case. Check the D-60 out here and the D-50 out here. Let us know your thoughts on drum magazines and share your experiences with the D-60 below.