If there's one method of carry that tends to get a bad rap, it's AIWB (Appendix Inside the Waistband). The gun owner jokes about AIWB range from the obvious ones about body parts you're supposedly at risk of shooting off, to comments on how uncomfortable it must be. So is AIWB carry safe or not? The answer is both yes and no, and we're going to explain how that works.
What is AIWB (Appendix Inside the Waistband) Carry?
AIWB refers to the practice of carrying a concealed handgun in what is known as the appendix position inside the waistband of your pants. This means the gun is being carried at the front of your body at approximately the 1 o'clock position. That placement puts the gun right between the wearer's belly button and hip bone. Usually, the gun is positioned on the strong side of the gun owner's body, but on rare occasions, someone will wear the gun on their off side or have two guns carried AIWB.
It's important to mention this method does involve a gun belt and concealed carry holster; shoving a bare gun in your waistband without a holster isn't really AIWB carry, it's just dangerous.
Who Started AIWB Carry?
We can't trace the start of AIWB carry to a precise moment in gun world time, but we do know who was responsible for pioneering and championing it—the late Todd Louis Green. He worked hard to promote safe AIWB carry and spent years training people in its execution. Now that Green has passed away, other firearms instructors like Spencer Keepers of Keepers Concealment help keep the AIWB trend going.
What's bad about AIWB carry?
For those who feel AIWB carry is unsafe—and even flat-out dangerous—the main focus tends to be where the muzzle of the gun aims. It appears as though the muzzle of the gun is aimed straight at the wearer's femoral artery and other sensitive areas, meaning that if there's an accidental/negligent discharge, the risk is incredibly high. Of course, carrying a gun anywhere on the waistband means a stray bullet could penetrate an artery or major organ. Reminding people of that fact isn't the best way to win the argument, though.
Commonly mentioned downsides of AIWB include:
High risk of femoral artery damage if there's a negligent discharge
Risk of "shooting off" or damaging private parts and groin area in general
Unsafe draw stroke
Discomfort from holster placement
The Gun might fall out of the holster
Printing might be worse than using other carry methods
There are countermeasures for every con of AIWB carry. For example, renowned instructor Massad Ayoob instructs students to angle their hips forward and their shoulders back when re-holstering AIWB. Similarly, if you're carrying on your strong side hip—or off side hip—Ayoob will tell you to make sure you're "standing on a pedestal" before holstering. That means the leg on the side of the body wear your holsters positioned should be held against your body, not sticking out to the side where it would be struck if the gun fired during holstering. Safety measures and proper training are necessary for all carry methods. (It's also smart to look the gun into the holster, not attempt to shove it in blindly, but that's a good habit for all holster types.)
What's Good About AIWB Carry?
Perhaps the two greatest things about AIWB carry are the level of concealment and draw time. It's an excellent way to conceal a handgun on part of your body where the grip won't break up your silhouette. As for draw time, with some practice, it can shave some time off your draw stroke, partly because you can bring the gun straight up and on target rather than working around the side of your body.
The list of pros to AIWB carry includes:
Fantastic concealment
Faster draw stroke
Better protection of the firearm from people who might attempt to steal it
Comfort (yes, AIWB can be very comfortable)
If this makes you wonder which side is correct, the answer is "both." When done incorrectly, AIWB can be unsafe; when done well, AIWB is a legit and great way to carry.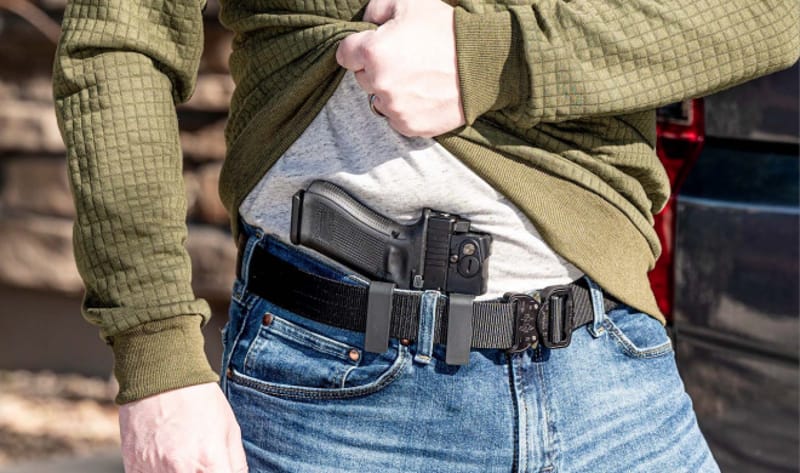 Are there AIWB Holsters?
Yes, there are quite a few AIWB-specific holsters available for a wide variety of guns. It isn't only sub-compact guns that can be concealed AIWB, after all. In reality, guns of all sizes can be carried AIWB. What it takes to be successful is the right gun, holster, and gun belt combination. If the mention of a belt surprises you, it shouldn't. Without the right gun belt, it won't really matter how good your holster might be.
Numerous holster manufacturers design and produce holsters specifically for AIWB carry:
Galco
Crossbreed Holsters
Keepers Concealment
PHLster
DeSantis Gunhide
What's the PHLster Enigma?
If the first thing that crosses your mind when you see "PHLster Enigma" is "what's that?" I've got you covered. If you already know, you probably already have one. The PHLster Enigma hasn't been around that long but it's gained a near cult-like following in the time it's existed and for good reason. It's an amazing solution to a real problem among those who concealed carry, especially for people who want to wear things like sweatpants, leggings, dresses, shorts, scrubs, and anything else without a proper waistband for a gun belt (or anything requiring a deeper level of concealment). It's also designed for AIWB which is why it gets a mention here.
According to PHLster, these are the basics you need to know about the Enigma:
The Enigma is a high-performance concealment system worn independently of your clothing
It has a low profile and absolutely zero signature thanks to having no visible clips or attachments on your visible clothing
Can be worn with anything because it doesn't require an independent belt or belt loops
Worn with a Kydex holster for fantastic retention and full trigger coverage
Extremely low profile allowing for superior concealability
Designed to be durable and rugged during force-on-force fighting
Made as a modular system so it's highly customizable and takes a variety of accessories
The standard belt fits up to a 46-inch waist
Optional Sport Belt upgrade expands standard belt to fit up to a 50-inch waist
Works on the front of the wearer's body between 2 o'clock and 10 o'clock
Ambidextrous, meaning right or left-handed users can wear it
Adjustable grip tuck and rotation
Ride-height adjustable
The PHLster Enigma is a holster that has its own belt and a leg leash to help hold it in place. The belt is designed to be worn under clothing and the leg leash circles the top of one thigh for stability's sake. There are currently three variations of the PHLster Enigma: Express, Light Bearing, and Standard. The former includes the holster shell while the latter two do not. If you're looking for a way to AIWB carry without needing to attach a belt or holster to your clothing, this is it.
The Floodlight holster from PHLster is another universal holster that can be worn AIWB.
Should I AIWB Carry?
If you're going to go ahead and use this carry method, take the time to get proper training. That really applies to any firearms use and carry—you should be trained, and maintain that training—but for AIWB, make sure some of your training is specific to that carry method. AIWB is a good carry method that can be done safely and, in fact, is awesome for things like long road trips. Still unsure? Find a reputable instructor teaching AIWB skills and find out what it's like for yourself.
How do you carry your EDC (everyday carry)? Tell us in the comments below.