The mini red dot world has exploded in popularity. It used to be Trijicon, and Docter was the name of the game, the Trijicon, Doctor, Burris, and Vortex. Now it's grown to include Holosun, Aimpoint, Swampfox, Riton, Shield, and likely half a dozen more I'm missing. The first of all of these mini red dots to utilize an enclosed emitter is the Aimpoint Acro. If you don't know Aimpoint, you should know they made the first modern red dot in 1975.
Since then, they've dominated the market of red dot optics. Countless police forces and even the US Army issue Aimpoints. Oddly, they drug their feet in creating a mini red dot sized properly for pistols. Sure, some adopted the Aimpoint Micro series to handguns, but Aimpoint lacked a dedicated pistol-sized optic.
Then the Acro hit the market. It received lots of odd looks because no one had ever created a handgun red dot with an enclosed emitter. Plus, it was an Aimpoint, and everyone knows Aimpoint crafts optics like fantasy dwarves craft war axes.
Enclosed Emitter — What It Means For You
If you've scratched your head a few times at the phrase "enclosed emitter," let me explain. Most pistol red dots, and I mean the vast majority, use an open emitter. This includes Trijicon, Docter, Swampfox, etc. Those open emitters can be seen if you look at the optic from the top.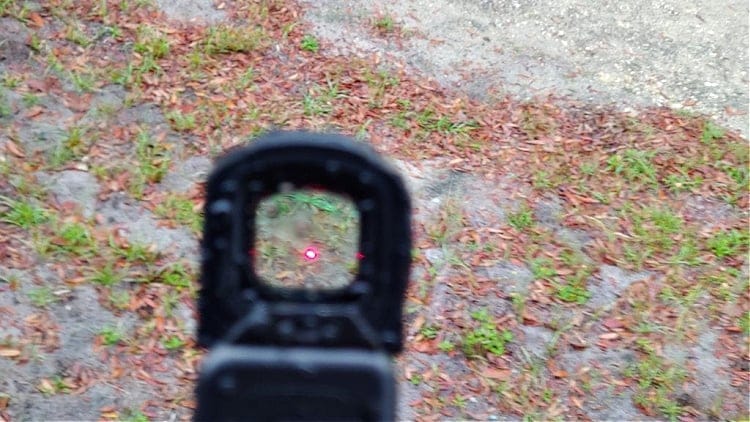 If you take your finger and place it in the center of your optic between the glass and the rear of the optic, you have interrupted the optic's ability to perform. An enclosed emitter means the Acro has a full-on casing wrapped around the optic.
This is why the Acro is a big honkin' rectangle compared to most open emitter red dots. With an enclosed emitter, nothing can get between the emitter and the lens and interrupt the reticle. With an open emitter, you risk getting water, snow, dirt, and mud between the emitter and the lens and disabling your optic.
Let's be clear here, it's rare that this happens. However, with the Aimpoint Acro, this could never occur.
The Acro – Specs and Details
An enclosed emitter design necessitates the need for a bulkier optic. The Acro is 1.2 inches tall, 1.2 inches wide, and 1.9 inches long. It's considerably bigger than something like the Trijicon RMR. The Acro weighs 2.1 ounces, nearly an ounce more than the RMR. Does this matter?
Well, for concealed carry, some may want something smaller. However, I don't find the optic to be overly bulky. Also, the enclosed emitter makes the optic better suited for long gun use too.
The Aimpoint Acro comes in two models, the C and the P. C is for concealed carriers and civilians, and P is for Professional use. The differences are minor, and we have the P series optic. It provides a 3.5 MOA red dot reticle backed by four-night vision settings and six daylight settings. One of the daylight settings is ultra-bright for the brightest of days.
Like any other Aimpoint optic, the Aimpoint Acro is built to last. It's shockproof to an absurd degree and will withstand the recoil of a reciprocating slide easily enough. It's also submersible to 80 feet. This big optic will take a beating and keep on coming.
Attaching the Acro
Before we get to the range, let's discuss mounting options. Predictably, the Aimpoint uses its own footprint. Meaning it won't work with established mounts and optic plates. I've got good news for you! Aimpoint produces tons of plates and mounts for the Acro.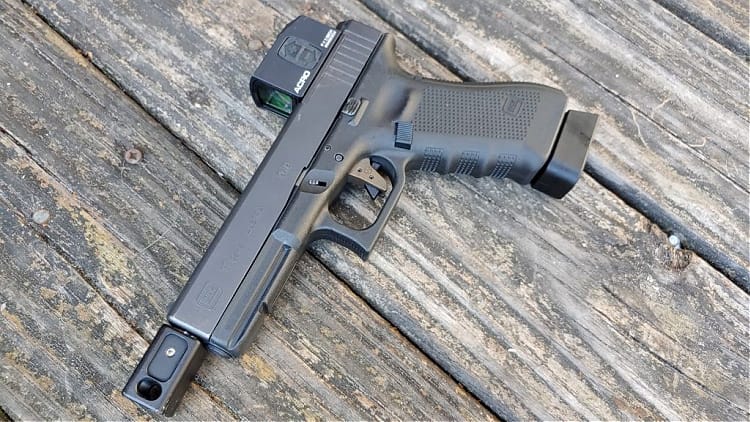 This includes Picatinny mounts, various pistol mounts, and more. I'm using the Acro on a Glock 17 Gen 4 MOS series. I'm using Aimpoint's MOS adapter, and it fits like a glove. Like a glove for your Glock.
To The Range With the Acro
One thing I love is that Aimpoint includes a handy little tool for attaching and zeroing your optic. It took no time at all to attach the optic to my gun and to zero it. I dialed it in very quickly and used a ten-yard zero.
Ten yards seems perfect to me and allows engagements from ten yards to fifty yards with decent accuracy. Beyond that seems beyond handgun range for me anyway. The dials are audible and tactile, but only just barely.
One thing I love about the Acro is the massive + and – buttons. They are huge and textured. You can reach up with your support hand thumb and easily make quick changes to the brightness level. The buttons are rubberized and press with ease.
Aimpoint's dot, as always, is nice and crisp. You can find it quite quickly, and 3.5 MOA works for full-sized handguns. It's easy enough to use at various ranges and is large enough to be eye-catching.
Once zeroed, I began engaging steel and paper targets at a wide variety of ranges. At 15 yards, I practiced my draw and engaged at 15 yards and doubled up with some failure to stop drills on a man-sized target.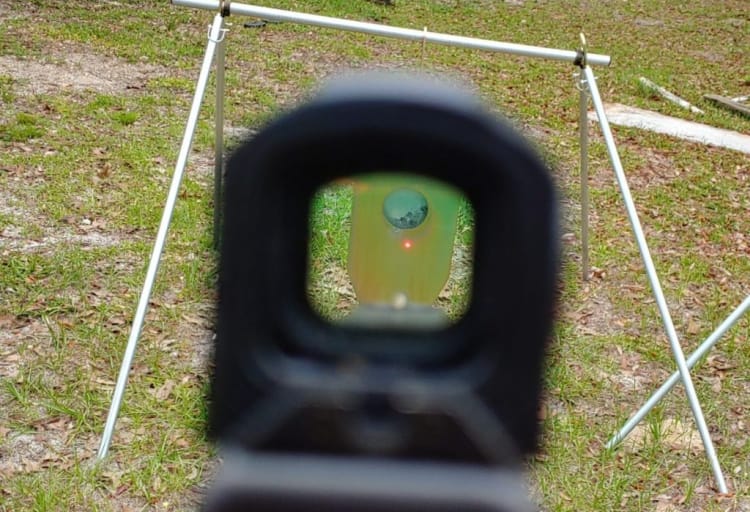 The dot seems to magically guide my bullet where it needs to go. It's seriously like magic, I put the dot on the target, pull the trigger, and a bullet hole pops up. Super easy and simplifies shooting to a crazy degree.
Target Focus
With a red dot, you have to fight your instinct to focus on the dot as if it was a front sight. Instead, focus on your target, and the dot appears where you want it. Focusing on the target is the way in which every weapon, historically, was used.
When using fists, swords, spears, etc., you are looking at your target, not the tip of your fighting implement. A lot of people dislike red dots, but once you practice target focus over-focusing on the dot, everything gets easier.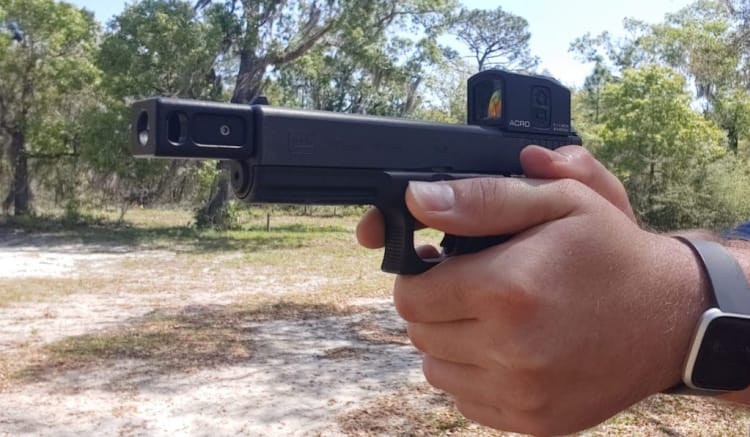 Back to 50 yards, I was ringing an 8-inch gong over and over again. The 3.5 MOA dot is small enough that I can see the 8-inch gong easily enough. With irons, the front sight would cover the target entirely.
At 25 yards, I even hit the 4-inch gong and wrapped it around the hanger several times. When I want to speed things up, I tried to give my multi-target hanger a run for its money. I started at a 25% IPSC target, transitioned to an 8-inch gong, a 6-inch gong, and finally, the 4-inch gong.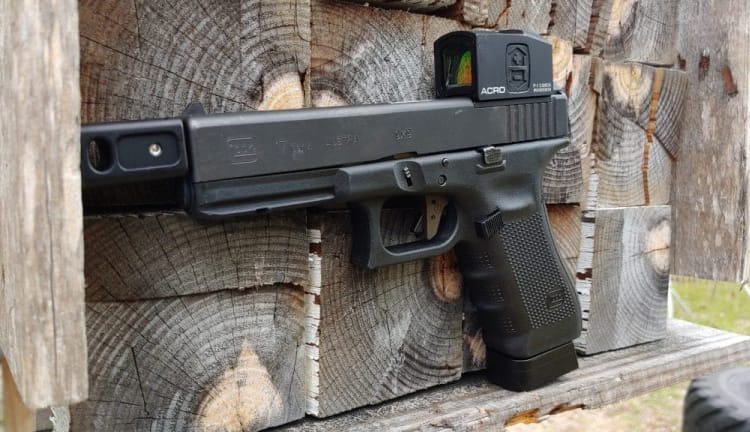 Pew, Pew, Pew
My goal was one shot in each in five seconds. So four shots, four targets, starting in the low ready at 20 yards, and I had five seconds. I'd love to say I cleared it immediately. However, it took a few runs to make the time and accuracy standard. A 4.73 was my best time, with several in the 4.8 range.
When I ran the same course of fire but reversed the target order to smallest to large, I had no issues clearing the rack and scored a time as low as 4.3 seconds.
With irons, I'd be searching for the small gong for about 2 seconds. With the Acro, I just had to ensure I got the dot from target to target.
Complaints, Gripes, and Moans
Battery life peters out at a mere 15,000 hours. That's a somewhat poor performance from the optic. Aimpoint set that 50K standard with the Comp series but falls behind with the Acro. Most pistol optics offer you 50K hours.
The early Acros apparently had some issues with battery life. It was being measured in days and not months. I can say I've left mine on at a moderate setting for eight months now.
My only other complaint is the two lenses ensure you see the blueish tint applied to the lenses. It's more obvious on this optic than any other pistol red dot I've used.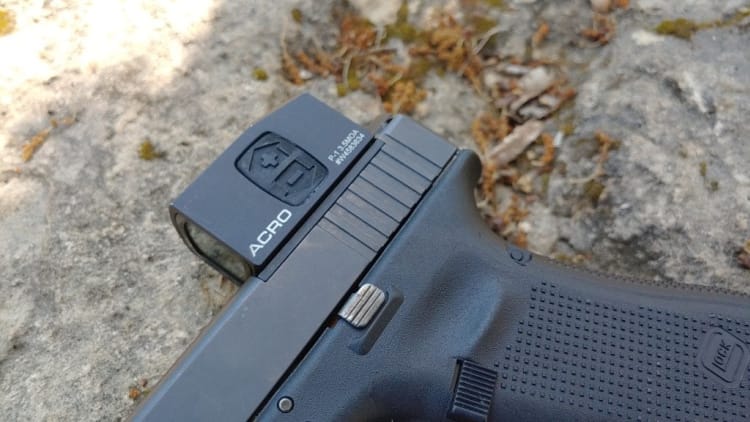 On The Floor
The Aimpoint Acro is an impressive optic. Kudos to Aimpoint for going against the grain. An enclosed emitter allows for the utmost level of reliability. It provides a very ergonomic, if somewhat bulky, optic. It's a professional-grade optic that's on an even keel with the Trijicon Type 2 RMR for quality and design. If you want a professional-grade optic and want reliability to be the number 1 driving factor, then go with the Acro.