There's the age-old discussion around whether an LPVO (low-power variable optic) or a red dot/magnifier combo is the right optic solution for a tactical rifle. I've always been more of a red dot guy, thanks to their forgiving eye relief and quick target acquisition, but I've also logged considerably more hours behind a red dot than an LPVO. Not that I think one is better than the other. Both platforms have their advantages and drawbacks.
Like most shooters out there, I want to be as well-rounded and versatile as possible to adapt to various scenarios and use the tools available. Thus, I started tinkering with the idea of trying my hand at running an LPVO in a variety of short-range and mid-range target and tactical drills. I began reading up on a variety of Vortex, EOTech, and Sig Sauer optics, but quickly noticed the dollar signs. Personally, I like top-tier gear, as most of us do. But, I also know I'm new to the LPVO game. I didn't want to dive in on a $1,000+ optic before getting accustomed to the platform. I wanted something affordable, but still reliable and of good quality, and after a bit of research, I settled on the Sig Sauer Tango MSR 1-6x24mm Rifle Scope with a 1.535″ Mount.
About the Sig Sauer Tango MSR
As I've noticed with most Sig optics, the unboxing of the Tango MSR was a rather pleasant experience. The presentation is on-point. The scope was cradled by heavy foam padding beneath the lightweight aluminum mount, battery, and included Torx wrench. Pulling it out of the box, the optic has a heavy, solid feel to it. Not like an "Oh man, this thing is going to weigh down my AR something fierce" kind of heavy. Rather, a "Dude, this thing is built for clumsy, rough-and-tumble guys like me" kind. It feels good in the hands, and unlike some optics out there that require white gloves and a pillow to carry the darn thing, I felt comfortable putting it in my son's chocolate-covered hands to check out a cardinal high up in an oak tree. Needless to say, I like things built solid and tough and this thing fits the mold.
The Tango MSR features a second focal plane and illuminated MSR BDC6 reticle, and boy is it easy to pick up in daylight and low-light environments. The horseshoe design leaves some to be desired, but the holdover markings definitely come in handy as you start engaging mid-range targets closer to the 150- and 200-yard range.
I also noticed the scope's main tube features an etched leveling guide on the left side of the scope's exterior to help ensure level mounting without a scope level guide, which came in very handy in mounting and installing the scope on my HK SL8 rifle. Better yet, the Tango MSR is simple and easy to operate. Of course, you've got your standard elevation and windage turrets, with an illumination knob on the side with multiple brightness settings. Simple, but also rugged and reliable with a few additional features for additional user-friendliness, including an integrated throw lever, gas-purged optics and O-ring seals, and flip-up lens caps. Not to mention, it ships with Sig's proprietary ALPHA-MSR 1-piece aluminum cantilever mount for quick installation and exceptional service right out of the box.
Range Testing
As the name suggests, the Tango MSR is engineered to excel when mounted atop MSRs (modern sporting rifles) in intermediate calibers. As such, I decided to mount the Tango MSR on my HK SL8 rifle, as I wanted to spend some time shooting the rifle at a variety of distances and standing and prone positions.
Due to the weight of the rifle, I spent the majority of the range session shooting from a prone position, with which I discovered that, while the throw lever is a bit of a snag hazard, I really love it. Usually, I find that with most rifle scopes, I have to hug the magnification ring with my palm to make changes to my magnification. It's not always smooth or comfortable, especially if I've been in the prone position for a while. The throw lever eliminated those issues and allowed for exceptionally smooth and fast magnification changes when transitioning between target distances.
I did find that, like most shooters, I struggled with a bit of a shadow when standing, especially at longer distances. This made me miss the forgiving design of a red dot, but once I adjusted my cheek weld a bit, the scope didn't disappoint. Plus, at a price of below $500 with Sig's "Infinite Guarantee" lifetime warranty and a quality cantilever mount included, it's hard to beat for an LPVO.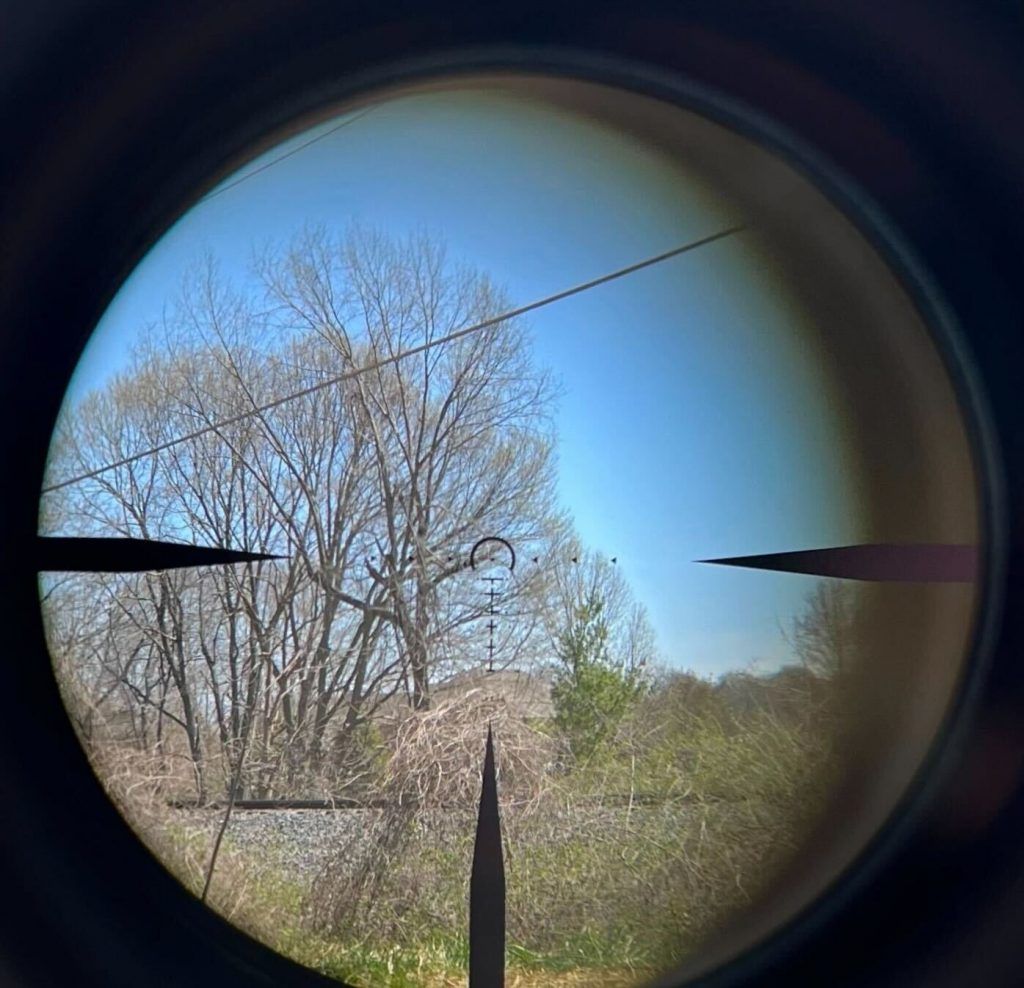 Final Thoughts
It's no secret that the Sig Sauer Tango MSR is a "budget" LPVO scope, but don't let that spook you. It certainly does the job. In a market filled with high-dollar optics with similar features, it's nice to find an optic that offers dependable service for sport shooters who want a quality, name-brand optic without dropping upwards of $1,000. As such, I feel comfortable recommending it to intermediate shooters, first-time LPVO users, and experienced shooters alike.
The Tango MSR offers incredible clarity at distance, and the included mount offers quick installation and faithful service at a tremendous value. The throw lever is smooth and comfortable to operate, especially in the prone position. However, like most LPVOs, it's not as forgiving as a standard red dot sight. You have to slow down and work a bit harder to get a clear sight picture without the scope shadow we talked about earlier. I don't think that's a fault of the Tango MSR, so much as a user error and design characteristic of the LPVO platform as a whole. With some additional training, it's relatively easy to overcome.