The AA12 "auto assault shotgun" was designed by former Marine Corps machine-gunner Maxwell "Max" G. Atchisson — it initially used a modified BAR (Browning Automatic Rifle) magazine and had a starring role in some Mack Bolan style action novels.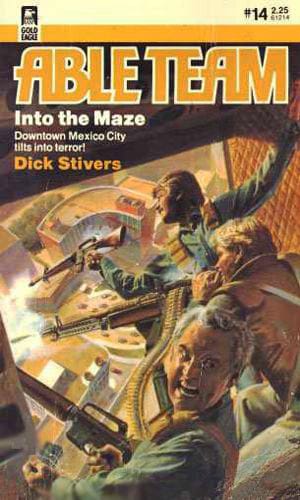 The History of the troubled AA-12
A shotgun design almost 40 years in the making was on display at the 2019 Shot Show in Las Vegas, Nevada. However, soon after initial orders were filled, owners found themselves in a bit of legal trouble.
Back in 1983, the hottest show on television was The A-Team, especially if you were a 13-year-old boy pining away for the day you could join the military in another 4 years. One day while visiting the local library I spied a pulp paperback book titled Able Team with three paramilitary types depicted on the cover and thought, "Damn, talk about a knock off!"
I checked out the book and as I read it, I realized that it was a spin-off of the Mack Bolan: Executioner series and saw it was published a year before The A-Team debuted. Seeing that it was a series, I bought, borrowed and read them as they came off the press. Every time I finished one, I could not wait for the next. They were gritty, violent and made The A-Team look like the cartoon it was. It fueled my love for firearms and in particular one of the main characters (Carl "Ironman" Lyons) firearm of choice: the AA-12 shotgun.
According to the books, it was styled after the M16, only beefed up and chambered in 12 Gauge with the ability to run in full auto, it seemed like the ultimate close-quarters combat weapon and I could not wait to "grow up and buy my own one day". Unfortunately, a few years later Congress banned the future manufacture of machine guns for civilian sale and that included individual servicemen and women. There was not a whole lot of AA-12s on the open market and the misinformation about NFA (National Firearms Act) weapons at the time was absolutely criminal.
I started on a quest to at least obtain a semiauto version and it sent me around in circles for nearly three decades.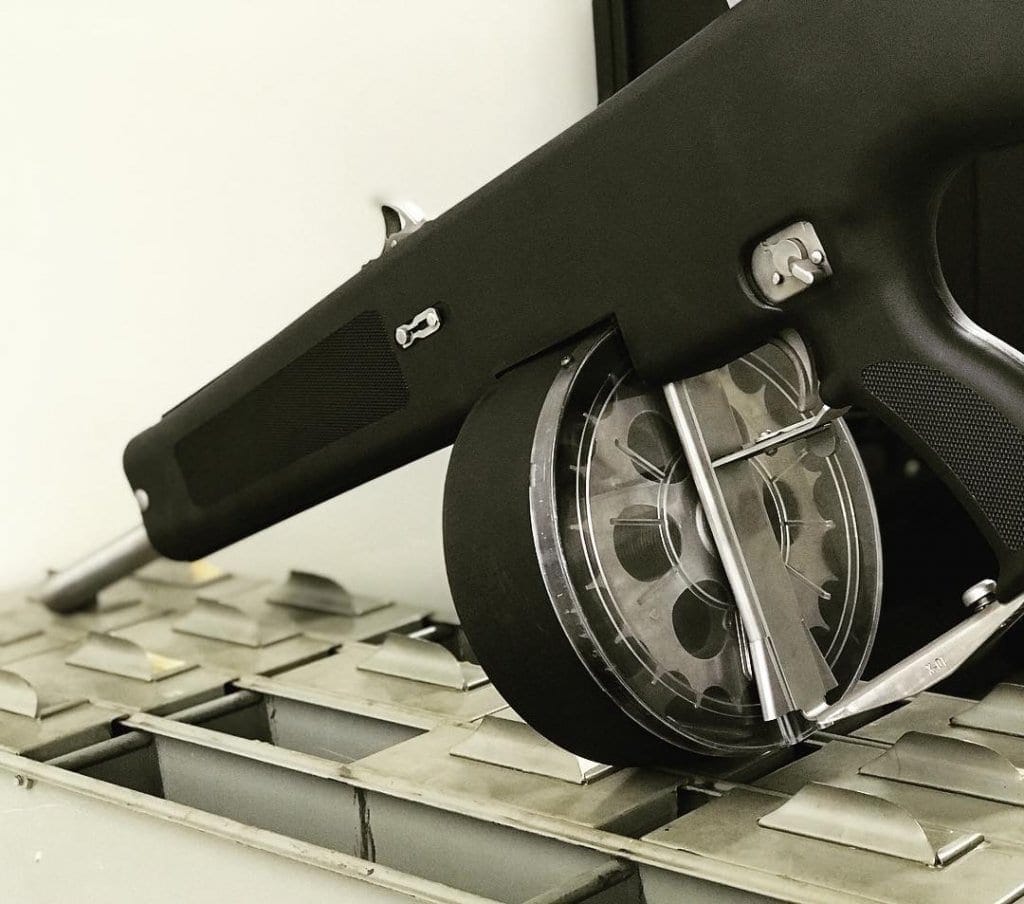 AA12 Origins
In order to truly know the AA-12, you have to know Max Atchisson.
Maxwell G. Atchisson was born on February 17, 1930, in St. Louis Missouri. He would go on to serve in the U.S. Marine Corps as a machine gunner (0331). He would go on to serve as a weapons instructor with regard to shooting, handling and maintaining machine guns for the Corps. He served until he was honorably discharged in 1952.
He would go on to work for a number of firearms and aerospace manufacturers as an engineer, inventor and designer with at least twenty-four patents to his name. Many of his prototypes were composites of existing components from other arms in US inventory. He saw a benefit in this so his arms could be inexpensively produced from surplus parts; in other words, "Why reinvent the wheel?"
Perhaps his most famous design was a .22 caliber conversion bolt for the M16 and AR platforms. This is still manufactured, sold and used to this day, as he sold the design to Jonathan Arthur Ciener.
My personal favorite of his designs is, of course, the AA-12 shotgun.
Atchisson's original design in 1972 was a full-auto only, open-bolt, blowback-operated shotgun chambered for 2 3/4″ buckshot or rifled slugs and fed from an 8-shot magazine or 20-round drum. As mentioned previously with regard to reusing parts: the 8-round magazine was a modified Browning Automatic Rifle (BAR) magazine, the drum was a modified M1 Thompson SMG and the handguards were from the M16A1. The receiver and stock were one unit and it weighed close to 12 pounds unloaded. overall length was 39″ and the barrel was 18″. The rate of fire was about 300 rounds per minute.
He called it the AA-12 Shotgun (Atchisson Assault 12 Gauge).
The design was the foundation for several other military styled shotguns like the USAS-12 and of course the Auto Assault-12.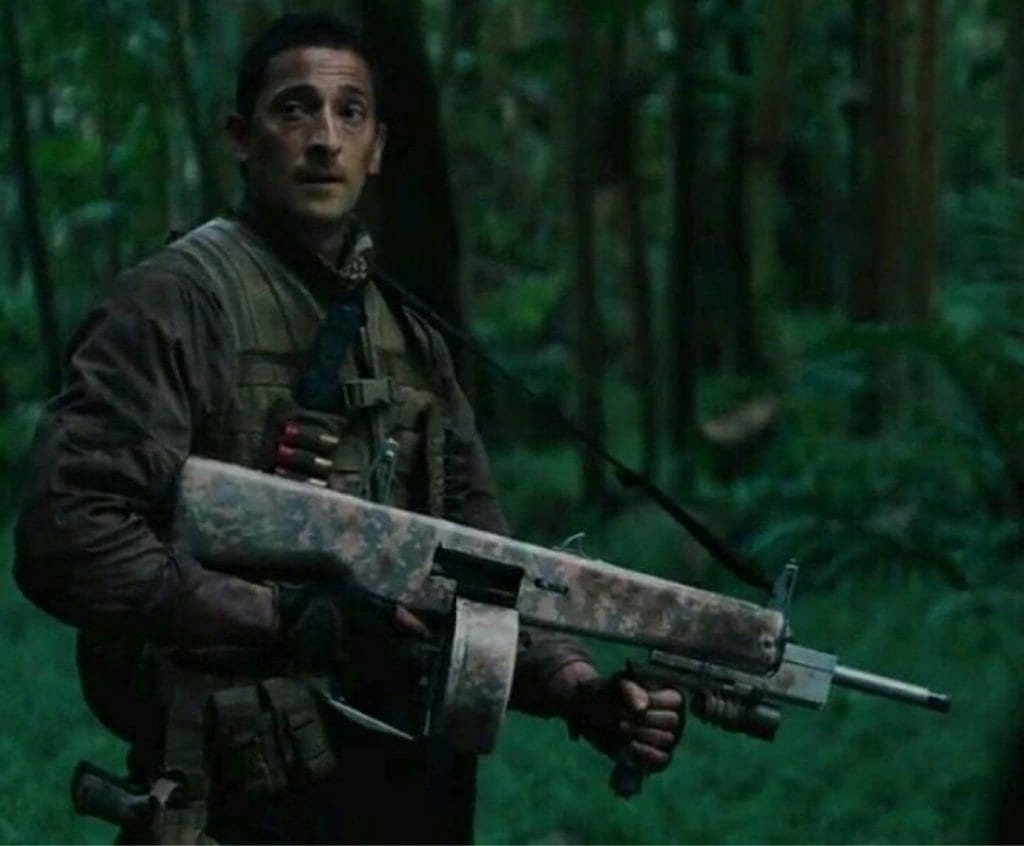 The Auto Assault-12 Shotgun
The Auto Assault-12 shotgun was a "clamshell" design fitted with a two-piece nylon stock. It was a direct derivative of Atchisson's prototype shotgun described above. This select-fire shotgun was manufactured in limited quantities in the U.S. and in Korea by Daewoo. In 1987, Max Atchisson sold the rights of the Atchisson Assault 12 Gauge shotgun to Jerry Baber of Military Police Systems, Inc.
He changed the meaning of AA-12 from "Atchisson Assault-12" to "Auto Assault-12", removing Atchisson's name from the shotgun.
According to statements by Baber, the schematics that were provided as part of the agreement were not accurate. He claimed Atchisson's sole prototype was a wooden facsimile and Baber spent many years reworking the design before he could produce a legitimate prototype.
In a 2009 interview with The New Yorker, Baber claimed: "Everything was wrong! The magazines were screwed up, the springs were screwed up—it was just a damn mess. Weren't nothing right in it. Atchisson was among the most brilliant gun inventors in history. But the original design's problems could make a preacher cuss."
Baber invested over $1.5 million of his own money into developing a prototype and went as far as to invest in a high-speed camera and snail trap so he could spot the errors during the firing sequence. He continued to improve on the original design and made over 180 changes with engineer Boje Cornills. One of the significant of these was going from blowback operation to a gas-operated long-stroke piston mechanism. Not only was this a safer mode of operation, but it improved the function of the AA12 by utilizing the Constant Recoil Principle.
According to Baber,
"When the bolt flies back after firing to cycle another round, around 80% of what would normally be felt as recoil is absorbed by a proprietary gas system. A recoil spring grabs another 10% of the normal recoil for a 12-gauge round – so you can point the AA12 at a target and unload a full magazine without significant loss of accuracy."
Numerous videos on YouTube depict shooters firing the AA-12 one-handed on full auto and showing almost zero recoil impulse. The shotgun became popular in movies like The Expendables, Predators, GI Joe and on television shows like Breaking Bad and of course in a score of video games.
Yet, the guns were not to be seen anywhere else, apart from demonstrations to different military units.
By 2004, the United States Marine Corps was looking for a replacement for the M-249 SAW (Squad Automatic Weapon) and Baber entered the fray with his AA-12.
As with other demonstrations, the servicemen who fired it loved it, but the top brass was not impressed.
The military cited lack of penetration, limited range and outside the scope of what they needed. Some critics blamed Baber's personality. Baber went as far as to mount the guns on robots and drones for remote deployment. Eventually, he gave up the ghost and looked to offload the project that took up almost two decades of his life.
Cornils left and formed his own company, BC Engineering, and produced a semi-auto closed-bolt version of the AA-12. Baber wanted nothing to do with it and Cornils began looking for a manufacturer to produce the shotgun.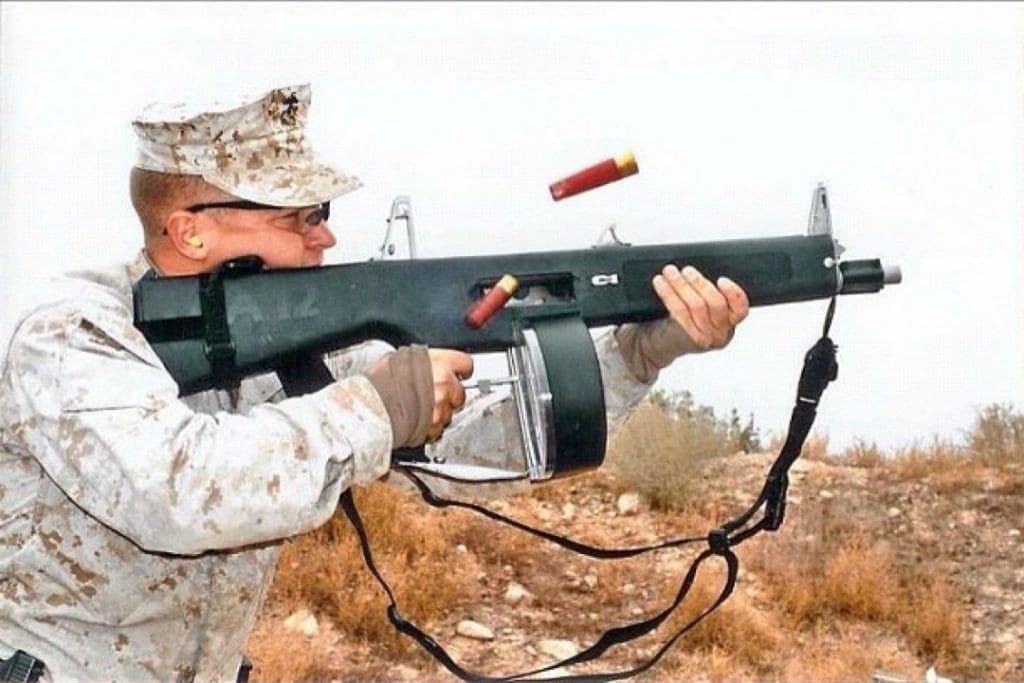 Sol Invictus Arms
Sol Invictus Arms had wanted to purchase the AA-12 design to produce both the full auto shotgun version and the semi-automatic shotgun version. According to the company, they "made repeated offers to Jerry Baber to purchase all of the molds and tooling, and CAD/CAM files that he possessed for the shotgun as we originally thought he was the sole owner. He repeatedly gave us a ridiculous price for the design, tooling, and molds and when we asked to see all the blueprints and CAD files for both the full auto and semi-auto versions, he said he didn't have those, and the semi-auto version was a waste of our time. He said that Boje (Cornils) had that. We asked about contacting Boje and Jerry refused to provide his contact information."
The company performed a little research and found BC Engineering and Boje Cornils. He explained that he had designed a closed bolt semi-auto version of the AA-12 and that Jerry wanted nothing to do with it. When we asked more about how he and Jerry worked together, Boje said that he did the engineering to make the full auto version work after Jerry had purchased the plans from Max Atchison the original designer of the shotgun who had never built anything other than a wooden prototype.
Cornils went on to explain that he was the only person to ever build an AA-12 either in full auto or semi-auto. That he was the sole owner of the Patent on the AA-12 gas system and that all Jerry owned the tooling and molds which Cornils had in fact manufactured.
Sol Invictus Arms inquired about purchasing the designs and patents for the AA-12 from BC Engineering and went as far as to purchase all the designs and the entire BC Engineering shop. Upon completion of the sale, BC Engineering closed their business and turned in their FFL Logbooks to the ATF.
It looked like the semi-auto AA12 was about to finally become a reality and the line to shoot one at Range Day at SHOT Show 2019 was hundreds deep and over an hour at times.
Legal Problems
According to Sol Invictus Arms CEO, Mike Conn, "Jerry Baber called the ATF and claimed that the semi-auto AA-12 shotgun could easily be converted to full auto. This led to an investigation related to the AA-12."
Apparently, in the early days of Cornils and Baber's business relationship, Cornils asked if he needed any special licensing or a variance to produce the shotguns. He was told by Baber that it was not necessary as he was working under Baber's SOT (Special Occupation Taxpayer). For all those years Cornils manufactured AA-12 full-auto machine guns in his shop without a license of his own while Baber entered the guns in his bound book and filed ATF Form 2s as though he manufactured them.
Eventually, Cornils received the proper licensing but never received a marking variance to produce these guns for Military and Police Systems and Baber continued to enter them in his bound book and Form 2s as the manufacturer. Cornils manufactured approximately 22 AA-12s using registered full auto receivers but only capable of firing in semi-auto. These were marked as being manufactured by BC Engineering and sold for between $5,000 and $7,500.
Recently ATF sent a letter to owners of these shotguns that were built on the receivers in question.
The letter read: "ATF has determined that the markings on the AA-12 are not accurate, and the manner in which the markings were placed is not in compliance with federal law. It is the ATF's responsibility to retrieve this AA-12 machine gun. ATF seeks your cooperation in immediately surrendering to the ATF the AA-12 in your possession. Additional information regarding your opportunity to file a civil claim for this firearm will be provided."
A criminal proceeding followed, and a shotgun owned by Sol Invictus was taken by the ATF and sent to the technical branch for review as part of the criminal investigation.
Sol Invictus Arms has placed operations on the AA-12 on hold until a ruling is issued after the legal proceedings.
According to CEO Mike Conn, "Because the ATF took our only semi-auto AA-12 we are having to hand-make every part for this gun to be able to send the technical branch their sample. The cost of molds and fixtures to produce this shotgun in quantity is over $500,000 dollars. While we had started working on many of the molds and fixtures, we stopped once the criminal action began.
"We have already spent well over $750,000 dollars in the acquisition and additional engineering that has been done. We feel confident that we can produce a semi-auto version that will be approved by the ATF, as we have even received some guidance from them to do so. It is just the time it takes to produce a prototype to send them is quite long."
It sounds as if the problem may be in using machine gun receivers for semi-auto builds. According to Sol Invictus Arms and Boje Cornils, the fire control groups and other components do not interchange between the semi-auto and full-auto versions. However, the final determination will be made by ATF.
In a sense, keeping the design from the general public this long may have been a blessing in disguise. In 1993, Treasury Secretary Lloyd Bentsen declared one of the descendants of the AA-12, the USAS-12, to be considered a Destructive Device despite its caliber. He did the same to the Striker -12 and SWD Streetsweeper, both of which were revolver-type actions and not semiautomatic, Had the USAS-12 been available as a semiauto at that time, it would have shared a similar fate.
So, the 40-year wait for one of these fabled shotguns is on hold once again. Hopefully, we will see this design become a reality in the future.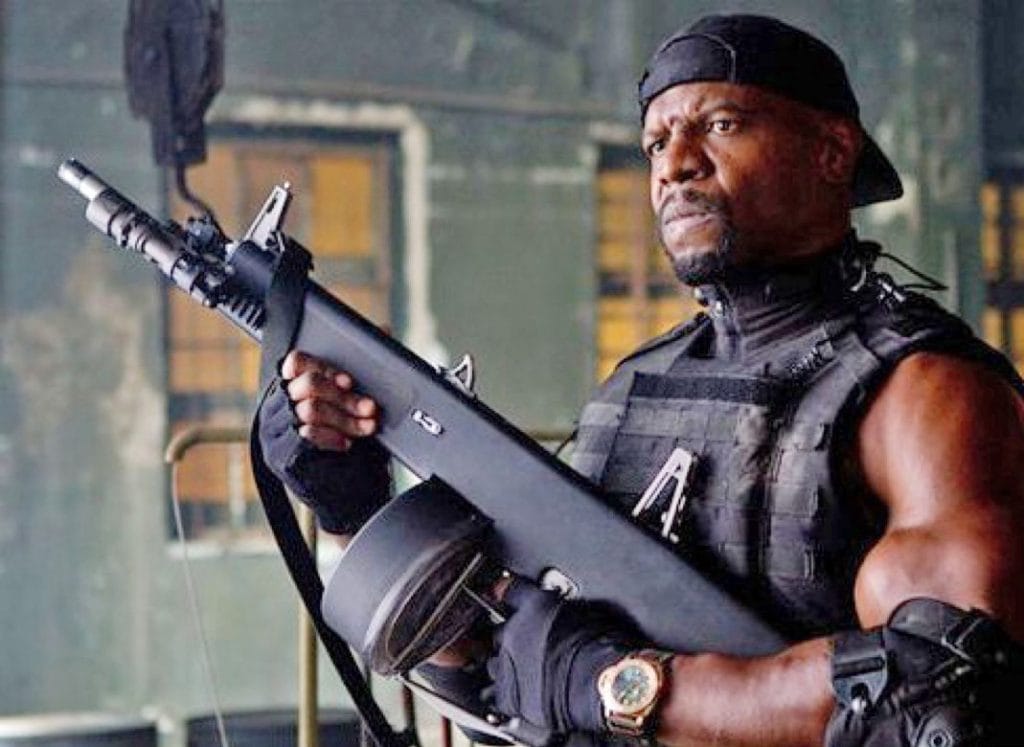 Side note entirely: the weapon is also popular in Medal of Honor games, as you can see in the Warfighter Weapons wiki.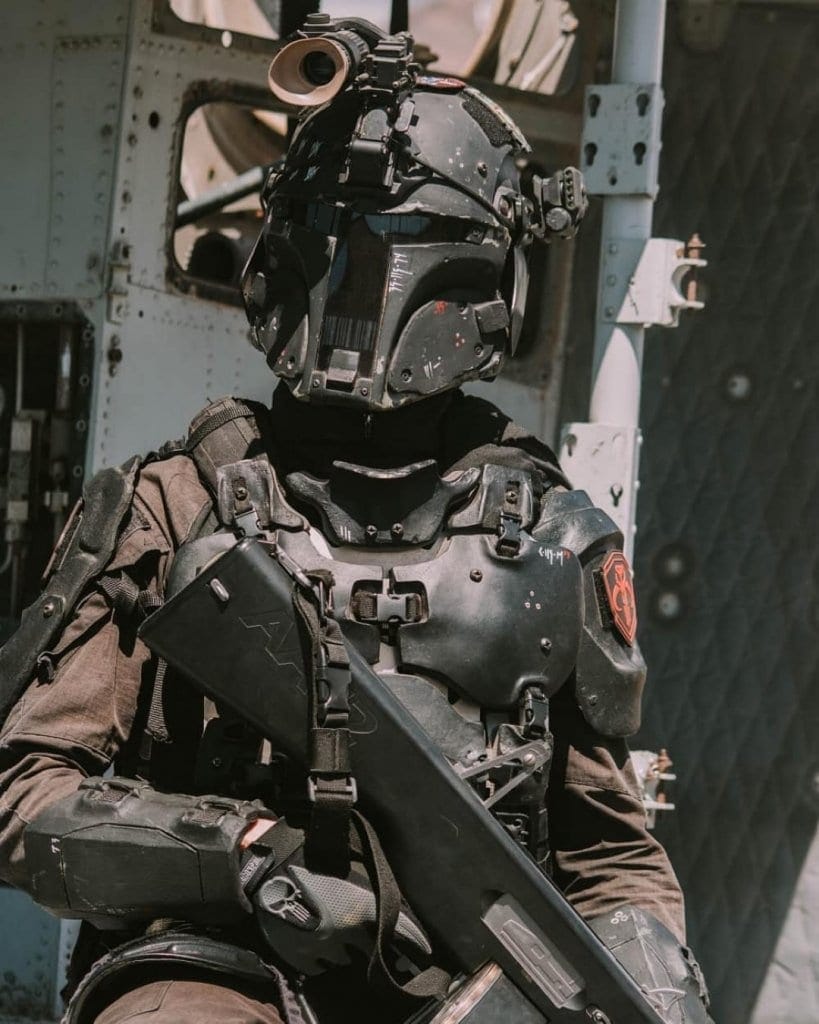 Wanna see more? Here's a look at the AA12 in a video from LAV about a year ago.
AA12 Shotgun specs (Sol Invictus semi-auto version)
Sol Invictus Arms 12GA Sledgehammer Semi-Auto
From the manufacturer: Firing from a closed bolt semi-auto configuration, this iconic Shotgun [sic] is finally going to be available for sale to the public. Sol Invictus Arms plans to manufacture a Limited Edition Boje Cornils Signature Model as a tribute to the Engineer who worked tirelessly in the shadows to bring this mystical Shotgun to life. Fed from a 20 Round Drum magazine, the AA-12 uses a gas-operated long strong piston design to provide reliable and consistent functionality no matter the firing conditions. Whether for Self defense, Agency operations, or Target Shooting on the Range, the AA-12 will instill confidence that you have enough firepower to take care of the matter at hand.
Cartridge: 12 Gauge 2.75"

Action: Closed Bolt Semi-Auto
Barrel Length: 18.25"
OAL: 38"
Weight: 10.5lbs
Receiver: Stainless Steel
Magazine: 20 Round Drum or 8RD Box Mag