Slowly but surely, optical sights on handguns are becoming a thing. As with the steady march towards nearly every rifle having a scope instead of iron sights, technology is advancing for handgun options too. Modern red dot sights are smaller and more durable to take knocks, dings, and violent movement of pistol slides during recoil.
I've been using a Trijicon RMR on a couple of different pistols for the past year. One is an FNX 45 Tactical model which comes out of the box with an optics ready slide and several mounting plate adapters to fit different optics, including the RMR. The other pistol is newer; it's a Beretta APX RDO (Red Dot Optic) model. Like the FNX Tactical, it comes with four adapter plates and an assortment of screws. I was able to mount the RMR with the standard parts that came with the pistol.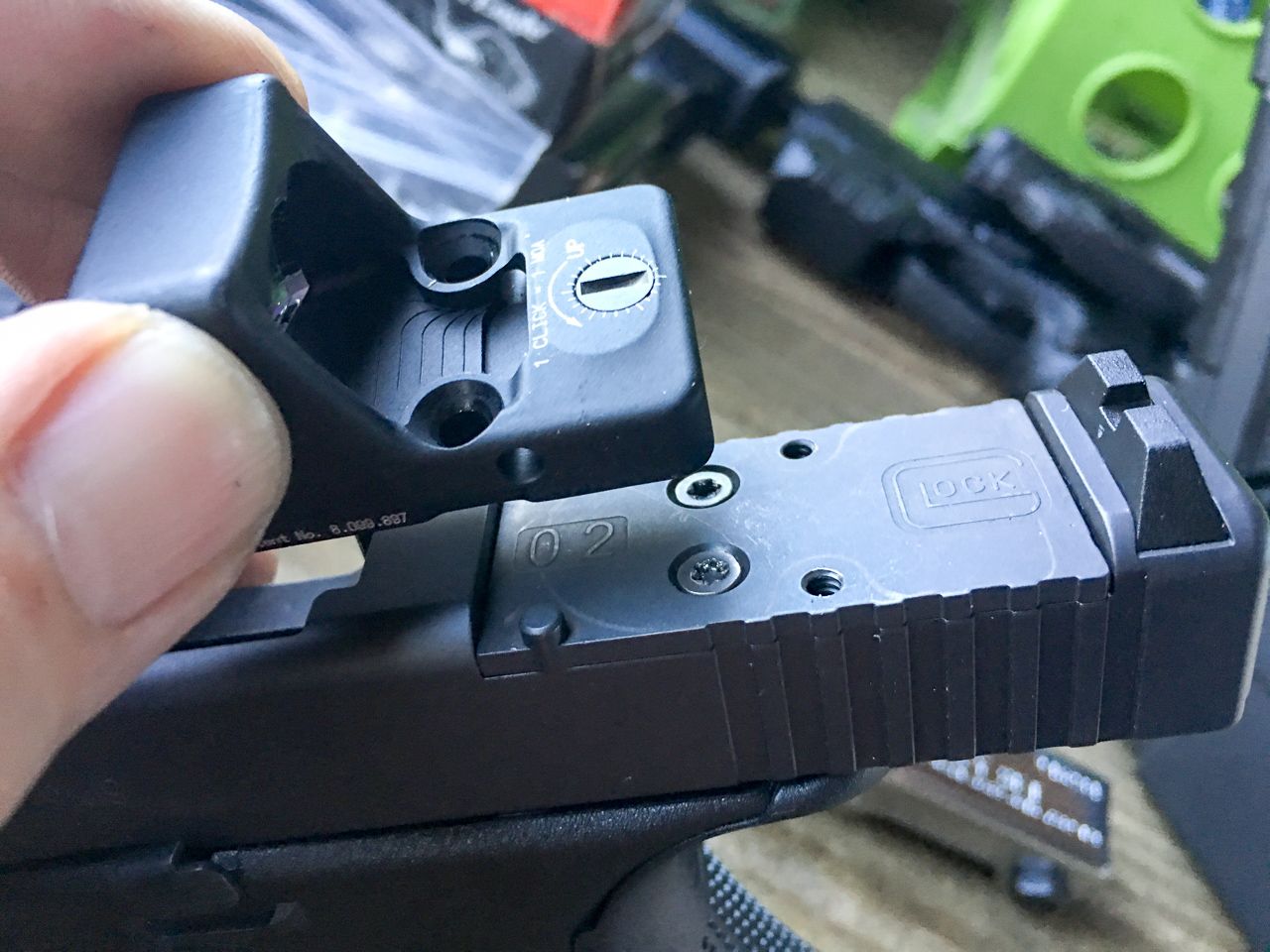 There are three "styles" of RMR sights on the market right now, and each category offers different choices for dot size and sometimes shape and color. The standard RMR is a battery powered unit with a constant brightness. It's available with 3.25 or 6.5 MOA red dots. The Adjustable LED model features pressure buttons on the sides that allow you to increase and decrease dot brightness. In that line, you can choose between 1.0, 3.25, and 6.5 MOA dot sizes.
The third group borrows from Trijicon's powerless ACOG heritage. The Dual-Illuminated models are powered by a fiber optic strip across the top of the sight housing and an internal Tritium lamp. No batteries required does translate to a less visible dot. The models in this family use either amber or green dots that are significantly larger, up to 13 MOA. Presumably, that's to help you pick up the dot as it's not nearly as bright as the battery-powered models. After viewing different backgrounds with the Dual-Illuminated model in the store, I decided it wasn't bright enough for me, so I opted to buy the standard battery-powered version.
How does the RMR stack up?
Trijicon markets the RMR as the most rugged miniature reflex sight available. That shows in its design and also in its usability. Compared to other red dots like the Shield RMS, Sig Sauer Romeo, and Leupold Deltapoint, the RMR is more compact with a thicker frame. As a result, the sight window is noticeably smaller than that of other optics. The window feels small and seems to obstruct visibility more than others. The result is that the dot feels a little harder to find. So, the fundamental tradeoff is rugged durability versus visibility.
There's a definite learning curve with pistol red dot sights. Interestingly, much of that learning process involves training yourself not to look for the dot. Seeking the dot tends to slow you down, while merely raising the pistol and "looking" for the front sight brings it effortlessly into view.
As an "always on" model you don't have to worry about activating the dot before use, and that makes it a potential candidate for concealed carry or home defense. At this point, I'm not quite ready to mount it on a carry gun, but it is growing on me. Doing some quick and dirty timed drills, I find that I tend to shoot faster and more accurately at distances of 10 yards or more, but a hair slower than iron sights for close targets.
One last thing. The batteries seem to last a solid year with the fixed-power model I have. You'll need to remove the RMR from the frame as the battery compartment is under the unit. I haven't noticed any significant change in zero when adding and removing the optic, but I've re-verified that it's shooting to point of aim nonetheless.