I'm a fairly laid-back kind of guy, few things or people can get me upset enough to rant and rave, but somehow Arsenal of Las Vegas managed to elicit these very feelings from me at SHOT Show 2016. Was I mistreated by the staff? Handed a dangerous firearm? Made to drink Vodka until I woke up in the ICU?
No, I was given a gun that I desperately needed years ago.
Wait, what?!
Sounds confusing, but hear me out.
When I first began my journey to purchase my first suppressor, I looked high and low for the perfect 9mm host. One that not only met my functional/performance demands but also had an appearance that made me proud of the gun itself.
After kicking the tires on dozens of handguns both at rental ranges and from various T&E samples or trade shows, I decided on an old classic — the Sig P226 in 9mm.
I love the aesthetics, the accuracy, and the reliability of the Sig. If I were simply making a list adorned with checkboxes listing all the essential components of a solid handgun, the P226 was unquestionably a solid decision offering 15+1 round capacity on flush-fitting magazines, with 20-round mags available as well, photo-luminescent night sights, railed dustcover, all-metal construction. Like I said, on paper the P226 is solid. The only thing I forgot to mention?
The price.
A P226 9mm with a threaded barrel retails for about $1,300!
I grumbled, groaned, and complained about the price, but ultimately gave in and purchase the gun. Then, a year or so later, the FIME Group announces a new proprietary design that bears a striking resemblance to the P226 and would be arriving stateside soon – the REX Zero 1.
No big deal, though, right? I mean, I bought a pistol from a company that's legendary for their product's build quality. I had all but convinced myself that the REX was just another clone of the world-famous 226 until I saw the damn price – roughly $600.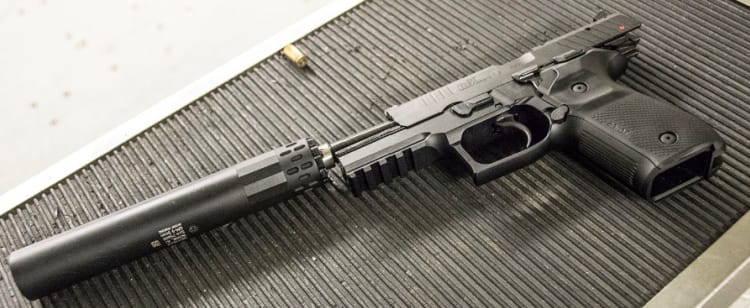 Look, I'm not saying, or even implying the REX is on par with 226. But I can say this: having just bought an expensive suppressor, I was hoping to buy a pistol that wouldn't further break the bank.
Truth be told, I've only fired a few dozen rounds through the REX Zero one with a Gemtech GM9 provided by SilencerShop and while at an indoor range. So for all I know, suppressor performance is abysmal.
What I do know, is that I would have liked to at least try it first.
Oh well, at least that's one more affordable option for suppressor-owners looking for more can costs.
Hopefully, when my T&E gun arrives, I'll be able to give a full, in-depth review and either drown in buyer's remorse (unlikely) or gloat on how smart of a purchase I made. Until then, we'll just have to droll over the photos.